Three Dragon Ante is the iconic D&D card game, first released in 2005, come this July it's getting an updated new edition. Check it out right here!
Three Dragon Ante was a D&D card game released in 2005. Blending elements of hearts, rummy, and poker, Three Dragon Ante was a game you could play in real life so that you'd know what your characters were playing when they sat down to play a card game in the world of the game. Originally consisting of 70 cards and representing either Dragons or Mortals in differing turns, the game was a popular little spinoff game that grew a following in its own right.
Now creator Rob Heinsoo has revealed more information about the upcoming game, which is being published by Wizkids. Let's take a look at some of the upcoming details, revealed by the original designer!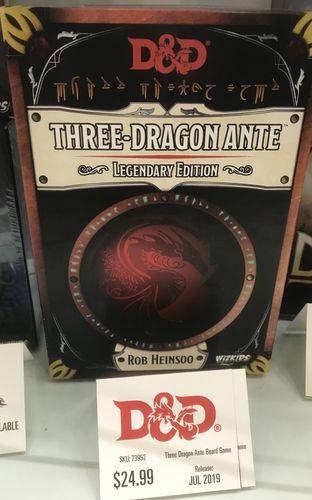 The new edition isn't just cards and a rulebook: it also includes enough gold and platinum pieces for up to six players, along with six 3DA Ability disks for to use for playing a 3DA game as your D&D characters.
This Legendary Edition contains 100 cards. This includes 70 cards for the same ten colors of dragon that were in the original Three-Dragon Ante game, the five familiar chromatic and five traditional metallic dragons of D&D. Seven cards per dragon color is a bump up from the original game's six-per-color. I've noticed that people enjoy playing 3DA with big groups, and in the biggest groups it was possible to *almost* run out of cards and have to shuffle small discard piles too often. Adding a new intermediate-strength dragon card for each color means less shuffling for everyone.
You don't play with just the seventy-card deck. The standard rule is that you play with 80 cards each game. The extra ten cards are selected from a pool of thirty special cards, split into two types. Half the special cards are Legendary Dragons, either powered-up versions of the ten familiar dragon colors or something special like Bahamut, Tiamat, and the Dracolich. As an example of what I mean by 'powered-up versions of the familiar dragons,' take the Legendary Dragon named the Red Destroyer. The Red Destroyer can be part of a color flight of Red Dragons. A normal Red Dragon steals a card and 1 gold from the strongest opponent; the Red Destroyer steals a card and 10 gold.
---
There are a few other details worth noting. There are several new mortals in the new edition, as well as methods to tweak the game to ensure that everyone has a great time. Stronger and more special cards that you can add at random or as you see fit, giving you access to things like The Priest or the Dracolich–as well as enough tokens to get up to 6 people jumping in the game from just one box.
Three Dragon Ante, Legendary Edition is out later this year, so keep your eyes out. And in the meantime, happy adventuring!