The year is Batman's 80th birthday, and to celebrate LEGO is releasing new anniversary sets featuring heroes and villains of the beloved comic book. This will hit shelves this August.
76118 Mr. Freeze Batcycle Battle – $19.99
Emergency! Mr. Freeze is turning GOTHAM CITY into ice! Ride to the rescue with LEGO Batman and Robin on the Batcycle with this awesome playset. Fire the stud shooter at Mr. Freeze's snow scooter and steer clear of his freeze gun. Then split the Batman bike in two and ambush the super-villain. Attack with Robin's sword and target Mr. Freeze with Batman's Batarang and grappling hook shooter. Only you can turn up the heat on this bad guy and save GOTHAM CITY!
200 pcs
Three minifigures: Batman, Robin, and Mr. Freeze
Batcycle measures over 1" (5cm) high, 4" (11cm) long and 3" (8cm) wide
Snow scooter measures over 2" (6cm) long, 1" (4cm) wide and under 1" (2cm) high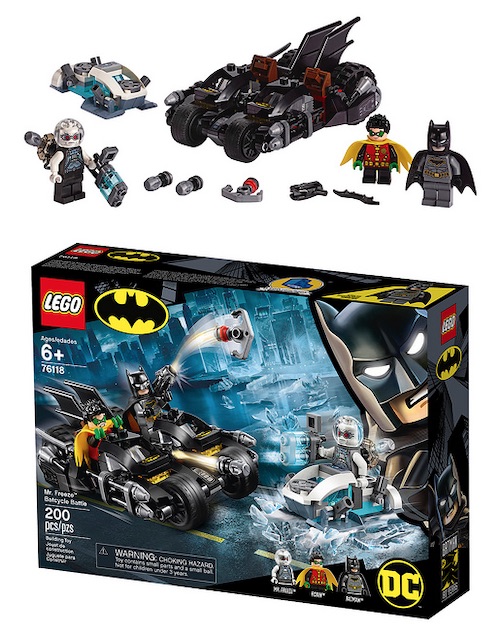 76119 Batmobile: Pursuit of The Joker – $29.99
Red alert! The Joker is causing trouble in downtown GOTHAM CITY, so leap into the Batmobile cockpit with LEGO Batman and chase him down. Hit top speed and make the flame exhaust and the Bat symbols on the wheels spin. Unfold the hidden stud shooters and fire. Swerve The Joker's LEGO stud shooter then jump out of the Batmobile and chase him down the street. You must capture the grinning Super-Villain before he creates more chaos!
342 pcs
Includes two new minifigures: Batman and The Joker
Batmobile toy car measures over 2" (7cm) high, 9" (24cm) long and 2" (6cm) wide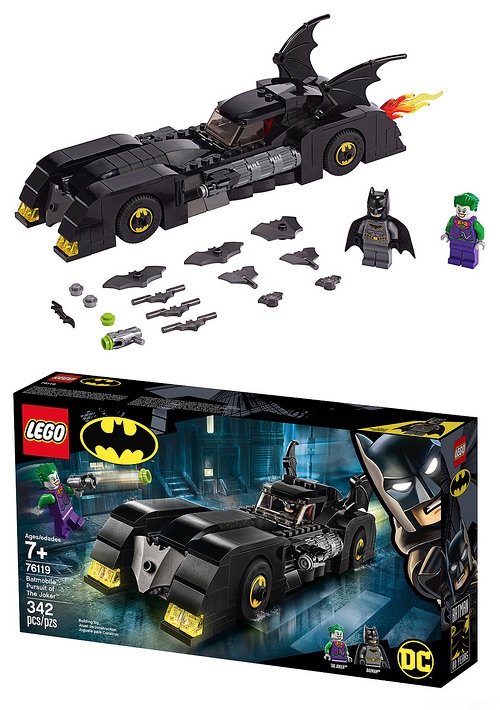 76120 Batwing and The Riddler Heist – $49.99
Dash to stop The Riddler's robbery with LEGO Batman, Commissioner Gordon, and SHAZAM!. The Super-Villain has unlocked the stolen safe, hooked it to his helicopter and is getting away. Give chase with Batman's powerful Batwing and Commissioner Gordon's police car. Steer clear of the helicopter's flick missiles and fire back with the Batwing's city shooters and other cool weapons. The action never stops with this brilliant building set. You must take down the helicopter and capture The Riddler before he escapes with the stolen cash and gems!
489 pcs
Includes four new minifigures: Batman, Commissioner Gordon, SHAZAM! and The Riddler
Batwing toy measures over 1" (5cm) high, 6" (17cm) long and 7" (19cm) wide
Police car measures over 1" (4cm) high, 5" (14cm) long and 1" (5cm) wide
Helicopter measures over 3" (8cm) high, 7" (20cm) long and 1" (4cm) wide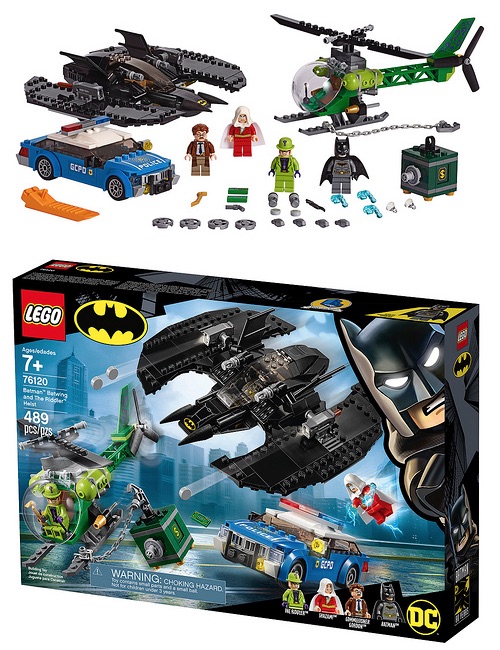 76122 Batcave Clayface Invasion – $99.99
Quick! Transform Bruce Wayne into Batman to stop Clayface invading the LEGO Batcave! Check the Batcomputer and dash to the Bat-Tank. Fire the Bat-Tank's flick missiles, hook and stud shooters at the monster. Team up with Batwoman to get Clayface to release Robin from its huge hands. But watch out—Two-Face is trying to break Catwoman out of the jail. You must capture these Super-Villain invaders before they destroy the Batcave!
1,038 pcs
Includes six minifigures: Batman, Bruce Wayne, Robin, Batwoman, Catwoman, and Two-Face
Also includes a posable, Clayface big figure that stands over 4" (12cm) tall
Batcave including detachable prison and tower modules measures over 8" (22cm) high, 16" (43cm) wide
Bat-Tank™ measures over 3" (8cm) high, 3" (8cm) long and 2" (7cm) wide