Two new expansions are coming to the grim darkness of the Munchkin-verse. Faith and Firepower meets Savagery and Sorcery in the 41st Millennium.
Soon you'll be able to get your hand on two new expansions for Munchkin 40K, according to the latest word from Steve Jackson Games, who made an announcement earlier today about the grim darkness of their humorous card game. You'll find four new factions for the fast and furious game of looting, levelling up, and betraying the party–the Tau, Adepta Sororitas, Space Wolves, and Thousand Sons all grace the new expansions. If you're looking to explore the lighter side of the grim darkness of the distant future, you won't want to miss these new decks.
via Steve Jackson Games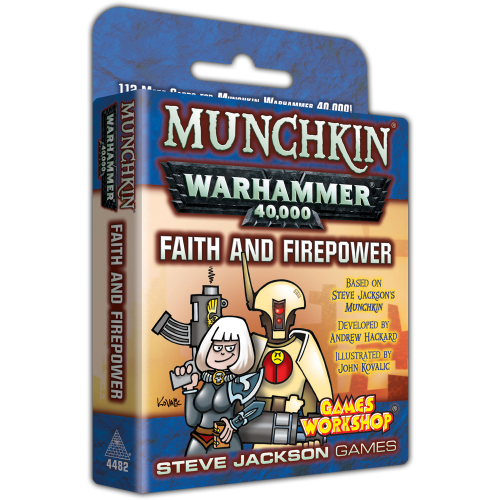 Expand your battles with Munchkin Warhammer 40,000: Faith and Firepower! This 112-card set includes two new Armies for your Munchkin Warhammer 40,000 game. The Sisters of Battle are some of the most elite Imperial soldiers around, and the T'au make terrifying enemies . . . or stalwart allies in the war against Chaos. Plus lots of new loot and horrible monsters to fight!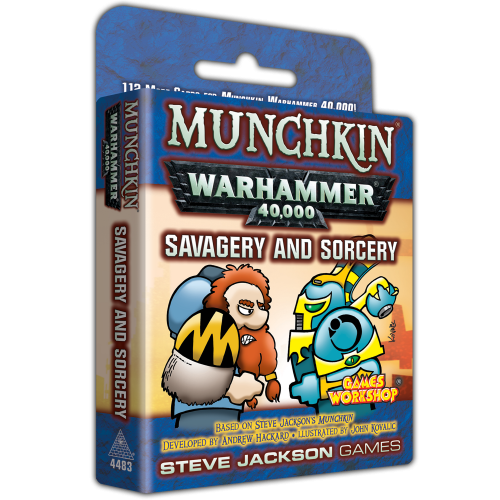 Two implacable foes meet in one expansion: Munchkin Warhammer 40,000: Savagery and Sorcery. The Space Wolves are elite Imperial soldiers, sworn to follow the ideals of Fenris and their greatest commander, Leman Russ. The Thousand Sons have accepted the gift of sorcery from their evil god, Tzeentch, and are spreading Chaos throughout the galaxy. In this 112-card expansion, you can add this fan-favorite pairing to your Munchkin Warhammer 40,000 game.
---
Each of the new expansions comes with 112 different card and a rulesheet, so you'll have everything you need to just toss these right on in to your games.
The Grim Darkness of the Distant Future never felt quite as honest as it does on display in the games here. Enjoy!