Games Workshop has some new goodies to pick-up for your specialist games!
via Games Workshop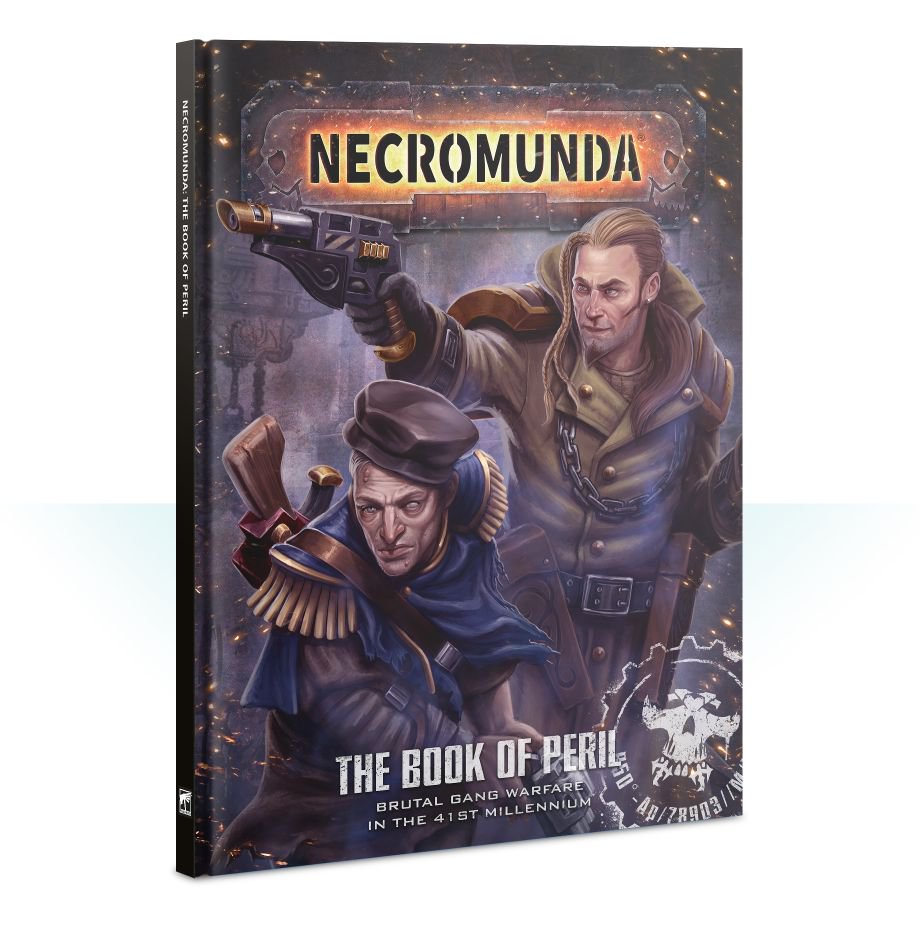 Necromunda: The Book of Peril explores the perilous wastes between the more established zones of the underhive. While gangs might fight for the fate of settlements, or become masters of prosperous holesteads and scrapyards, sometimes their constant turf wars take them into the desolate Badzones.
Venture into the Badzones, forge alliances with mighty guilds and add new Bounty Hunters to your gang – or even field a Venators gang made up entirely of Hired Guns – with this supplement to Necromunda.
Inside this 96-page hardback book, you'll discover the secrets of the guilds who hold the web of commerce in Necromunda's underhive together, as well as how to add them to your campaigns as fast allies – or bitter enemies – for your gangs. You'll learn about Venator gangs, coalitions of hired guns who band together for profit, protection or the joy of the hunt, and how to use them to cause havoc in your games. You'll be introduced to ten new Hired Guns, including rogue psykers, dashing heroes and many more.
The Badzones will open up to you as well, giving you new settings for your games, complete with new events to survive, hazards to avoid and scenarios to play across an expanded range of scenery. And when the battle is done, check out the Badzones Trading Post and all the new and exotic equipment available to give your gangs the edge over their opponents.
CONTENTS
– The Great Web of Necromunda: Read up on the background of the guilds.
– Venator gangs: Assemble a motley array of hired guns for your games.
– Alliances: Team up with a guild for greater rewards… but at equally great risk.
– Badzones Trading Post: Discover new weapons and wargear.
– Badzones Battlefields: Play across new areas of the underhive – Ancient Manufactorum, Stygian Depths, Sump Sea, Dome Jungle, Warp-tainted, and Unstable Dome – complete with new events to encounter.
– Badzones Terrain: Add Sector Mechanicus, Sector Imperialis and Death World scenery to your games.
– Badzones Scenarios: Experience five new ways to play in the Badzones.
– Hired Guns: Add Kal Jericho, Scabs, Freikstorn Strix, Arbelesta Raen Catallus, Aramista Dae Catallus, Mortanna Shroud, Apollus Kage, Thaetos 23-2, Rex Spires and Vorgen 'Gunner' Mortz to your gangs.
This is an expansion to Necromunda. The Necromunda Rulebook and Gangs of the Underhive are required to use the contents of this book.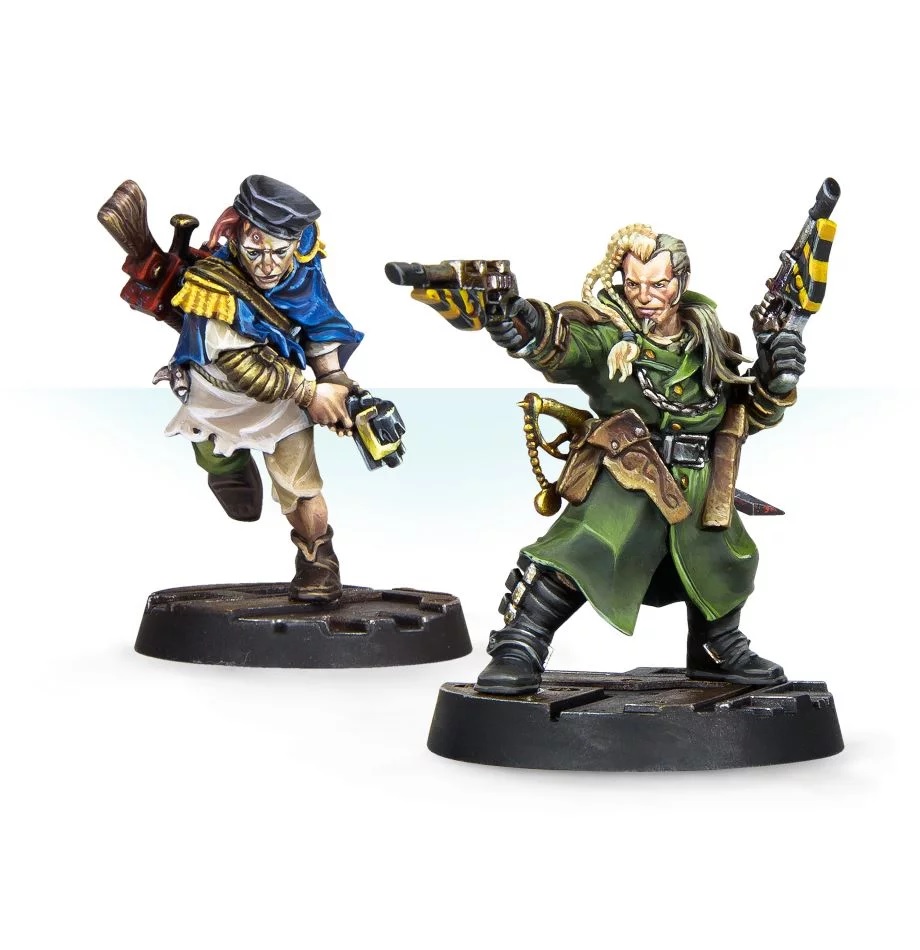 In the underhive of Necromunda, many Bounty Hunters ply their trade – but none are as successful or infamous as Kal Jericho. Rogue, swashbuckler and illegitimate son of the world's ruler, he is expert at getting himself (and his long-suffering companion, Scabs) into danger – and fighting his way out.
Kal Jericho and Scabs can be hired by any Necromunda gang looking for a leg-up on their foes. Kal is deadly at close range, an expert shot with his two hotshot laspistols, and if any enemies survive his barrage, he's pretty handy with the duelling sabre he carries as well. If you're getting up-close and personal with an opposing gang, he's a great choice to bolster your forces. If any enemies do slip by Kal, Scabs will be watching his back. His stub gun and plasma gun ensure that he's a match for any enemy, making him a fantastic supporting player to any mission involving Kal, and giving the pair of them a place alongside any gang.
This set contains two plastic miniatures, the heroic Kal Jericho and his faithful sidekick Scabs. They come supplied in 14 components, along with two plastic Necromunda bases – 32mm for Kal, and 25mm for Scabs.
Rules for Kal Jericho and Scabs can be found in Necromunda: The Book of Peril.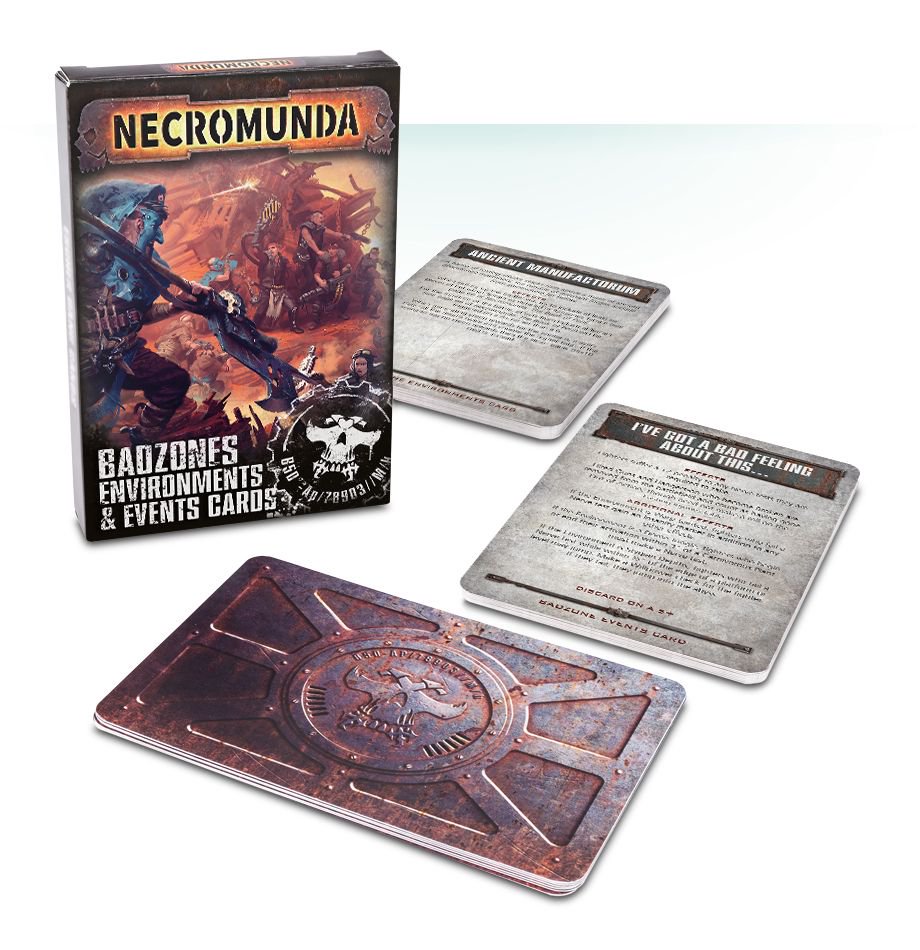 Explores the Badzones, the perilous wastes between the more established zones of the underhive, with a set of 26 cards that summarise rules from The Book of Peril, providing you with an invaluable reference to use during your games of Necromunda.
Six Badzone Environment cards give you new dangers to fight over, while 20 Badzone Events cards allow you to experience the perils of the wild places of the underhive.
CONTENTS
–6 Badzone Environment cards: Ancient Manufactorum, Stygian Depths, Sump Sea, Dome Jungle, Warp-tainted, and Unstable Dome
– 20 Badzone Events cards: Shutdown, Critter Swarm, Howling Winds, Choking Clouds, Toxic Downpour, Spore Clouds, Brainleaf Outbreak, Bad Air, Sludge Jellies, Giant Rats, Lair of the Beast, Things in the Dark, Gunk Tank, Labyrinth, Old Cache, Static Storm, I've Got A Bad Feeling About This…, Witch's Lair, Mutie Tribe, and Dome Collapse.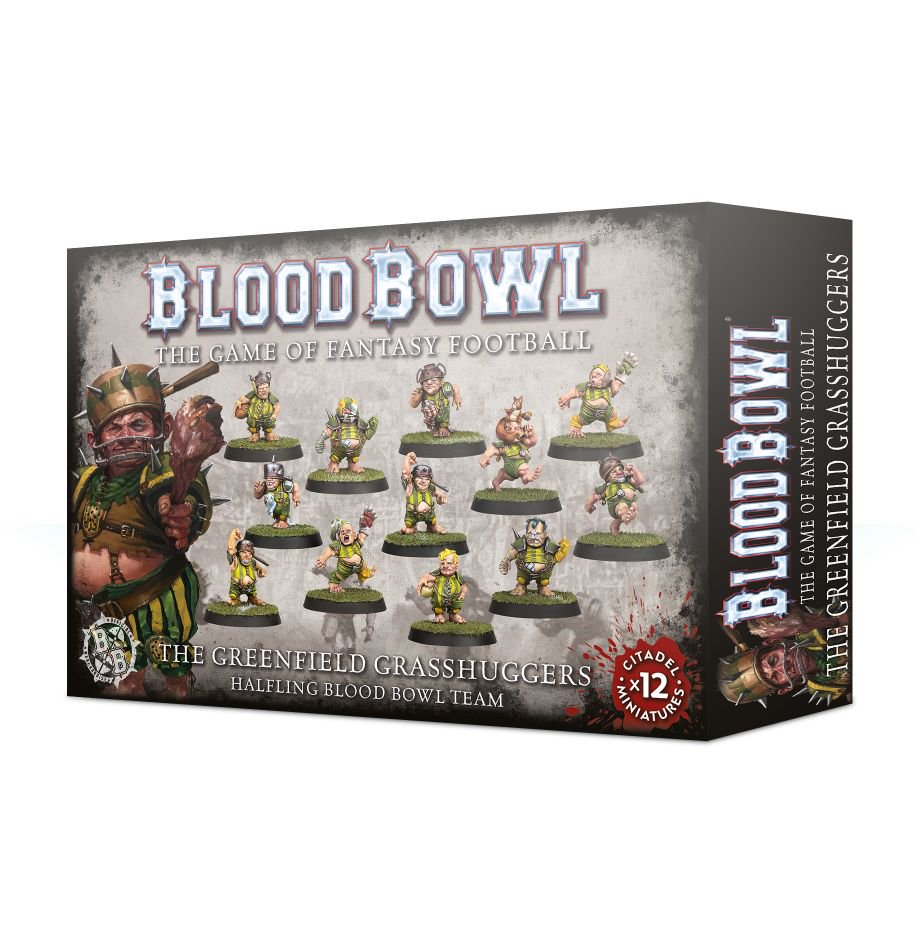 The Greenfield Grasshuggers are one of the most esteemed teams in the game. After all, who doesn't love an underdog? Formed back in 2418, these eager and earnest Halflings have had to fight twice as hard to make a name for themselves. They're full of heart, determination, and enough sausage and ale to choke a troll. They're a joy to face off against on the pitch, not least of which because you might be able to nick one of the best mince pies you've ever had when they're not looking.
If you catch yourself thinking Blood Bowl is too easy, or you want to impress your friends with your impeccable coaching skills, there are few challenges greater than running a Halfling team. They might not be the most competitive in the game, but they're certainly one of the most fun. That said, with new positions like Catchers and Hefties, they're more versatile than ever. If you have a defiant streak, or just enjoy a fun and chaotic game, pick up a box for yourself and get ready for the good times.
This multipart plastic kit contains all the components you need to assemble the Greenfield Grasshuggers, a Halfling team for use in games of Blood Bowl. You'll receive 2 Catchers, 2 Hefties and 8 Hopefuls, plus a roster sheet. Supplied with a transfer sheet, 2 sausage-wielding turn markers, 3 extra "balls", and 12 Citadel 32mm Round bases featuring holes in which to place the ball.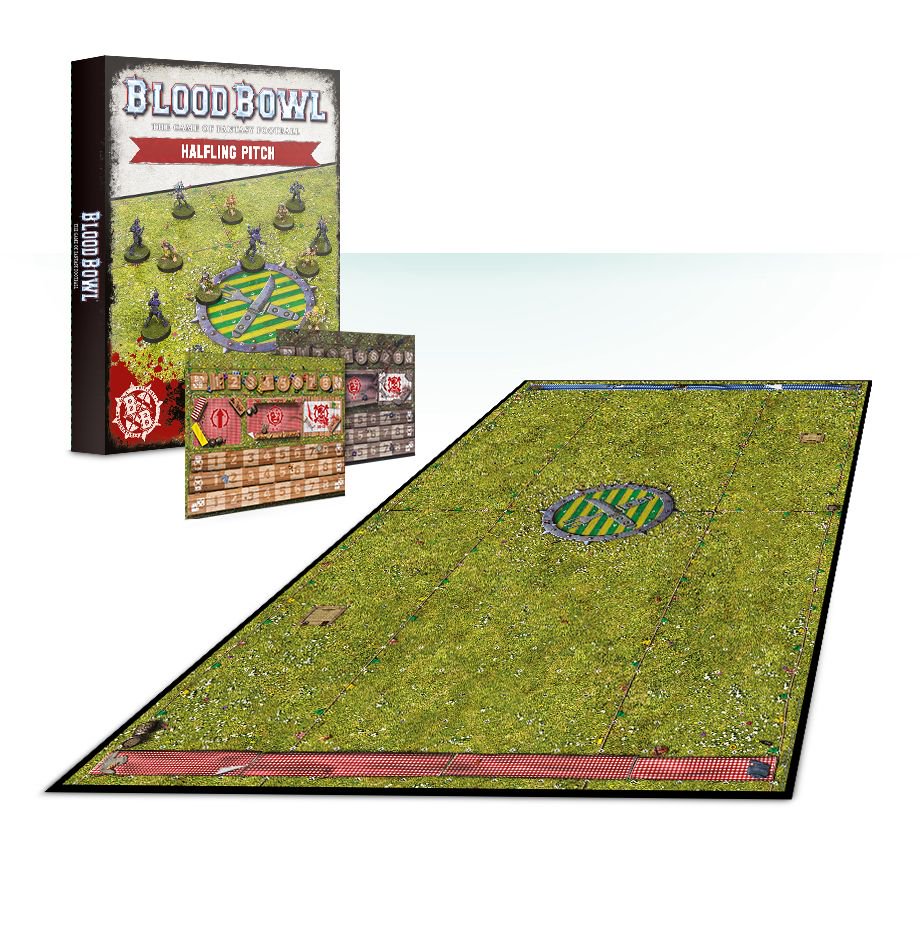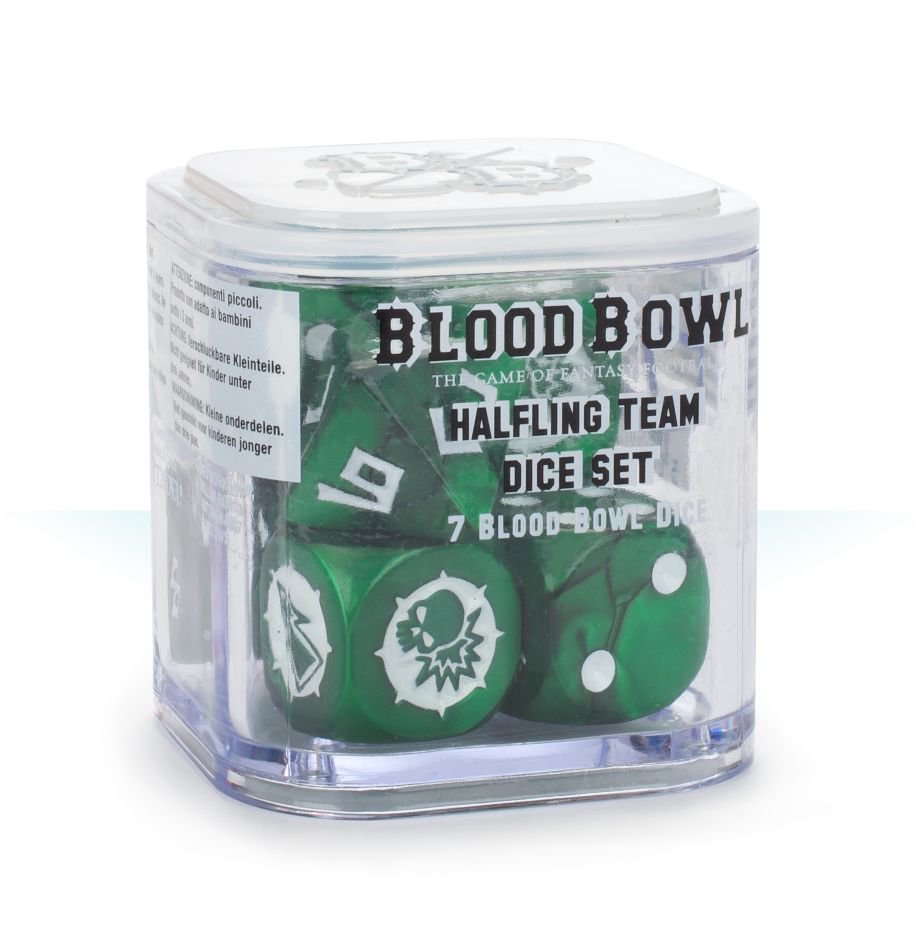 This set of iridescent green dice is the perfect accompaniment to your Halfling Blood Bowl team. The dice feature white markings, and the 6 face of the 6-sided dice has been replaced with a crossed knife and fork symbol. Halflings are famously lucky, and while we can't promise that extends to these special dice, surely it can't hurt to try them. You'll be rolling in style either way.
CONTENTS
– 3 Blood Bowl Block dice
– 2 6-sided dice with the Halfling team icon on the 6
– 1 8-sided dice
– 1 16-sided dice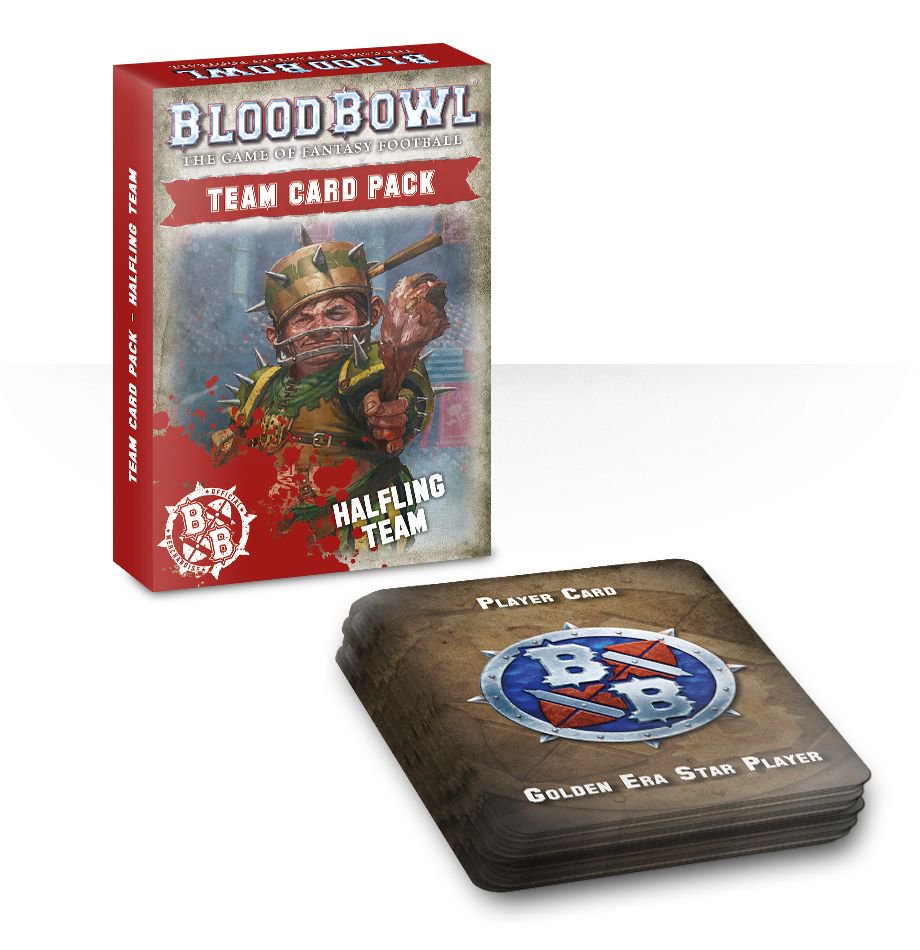 This indispensable set of 44 cards will keep you focused on the game instead of flipping through rulebooks. The deck covers everything you need to get your Halfling team on the pitch.
CONTENTS
– Reference cards for Halfling Catcher, Halfling Hopeful, Halfling Hefty, and Treeman
– Reference cards for new and Golden Era star players
– Blank cards that you can use to create your own players
– A team roster card, with a match record on the reverse
– 3 Heroic Feats cards
– 3 Benefits of Training cards
– A card explaining how to use the cards, with a red card on the reverse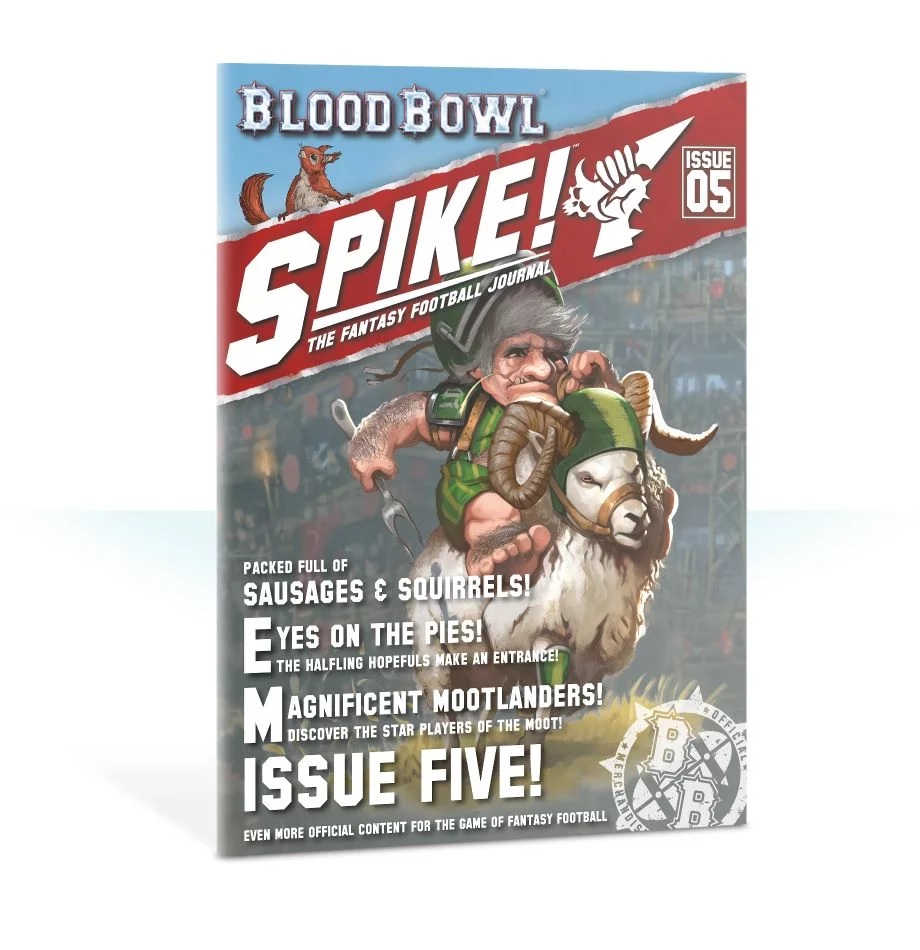 Join Butty Baconfingers as he guest-edits issue 5 of the Spike! Journal. He'll show you the ropes of coaching a Halfling team to victory on the pitch, or at least a full belly during one of their famous half-time banquets! Relax with a mug of the finest ale and read about the storied history of the Greenfield Grasshuggers, nearly a dozen unlikely Star Players, and other amiable underdogs of the Blood Bowl pitch.
You'll find tactics and tips that will help you address, the, er… shortcomings of the diminutive denizens of the Moot, plus hilarious guest columns: Hackspit 'the Scribbler' Quillchewer tries his best-best to understand the unusual half-time entertainment called ferret-legging, whilst gossip-columnist Mindy Piewhistle interviews her own sister Cindy about the sordid details of Halfling teams on tour. Of course, you'll also enjoy the latest installment of Mighty Blow! wherein Bob Bifford recounts the first time he played for a team of Halflings, illustrated by the legendary Pete Knifton, and written by Nick Kyme.
Go, Halflings, GO!!!!