It's a cavalcade of characters this week for Privateer Press as the Grymkin and Croak get a load of new solos. Come check them out!
Whether you're looking for some new solos to step up your game to the streets, this week's batch of releases does include a number of sweet sweet solos that will pump your army up.
via Privateer Press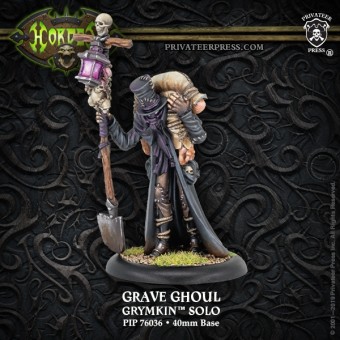 Grave ghouls have a morbidly playful attitude toward the dead, finding a fascination with corpses without truly understanding death. They are especially drawn to the fresh dead, and their actions resemble a shadow play of the undertakers from folktales. They enjoy using their shovels to unearth bodies to display them to their peers or partially burying other grymkin before they have actually expired. Whether seen driving Death Knell wagons or searching among old battlefields, grave ghouls are creepily terrifying and quite dangerous if confronted. They are particularly aggravated by undead, which they feel driven to return to a less animated existence.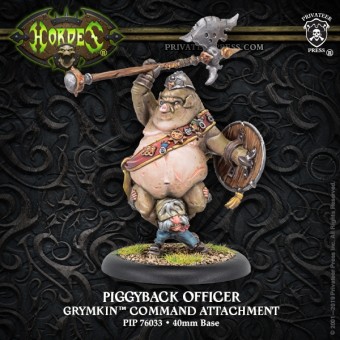 Greed is the sin that gives rise to the Piggyback, and it is the most greedy and gluttonous who emerge in their ranks to be inflicted with their fattened leaders. Festooned with medals stolen from all manner of army officers, these torpid pigs delight in riding into battle to hack through the wicked. Squealing imperiously to direct their subordinates, no outsider can comprehend their orders, yet the Piggybacks move with alacrity at his beck and call, trampling all enemies beneath their weight. Together they make mockery of all disciplined mortal soldiers.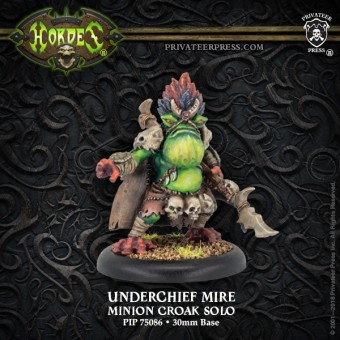 Among the war-embattled croaks driven to western Immoren, being a leader can be a burden. Underchief Mire competes with his oversized brother to earn the right to succeed their father, the aging chief of their displaced tribe. In this contest, Mire has a unique advantage, having formed mystical bonds with beasts of the marshes, including several fetid swamp trolls. Caustic mists rise at Mire's command to melt the flesh from his foes, and the croak warlock can walk unharmed amid these vapors, hiding from sight before retaliating. He has earned a place of respect among the wilderness peoples for his cunning and his courage, staying neutral in their conflicts.