Grimmerspace is a Starfinder compatible RPG setting/campaign/system kickstarting now from Iron GM Games and Sean Astin.
That's right, everyone's favorite Hobbit or Goonie, depending on when you were born, is putting out an RPG along with a host of other talented folks to bring you a world where magic crashes headlong into the galaxy, blending the sci-fi and fantasy of Starfinder with a Horrific new bent to it. Check out Grimmerspace.
It's this blend of Sci-Fi and Sci-Fantasy that really makes the setting pop. If you click over to their campaign page, you can find a video of Sean Astin sitting in front of a starry void where you'll get the full story, but the gist of it is, Grimmerspace takes place in a distant galaxy full of advanced civilizations but, other than that, still have to play by the rules. Aliens and tech, not swords and magic–right up until an ancient army of sinister wizards come crashing into their galaxy.
The core conflict of the setting is science-fiction heroes vs. science-fantasy villains. So you might play a soldier in power-armor and have a chance to "shoot a mage right in the neck." All of this is brought to you in with a full-color 256-page setting and adventure book that is chock full of "Hollywood blockbuster" stories. All of it powered by Starfinder.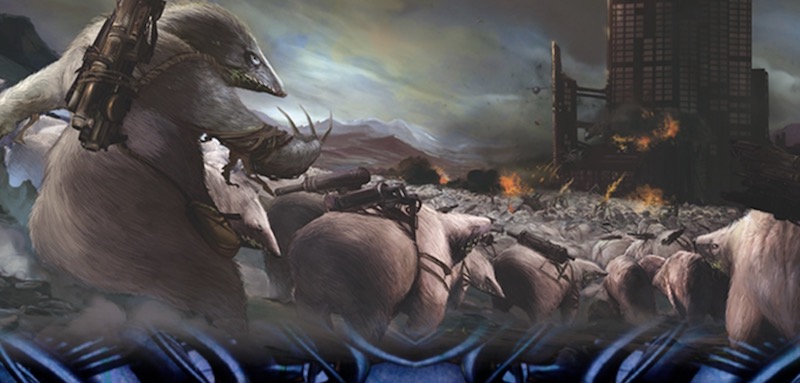 Is that an army of slothfolk? Sign me up!
Which does bring us to the one thing you'll want to note about this campaign. It might not officially be a Stafinder project, so they market it as "Starfinder Compatible" but it should be more like Starfinder Required because you will need the core book in order to play. However, all you need is the Starfinder Core or Beginner Box to play–and you can snag them as part of the reward tiers, which also offer some massive stretch goals.
If you're looking to get a little more horror out of your sci-fi/fantasy games, Grimmerspace might be well worth checking out.
Happy Adventuring!