Open Play Army and Battleplan Generators aren't just for Open Play anymore. Check out the new Close-quarters Battleplan and new Army Generators!
The General's Handbook 2019 has some fun stuff in store for players of all types. Today, we're getting a look at two of the new Generators that GW is including inside the covers. One will help you jump right into a bloody conflict with your friends. The other will allow you to quickly create an army  – and can even be used in a new type of "Army Draft" format!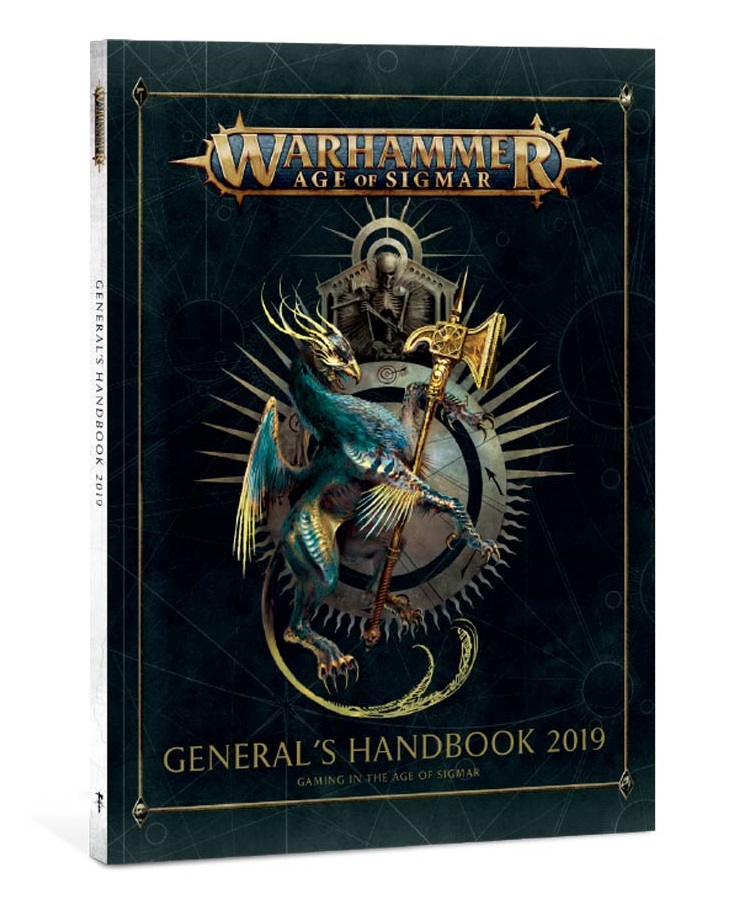 Close-quarters Battleplan Generator
Let's face it – not everyone has access to 6'x4′ tables with tons of terrain to play on. While that might be the ideal situation, space can be limited for lots of folks – that's okay. Games Workshop has a new work around for folks looking for a quick game on a smaller board with the new Close-quarters Battleplan Generator. These Battleplans are designed for battlefields that are in the 30-36″ x 40-48″ range.  On top of that, they are also designed with a shorter game-time in mind, too. But don't think for a second that these games are any less tactically challenging.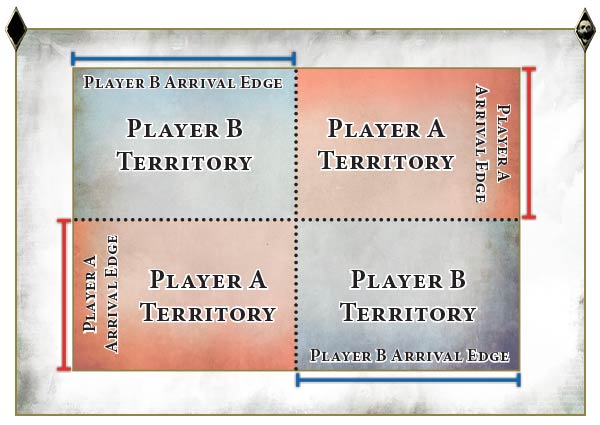 The Battleplans each come with their own deployment setup,  objective, and twist. Plus, if you want to use them, they also have options for ruses and Sudden Death – if you're playing an asymmetrical game. From what we can tell, these are all interchangeable as well. So you could roll the deployment type from the map above…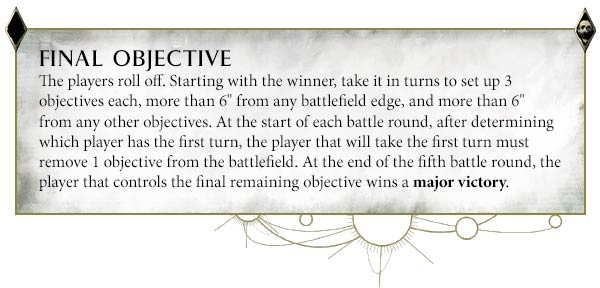 With Final Objective as your mission…

And Eager For Battle as your twist.
Based on those three things, you'd have a pretty interesting game for sure! It's certainly going to play differently than just a Pitched Battle game where you're out to smash face (not that there is anything wrong with that). The Close-quarters Battleplan Generator is great for creating a game scenario to play on anywhere and I'm curious to see what other options is has baked in.
Open War Army Generator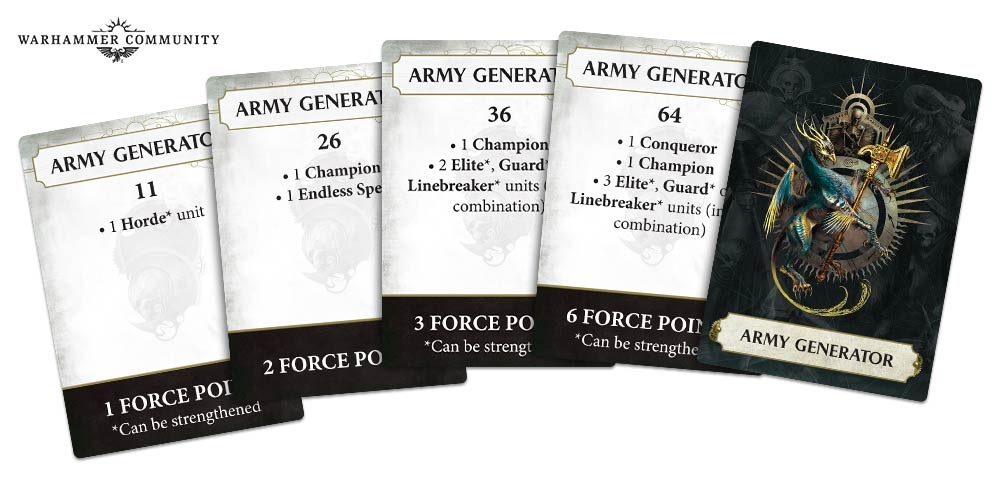 Writing lists is one aspect of the game that can really make-or-break it for some folks. That's one reason why the Open War Army Generator sounds really intriguing. This system allows you to pick and balance your forces based on dice – or cards if you have the Warlord Edition. While the idea of playing a "random" army might terrify some folks, the system doesn't seem that random when you look at it.
Each card is worth a fixed "Force Point" value, so you basically just have to pick a point value and select cards that fit in that…kind of like how you would do the same with a typical 2000 point game. The difference is that these can be a bit more restrictive because you can only use the unit types listed on the cards. While this method of army generation might not appeal to everyone, it could lead to some very different builds and will certainly keep everyone guessing!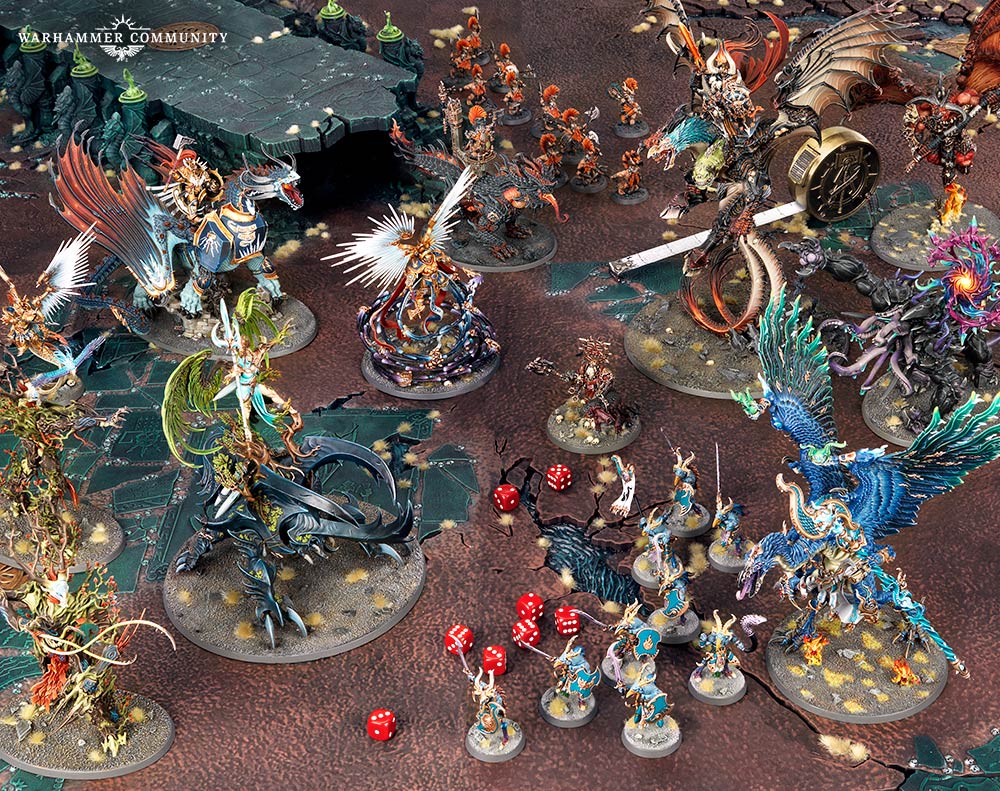 Warhammer Community also tossed out this idea for a new format for Matched Play using this method too:
This system isn't just for open play – imagine a matched play event where, rather than selecting units randomly, you draft them using different army generator cards, or a narrative game where which reinforcements arrive are determined randomly. Combined with the Close Quarters Battleplan Generator, getting a Warhammer Age of Sigmar game together is easy.
That's a really cool concept – draft your army using the army generator cards! I'd love to play around with that idea a bit more. Some armies would really want to go for specific cards while other would need a completely different set. As a player, you'd have to make some tough choices – do you go for what you need or do you try to block your opponent from getting that "one" card. That's what makes drafting so fun and interesting! Talk about meta-game…
The General's Handbook 2019 is shaping up to be a very cool addition to the game – and while a lot of folks just want to get their hands on the points (us too), I'm hoping to dig into the rest of the book as well.
What are you most looking forward to in the GHB 2019? Are you interesting in either Close-quarters Battles or the Army Generator?