A new digest of short RPGs lets you play as everything from clerics trying to keep the party alive, lovelorn knights, and more–all in about an afternoon.
'Zines are an important part of RPG history. From White Dwarf and Dungeon to Dragon (now Dragon+), and more modern titles like Hydrazine or the collection of One-Page Dungeons you'll find from One Page Dungeon. Full of short jaunts into various RPG territories, these were a place for the community to put their work out there. And in the early days, that resulted in monsters like the Slaad or the Githyanki and Githzerai making their way to the 1st Edition Fiend Folio. There's a new games digest in town that looks to capture that spirit of communal creation, the Short Games Digest from the San Jenaro Co-Op.
In the interest of full disclosure I worked on one of the games in this digest, hence the sponsored tag here, but I'll try not to review it, just to let you know it's out there.
The Short Games Digest collects a dozen or so short games ranging from two-page microgames to 24-page systems that take you to a wild variety of genres. You'll find Rocketpunk Adventures with a musical sort of gameplay to them, an OSR-esque sendup of a certain RPG where you play Clerics trying to keep the party alive with a pretty cool adventure generating system, a game where you play as gods, gambling for divinity, a game that takes place at a Summer Camp for monsters and so much more. The book is full of weirdness in the best way, so if that sounds like your thing, check it out!
via the San Jenaro Co-Op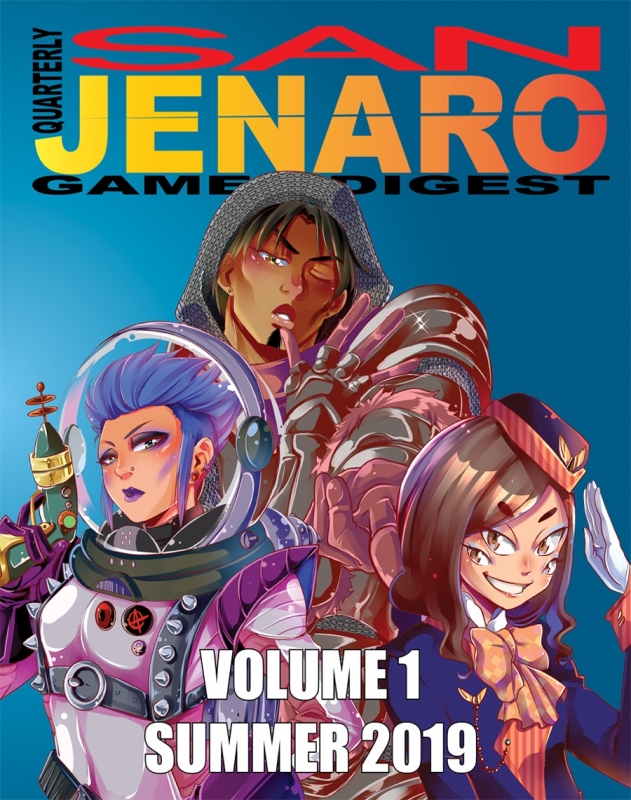 In space, nobody can hear you… Play more than a dozen amazing games by a co-op design studio full of some of the freshest and weirdest voices in RPGs!
The short games digest is the first project of the San Jenaro Co-op. With over 11 full fantastic games, the Short Games Digest hits an eclectic mix of stories and settings. Lovelorn Knights, dice-playing gods, retro future space operas, dreams of dead gods we've got it all!
Each game is completely self-contained and ready to play immediately with nothing but the digest.
• In Yesterday's Tomorrow, Today!, immerse yourself in fast-paced rockabilly space opera.
• In Clerics, play a cleric who gets NO RESPECT in an utterly inept party of adventurers.
• In Lonely Knights, play handsome young pages wooing the Knights of the Round Table with manly feats of manly manliness!
• In The Gods Play Dice, you are gambling deities whose stakes are their world.
• In The Great Instrument, play the descendants of heroes driving back demons and reclaiming the world-shaping mecha they live in.
• And so many more!
Happy Adventuring!