Games Workshop is hiding models in the strangest places. Check out these new mystery mock-ups and take a guess at what they could be.
An image has been making the round on the internet recently and it looks like a work-in-progress shot of a lot of different miniatures. Take a look at this line-up and see how many you can name before you get stumped.
via Linkedin (Matthew Toone – Citadel Miniatures Designer)

Now the actual post (linked above) is basically a recruitment post that is highlighting the Trainee Citadel Miniature Designer Talent Programme. That's relevant because, well, we're looking at a bunch of different model mock-ups in different states. Some are 'Greenstuff' sculpts. Others are resin. Some are plastic production models. And still others are in various other model mediums. One of them is even a fully painted Space Wolf Primaris.
Now, quite a few of them are easily enough to identify. We've got 3 different mock-up versions of the Weird Nob Shaman. We've got an old school Sigmarite Priest, a Commissar, an old Wood Elf hero, a Death Watch Watch Master, an Ork Nob, and the Guant Summoner to name a few.
But there are a few other miniatures in this picture that are kind of random. The first is the Primaris Marine on the far left.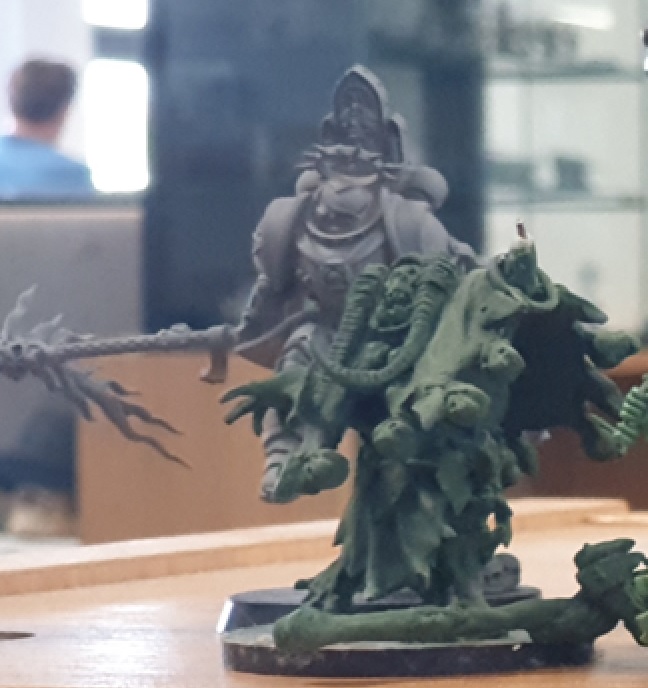 It's kind of a strange pose. Is he leaping? What's up with that spear? Is that a jump-pack variant? Maybe it's just a kit-bash? You tell us.
Then there is this pair of models that we couldn't quite place: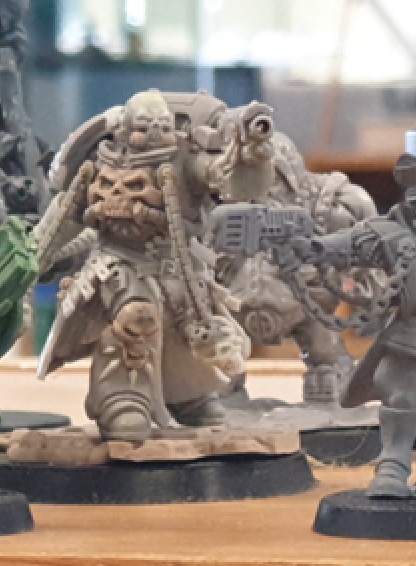 Clearly the front model is a Primaris Chaplain – but that's a different model than the one that's currently available from GW. Again, maybe it's just a kit-bash with some WIP sculpting added on… or maybe it's something new. And perhaps more importantly, what the heck is that model behind it? A Dwarf/Duradin model? Or is it something more squat-like?
And finally, what the heck is this orange model behind the Watch Master and the Ork?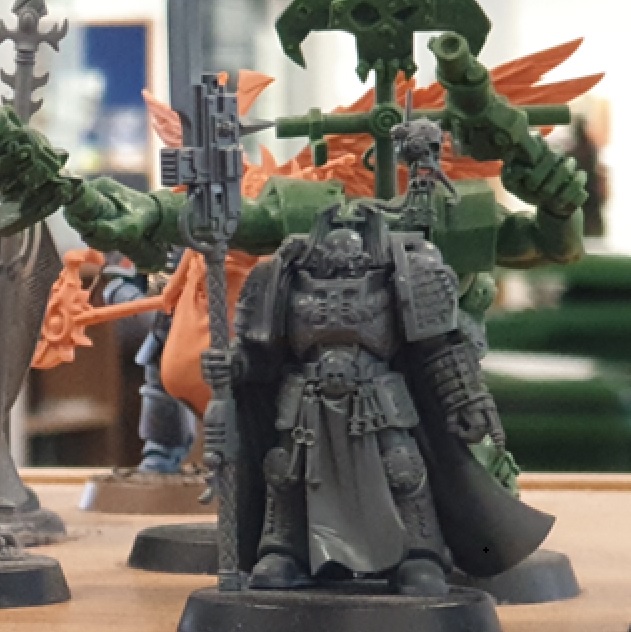 The wings are throwing me off as well as the wand it has. Is that a Nurgle Model? Please let me know!
Again, these could all just be mock-ups from the Citadel Miniatures Design Trainee Programme. They might never have made the cut to get into full scale production for whatever reason, but here they are – a glimpse at what might have been or maybe even what could be on the way.
And hey, if you've ever wanted to become a Citadel Model Designer, check out that Linkedin Link for more info on how to join the Citadel Team.