Fantasy Flight Games shows off two of the new Investigators coming to Arkham Horror: The Card Game with the new Expansion: The Dream-Eaters!
The Dream-Eaters is the fifth deluxe expansion for Arkham Horror: The Card Game. As with each of these deluxe expansions, FFG introduces new investigators into the mix and today, we're getting a look at two of them. It's time to meet Mandy Thompson, the Researcher and Tony Morgan, the Bounty Hunter!
Mandy Thompson – The Researcher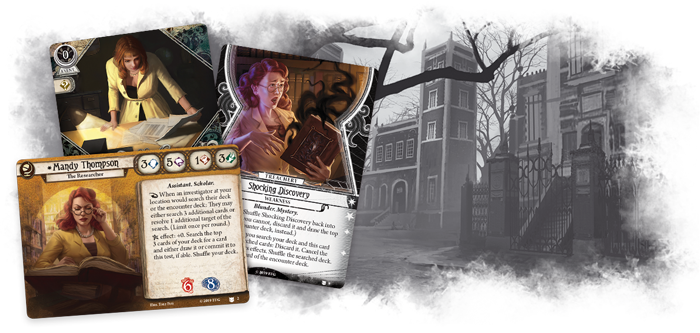 "Ever since she was a child, Mandy Thompson would read whenever she could not sleep. And in the strange town of Arkham, such was the case on many nights. But her restlessness had its benefits, as her passion for the written word combined with her remarkable memory and ability to correlate facts soon landed her a highly valued job as a researcher for the prestigious Miskatonic University. Since beginning her career, Mandy has spent many hours poring over the profane pages of ancient, forbidden texts. In doing so, she has discovered a strange pattern, pointing to an impending cataclysm. Has paranoia finally caught up to her? Or is a disaster of beyond all imagining on the horizon?"
Mandy Thompson has quite a few tricks up her sleeves as an Investigator in Arkham. For starters, she can have a larger deck than your typical investigator – not just a 30 card deck, not just 40, but 50 cards! She can also choose between the Mystic, Rogue, or Survivor classes to help fill out her deck. Now, that's a pretty large deck and there is a good chance you might not draw the cards you want…except she's got a way around that.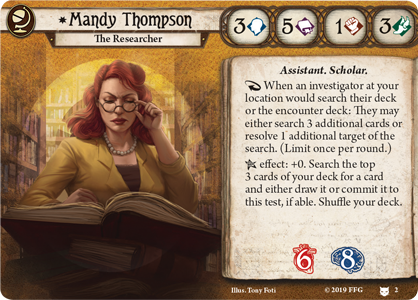 Her ability allows her to allow an investigator at her location to search an additional 3 cards or resolve 1 additional target of the search! That's a great way to "tutor" up the card/s you need in your hand. If you want to get the most out of your card draw, she's the investigator for you. She's also well equipped to dig for clues, too!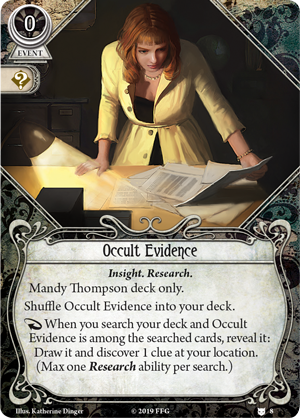 Her unique card is Occult Evidence which is pretty handy. When you search for it, you draw it and then discover a clue at your location – and then it gets shuffled back into your deck! That is a pretty sweet feedback loop.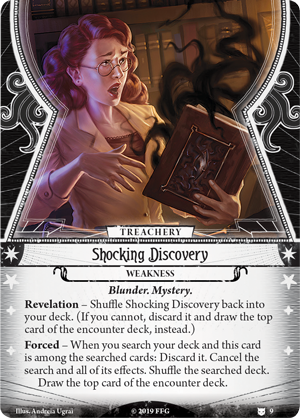 On the flip side, Shocking Discovery can quickly shut-down your search abilities. It also gets put back in your deck – unless you pull it during a search, in which case you discard it and get a card from the encounter deck. Oh and you lose the search effect. Ouch.
Tony Morgan – The Bounty Hunter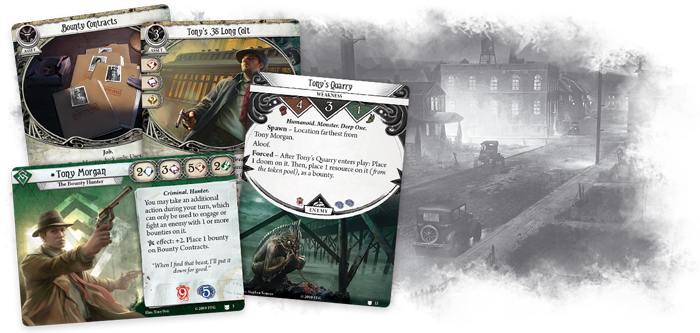 "Making his way as a bounty hunter at the height of the roaring '20's, Tony Morgan has tracked down low-life scum in every lousy corner of the world, but nothing could have prepared him for the thing he killed in Innsmouth. It had the form of a man, more or less, but it was covered in loathsome scales and slime, like some horrid creature of the deep. It stank of salt water, rotten fish, and blood. He should've let it go when it dove into the river, but he'd never let a bounty escape before, and he wasn't about to start then. Ever since, he's found a new kind of dirtbag to hunt. Ordinary mobster or otherworldly monster, Tony will take it down…if someone is willing to pay him for it."
Tony Morgan is one of the fightiest rogues in the game! You're going to need that fight however if you want to collect your Bounty Contracts. On the flip side, Tony gets an additional action to fight or engage an enemy with a Bounty on it – so how do those bounties work? Keep reading.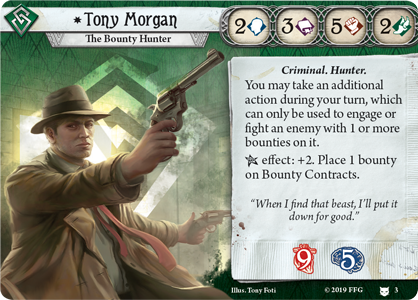 Bounty Contracts starts with 6 bounties on it. When an enemy enters play, you can move 1-3 bounties from this card to the enemy. What do those do? Well, when you defeat an enemy with a bounty on it, you get paid! Those bounties get moved to your resource pool as resources.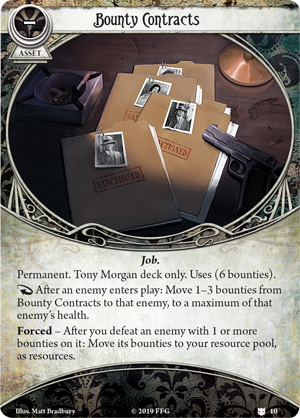 If you're going Bounty Hunting, then you're going to want to pack a punch. Luckily, Tony has a plan for that. With a Fight of 5, he's also packing his custom .38 long Colts – that's right, you get TWO.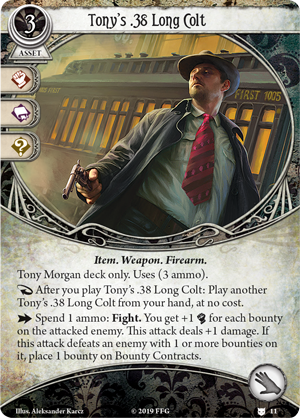 What's cool about these guns is that when you get one in play, you can play another one from your hand at no cost! And if you use one of these guns in the fight, and the target has a bounty on it, you can put a bounty back on your Bounty Contracts.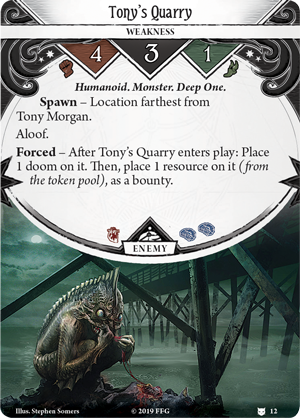 Finally, Tony's weakness is Tony's Quarry – an illusive creature that haunts Tony. If you can track it down and take it out, you'll be able to get the bounty on it's fish-eyed head. Just be careful as it's attack of 2 sanity can really do a number on Tony's 5 base sanity.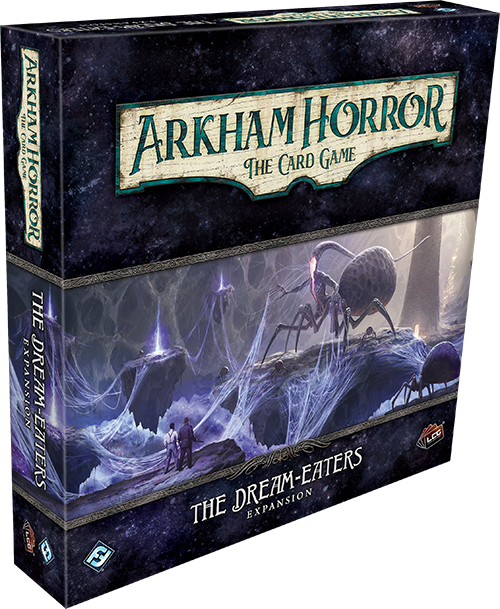 "There is a hidden realm outside the world of the waking: a realm of wonder, imagination, and nightmares. After occult author Virgil Gray writes about his adventures in these "Dreamlands," you decide to set forth and learn the truth for yourself. What is real, and what is fiction? And what secrets await in the dark, forbidden places beyond the gates of sleep?

The Dream-Eaters is the fifth deluxe expansion for Arkham Horror: The Card Game. In this expansion, 1–4 players take on the roles of either a group of investigators venturing into the Dreamlands or their companions who have been left in the waking world. This expansion contains the first two scenarios of The Dream-Eaters cycle; one scenario for each of these two groups. This expansion also contains new investigator and player cards that increase the customization options for the game."
Hunt for the Truth.