Descend into the depths of Avernus and get to know some of the foes you might face along the way. This week it's the Barbed Devil or Hamatula.
Things are heating up as we compile our own Fiend Folio. Today we're taking a look at the fiend that marks the change from "okay mortals can probably deal with these threats" to a threat that requires actual heroes, if not proto-demigods to deal with. This is the sort of devil that can win mortals souls by offering its service at very little risk against the rank and file mortals it's facing. Come see why we're putting the Barbed Devils in the spotlight.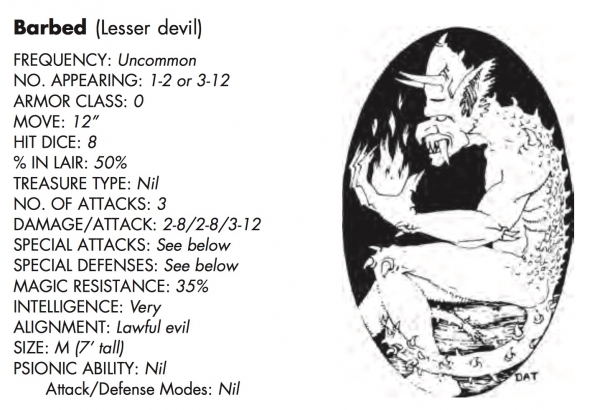 It's even in the history of the devil–the Hamatula or Barbed Devil is the first fiend classified as a Lesser–as opposed to Least–Devil. What does this mean? Well going back to 1st Edition, we get a picture of a threat not just to a single character, but to a whole party. First of all, a barbed devil does multiple attacks, helping it to compensate for the many attacks a party is capable of. It also has access to at-will Hold Person, Pyrotechnics, and Produce Flame enabling it to take prisoners to cast into the many infernal cells which these devils typically guard. On top of that, it damages people that strike it in melee.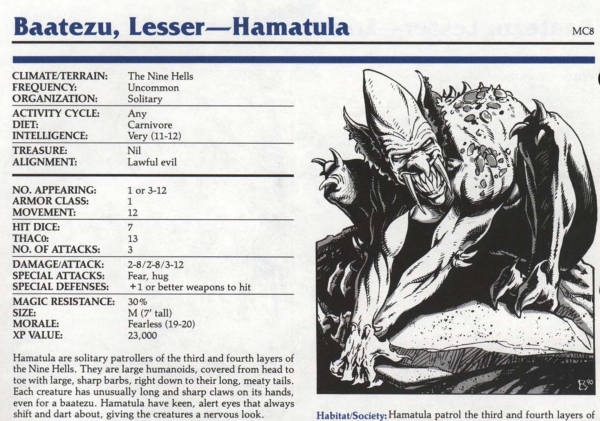 2nd Edition Hamatulas are a little bit scarier, gaining a deadly hug attack, possibly the first and only hug attack in all of D&D–but it deals extra damage every round until someone escapes or the barbed devil takes a significant chunk of damage. Add to that the new abilities that it gained because it's now a baatezu which is a magical evil creature not a devil, and its fiery powers from the previous edition, and you get a deadly sentry that can catch a party off guard.
But all that aside, 2nd Edition Barbed Devils/Hamatulas are amazing because they're also harvested as drugs for devils.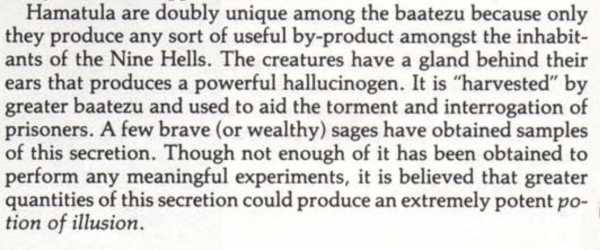 As we move onto 3rd Edition, the Hamatula gets its sort of iconic, defining look.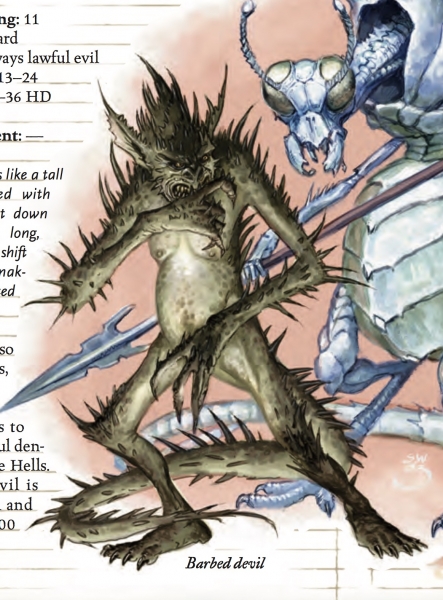 It also improves in terms of combat deadliness owing in a large part to the grapple rules, which as you might expect, benefit a creature that's covered in spikes and cruel, barbed hooks. These monsters are capable of absolutely shredding someone if they get off their improved grapple attacks, and can teleport at will as well as cast hold person. They are great lurker type villains who emerge from the shadows and grab someone and pull them off, separated from the rest of the party where their multiple attacks (and CR 11) can finish off even a seasoned adventurer.
So potent were these, that they even earned a spot in Savage Species as a playable race.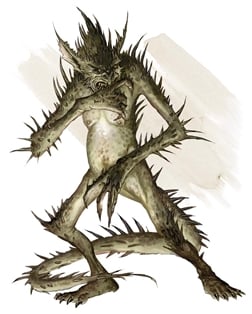 4th Edition Barbed Devils don't exist, but if we go to 5th Edition, we'll see a tamer threat a little more in line with where the barbed devil was in 1st Edition.  These are lower level threats, ranking in at around CR5, but these devils are a little more guardian-y. Resembling a tall humanoid covered in sharp barbs, spines, and hooks, a barbed devil has gleaming eyes that are ever watchful for objects and creatures it might claim for itself. These fiends welcome any chance to fight when victory promises reward.
At least they're supposed to be–but they make even better assassins and skirmishers. With their quick attacks, devil's sight, and hurl flame, they can strike hard and at range too if need be. They are great harassers that can take quite a bit of punishment before worrying about what the PCs are doing back to them.
So if you're looking for a threat that can keep the pain rolling, keep Barbed Devils in mind.
Happy Adventuring!