Devils are the rulers of the Nine Hells–but they aren't the only inhabitants, as today's monster once proved. Before they became a devil.
Step back with me through the misty corridors of time and try not to crush anything underfoot as we journey back to the days of Planescape, when the Nine Hells were not Hell but Baator, a fiery, hellish lower plane that is home to all manner of evil denizens and deities, including Kurtulmak, the god of Kobolds, and Tiamat, who just wants to get those meddling kids.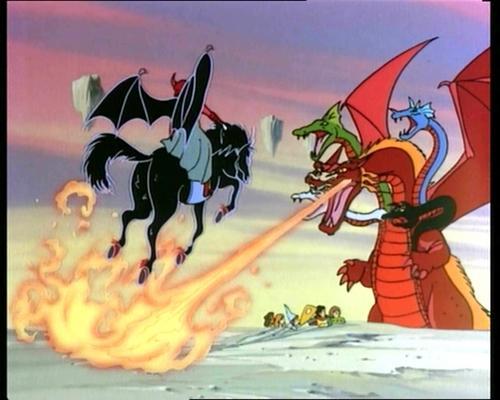 And the DM's son too…
Baator housed many an evil being, including hell hounds, fire giants, rakshasas, and other lawful evil monsters. Including the monster that would eventually become the Chain Devil–the Kyton. Let's go back to 2nd Edition (as near as I can tell, Kytons didn't exist until after Planescape), and see their humble beginnings.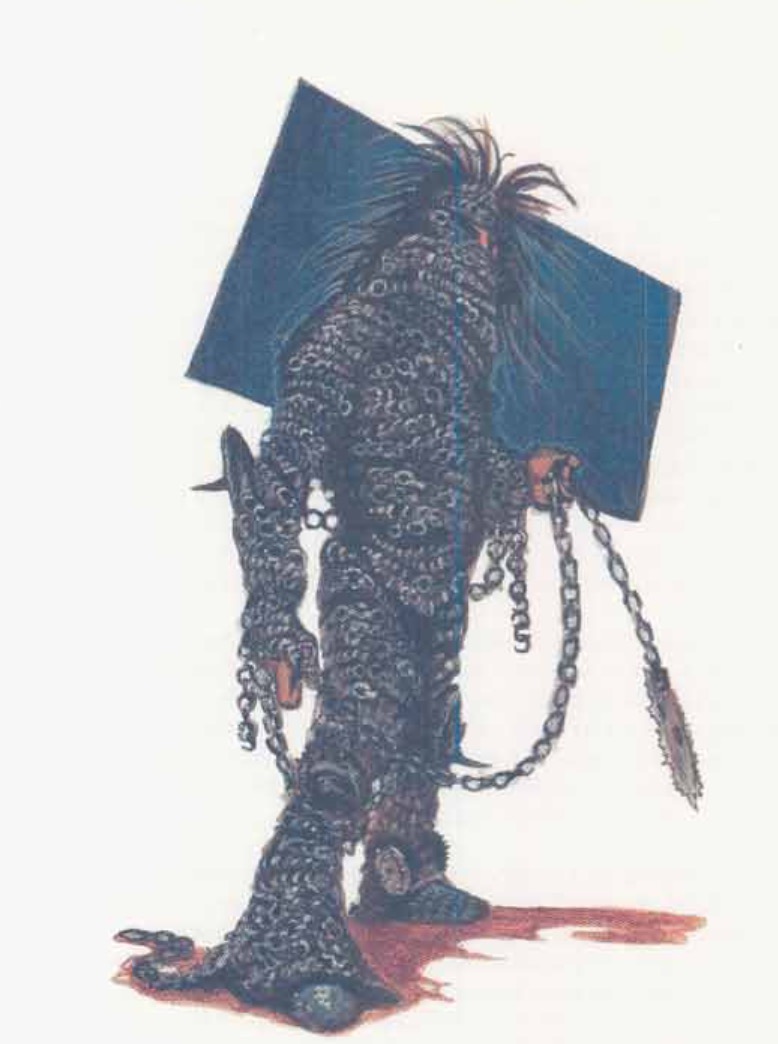 Originally, Kytons were a race of creature that inhabited a city on Minauros, the third layer of Hells–and arguably one of the most metal. As it was described:
"Minauros, is an endless bog of vile pollution. The weather on Minauros consists of acidic rain, flesh-slicing hail, and harsh winds. Most of the layer is a vast dismal marsh of foul rotting soil, littered with carrion and pools of water. Through murky fog, one often encounters numerous carcasses soaking up the filthy rain. Another horrid feature of these lands are "cells." These are large shallow pits, filled to a depth of two or three feet with water. Chains and manacles of brass and iron are attached to huge stones laying at the bottom of the cells, where intruders and others captured by Mammon's barbed devil sentinels will be kept. The chained prisoners are forced to stand or sit in the chill, fetid water until they die from exposure or starvation, unless they are taken away for torture or interrogation first. Fortunate prisoners escape, though occasionally the barbed devils will allow a prisoner to escape in order to hunt it for sport.

The huge stone city of Minauros the Sinking is located here, so called because the weight of the city causes it to continually slip beneath the slimy waters; only the endless efforts of thousands of slaves prevents it from doing so. The city sits in a marshy bowl in the center of these volcanic lands, and is constructed of a black stone gleaned from another plane, perhaps a world on the Prime Material, and rests on mighty pillars that eternally sink into the foul bog that fills the layer. Below the city are said to be the ruins of a town that once resided in the Outlands, a town filled with riches beyond dreaming. Hanging in the sky over the stink of Minauros can be found the kyton city, suspended from who knows what."
Ruled by Mammon, this is a place of greed and bondage, and Kytons lived there. These humanoids–for who can tell if the bodies underneath the chains they wear in lieu of clothing, armor, and weapons are indeed "human"–were cruel, malicious marauders who enjoyed inflicting as much terror as possible, whether stalking them face to face, or hounding them from the shadows with their rattling chains. These early Kytons can control chains as though they were animate snakelike beings, have immunity to weapons that aren't +2 or greater, cold, and can reattach lost limbs and regenerate, making them resistant to all but the most blessed weapons.
Interestingly enough, though, these fiends aren't devils–just denizens. Until 3rd Edition that is.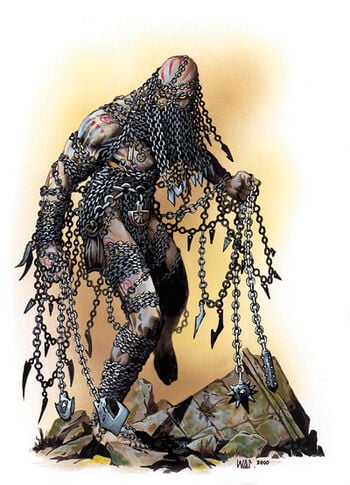 Kytons in 3rd Edition became a kind of devil and revealed a little more of the skin underneath. They got upgraded from who-knows-what to "devils resembling humans that are sometimes mistaken for undead" and that's about it. Far more space is devoted to their attacks, which are considerably more complicated in 3rd Edition. Chain Devils, as they came to be called, still possess their 'control chains' ability, now called Dancing Chains, which gives them the ability to move along chains, attack with them (as per the Kyton) or use magic to shift its face into the mask of a dead loved one/rival to unnerve enemies.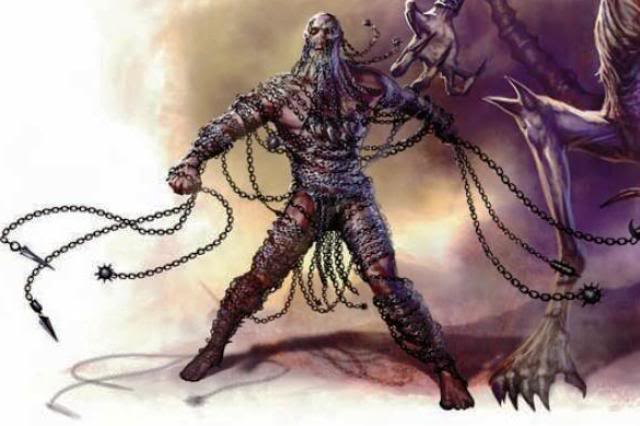 4th Edition Kytons lean more into the Hellraiser side of things, functioning as the jailors and torturers of the Nine Hells. Canonically they like to use their spiked chains to take enemies alive to torture them later, which manifests itself in their stat block in a few different ways.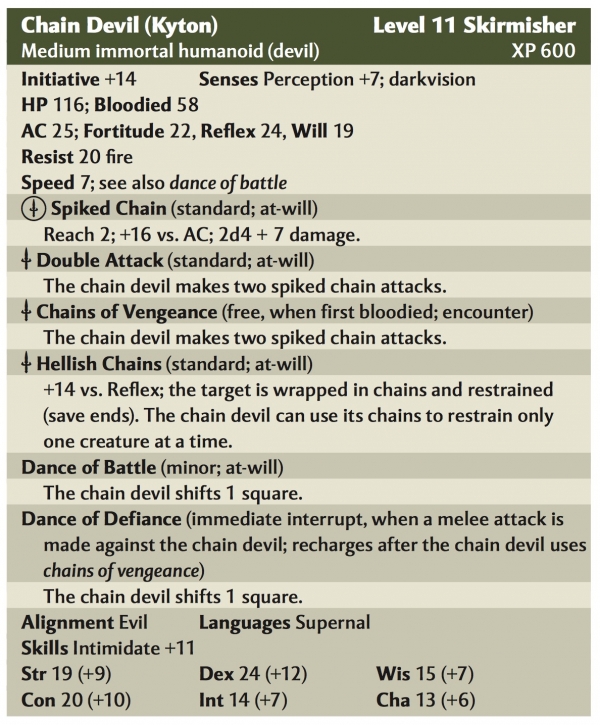 As you can see from their stat block, they are capable of attacking a fair amount and are experts at restraining foes. They can use their longer reach and mobility to help keep them out of range, especially once they have snared a foe to drag back to the Nine Hells for Hellraiser times.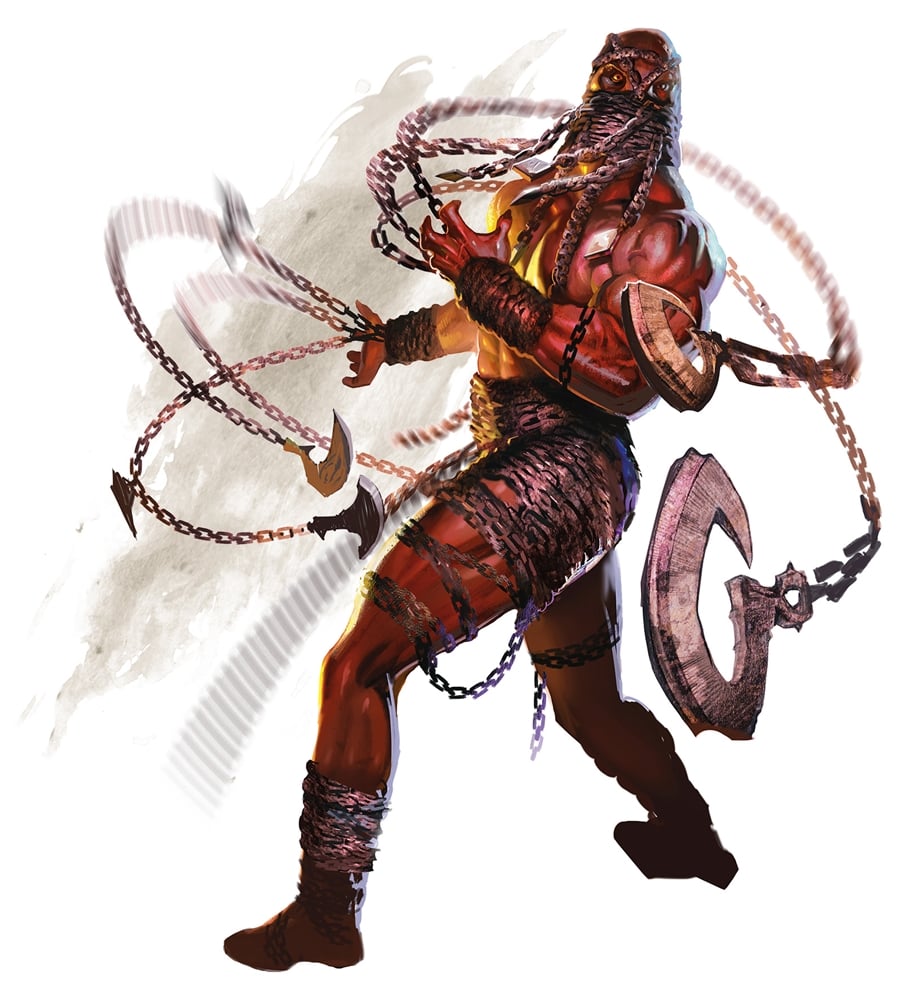 In 5th Edition, Chain Devils have a little more lore to them. Though again, they're sort of outsiders compared to the other devils–they don't have the innate ability to summon other devils and just double down on their chain attacks and the fact that they can animate and control up to four different chains at once. This does make them quite deadly, as each animated chain gives the Kyton an extra attack (giving them up to 6 attacks in a perfect situation), but they lose out on some of the lore that made them unique.
Other devils are also the jailors/guards of the Nine Hells (looking at you Spined Devils), but Chain Devils have some kind of connection to departed souls. It's an interesting potential, but one that is as yet unexplored.
---
Perhaps when using these foes, it might be interesting to turn back to the idea of 2nd Edition (as many things in D&D do) and reimagine them as inhabitants of the nine hells who have magic powers, but also sort of make their own way, irrespective of the hierarchy of devils.
Happy Adventuring!