Goatboy here with my initial thoughts on Codex Space Marines after taking a look inside the covers – Marines are BACK in a big way.
I got a quick peek at the Marine codex before I jaunted off to the GW 40K USA GT in Dallas TX… (OMG  – I WON!)  Overall the book seems pretty dang neat.  It looks super neat – with a lot of interesting rules, new interactions, and powerful abilities.  It's safe to say this is a significant return to what makes Marines, well, Marines — the Super-Soldiers of the universe and the arms of the Emperor.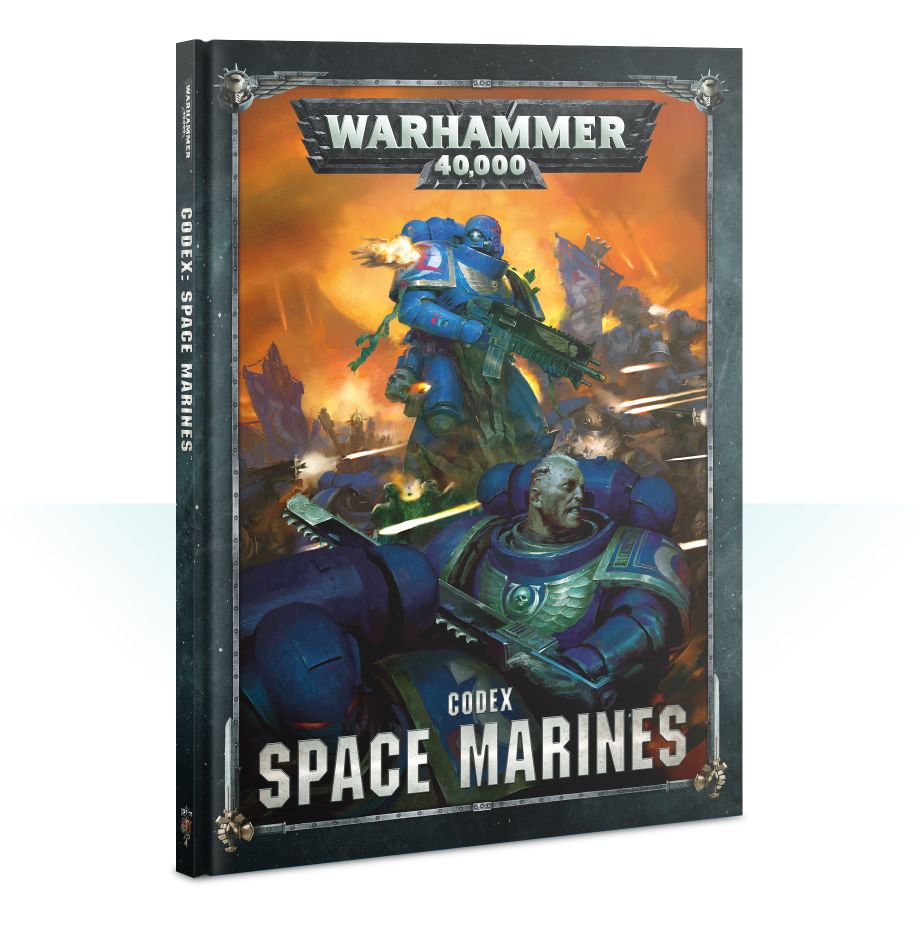 The first thing is to look at this book as a true Adeptus Codex.  This is the central book to everything Marine based, and like the hub of a giant city, you need this book if you want to play anything Marine like. This isn't too bad because GW can quickly build smaller books with small tweaks, rules, and updates to fulfill any of the different chapters.  I kinda wish this is what we got with Chaos Space Marines, but they are more of a crazy varied bunch so having such a centralized book is less of a need for my beloved traitors.  They need more legion books… but that isn't what this article is about.
The central nature of this book – expect the other Marine chapters to fall in line with this idea of a few different options and then utilizing the main rule book for the bulk of their army.  It just fits better, and while it leaves some fluff about following different rules, it makes more sense game wise as each marine army is a different shade of a model with some fancy shoulder pads and options.  It wouldn't surprise me if we see a new Dark Angels supplemental codex coming with the picture on the back of the latest White Dwarf.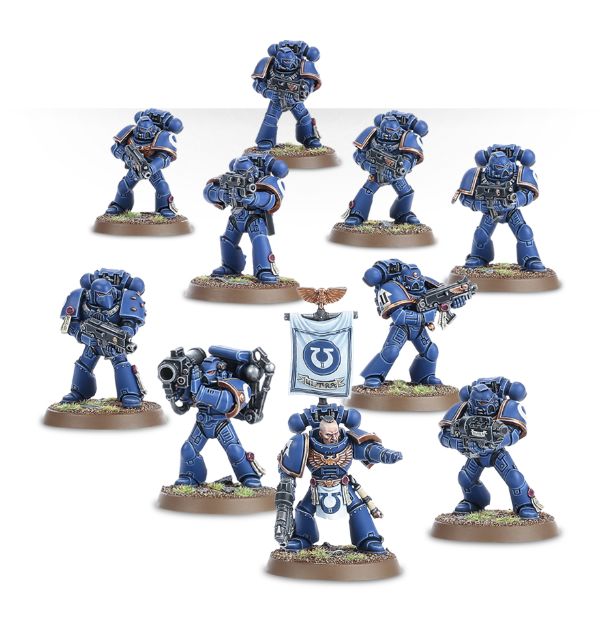 Cheaper every day…
Surprises
Tactical Bargains: From there, the other big surprise is that the basic Tactical marine went down in points!  This is nutty because it is now just one more point over a Scout.  So while I think scouts still have a place as cheap filler and board control option, the two new Primaris scout-like TROOPS units might flip that on its head. They have interesting rules and abilities that could be very powerful, depending on the type of build you want to do.  It just depends on how the points flow together and if there is a real winner of rules versus cheap option.
Supplemental Codexes: The Marine book has removed all of the characters in the book. Those will show up in future supplements.  They have also removed all the Legion specific stuff (Black Templar dudes). We see that in the Ultramarines book, which has a few boy bands worth of named characters. As well as the White Scars that sits with just the wide-hipped Khan who is now scared of bikes and a new generic HQ "Khan" you can put on a bike.  This is how you will see all of the future books with all their characters shoved into a supplemental book. I am ok with it – the mini-book is full of art, fluff, and other crazy stuff that doesn't need to sit in a fat book. They dive deep into the chapters fluff, so those loving the background will like these books. I love that the Ultramarines and White Scars book cover EVERY company, its history, current makeup, and commanding Captain. Perfect for hobbyists and lore fanatics. I like the background too and have fond memories of reading one of the original Black Legion supplements and how much of a pain in the butt Abbie is.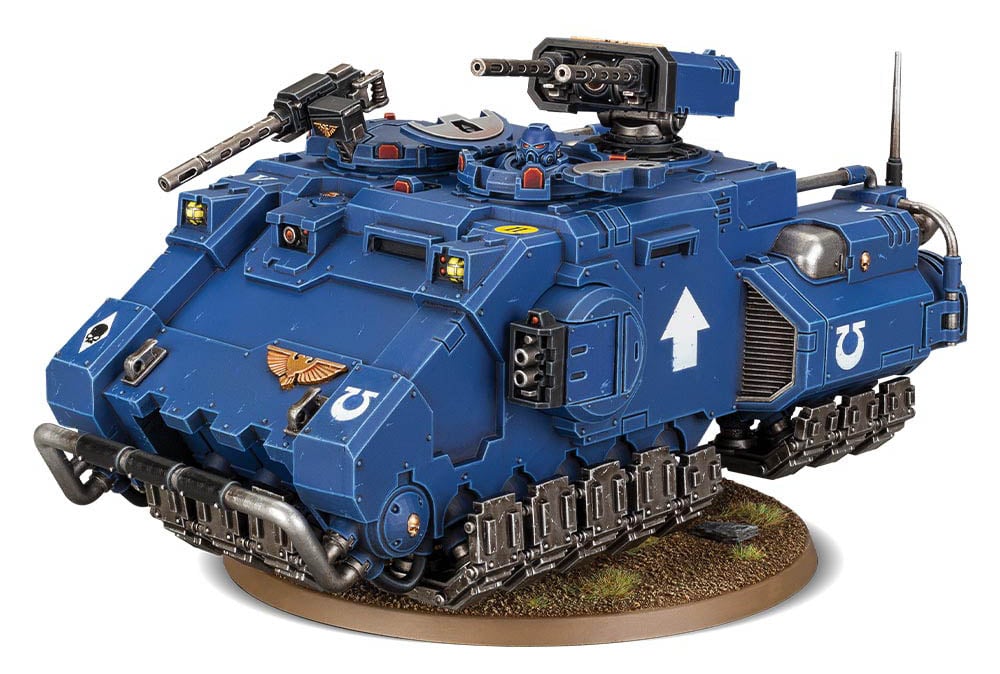 Impulsor: On the new unit front – the new mini tank looks very good.  It is cheap, fast, and has a plethora of rules you can use.  It can be more of a shootie razorback variant, a stock troop carrier, and maybe even a mortal wound monster if you roll hot.  All of these things rolled into a model that has more wounds than the rhino, flies, and Primaris aren't scared of.  Isn't it weird how all the Primarus models don't trust tracks?  The tank lets you jump out if it didn't advance and disembark.  The other thing that is bonkers, on top of this, is the change to Null Zone.  If a unit is within 6″ their invulnerable save goes poof.  Issues with Plague Bearers seem like less of a problem.

Odds and Ends
I mean the book just looks good. There are Chaplain powers, Psychic powers, strong characters, and just tons of options.  This feels like a book that has gone through a growth process with 8th edition, come out the other side with all the tricks needed, and comes back to being the powerful book it needs to be.  Will this make you want to play Marines again?  Yeah, it does. Thankfully the Marines are one of the easier armies to collect, batch paint, and get on the tabletop.  I will go over more of the book in the coming weeks as I build lists and bring some thought to the army.  I have a ton of marines to paint for clients, so getting my own army the table top will take awhile.
I also don't think the army needs friends to work well.  It just needs some Bolt Ammunition, some psychic friends, and a boatload of the Emperor's might.
Oh – and the new Thousand Sons like detachment will be Tibbie and whatever friends you want.  He is that strong and will show up all the time to stop spells, show you how thick he is now, and punch Ahriman in the face.  Will we see more marines on the tabletop?  Oh, for sure.  Just in time for GW to come out with some new boxed sets and other fun things.
~Are you excited for the return of Marine infantry to the table?