Star Wars: Armada is about to go bigger. Meet the Super Star Destroyer!
Fantasy Flight Games has delivered on the promised made at GenCon 2018 – the Super Star Destroyer is HERE:
 Firepower Concentrated
The Super Star Destroyer stands out as the largest miniatures ever produced by Fantasy Flight Games. It's two feet long and it's fully playable in your games of Star Wars: Armada. It's also very detailed based on the scale in which it's produced. As a fully painted and assembled kit, it's one massive miniature that both players and collectors will get a kick out of.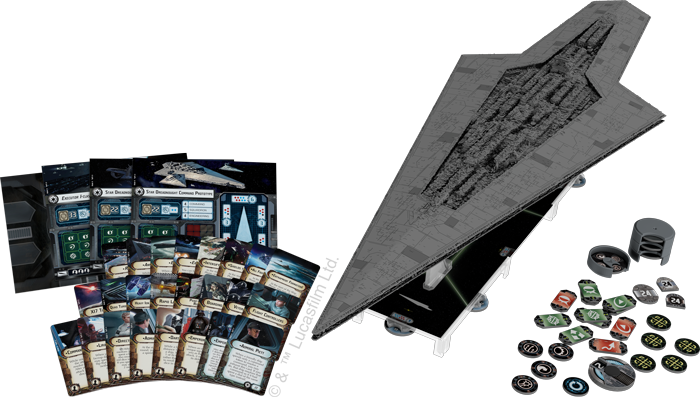 As far as taking this monster out on the tabletop, you've actually got a few different options. There are two "proto-type" versions that you can absolutely run in your standard games of Armada. This ship is a basically a fleet by itself, but it's "cheap" enough in points that you can run some support elements as well.
On the other end of the spectrum, you've got the full-blown and fully operational version designed for the more "epic" play/power level. With basically double the firepower, the upgraded Super Star Destroyer will form a massive anchor for your 800-900 point fleets – and will more than capible of taking on those pesky rebels or upstart Imperial forces, too!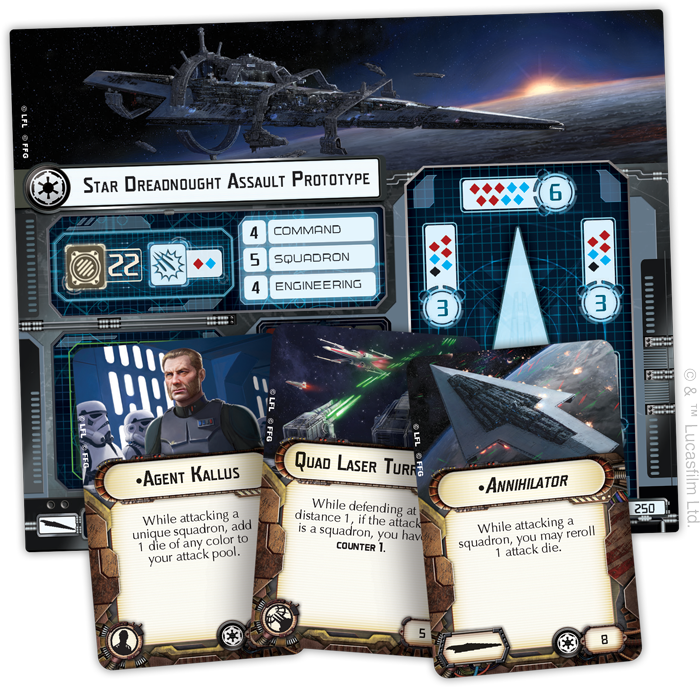 The Super Star Destroyer is one of those models that comes along and demands your attention. It's fully painted down to the engines and it looks like it's got a city floating inside of it and underneath it as well. It's a truly impressive sculpt and FFG has done a great job of bringing this beast to the tabletop.
Again, if you're just a collector of Star Wars, this Super Star Destroyer is quite an impressive addition to any size collection. And if you're a player, well, if you can manage to transport this bad-boy to games (and it's a single piece so it should be too hard) you've basically got a ready made fleet! Just watch out for those Pesky A-Wings…

The Super Star Destroyer also comes with some rules updates for playing with it in your games and really is an "Expansion" to the core game. So if you've been waiting for this thing to come out since last year, now is your chance! It's in stores right now – so go forth and dominate the tabletop!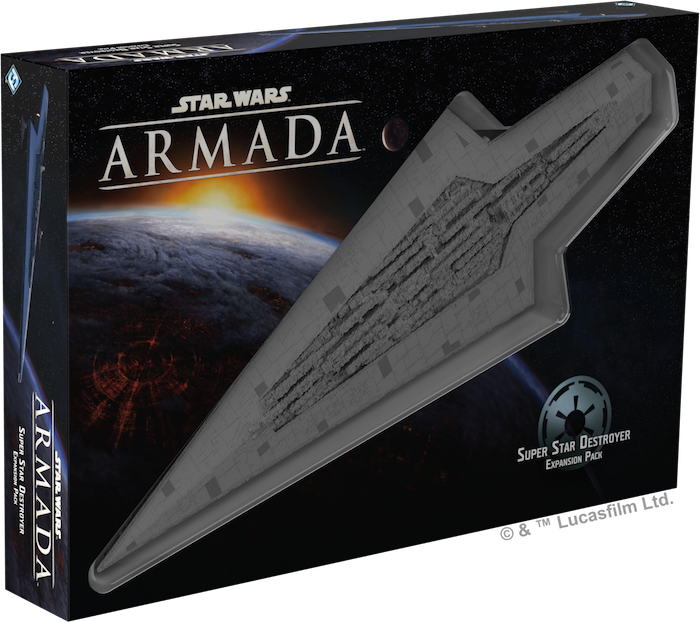 The Super Star Destroyer Expansion Pack arrives to swell the forces of the Galactic Empire with the first ship of an entirely new class—huge ships. The pre-painted, beautifully sculpted Super Star Destroyer miniature within this expansion is the largest miniature yet created by Fantasy Flight Games, measuring over 24 inches from tip to tip.

Of course, such a huge miniature serves as a stunning reminder of Imperial might on the battlefield—and it's also a fully functional warship that you can add to your Imperial fleets. With four unique ship sheets, an assortment of tokens, and twenty-four upgrade cards, including iconic commanders like Admiral Piett and Emperor Palpatine, any rival fleet will tremble to face the might of your onslaught.
At two feet, does this still qualify as a 'miniature'?