Admirals, let's take a look at the new squadron cards from Rebellion in the Rim.
The new campaign expansion for Star Wars Armada is set to come out soon, and we've all been spoiling for a look at the new cards.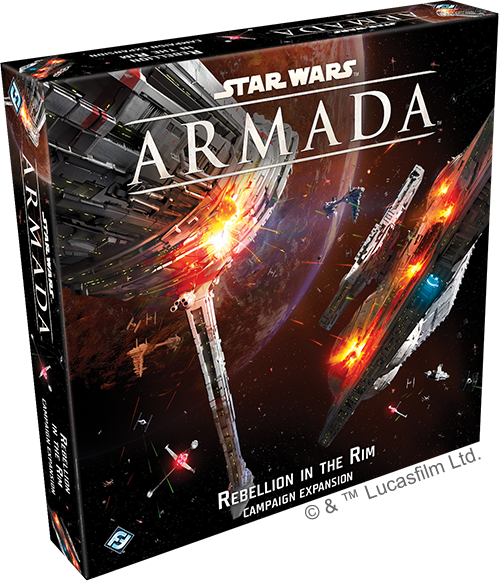 Well, some keen eyes on the Facebooks have posted spoilers to most of the cards. They seem legit (but in this day and age could always be clever fakes). Last week we looked at the new upgrade cards coming in the set. However Rebellion in the Rim has more than just upgrade cards in it, it also comes with a host of new unique Squadrons, that will be legal for all types of play. So lets dig in and take a look at the new squadrons.
Lando
Lando, the winner of Cape Monthly's Best Cape of the Year Award for the last few decades, comes to us flying his old ship the Millennium Falcon. Lando is faster than a stock YT-1300 and hits harder than either a regular YT-1300 or Han himself (red dice being better for squadrons than black). He's got the expected Grit and Rogue with give him lots of flexibly. His two abilities are also pretty amazing. He can discard a defense token when attacking to change one dice to any face. He won't be able to do this often due to the high cost, but in means in a pinch Lando can 100% make sure he gets that two hit roll on the red dice, vs either a ship or a squadron. That kind of reliability is big. He can also spend defense tokens to make the enemy re-roll dice when attacking him. Combined this makes him a reliable attacker and though target to take down. I'd say we will see a lot of him.
Mart Mattin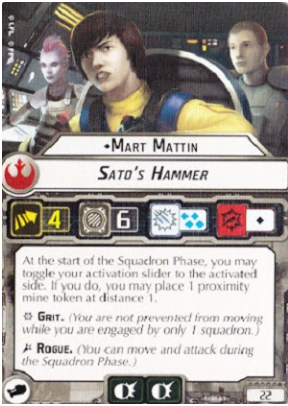 Mart flys a pretty standard YT-2600 with the same basic stats as a stock version or Dash Rendar. He's got grit and rogue, par for the course, and 2 braces, making him better than a stock ship. He's also got the ability to drop proximity mines mid game. If you are trying to build a strategy around mines you likely want him, if not you can likely pass.
Kanan Jarrus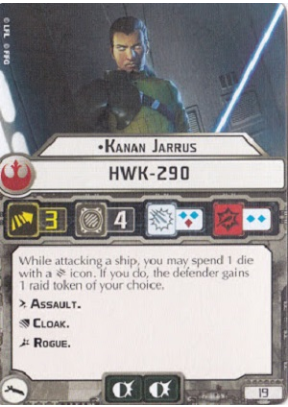 Is it just me or should this card really be Kyle Katarn? Anyway, we get Kanan Jarrus in a HWK-290, a ship I'm not sure he's ever been in. Well they call it a HWK-290, and its got the same hull and speed, but the anti-squadron and ship value are much better than normal. In addition it doesn't have any of the normal HWK-290 buffing abilities, no counter or intel. Instead Kanan is a tricky beast, with Rogue, Cloak and Assault, all allowing him to move about on his own and throw raid tokens on enemy ships. His special ability doubles down on that as well. Overall just a bunch of strange choices.
Malee Hurra
Malee Hurra flies a Scurrg H-6 Bomber that is worse vs ships and better vs squadrons than a stock Scurrg. I'm not sure thats a good thing overall. However her special ability is really why you will take her, allowing friendly ships to to get auto crits when targeted an enemy near her. This really makes her a 26 pt upgrade for you fleet. It feels like there could be some synergy between a long rang Sato missile fleet and her.
Hondo Ohnaka
Fan favorite Hondo joins us flying the Fett's pride and joy Slave I. He's got bomber, grit and rogue and a decent stat line. None of that is anything to write home about however. What really stands out about him is his ability. Now on his turn he can instead of attacking toggle a nearby squadron's activation slider to the activated side, effectively stopping it from acting. This bit is nice, but I don't know if its much better than just attack the enemy ship, though it could prevent a bomber from finishing off a friendly ship. Still if you are spending 24 pts to neutralize a likely less expensive ship without doing damage, that is not great. There is however a second part to his power, if targeting a ship that's already activated he can instead move that squadron to anywhere within distance 1 of him. This has a lot of potential, it could be used to pull an enemy formation apart,  maybe moving a needed buff away from friendly ships, or to pull an enemy squadron into range of your other squadrons. It can even target one of your own squadrons and maybe move it out of harms way. This just seems really good.
Moralo Eval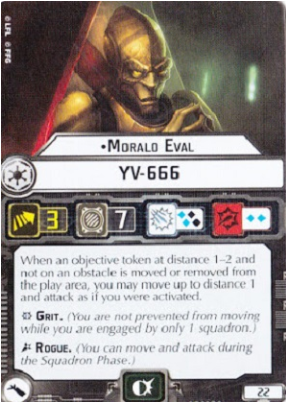 Eval comes in a YV-666 a ship that I've always liked. It's basically a turret in the game, with great firepower and hard to kill, but kind of slow. Eval doubles down on the turret/defense feeling. His ability means you want to sit him near an objective and punish anyone who tries to grab it, allowing him extra moves and shots.
IG-88B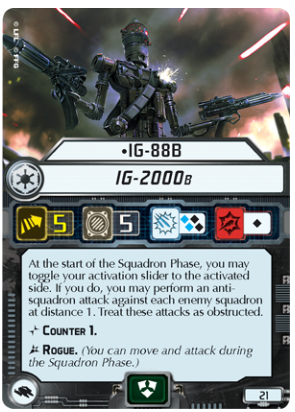 Ah yes, another IG-88 come to play. The B model trades the focused attacks of the other model for a power area of attack ability that lets him target multiple enemy squadrons. Even though he counts these attacks as obstructed they are still powerful and IG-88B could single handedly decimate a whole wing of TIE fighters. The issue is going to be pulling off the attack, as it has to be done at the start of the squadron phase, so you can't activate him with commands, or move him that turn. Enemy units need to already be in range. This means its either an ability to trigger on the 2nd turn of a dog fight, to finish off the enemy, which in turn means he's gotta survive that long, or you need a way of moving him without activating him before the squadron phase.
Tel Trevura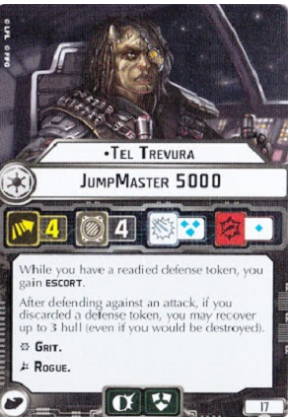 Lastly we have Tel Trevura, a weirdly tank-y JumpMaster 5000, that sometimes has escort. I'm not really sure how to feel about this guy. I guess he makes a solid escort that will be more survivable than most. Beside that he won't do much however. If you need an interesting escort I guess use him.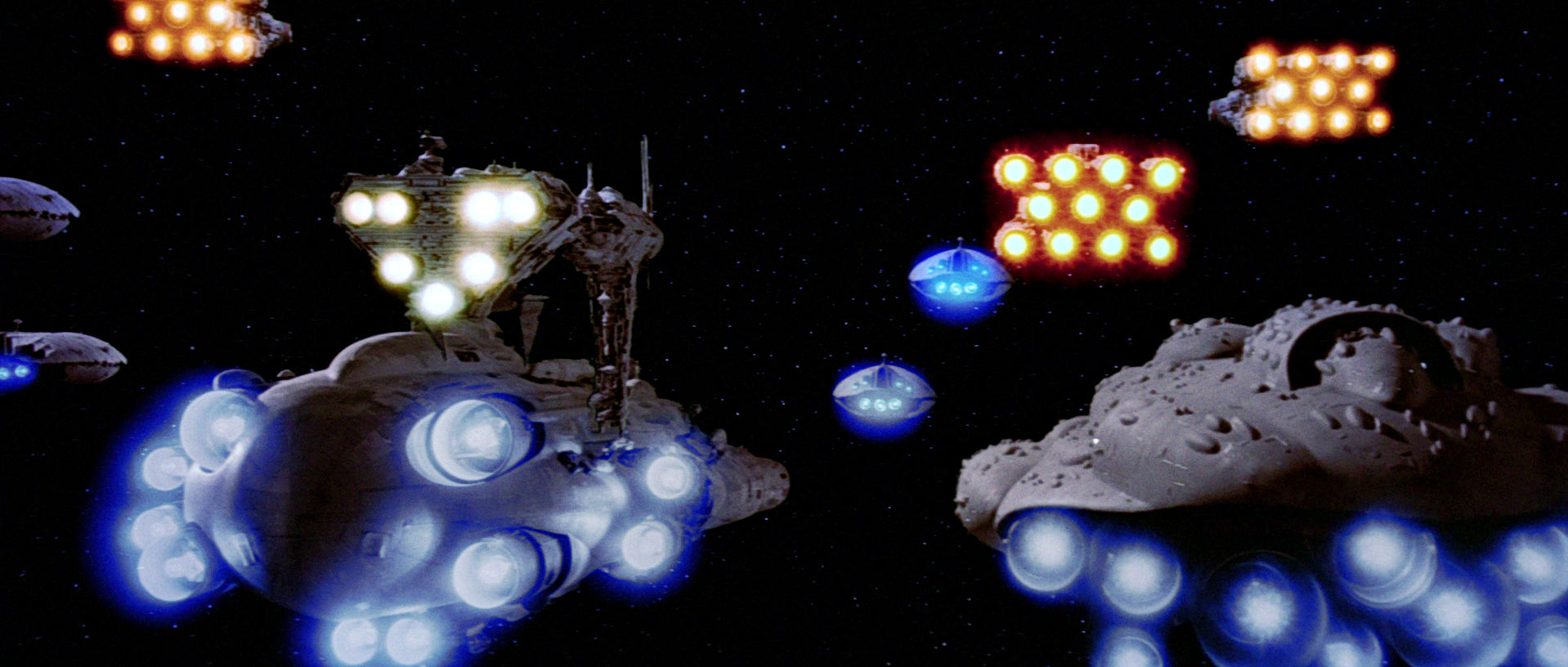 Let us know what you think about these new squadrons, down in the comments!