Necromancers, a grim setting for 5e, a new way to deal with bad dice, and game that offers a fun night of fiascos. Come check out this week's batch of Kickstarter highlights!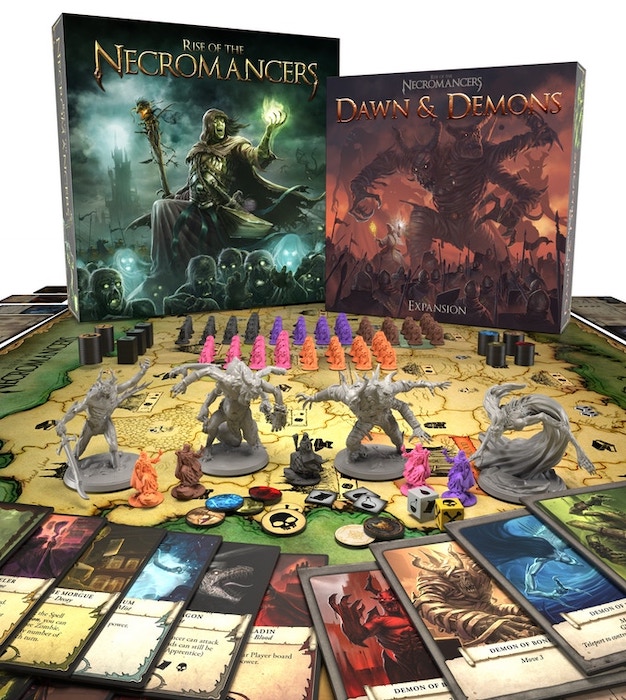 Rise of the Necromancers, is an evil strategy game for 2-5 players, successfully funded on Kickstarter in 2017. In this wickedly twisted world, each player controls a Necromancer struggling for absolute dominance. Conquer cities, forge magic items, learn spells, explore dungeons and strive for the Academy Headmaster position… and of course deceive, sacrifice and destroy whenever necessary. 
And now, to make your Necromancer more evil than ever, Dawn & Demons has arrived. This first expansion for Rise of the Necromancers gives you the ability to summon and control powerful demons.  
You can pick up the core game and the expansion for $83.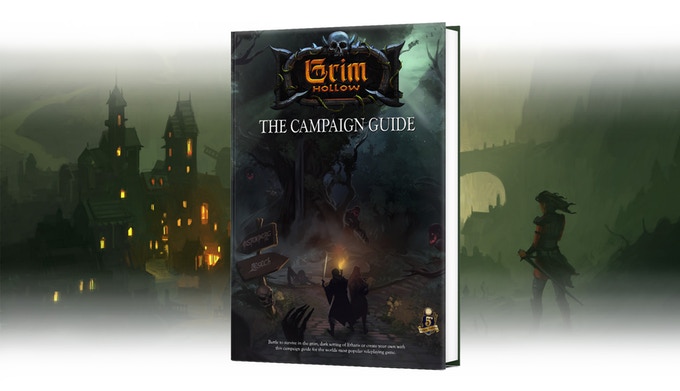 Grim Hollow is a grim dark fantasy Tabletop Role Play setting for fifth edition of "The world's Greatest Roleplaying Game". Set in the dark, godless world of Etharis, civilization has long forgotten hope and now clings desperately for survival. Within Grim Hollow: The Campaign Guide Game Masters will find over 200 pages of material to set adventures in the dangerous world of Etharis or create their own Grim/Dark setting. From world lore to expanded game mechanics, the Grim Hollow Campaign Guide is specifically designed to shift the theme of a campaign from high/heroic fantasy to something much darker.
There are several bundle options – you can pick up a hardcover campaign guide for $38.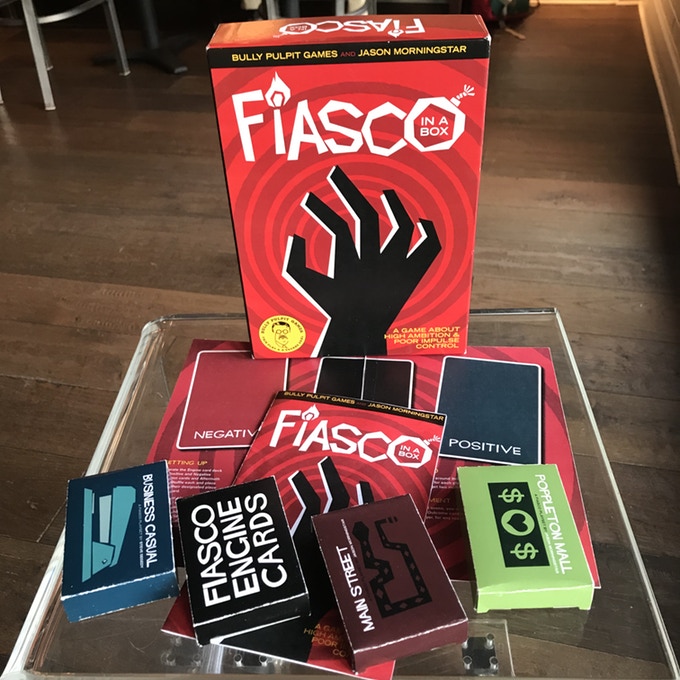 It's been ten years since we first published our original tabletop game Fiasco, and we're incorporating everything we've learned about stupid disasters, poorly-timed plans, and precious things on fire into this new edition. The new Fiasco retains all the features familiar to old friends, while being much more welcoming to new ones. 
We've tossed out all the dice and index cards and replaced them with playing cards. Setup elements? On cards. Tilt, Aftermath and positive and negative Outcomes? On cards. It speeds up play, adds intuitive, strong visual appeal, and just plain improves the play experience. As an added bonus, it's now possible to "tune" playsets, combining elements from your favorite Fiasco settings old and new. Since playsets are now decks of cards, we're committed to rolling out old favorites and new surprises regularly, and we're looking into how we can share the tools you need to make you own. 
The game has been playtested thoroughly and is ready to go. We've taken great pains to make it beginner friendly – everything you need is in the box.
The boxed version will run you $30.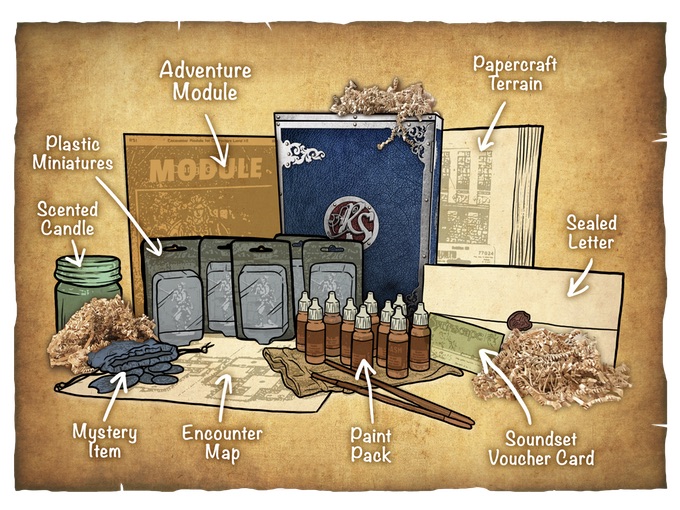 Our Dungeons and Dragons Adventure Boxes allow Game Masters to create an incredible tabletop RPG experience that has the sights, sounds and even SMELLS that will immerse players in an unforgettable roleplaying experience each and every month. Our goal is to take a lot of the monotonous prep-work out of each session a Game Master prepares while equipping them to maximize creativity and spend time crafting an RPG world for their players.
Pledges range from $6 to $2,497 depending on how much swag and how many boxes you want.
Fantasy Fighters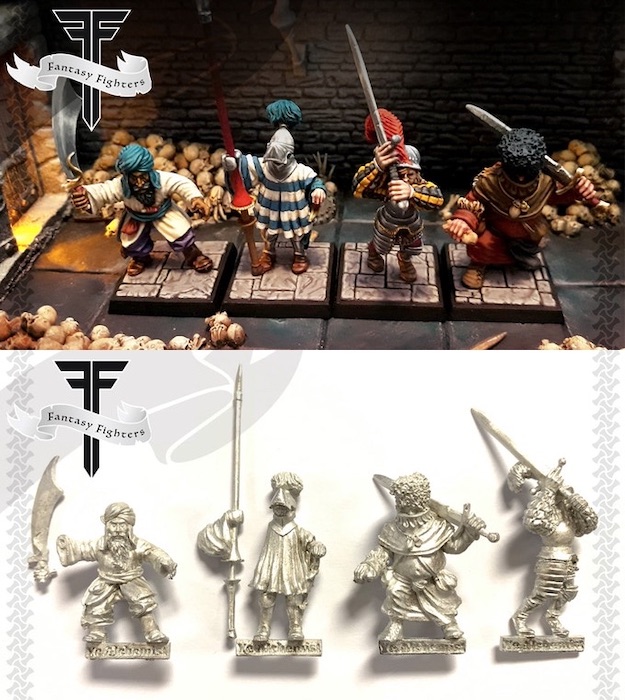 This project brings to life 8 new Heroic miniatures suitable for a variety of Tabletop wargames and Dungeon Crawlers…. moulding and testing has taken place prior to the start of the campaign to minimise risks and ensure fast dispatch of rewards. 
Traditionally hand sculpted and moulded, these miniatures have been mastered in resin before being cast in metal. There are a limited number of resin casts available from the initial master mould – once these are gone though, there'll be no more! A number of top sculptors have contributed to this range: Tim Prow, Bob Olley, Lewis Collins, Sergus and Bobby Jackson.
You can snag 4 metal minis for $25 – they also offer resin versions.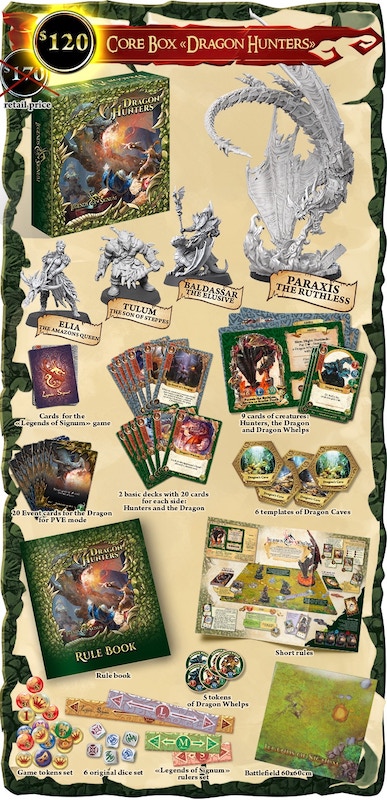 Dragon Hunters is a game where three reckless heroes – an avenging amazon, a warlike half-orc, and an intrepid mage explorer face a deadly and terrifying dragon with treasure hidden within its lair. The Dragon is not the only opponent, as the hunters' greed and thirst for glory can ruin a well-executed plan. You will decide who will be the lucky hunter to receive the treasure, and who will fall while facing the dragon – and don't forget about the dragon itself, who will do everything in its power to destroy the intruders and derail your strategy. 
The core game is $120 and comes with all of the stretchgoals.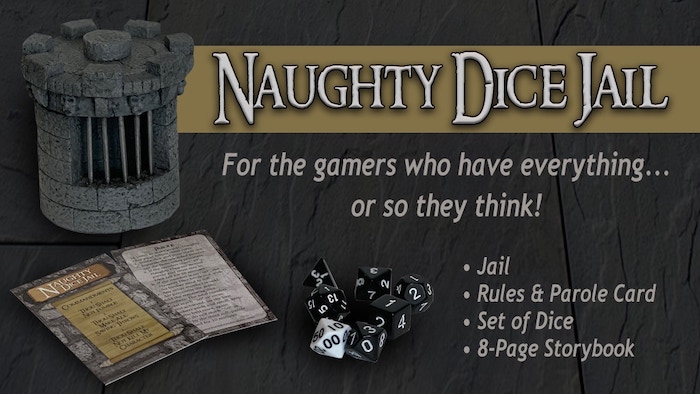 Let's face it. Your dice either like your character or they don't. You may think these multi-sided gaming tools stand neutral in your campaign, but beware! Dice can be naughty or nice! How we cheer triumphantly when they roll well, but there isn't a gamer out there who hasn't felt the sharp sting of betrayal by one the ones who decides to break one or all of the dicey commandments!
Now you have options dear gamers! Mick Art Productions, the creators of the Journal of an Outlaw comedy book series, the Forbidden Treasure of Miftenmad, the Fumblecrit Wars, and Gamble at the Gallows games, along with the help from Andy Schiller from Drakenstone, have teamed up to create a device to punish your wayward dice! The Naughty Dice Jail!
It's sturdy, well made, and a great addition to your gaming experience! Now you can take your renegade dice and put them where they belong…in jail! Are they gone forever, you ask? Of course not! Thanks to Mick Art Productions parole system, your dice can be reformed and put back in the game, where they belong! 
You can buy the set for $35.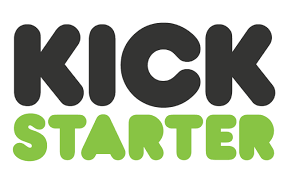 ~Which Of These Campaigns Caught Your Attention?