The Space Marines have 34 stratagems just in their new codex and we've picked out the ones you're going to want to know about first!
Stratagems are an integral part of the game of Warhammer 40,000. The Space Marines now have 34 to use in their games – and that's not counting the additional ones you'll find in their supplements. Many of them stayed the same but we picked out quite a few that are new/improved/important for you to know about. Get ready for Space Marines to really shake things up!
The Vigilus Strain
The First four we are talking about are the 4 stratagems you might recognize from Vigilus Defiant. Veteran Intercessors used to be the key that unlocked the other stratagems – that is no longer the case. Now the Stratagem can be used 1) multiple times before the battle and 2) costs more…sort of. I say, "sort of" because previously you had to pay for the cost to take the specialist detachment. Now you don't. It's either 1 or 2 command points depending on the squad size. And it still adds 1 Attack and 1 Leadership to their stats. And, of course, you can only use it on an Intercessor Squad once per battle.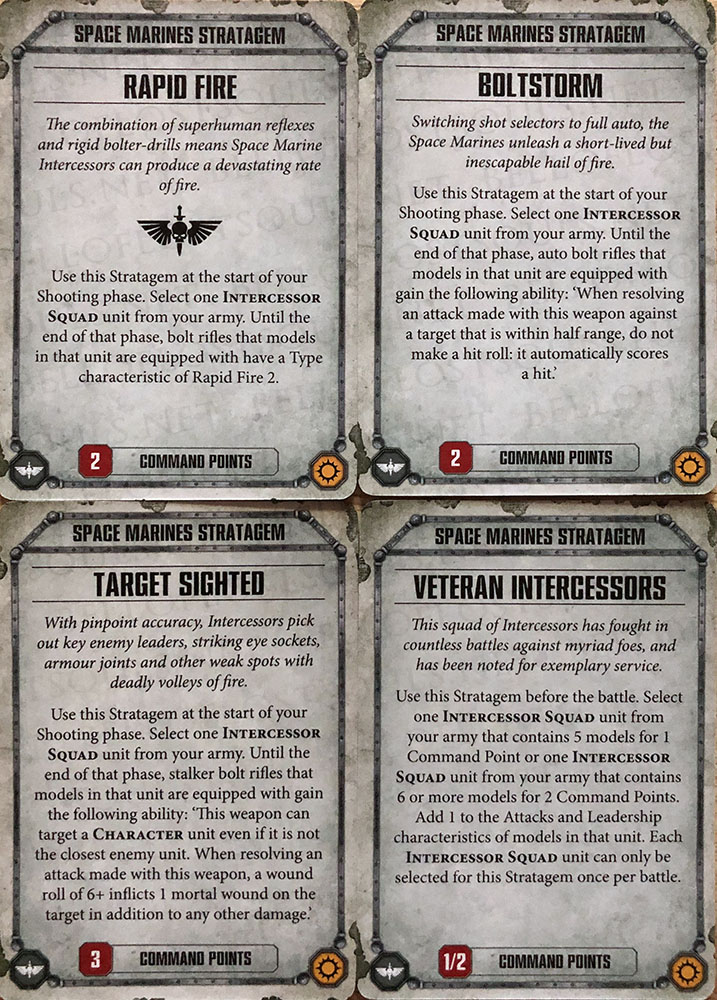 The other three stratagems can now be used on ANY Intercessor squad with the matching weapons. Although, technically, you don't have to match the weapons…but that would be a complete waste. ANYHOW, you can now use these stratagems without having to pay for the detachment or the vet upgrade. This is fantastic for folks who want to run Primaris Marines now. With the change to Primaris Bolt weapons, having these stratagems is going to make them even more effective.
It's going to be interesting to see how this works with the non-codex standard chapters like Blood Angels, Dark Angels, Space Wolves, Deathwatch, and Grey Knights. Will they get access to these as well? We are betting GW will clarify all of that pretty quickly…
Codex: Standard Issue Stratagems
Transhuman Physiology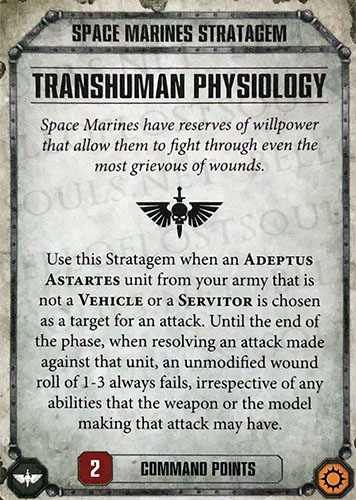 This one costs 2 CP, but man, when you need a unit to survive, this can literally make the difference between life and death for a Space Marine. Are you about to get bombarded by strength 8? Well, now you can nullify those 1s, 2s, and 3s! Brutally effective.
Steady Advance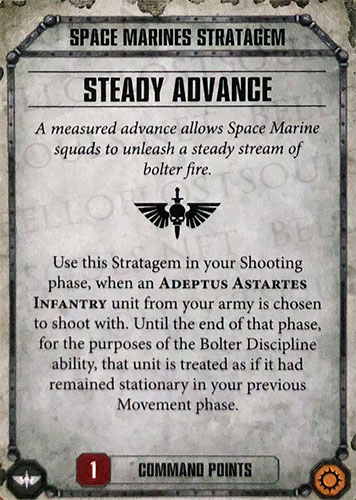 Bolter Discipline makes bolters better – so why not have a stratagem that makes it so Infantry can move and shoot with it still in effect? Meet Steady Advance! Because of this stratagem, we here at BoLS still think the Primaris Bolt Rifle is going to win-out over the other options…if you have the CP to spend that is!
Hunter-Slayer Missile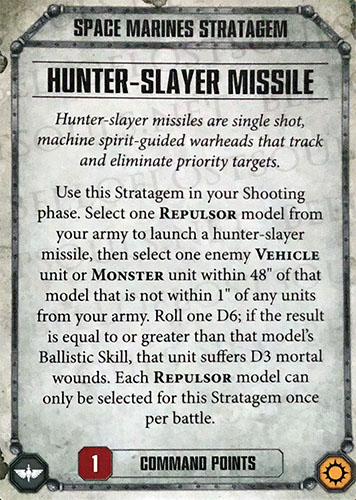 This one is on our list because it's weird and deadly. It allows your Repulsors to basically fire one-shot missiles that do D3 mortal wounds if they hit. It's only 1 CP but it's yet another way for Marines, specifically Primaris Marines, to generat mortal wounds. Also note that because this isn't a standard shooting attack, it's impacted by to-hit mods either. Weird, right?
Relics Of The Chapter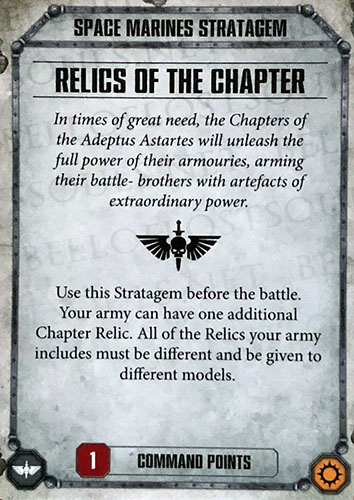 Have you always wanted to take those OTHER relics? Guess what – now you spend CP to do just that. "But you could already do that!" Not like this, oh reader, not like this. If you want to take 4 additional relics, now you just spend one CP per relic – how cool is that?! We sure how this type of rule gets rolled out to the other codexes and FAST!
Death To The Traitors!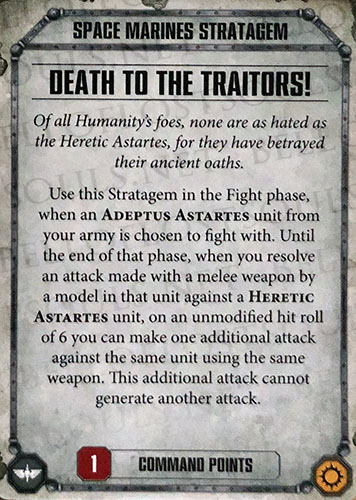 HEY LOOK – Now Space Marines have their own version of Death to the False Emperor! Chaos Marines, it is like the Space Marines said, "We like your candy – so  we are making our own!" Now, on the flip side it's only on "Unmodified" to-hit rolls of 6, but we have a feeling that verbiage is going to become the new standard. We shall see…
Well, those are our picks out the of the 34 in the Space Marine book. And yes, there are a LOT more to choose from – this is just the first wave.