BMC Toys has been making little plastic army men with vintage molds since the early 1990s. Now, thanks to the request of a six-year-old girl, they'll be making little plastic army women.
The company had been approached several times before this. A retired Navy fleet master chief reached out looking for toy soldiers for his granddaughters. The turning point came when this letter from Vivian Lord, a girl for Arkansas, arrived and made national news.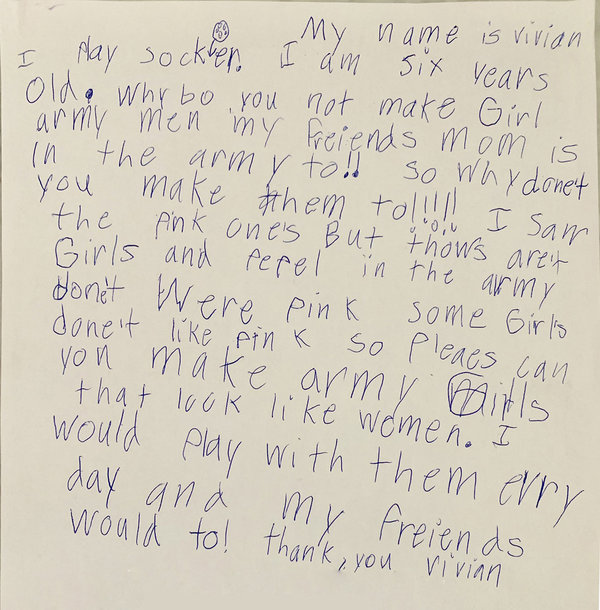 For those not fluent in kiddo handwriting:
"My name is Vivian. I play soccer. I am six years old. Why do you not make girl army men? My friend's mom is in the army, too! So why don't you make them, too? I saw the pink ones, but those aren't girls and people in the army don't wear pink. Some girls don't like pink. So, please can you make army girls that look like women? I would play with them every day and my friends would too. – Thank you, Vivian"
BMC was already looking into starting new production, and after doing some research decided to go for it – little green army women will be available Christmas of 2020. The design process is underway and there are some preliminary sculpts.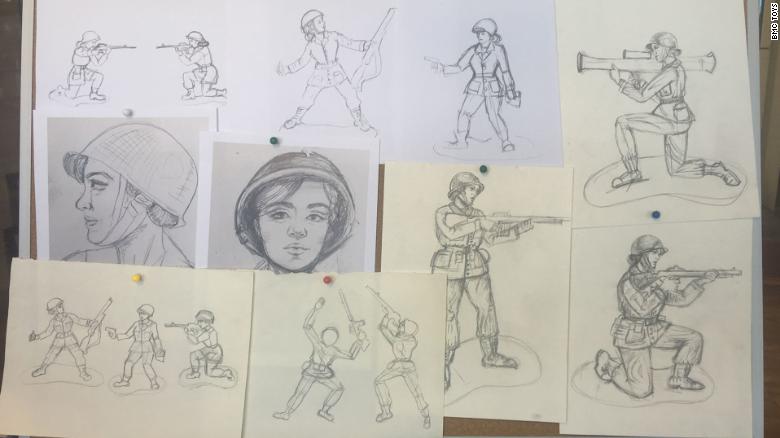 Their current collectors series is 1:32 scale, each fig is about 2.25 inches tall. I'm expecting these will be in the same scale so kids us them in adventures with the boats, tanks, and playsets available. There will be four standard poses, including a kneeling soldier with a bazooka and this captain with binoculars.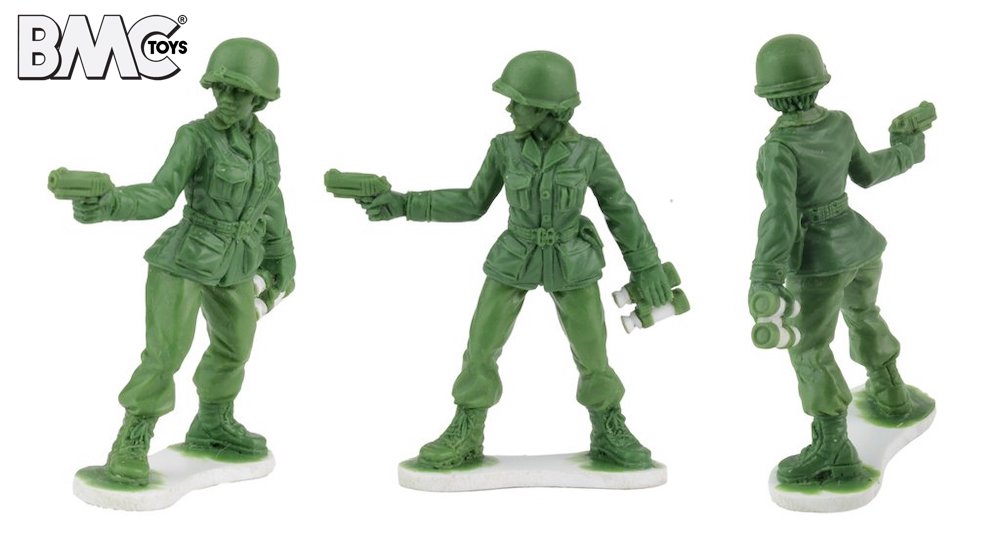 There's been some grousing from long time fans of the classic toy about historical accuracy, and some worry that the company will take a financial hit. BMC Toys president Jeff Imel told NPR that while he's a little worried (the process to put a new line of soldiers in production is about the same cost as a mid-priced car and BMC is essentially a one man operation), it's important to understand how children see/use toys.
"The plastic army men are not just a toy version of soldiers in World War II movies. They exist in their own universe. Every kid wants to be the hero of their story. It shouldn't be up to us to decide who the hero is. Girls should be able to connect to the toys just as much as boys do."