The Ossiarch Bonereapers have a tough decision ahead for their Mortek Guard – Do you give them Spears or Swords? Let's chat.
Over the weekend we got our hands on a copy of Feast of Bones and unboxed it. I quickly set out to start building the models as quickly as possible and learned a few interesting things. The Mortek Guard are very easy and intuitive to build. Their bodies are just two pieces (basically a front and back). Then it's just a quick few snips to pick out a head and arms. I would also recommend attaching the shields after painting as it will make painting the body a LOT easier.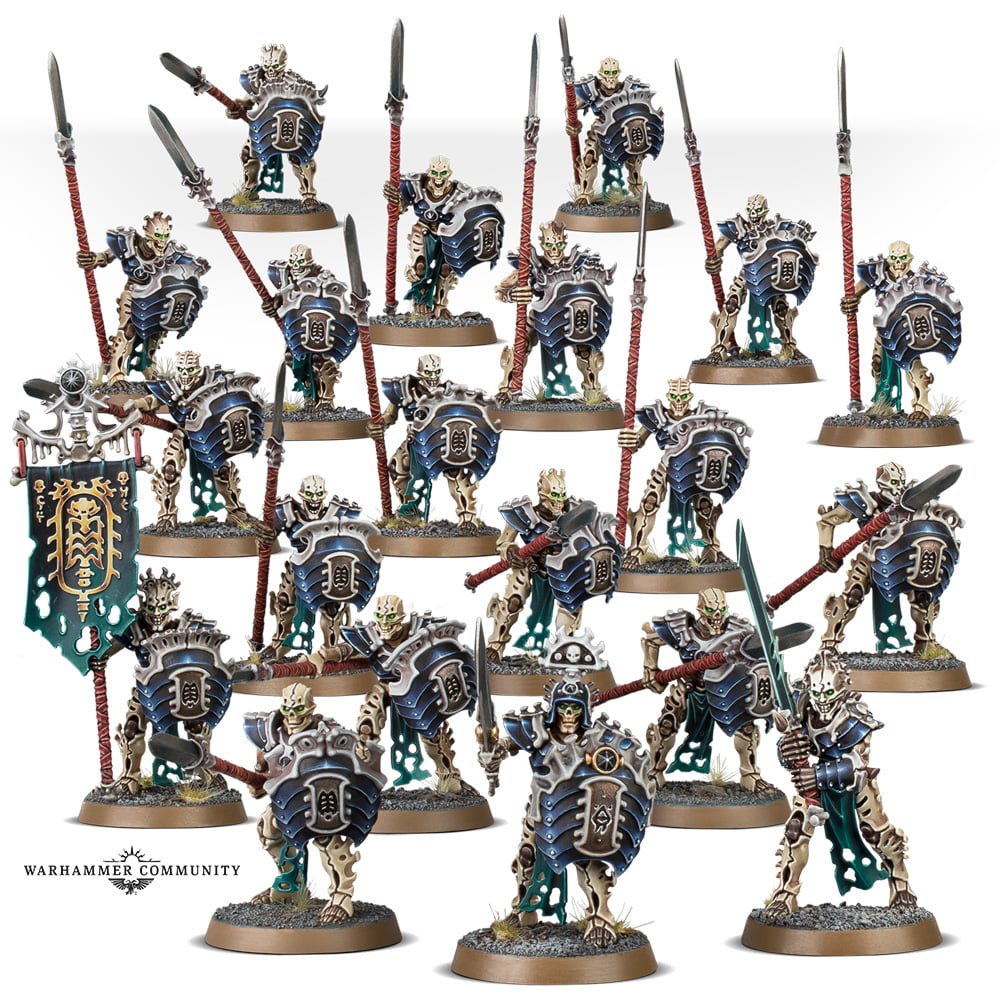 However, as I was building them I came to a delimma, Which weapon option do you go with – Spears or Swords? Before we decide, let's look at their stats and facts: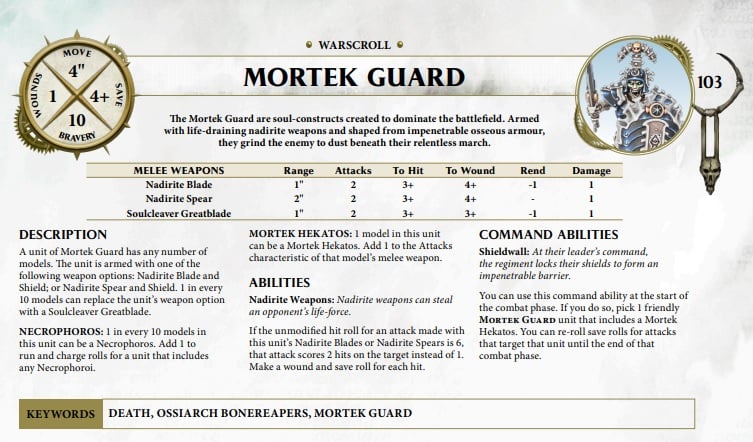 The basic difference between the Nadrite Spears and Blades (aka Swords) is that the Spears have a 2″ reach and the Swords have -1 Rend. They have the same profile otherwise. What makes this such a tough decision is that they are on 25mm bases!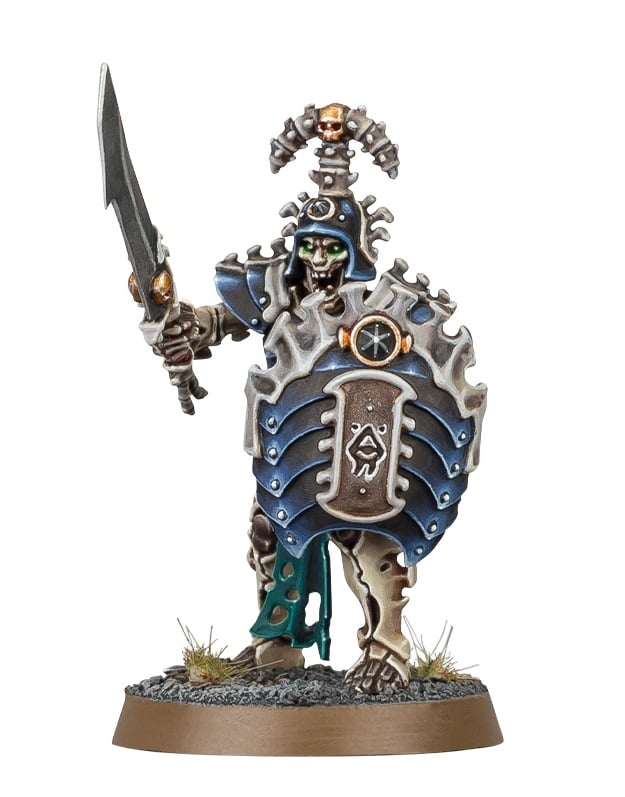 So why does that complicate things? Well, anyone who's been playing AoS can tell you that 25mm bases on your units mean that you basically get to fight in 2 ranks. It's actually a HUGE advantage over say 32mm bases. It makes your frontline infantry a LOT deadlier as you can pack in quite a few more attacks in a smaller footprint. And with a 2″ reach, that means you can essentially fight in 3 ranks!
Now the question becomes "Well, how large do you want your units to be?" And that is a very good question. If you want to actually fight in 3 ranks, you've got to have at least 3 ranks to fight with, right? Well, the Mortek Guard may be taken 10 at a time for 130 points. They max out at 40 in a unit and get a discount on the last ten "only" costing 440 for the entire block.
Two Ranks of 10 each = 260 points
Three Ranks of 10 each = 390 points
At this point we have to make some assumptions. We're going to assume you plan on marching them in ranks of 10 wide to get a solid frontage. You could go 5 wide, but that leads to other issues. Furthermore, we're going to assume unit buffs are hero boosts are available to the unit overall no matter the size – let's just say you're good at positioning and have everything covered.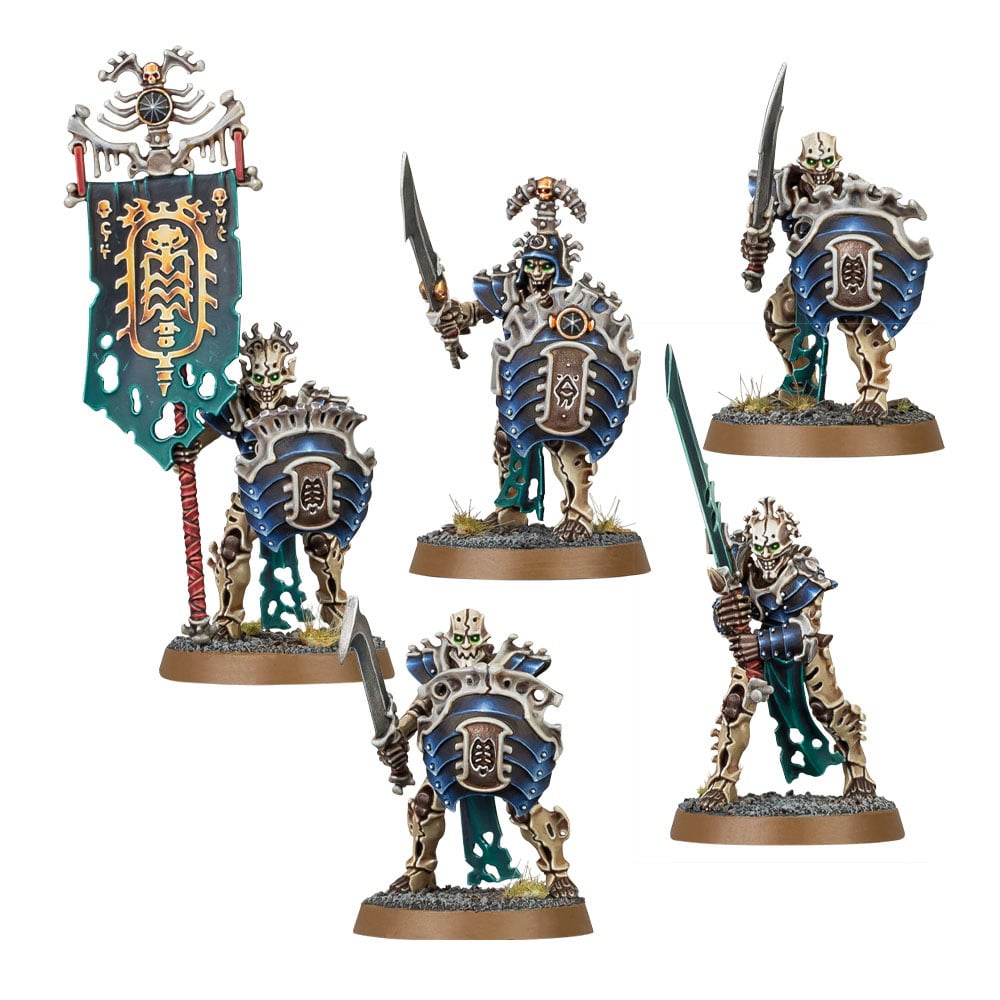 With those assumptions, I think it's pretty easy to see you basic flow chart of the unit load out. If you want to run more than 2 ranks, you probably should go with Spears. That's the best way to maximize that unit's number of attacks. However, if you want 2 ranks or less, Swords are the better option as they will have the same number of attacks but generate more damage overall thanks to the -1 rend. But is that still true with the Nadirite Weapon bonus of getting bonus hits on 6s?
The Spear-block should generate an additional 10 hits and the swords should generate around 6-7 extra hits (that's without re-rolls). Depending on the target's armor save, the blades should be more consistent due to rend. Basically, the Spears might have the higher damage Cap, but you're paying an extra 130 points for that potential and it might not be as consistent unless you're fighting things with little to no armor.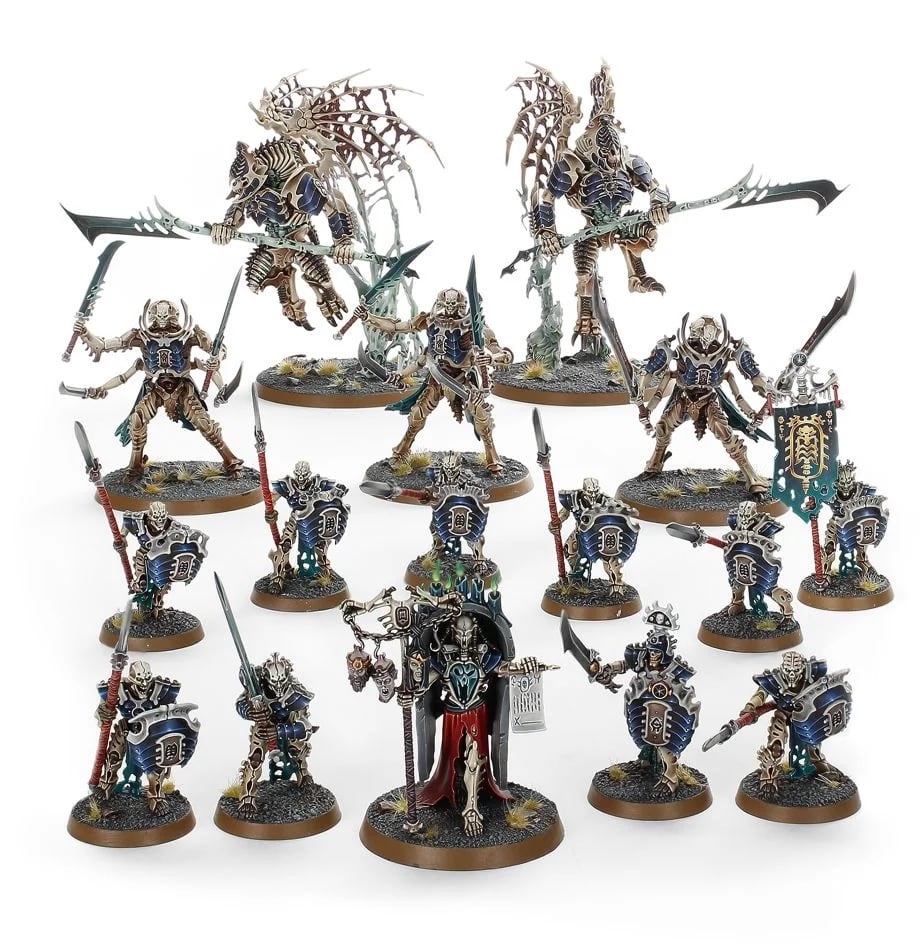 I will say that if you're using a unit of only 10 models, you should almost certainly go with blades. Even if you run them as 2 ranks of 5, you'll still be able to get all their attacks in with some basic positioning. For me a 20-man unit is probably going to end up with Swords and anything over that will probably end up as a Spear unit. The Ossiarch Bonereapers are NOT a cheap army points wise so those 30-man units might be pretty few and far between.
Swords vs Spears? It depends on the footprint you are going for and how many ranks/points you're looking to sink into their unit.
How are you planning on equipping your Mortek Guard?