The Ossiarch Bonereaper release is next week and it's massive–trebuchets, gargantuan constructs, skeletons and an incredible new character to lead them all.
Holy cow, the Ossiarch Bonereapers are coming and their new release is massive. There's a whole ton of stuff coming out, with everything you need to get your Bonereaper army crushing folks across the tabletop in the name of the forces of death. But nothing is quite as breathtaking as the head of the Ossiarch Bonereapers, Orpheon Katakros.
via Warhammer Community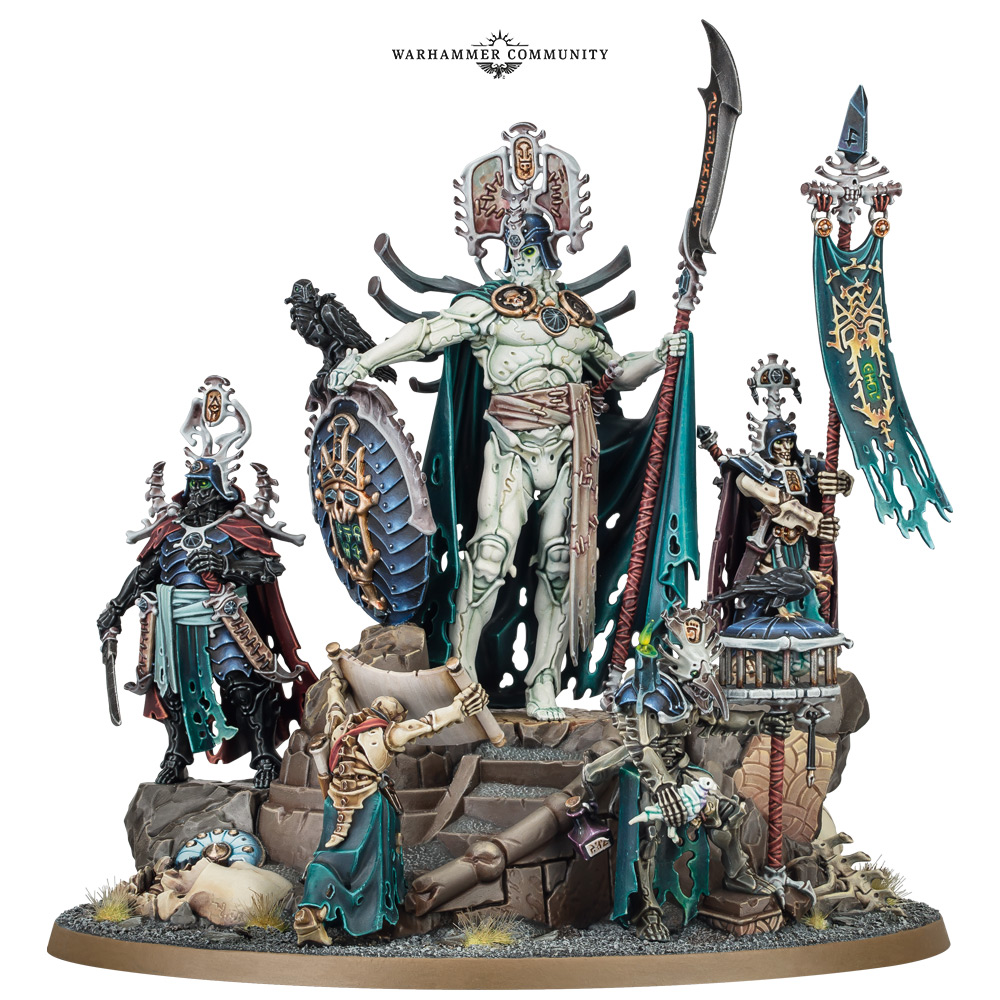 A military genius, consummate commander, and immortal demigod of war, Orpheon Katakros coordinates and bolsters the Ossiarch legions even as his trusted retainers relay information to him and distribute their master's edicts.
The Bonereapers are masters of bonecentric necromancy, which they wield through their Mortisand. These artisan/wizards shape the constructs that define the army.
The Mortisan Soulreaper blasts enemies apart with fell magics, the Mortisan Boneshaper repairs nearby warriors, and the Mortisan Soulmason hands out some handy bonuses to hit for your army.
The Boneshaper is featured above, and here is the Soulmason, sculpting a soul.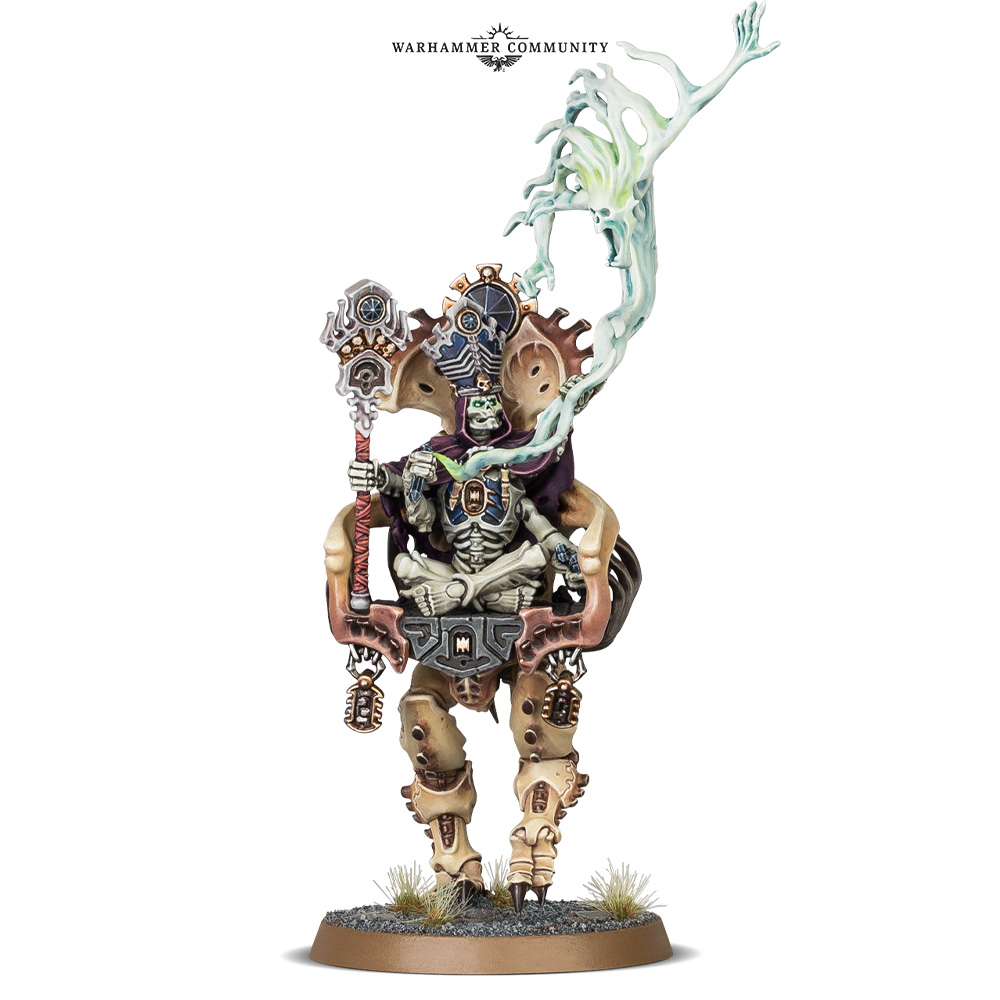 And here we have a mortisan with a scythe, reaping away at those souls.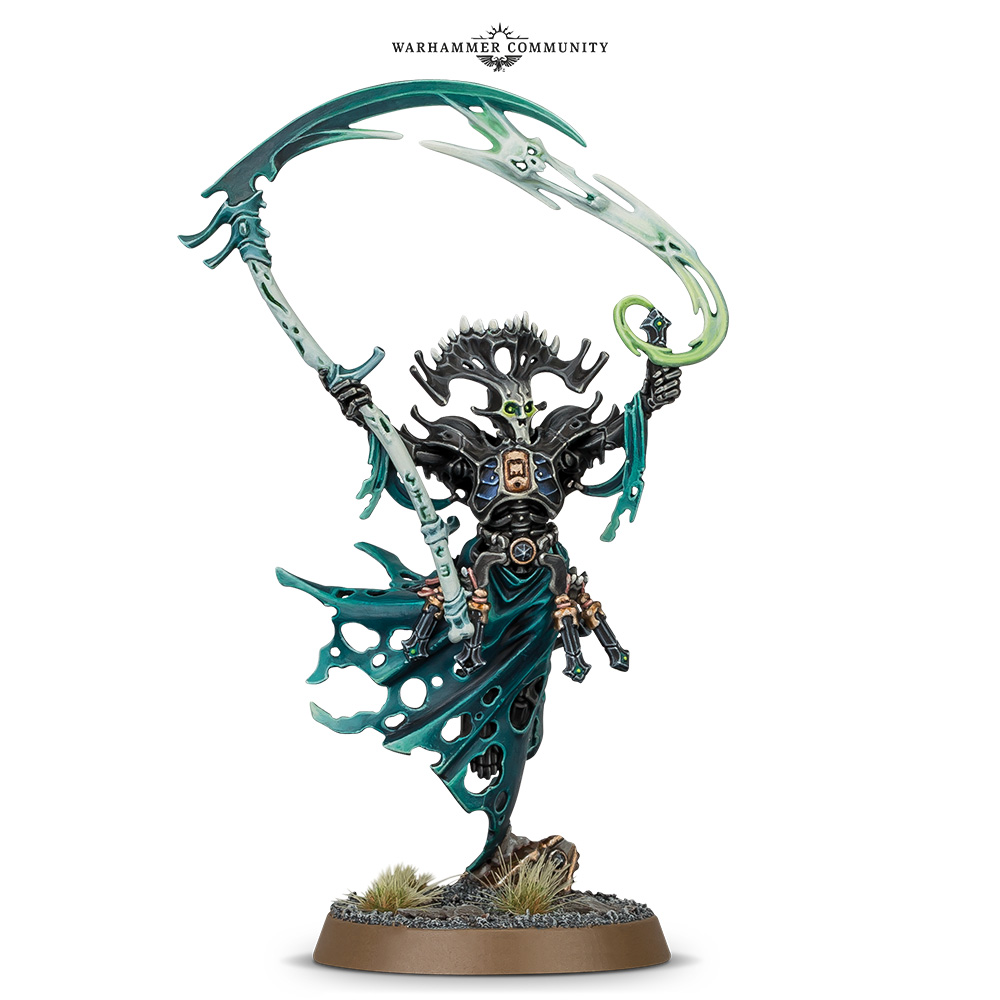 I love the continuity and little details present in every part of these models. You can see the Soulreaper harvesting the soul, collecting it into the same vessel that the Soulmason is holding and drawing soul energy from. And those same bits are present in the assembled skeleton, being repaired by the boneshaper. It's a lovely story told across three models–and it's that kind of detail that draws us in to this army. Just look at the other big hero kit, the Liege/Arch-Kavalos: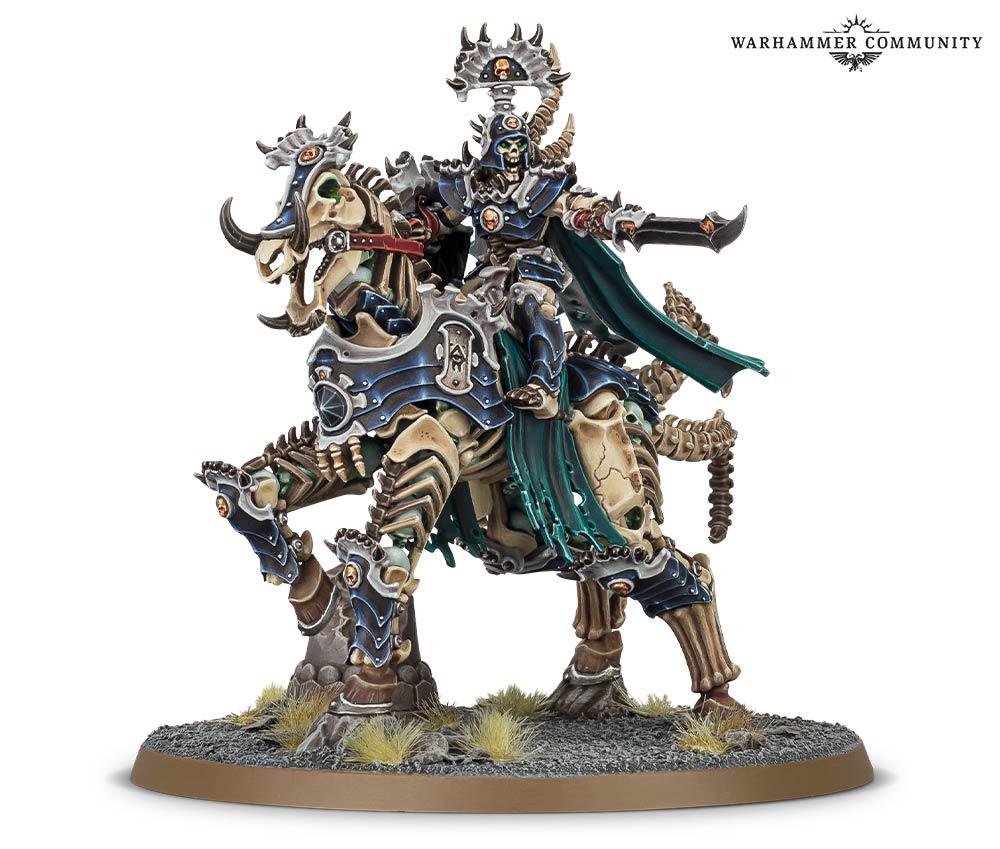 The Liege-Kavalos is the unnamed hero, but looks incredibly imposing. That three-tailed horse is so chonky with its multiboned hooves.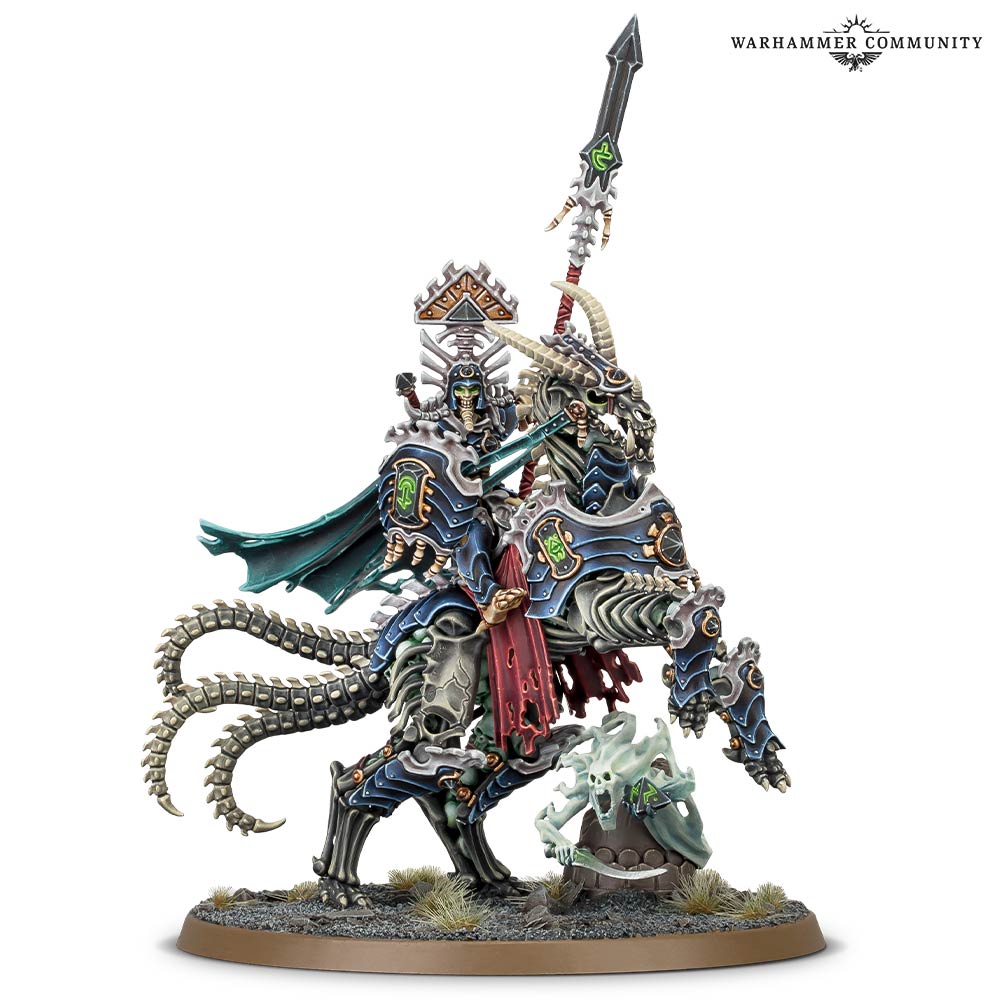 And the Arch-Kavalos, Zandt, is an absolute beast. Both of these can be made out of a single amazing kit.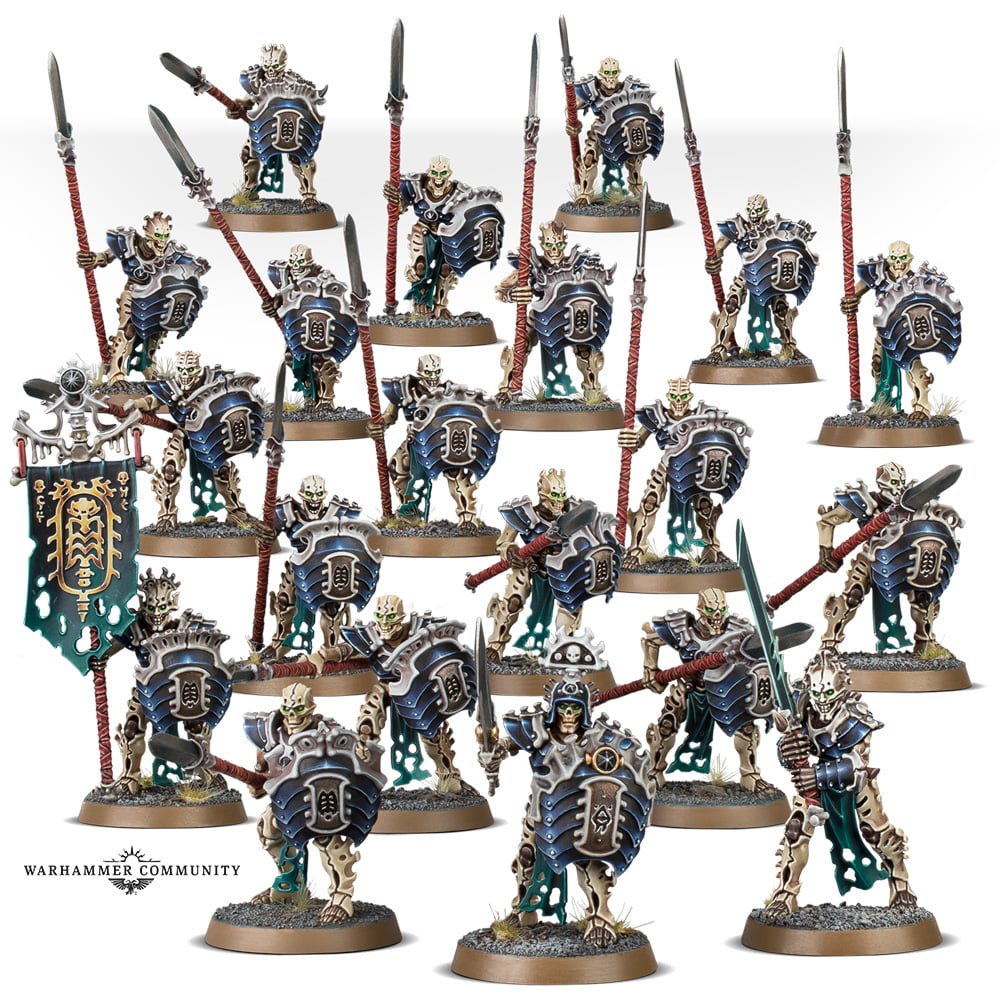 Even their standard troops are gorgeous. We've seen the Mortek Guard up there before, but they are such a gray legion. And the Kavalos Deathriders are such a great cavalry.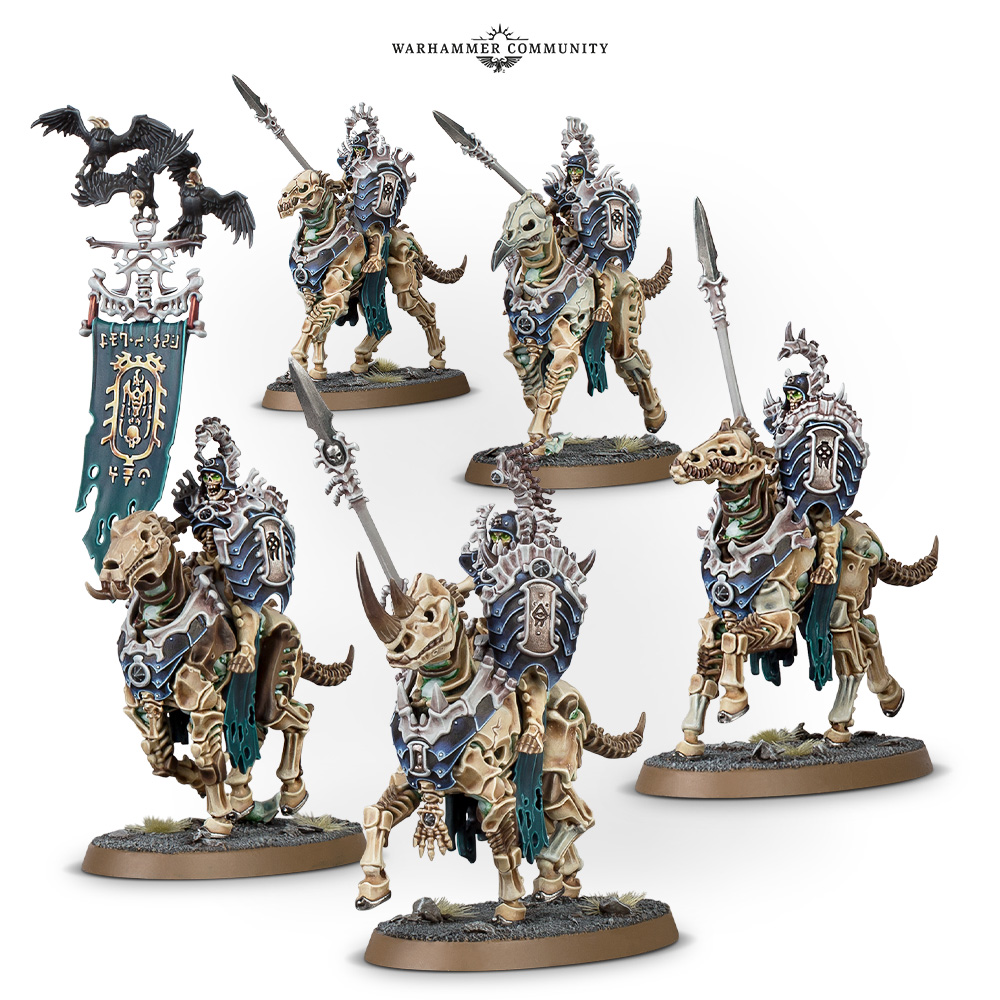 Where the Mortek Guard are indomitable, the Kavalos Deathriders are fast. These are the vanguard of your army, capable of ranging ahead of your main force and carving bloody furrows through your enemy's lines. Customisable with different heads, choices of weapons and a variety of interchangeable components, they can even be used as your battleline units in a matched play army.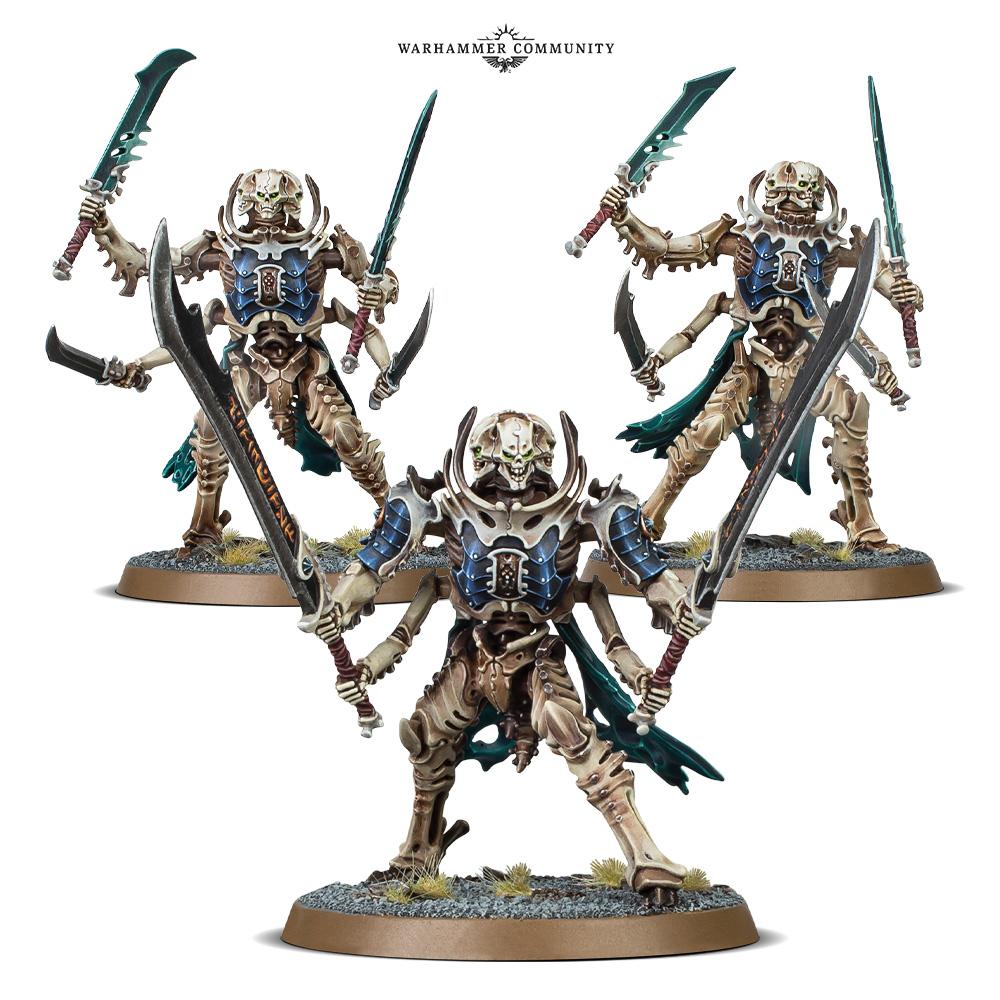 Where the army really shines though, is in its awesome constructs. There's the Necropolis Stalkers/Immortis Guard kit that features these four-armed fiends that can destroy or defend.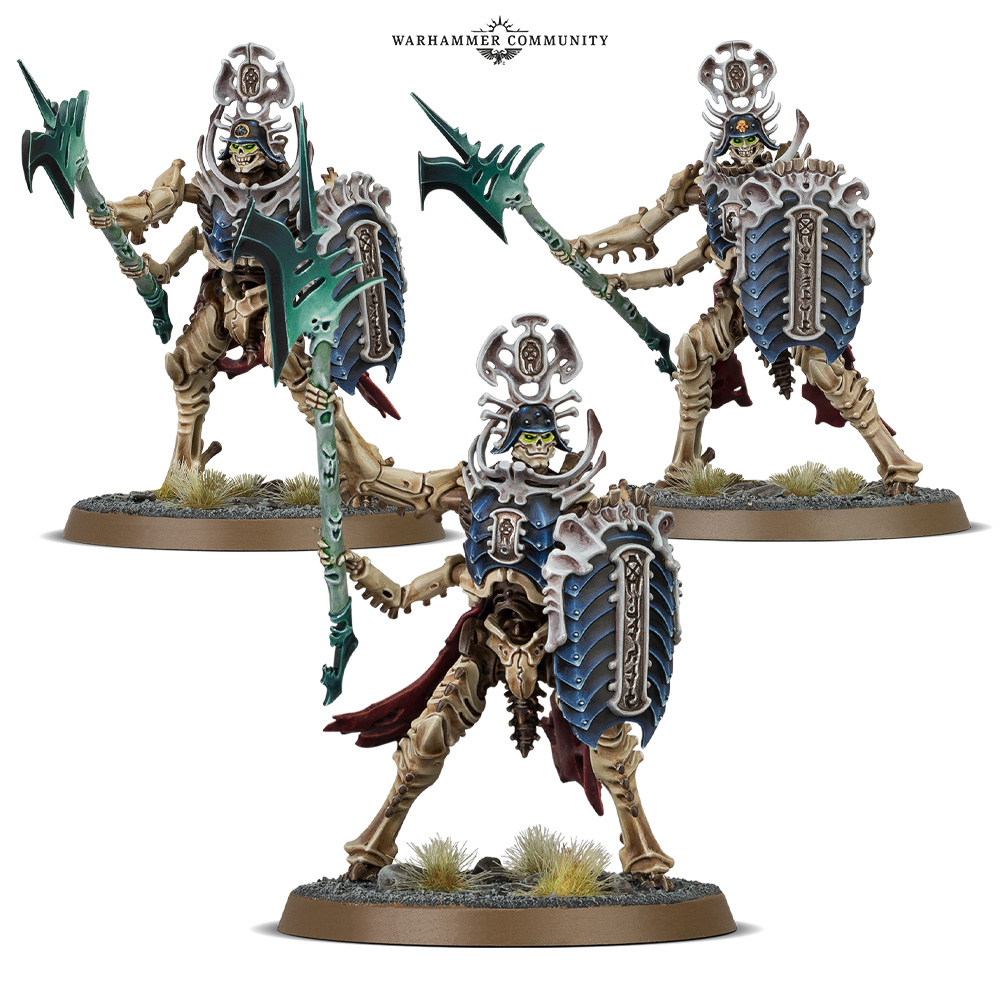 But of course we're here for the new stuff. Look at the Gothizzar Harvester.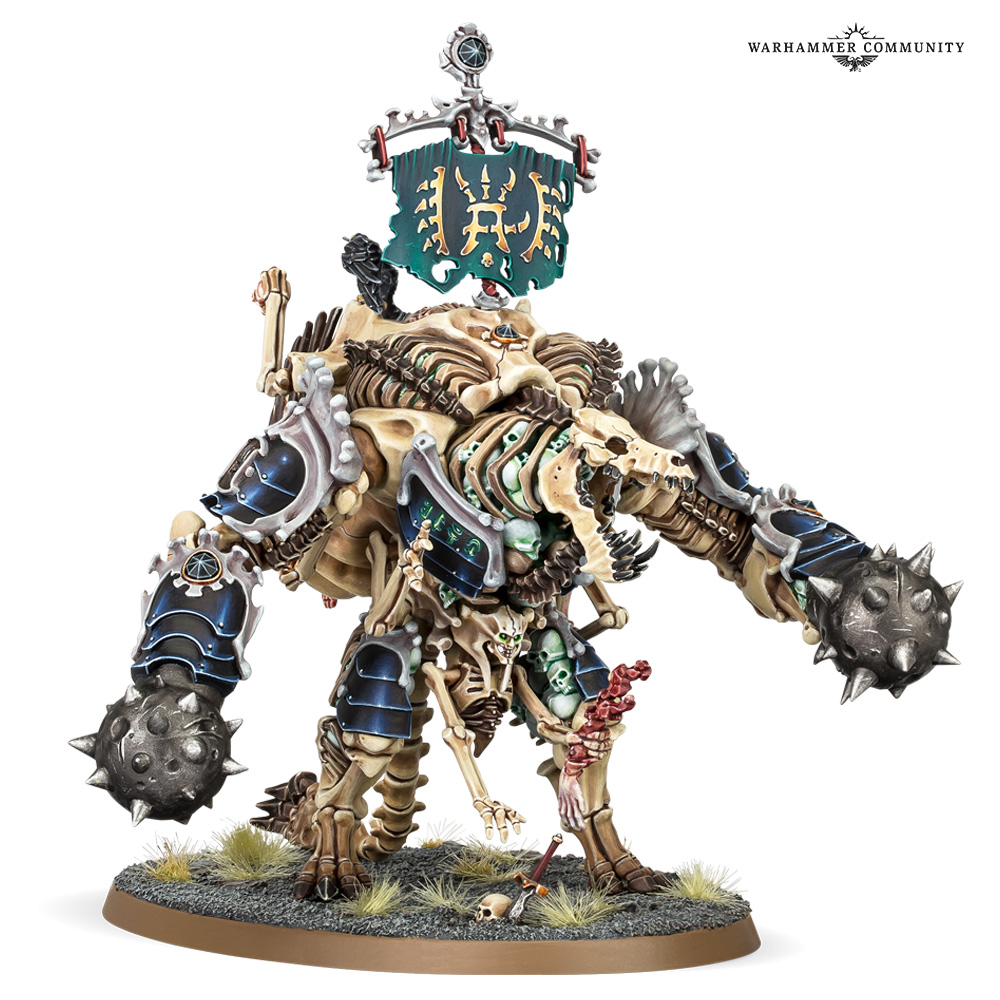 For something even more brutal – and armed to the flesh-flensing teeth with useful special abilities – may we humbly suggest a Gothizzar Harvester? As well as being deadly in close combat, this shambling horror has the power to turn dead units (either friend or foe) into fresh troops for your army.

A range of head and weapon options mean that if you're looking to field multiples of the Gothizzar Harvester, you'll be able to ensure they all look different.
Or the massive trebuchet that is the Mortek Crawler.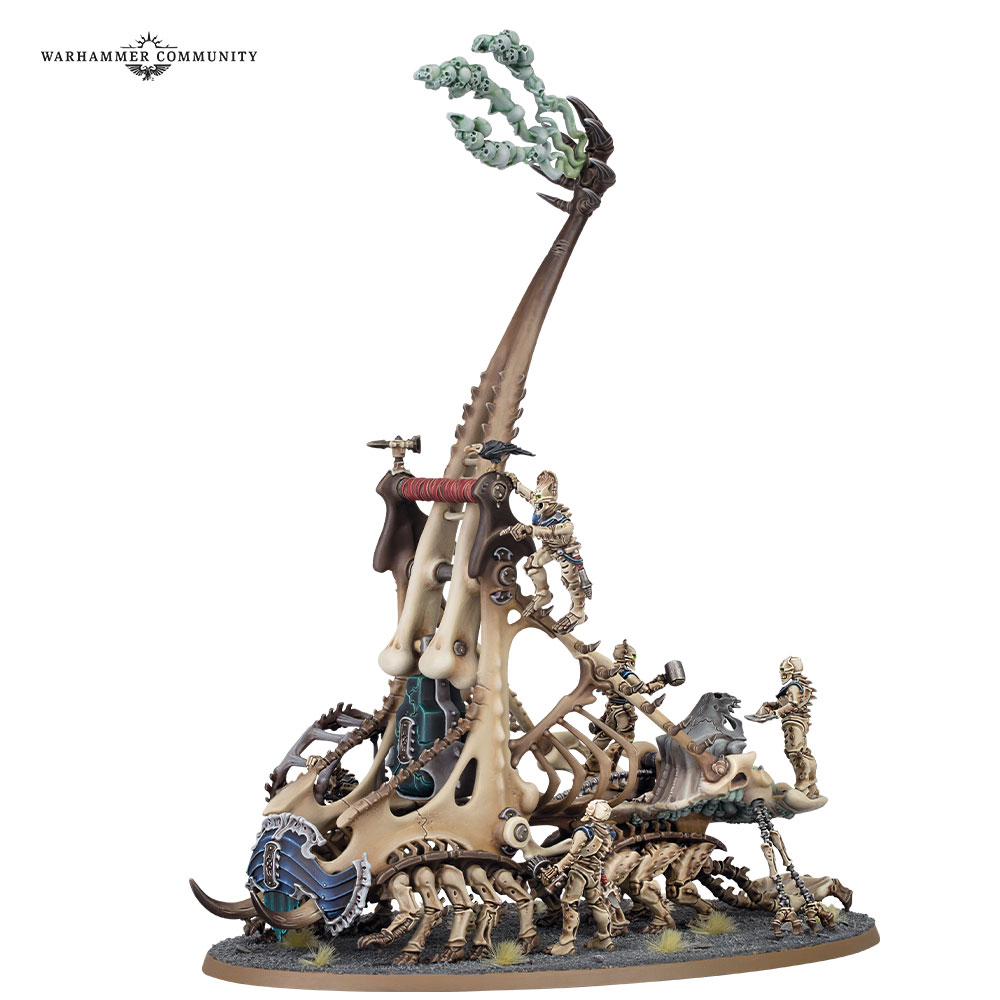 The Mortek Crawler is a cross between a trebuchet and some kind of multi-segmented bone-insect of death, both a stunning model to tie your collection together and a great way to delete enemy units that dare defy your undying will.

You can build your Mortek Crawler in a loading or firing position, or, if you like, leave the arm free to pivot on its own.
And all this is just the start. Next week you'll also find two new Dominion of Sigmar boxed sets that will give you two new terrain kits.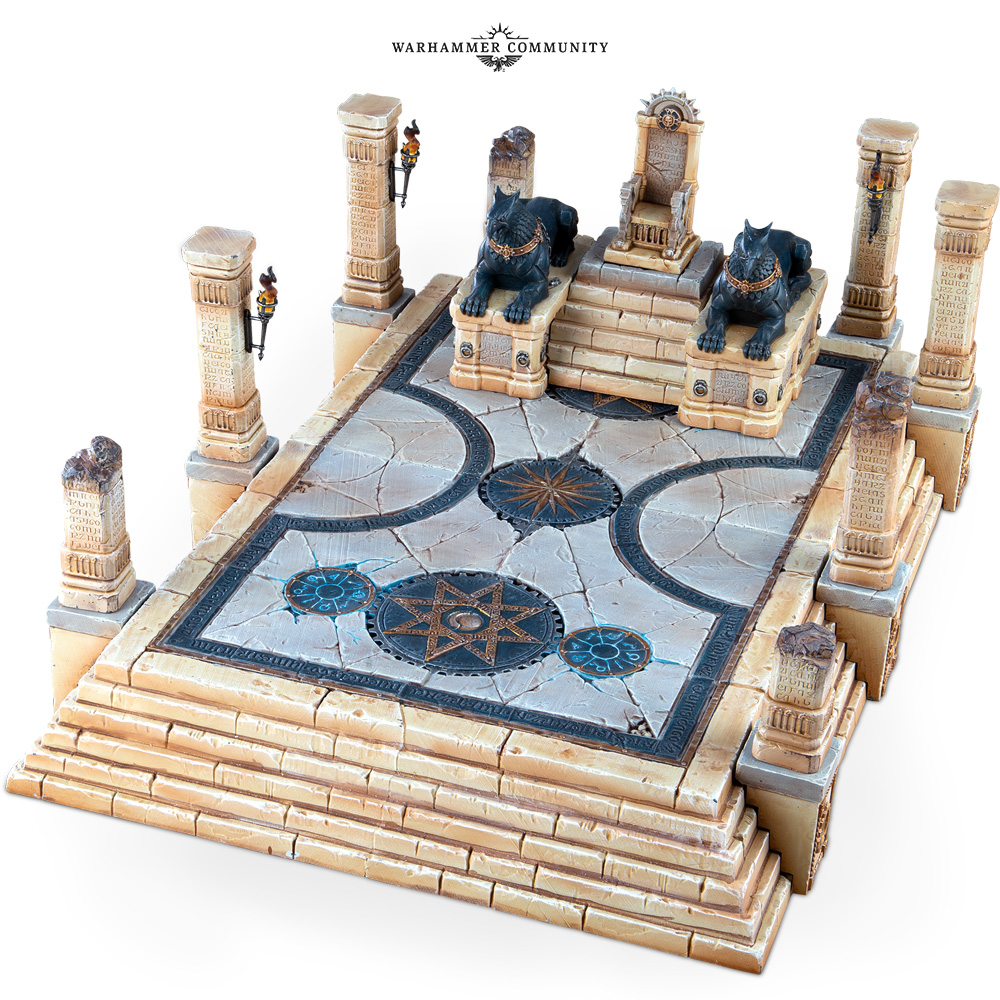 The Hallowed Stormthrone set contains a new frame, currently only found in this box, that allows you to build a rune-engraved throne.
Meanwhile, the Penumbral Stormvault comes with a Penumbral Engine, previously only available in Forbidden Power, making it a great way to get your hands on one of these invaluable bits of battlefield scenery.
All this is out next week! Stay tuned for more folks, but, dang these bones look beautiful.