We're traveling back to Westeros this week, featuring a local Austin cosplayer with roots deep in the Renaissance festival community. He travels across the country for Con of Thrones and DragonCon each year, and has a STUNNING representation of John Snow armor projects. Check it out!
Five years ago I heard about an amazing place called Sherwood Forest Faire, from my Bi-Weekly D&D Group. A bunch of the guys are regular attendees of this local Medieval Faire, putting up a camp for the whole two month run of the faire, dressing in costumes, and generally having a blast. This sounded like a PERFECT excursion for myself and my then Girlfriend, so we threw together some costumes and headed out.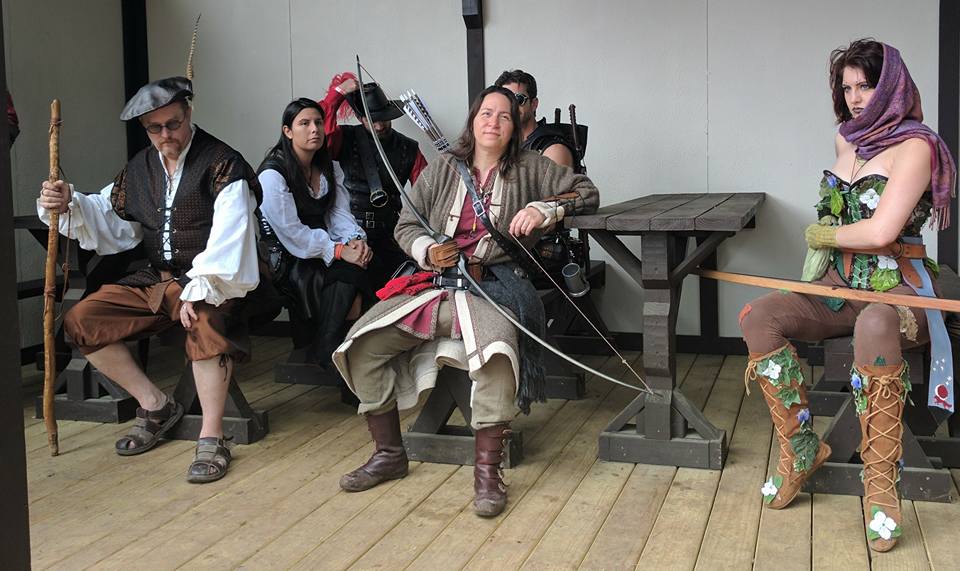 Mayhem's Muse and fellow D&D Nerds at Sherwood Forest Faire
I immediately fell head over heals in love with this wonderful oasis in the middle of the Bastrop Forest of Central Texas. The community members are welcoming, the costume variety diverse and colorful, and the pop-culture references are adhered to with reverence and dedication. Daily I would walk by fairies, King Richard the Lionheart, Pirates, and characters from my favorite shows. I met a lovely gent and his amazing wife who are AVID Game of Thrones fans, and eventually befriended them and joined their group of Game of Thrones Cosplayers. I hope you enjoy getting to know my friend Tom, and his fantastic Tom Snow Cosplay!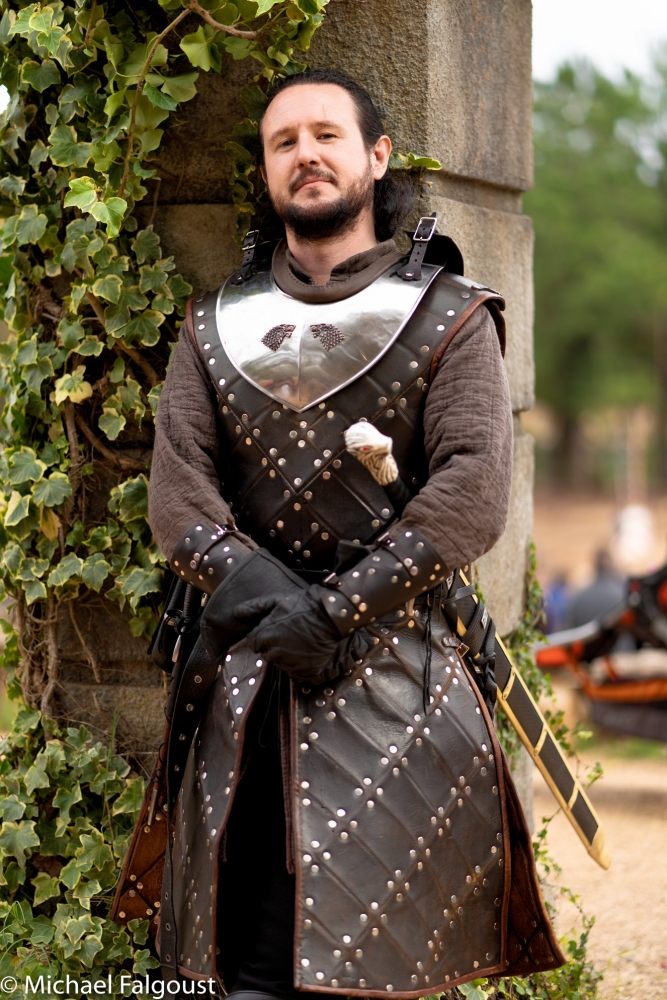 How did you get your start in cosplay? How long have you been creating your What inspires you to work in the cosplay realm?
I think it began with loving Halloween and wearing costumes as a kid; I'm still that guy at the office that goes over the top on Halloween. In school, medieval fantasy quickly became my favorite genre, ever since reading the Hobbit and the Lord of the Rings in elementary school, branching into D&D, Dragonlance novels, and Forgotten Realms novels in middle school, and finally the Wheel of Time series in high school. So when Medieval reenactors visited my 6thgrade class, I knew I had to check out the Great Lakes Medieval Faire.  I loved the idea of dressing up as a fantasy character (rangers like Strider, Tanis Half Elven, & Drizzt Do'Urden were always my style), but as a teenager, it's hard to put together a medieval outfit with a $10 a week allowance, so I put that dream on hold. Fast forward ten or so years, I had moved to Texas and my circle of friends said "hey, do you want to go to TRF (Texas Renaissance Festival)?" and I was like "yeah, let me dig my sword out of storage!" And while I had more disposable income in my twenties than in my teens, I still didn't have the budget to buy the level of costume I had in mind.  So I started doing some research on where does one buy sheets of leather to make things like bracers, and began looking at costume pieces with the thought "maybe I can make this for myself." I also appreciate when costumes are more lived-in and realistic looking, verses being shiny and smooth and spotless, which is great for when you're starting out and don't have the skill to make things look perfect from the get-go. So over the course of a year I cobbled together a modest Middle-Earth inspired ranger costume. I secretly wanted make a screen-accurate Strider copy, but I had short hair, couldn't grow a decent beard, and a little too chubby to pass for Viggo Mortensen.  That was about 12 years ago.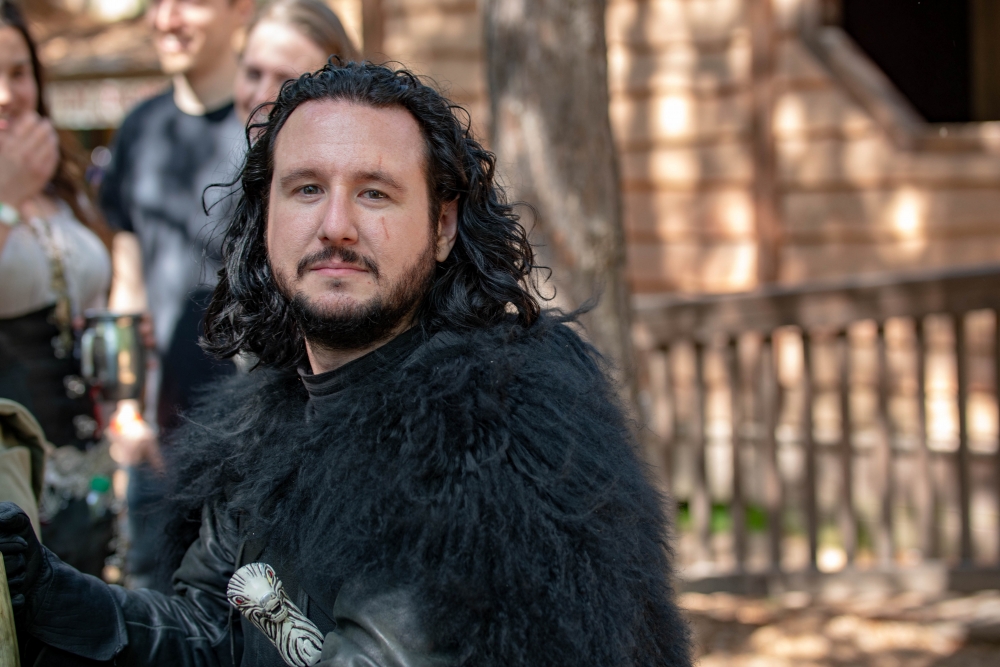 I went from going to the Renaissance festival once a year, to twice a year, and then multiple times in the spring once Sherwood Forest Faire opened closer to my hometown of Austin, then getting a season pass. I was pretty settled in my ranger outfit when the first season of Game of Thrones was released, and my new girlfriend's friends were big fans of the books and had watch parties. A season or two later, Geeks Who Drink hosted a special Game of Thrones trivia event – while I couldn't contribute much toward trivia answers, the ad said that there was a side-prize for best costume. So I modified an old leather jacket that I had used for a Nightcrawler Halloween costume, removed the sleeves from an old Ringwraith costume to make a cloak, and ordered a coyote pelt from eBay to round out my Jon Snow 1.0.  Looking back, it was pretty slapdash, but I loved the character and decided I wanted to put more effort into it and make it my Halloween costume for the year, and later be able to wear it to TRF and Sherwood.  So while I never really considered myself a cosplayer, and never set foot in any conventions, that's essentially what I was doing at various renaissance faires. I gradually improved my Jon Snow costume piece by piece, adding more layers, upgrading materials to be more screen accurate, and growing my beard and hair out to fit the character. I tried a wig, but it wasn't for me. As the show progressed and Jon's costume changed, I decided to make the new costume as well, which was probably my most ambitious project to date.  ​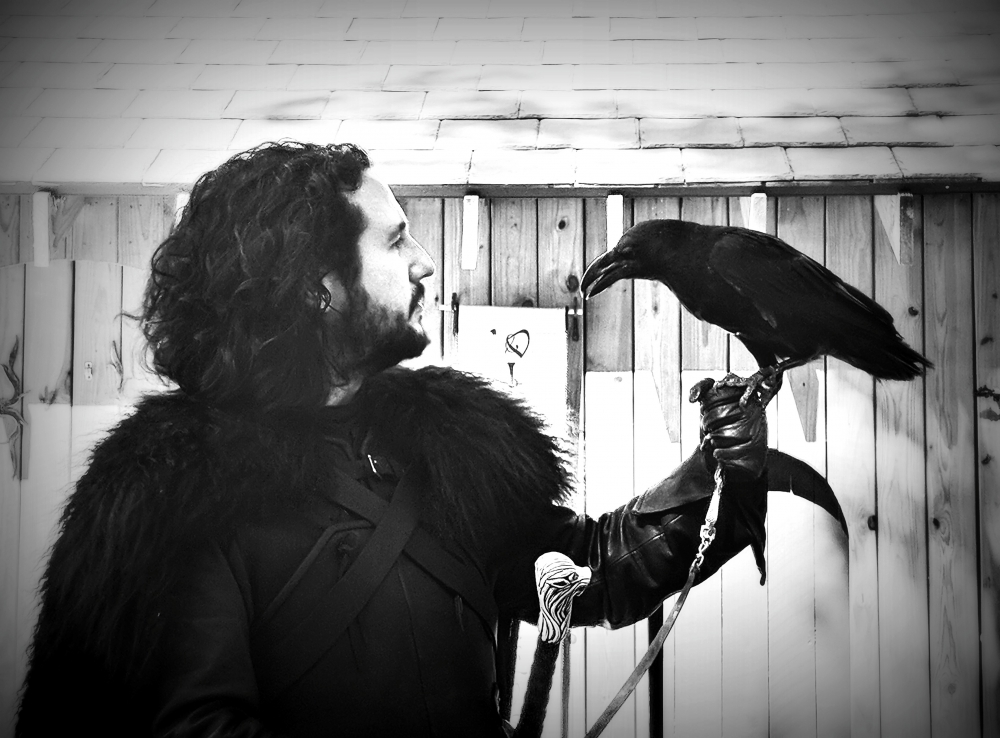 What is your strongest construction aspect? ​
While I do my own sewing, and have dabbled in other mediums like 3D printing, knife-making, foam, and thermoplastics, I'd have to say leatherworking is definitely my forte.  Leather is a hard medium to work with, because unlike sewing fabric, when you're assembling leather there's no going back and seam ripping a seam and re-stitching it.  Entry level sewing machines can't really handle the thickness of leather that I prefer to use, so almost everything I make is hand punched, stitched, and/or riveted.  ​
What is your favorite type of cosplay work to do?​My favorite part of cosplay is looking at a costume on screen, and trying to figure out what exactly is going on behind the scenes. Rewatching movies/ episodes frame by frame to try and get just the right screenshot, or scouring forums and cosplay groups to see if anyone has figured out how something is constructed, where the seams ago, etc. Game of Thrones is still my primary fandom, but now that that's over I'd like to branch out into some other genres.  ​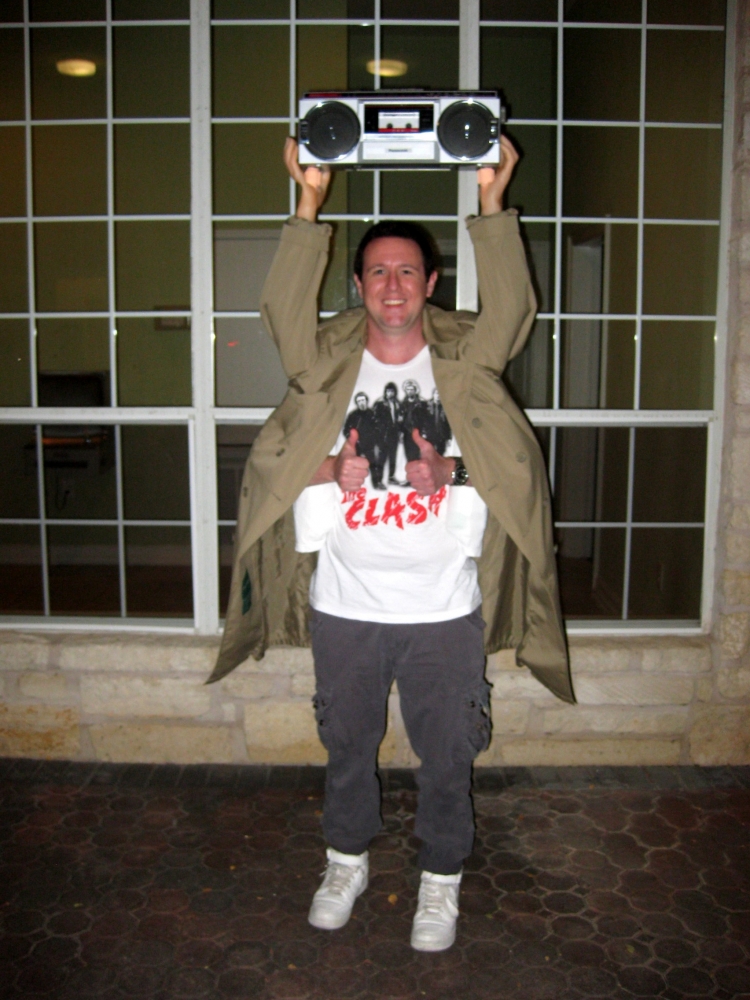 What are your favorite completed projects, or your most popular?
The first project that I feel like I went above and beyond was Mad Max from The Road Warrior, where I tore apart a used leather jacket, cut off the sleeve, added a football shoulder pad, assembled a leg brace from old belts a couple of aluminum yardsticks. I  built a sawed-off shotgun out of Bondo and a plastic banana (seriously). Most popular is hands down my Jon Snow. At faires and Cons I usually introduce myself to new people as Tom Snow.  It's gotten to the point that even if I'm wearing my new Bronn cosplay, people will come up to me and ask "are you Jon Snow?" Although sometimes when I'm dressed as Jon, people will ask if I'm Bronn.
What material is your favorite to work with?
Obviously leather.  I like the durability of it, and the way it ages over time. I still use a couple of leather pieces that I got at my first Medieval Faire in 1993. There's people that can do some great things with foam or pleather and make it look like leather, but on closer inspection it's missing the right tactile feeling, the texture, and smell of it. In the Renfaire world it's not all that rare, but at a place like DragonCon it does kind of stand out amidst all the craft foam.  People will see the armor and touch it and be like "wow, that's like real armor!"  Well… yeah, of course it is, why would I wear fake armor?​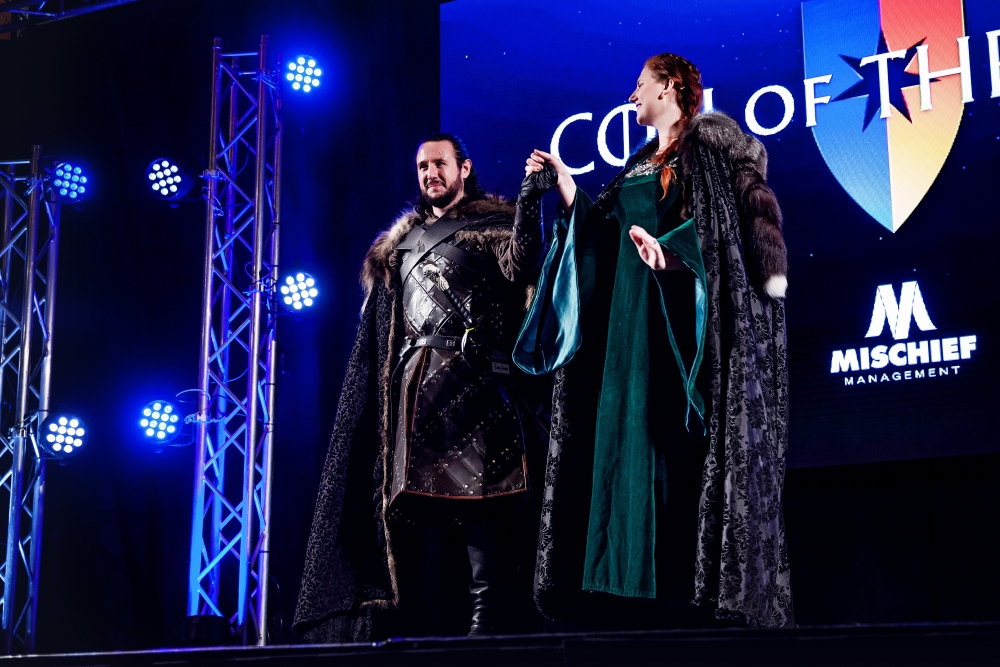 Con of Thrones Runner Up Image by Gwen Smith
What are your favorite fandoms? Favorite characters?​Aside from Game of Thrones, Lord of the Rings is still a favorite, and I'd like to revisit Strider now that I'm older and have grown out my hair and beard. I've always been a Star Wars fan but never really cosplayed anything Star Wars related other than a cheap Han Solo costume I ordered online.  I suppose I did assemble Han Solo's DL-Blaster from a resin kit. He doesn't really fit with my current hair situation.  I'd love for Kylo Ren to show up with a beard in The Rise of Skywalker to so I could cosplay him without having to shave. My Negan from the Walking Dead cosplay really had the least amount of effort but is one of the most fun to wear.  Something about being dressed as Negan gives you a certain swagger.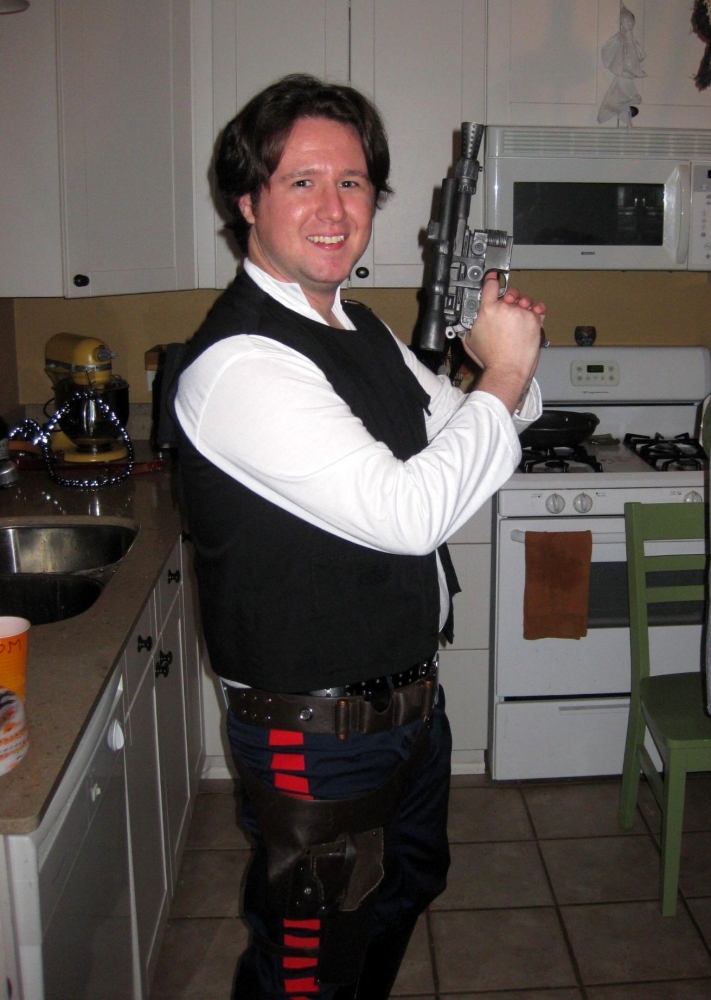 What kind of games do you play? Videogames? Tabletop? Wargames?​
I loved the original Nintendo, but I don't play a ton of modern video games. I'll play whatever the Game of The Year was from like three years ago.  My favorites of the last ten years have been Uncharted (2 is the best but I love all three), Skyrim, and I'm currently about 2/3 of the way through The Witcher 3: The Wild Hunt.  I can easily see Geralt or another Witcher character being on my cosplay roster in the next few years. Althought I'm getting older and a little tired of wearing heavy metal and leather armor and carrying heavy swords.  Maybe the Netflix show will have something more lightweight to wear?   I'm part of a biweekly D&D group that's been playing pretty steadily for about fifteen years. Our Fourth Edition game went all the way from level 1-25, and I still kind of miss Memnoch, my pyromaniac tiefling wizard. We're on our third campaign now, and I'm playing a warforged thief that's loosely based on K-2SO from Star Wars: Rogue One.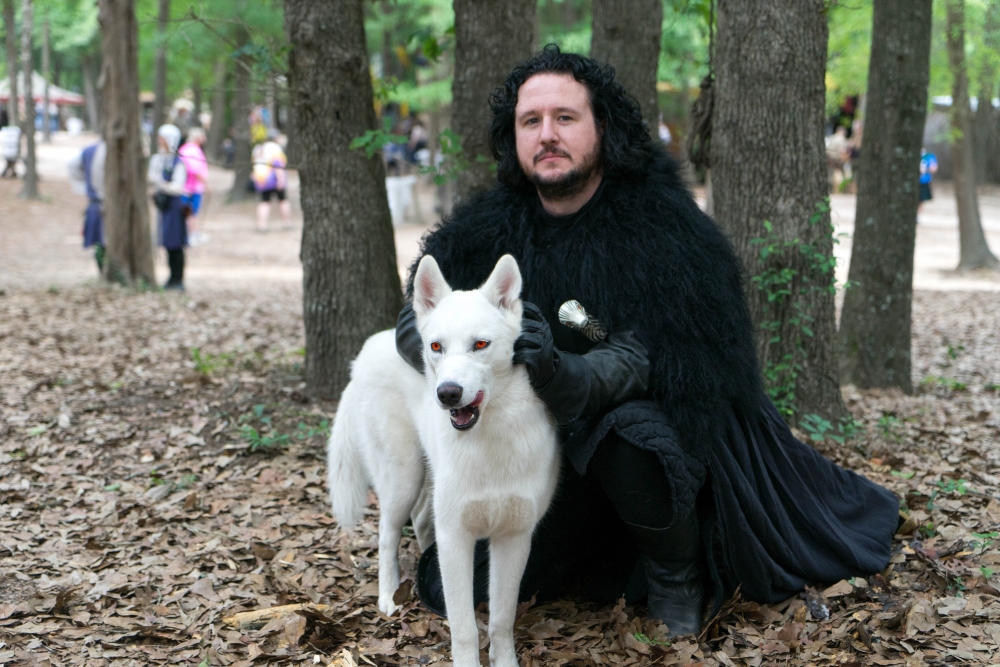 Image Credit Jeff Cohen
What conventions do you attend? Have you guested/spoken on panels/competed in contests?
My first real convention was Con of Thrones 2018. My wife Jamie and I won first runner up in the costume contest for her Battle of the Bastards Sansa  and my King in the North Jon Snow.  I've since been back to Con of Thrones 2019 with a new Bronn cosplay (with very little fanfare), and I just got back from DragonCon, where I got runner-up in a crossfandom High Fantasy contest, movie/show category.  At DragonCon I actually chose not to compete in the costume contest at The North Remembers party, because I was there to have fun and didn't want to go up against so many new GoT cosplay friends. At Con of Thrones 2019 I was asked to sit on a panel titled Armor of the Seven Kingdoms, where myself and three other awesome cosplayers talked about our armor and prop builds.  ​
What are your social media/website links? Where can we find you?
I don't have a standalone website, but I've been trying to documents my works in progress on Instagram @LordCommanderTomSnow.  I'm on Twitter under @tehooper but it's usually just to follow jokes and argue with fellow Game of Thrones nerds.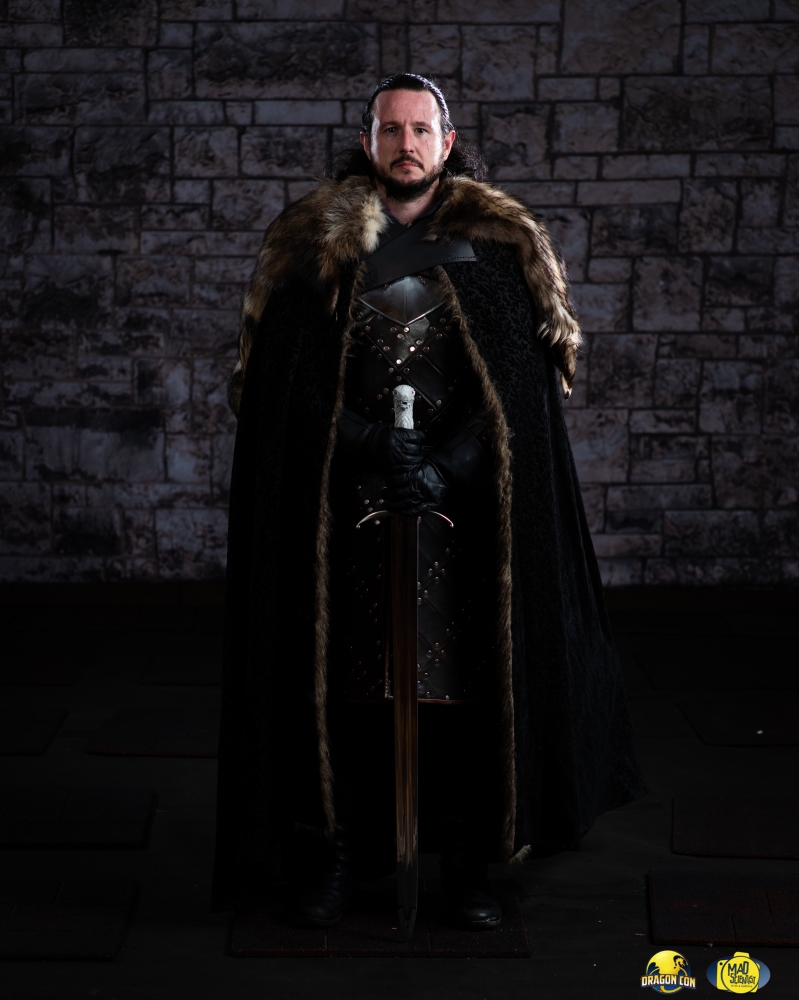 King in the North image by Bryan Humphries
~Join us next week for more Cosplay Coverage~
Have a Cosplay question you would like Mayhem's Muse to answer?  Know a Cosplayer you'd like to see featured? Send an email here!
Learn more about Mayhem's Muse