Fantasy Flight Games is showing off the cards for the other Clans in the upcoming Crab Clan Pack Defenders of Rokugan!
We've previous looked at some of the new cards that the Crab Clan is gaining access to in L5R courtesy of their incoming Clan Pack. But as with all Clan Packs, it contains some cards for the other clans that help counter the featured Clan. Today, we are taking a closer look at those cards in particular.
As per tradition, every Great Clan receives one new card in the Crab's Pack, many of which are designed to counter the strategies of the clan that guards the wall. The Crab's eyes are pointed south, but their true undoing may come from within the Emerald Empire itself.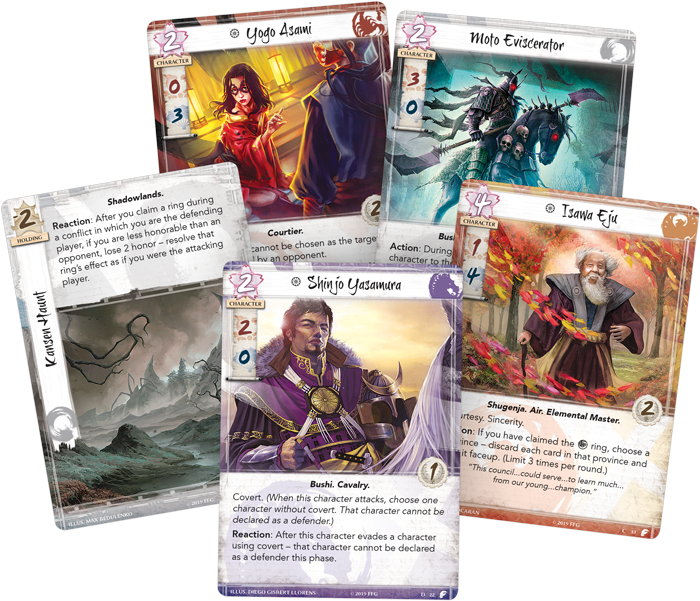 New Characters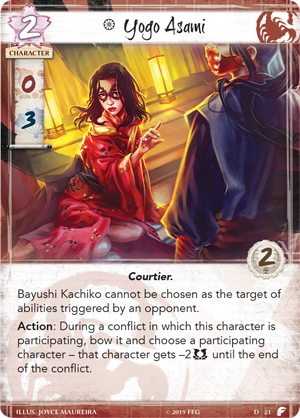 Yogo Asami combos with a previous card – Bayushi Kachiko – provides her protection from triggered abilities by an opponent. She also allows you to knock down a target's military power by 2 in a conflict she is participating in. This is a great way to weaken the Samurai of the Crab Clan.
Shinjo Yasamura basically out-maneuvers the Crab Clan's Samurai. That's quite fitting as a member of the fast moving Unicorn Clan. Not a ton of tricks with this one, but avoiding a character and making then unable to defend for the phase is already a pretty significant play.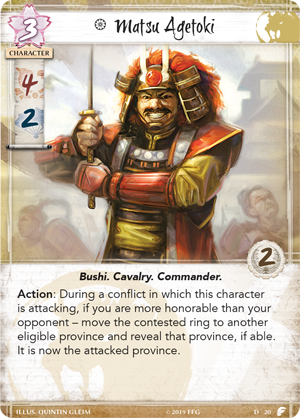 Matsu Agetoki allows you to avoid some of the traps that the Crab Clan plays with their provinces. If you discover one province has an unfavorable match-up, you can swap to another using Matsu's Action. That's a great way to avoid those pesky Kaiu Walls.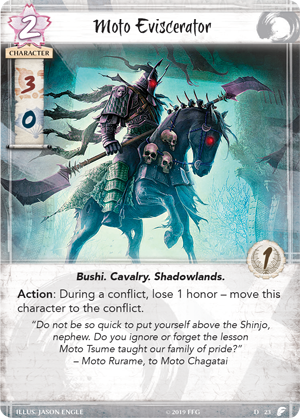 The last character we're looking at is the Moto Eviscerator. This character is actually a "neutral" card and can be included in any deck. By spending 1 honor, you can move this character into a conflict. Dishonorable or not, that's still 3 military joining the fight! And if you don't my dumping your own honor, there is also the Kansen Haunt: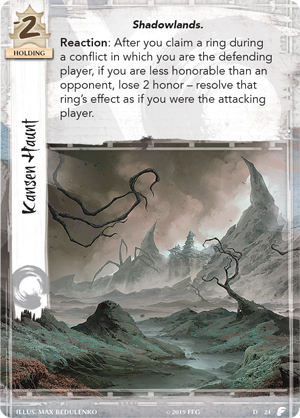 You'll get to activate a ring like you were the attacking player only you're on Defense…and it does cost you 2 honor. This one seems like it could be dangerous but that effect can be potent.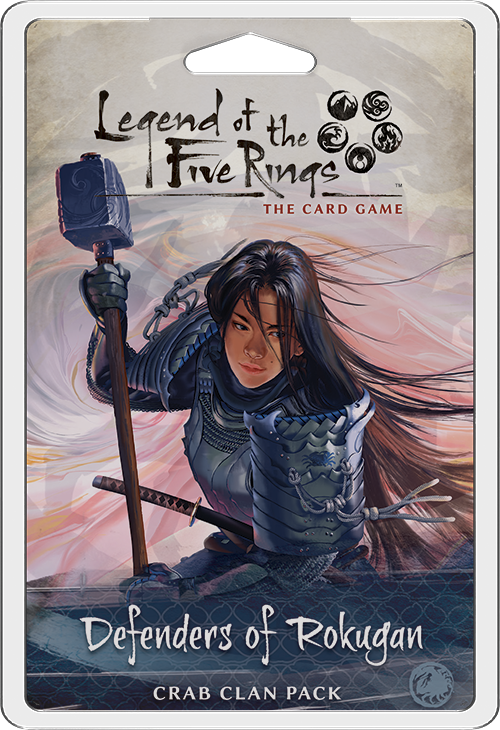 For centuries, the Crab Clan have manned the Kaiu Wall with a ruthless efficiency. They stand against the legion of Shadowlands hordes with fierce determination and will do whatever it takes to make sure the Emerald Empire does not fall. These are the warriors who keep the horrors of Fu Leng at bay, these are the defenders of Rokugan.

Join the ranks of these samurai in Defenders of Rokugan, a Crab Clan Pack for Legend of the Five Rings: The Card Game.

Defenders of Rokugan includes 78 new cards (3 copies each of 23 different cards and 1 copy each of 9 different cards) mostly focusing on the Crab Clan and their role as protectors of the Emerald Empire from the deadly southern Shadowlands.
Defenders of Rokugan is slated for a November 8th release date!