Games Workshop is showcasing some brand new products coming your way at SPIEL '19 – new Warbands, Gangs, Teams & More for your favorite games!
This year at SPIEL '19, GW has debut some great new products and miniatures for Necromunda, Blood Bowl, Warcry and also some other categories. It's a lot to cover and a lot of really cool new miniatures so let's dive right in!
Necromunda – Dark Uprising
Dark Uprising is a brand new boxed set with two new Warbands and a ton of Zone Mortalis Terrain included. Get ready for the Corpse Grinder Cult vs the Palanite Enforcers to square off in this fantastic looking new kit!
Blood Bowl – New Ogre Team
The Fire Mountain Gut Busters are joining the league! It's an Ogre Team (along with Gnoblar players, too). This team is ready to bring the beef and they might even remember to occasionally score while brawling on the pitch!
Warcry – The Spire Tyrants Revealed
The Spire Tyrants are FINALLY revealed. This warband hails from the fighting pits of the Varanspire and are the chosen of Archaon. With a mix of Chaos Marauder and Chaos Warrior, this warband bridges the gap between the two classic Warhammer units. Boasting a wide array of characters, this warband even has a duardin and bestigor among their ranks!
New Chibi Figures
The Grimdark has never looked so…cute? Bandai's been working on the new Chibi Figures and GW is showing them off in all their painted glory: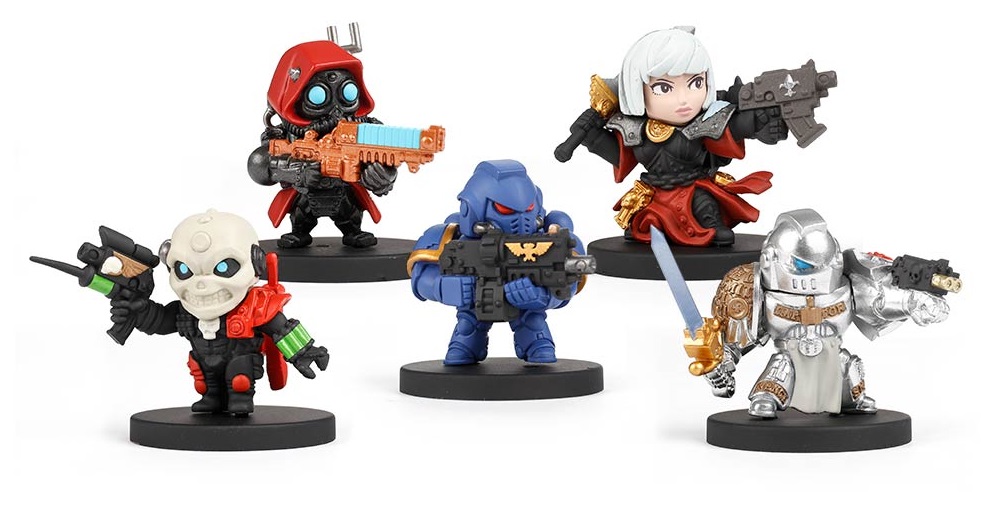 Anyone else want to collect a squad of 5 Intercessors…I know I'm not the only one!
That's all from SPIEL in terms of new models. That's a look of eye candy to take in. I really want to take a crack at those Ogor's for Blood Bowl…
What do you think of the reveals from SPIEL '19?