Join the Order of the Spicy Chicken Sandwich and take up arms to defend the realm in Wendy's new RPG. Because the world isn't weird enough in 2019.
Alright folks, it turns out that that Wendy's announcement wasn't about D&D–but rather about its own new tabletop roleplaying game. It's certainly D&D inspired, from the mechanics to the layout, but it is also decidedly its own beast, with mechanics that offer you benefits for eating at Wendy's, which, after all, the whole thing is a marketing stunt so you may as well get people out there to see it. And it's free, which is more impressive when you realize that it's almost one hundred pages of pure fast-food flavor.
You'll create a character by choosing a class inspired by Wendy's signature menu–so you and your friends might be members of the Order of the Spicy Chicken Sandwich, Order of the Frosty, Order of the Chicken Nuggets, Order of the Baconator… and so on. It's a joke that might wear thin, but then each of these classes has its own distinct playstyle, its own fantasy trope that it leans into. Nuggets are rogues, the Baconator is a barbarian-influenced character, the Frosty class is the healer, making sure that everyone is at their best. And it's little surprise, the game was developed by the folks at VMLY&R, the same marketing agency where the developer of the Zweihander RPG once worked.
Here's the skinny on #FeastOfLegends: it was made by VMLY&R, the agency I worked before leaving to @AndrewsMcMeel. It was created by @TonyMarin & several talented former co-workers on the @Wendys team @VMLYR.

It's a clever, fully-baked RPG!https://t.co/Rnf8NrB2P2 pic.twitter.com/7KVPnwcLqi

— Daniel D. Fox (@ZweihanderRPG) October 4, 2019
And as a marketing stunt, this game succeeds. Brands are great at locking down that Geek Cred these days, what with KFC's Colonel Saunders dating sim, Arby's always topical tweets…
HONK HONK HONK HONK HONK #UntitledGooseGame pic.twitter.com/EzkkbuM1Od

— Arby's (@Arbys) October 2, 2019
…Wendy's partnering with Critical Role makes perfect sense if you think about it. Yeah it's a little out there for a fast food company to develop their own roleplaying game, but these days brands have to prove that they're not just marketing to you, even when they're just marketing to you. Let's take a look at the game.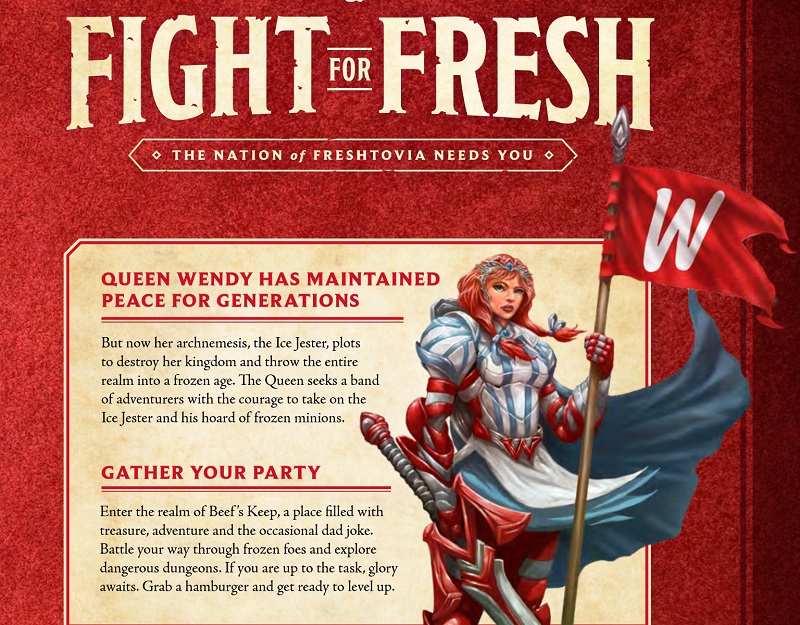 You are agents of Queen Wendy, who has kept peace in the land for generations, but now a frozen age is upon us–which, hey it's refreshing to see a corporation acknowledge climate change, and the importance of stopping it, if you're going to take one thing from the game take that–and now you're going to have to enter the realm of Beef's Keep, a burger shaped land of branded content that you can adventure through.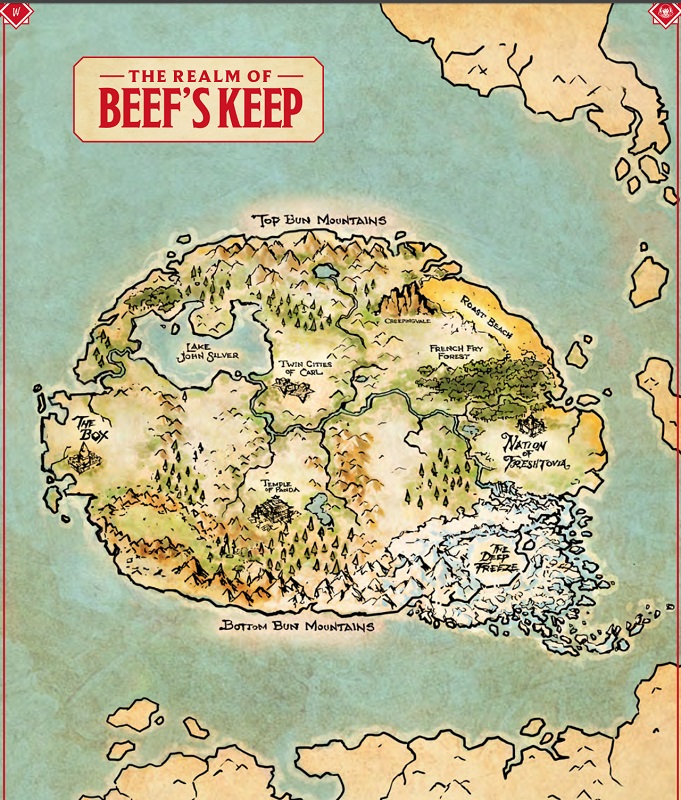 Truly, we have come a long long way since Sneak King.
Wendy's RPG has five basic stats:
Strength: The Strength stat will encompass your character's physical and mental strength. You will roll a die against your Strength stat for things like physical strikes in a fight, carrying or moving an item, and whether your character's mental state is affected by emotion or other external variables (heat, poisoning, confusion, etc.).

Intelligence: The Intelligence stat directly affects how your character's smarts will change a situation. A low Intelligence will likely make it more difficult for your character to solve puzzles. A high Intelligence will make your character a fast learner, helping them guide your team to victory.

Charm: The Charm stat is your personality. Are you welcoming, or do people find you a bit repulsive? The die will always decide, but a good Charm stat will be key to your best inter-actions with the characters in your world.

Arcana: The Arcana stat is your connection to the magical realms within the world. If you are a magic user, a good Arcana stat is a must. Recognizing the magical abilities of other characters or items is also tied to your Arcana stat.

Grace: The Grace stat is tied to the acrobatic movements of your character — or the lack thereof. Those with a higher Grace stat will be better with certain weapons and will have an advantage while jumping, running or dodging attacks.
You generate these by rolling 4d4 because it's a tie-in to Wendy's 4 for $4 promotion. And there's a lot of that in the game. You can find gear like a pigtail wig, a combo carrying bag, and special healing nuggets along side leather boots and hooded capes. The game works off of a familiar roll d20 and add some modifiers to try and hit a target number, with the same bonuses for rolling a natural 20 and 1 that most of you know and love.
Feast Mode is, of course, already a .gif thanks to the Critical Role one shot that featured this brand new game.
? FEAST MODE ?@IfyNwadiwe @Wendys #CriticalRole pic.twitter.com/tOJe5vbYQW

— ARSEQUEEF (@ArseQueef) October 4, 2019
Which should give you a good idea of what the game is meant to feel like. Wendy's has achieved their goal. Whether or not you play the game, you're talking about it. Everyone is right now. The Nerdist. Forbes. IGN. Cnet. Bleedingcool. Heck, we're talking about it–it launched at New York City Comic Con, and while it's a fun idea it's also kind of a bummer, because this was thought up for a sales promo.
There are people out there right now who would dream for this kind of coverage. Indie RPG developers who, if say Forbes, decided to talk about, would get not even half the audience that Wendy's burger game gets. And it doesn't even matter if it's a good game, or if the people making it wanted to make it, it's getting clicks
For the record, it does feel like the people who made this had a lot of fun. And of course it's got some fun artwork and a sense of humor about it all–it's got the marketing budget of one of the big five fast food franchises behind it.
I don't want to remind the teacher that they haven't assigned us homework to do over the long weekend or anything. I mean D&D is owned by Hasbro, and something being made with a lot of money doesn't make it automatically bad, or you a bad person for having fun playing it. It is worth thinking about what we play, though. Enjoy your burger game if that's what's ticking your clock. It's got buffs if you're drinking a frosty irl, which is incredibly (and literally) on brand.
So in the spirit of Wendy's Spicy Nuggets, we're throwing in a whole six piece order of roleplaying games (all about the price of a combo meal) to try. Play as a mecha pilot, a good boi in 5e D&D, a Muskrat Necromancer, a group of doomed soldiers, a robot questioning their sapience right alongside your funny beefbarian. There's a lot of great stuff to check out, even if it doesn't come with square beef patties.
---
Happy Adventuring–whatever you're playing!