Warhammer Fantasy Roleplay's latest adventure unveils an insidious mystery lurking at the heart of the Ubersreik. Can you solve it? Or will Chaos reign?
Cubicle 7 has been steadily releasing the Ubersreik adventures out of the Warhammer Fantasy Roleplay Starter Set for everyone now. Come and get involved in the newest edition of the dark fantasy ridden world-that-was. Step back into the world of Warhammer Fantasy, embrace your chance to catch fleas, and see what you can discover in the city of Altdorf.
via Cubicle 7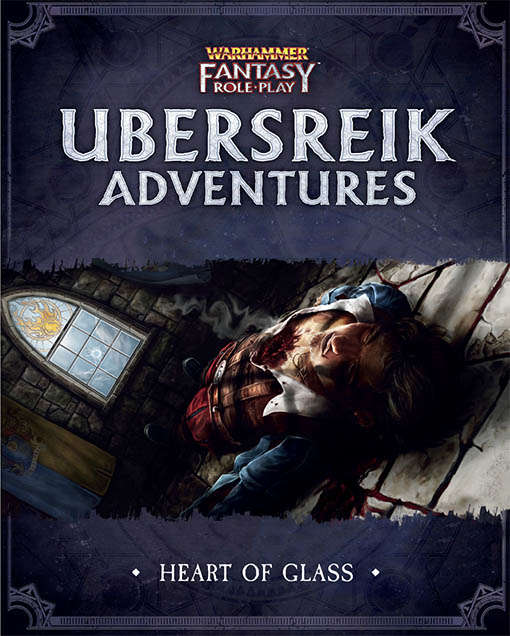 Ubersreik Adventures: Heart of Glass

Corporal Tylo Vielfrass has been murdered. The popular Altdorfer soldier and member of the Ubersreik's Watch died under mysterious circumstances and now the Characters, under orders from Lady Emmanuelle Nacht, must discover the truth of his demise. But with little to go on and no sign of the murderer, they soon become embroiled with the machinations of an insidious cult, a relentless Witch Hunter, and powerful forbidden magic.

Heart of Glass takes a closer look at the insidious nature of Chaos — how good people can be corrupted by otherwise noble goals and intentions. It takes place in the duchy of Ubersreik in 2512 IC, but could be moved to any suitably large town throughout the Empire with minimal reworking. This adventure is suitable for parties who have a little experience under their belts.

Heart of Glass is the forth in the Ubersreik Adventureseries, the primary setting of the WFRP Starter Set. Along with If Looks Could Kill, Mad Men of Gotheim, and Bait and Witch, these adventures can be used as short standalone adventures, or easily slotted into any ongoing WFRPcampaign.
Be sure and check out the other adventures in Ubersreik. Keep your rat catching bag and your Mitey Worrier tattoo close to your heart, and Happy Adventuring!