Warhammer Weekend is nearly upon us friends, and that means it's a chance to get your favorite Warhammer games from Steam at a significant discount.
Get your skulls, hammers, and eagles ready folks, because Warhammer Weekend is coming to steam, and many of your favorite games will be on sale. The last year or so, in particular, has seen many games released or updated, and if you've been wanting to try some out, now's the perfect time to get in on the action. Check out the strategic battles and warfare of Total War: Warhammer II or explore the bowels of a Necron Tomb World in Adeptus Mechanicus and its new Heretek expansion. Whatever flavor of Warhammer you want, fantasy or 40K, you'll find something waiting this coming weekend.
via Steam
As part of this weekend's 'Weekend Deal' you'll find your favorite Warhammer titles on sale for up to 80% off. Though the special offer only lasts until 10AM PST on Monday Morning, so get while the getting's good. Here's a taste of what's on offer.
Total War: Warhammer II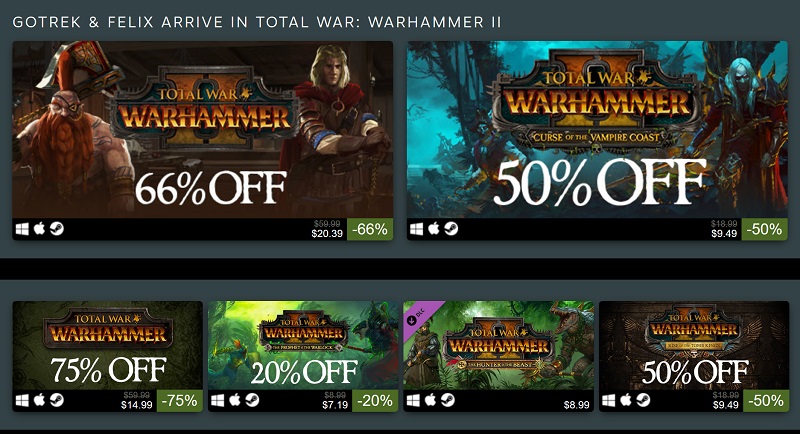 Gotrek and Felix have recently emerged in the Old World once again as a pair of legendary lords added as free DLC for the core game. But if you already have that and are looking to try the expansions, they're all on offer at a significant discount.
Gladius, Battlefleeth Gothic Armada II, Vermintide II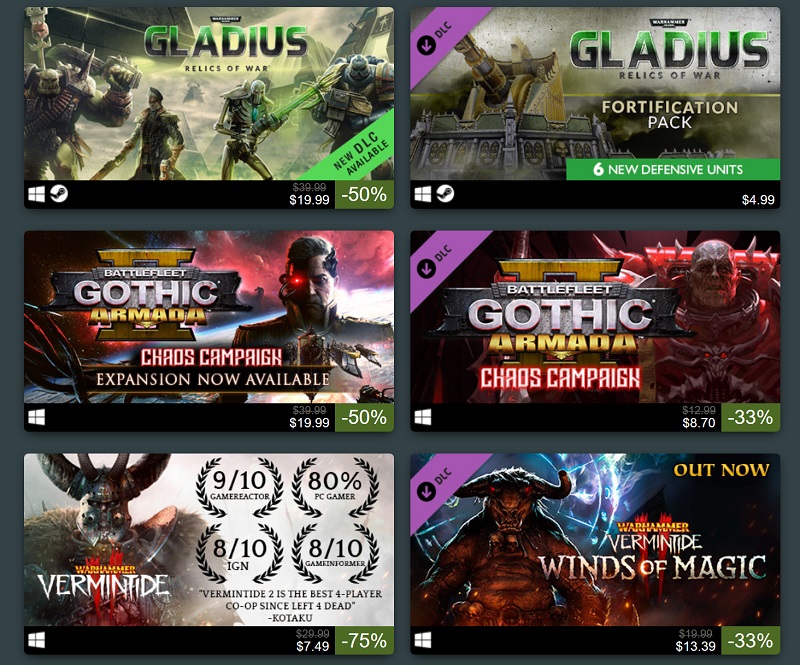 Step into the realm of grand strategy (and unmatched action) with Gladius, the first 4x title for Warhammer 40K. Then take your strategic developments and pit them against the best fleet commanders in the Imperium with Battlefleet Gothic Armada 2. Or if you're looking to prove your might and develop some of the best cooperative teamwork this side of the World-that-Was, then check out Vermintide II.
There are more options, of course, so be sure to check out the Warhammer Franchise page on Steam to see if your favorite is on sale.
Good luck, generals!