Games Workshop is showing off some of the special features coming in this month's White Dwarf. Come see what new rules are heading your way!
The December White Dwarf is coming soon and it's loaded up with some great new features and rules too. Here's a preview of some of the supplemental rules heading your way.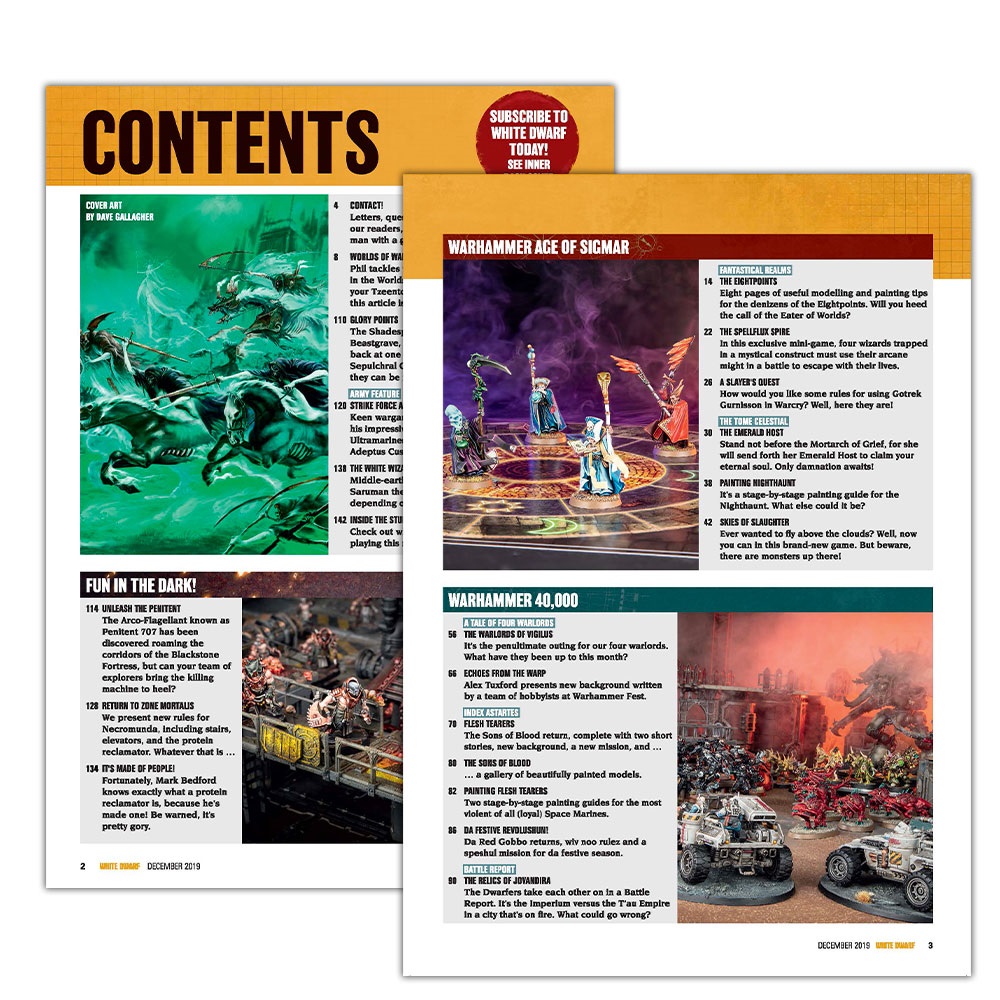 On the front cover we also have a few "gifts" for players with this issue:
A Necromunda Gang Tactics Card
Gang Raid Gaming Supplement for Necromunda – 10-page booklet with 4 new scenarios for Necromunda
Age of Sigmar Poser Mat for the new Spellflux Spire mini-game
Warcry profile card for Gotrek Gurnisson!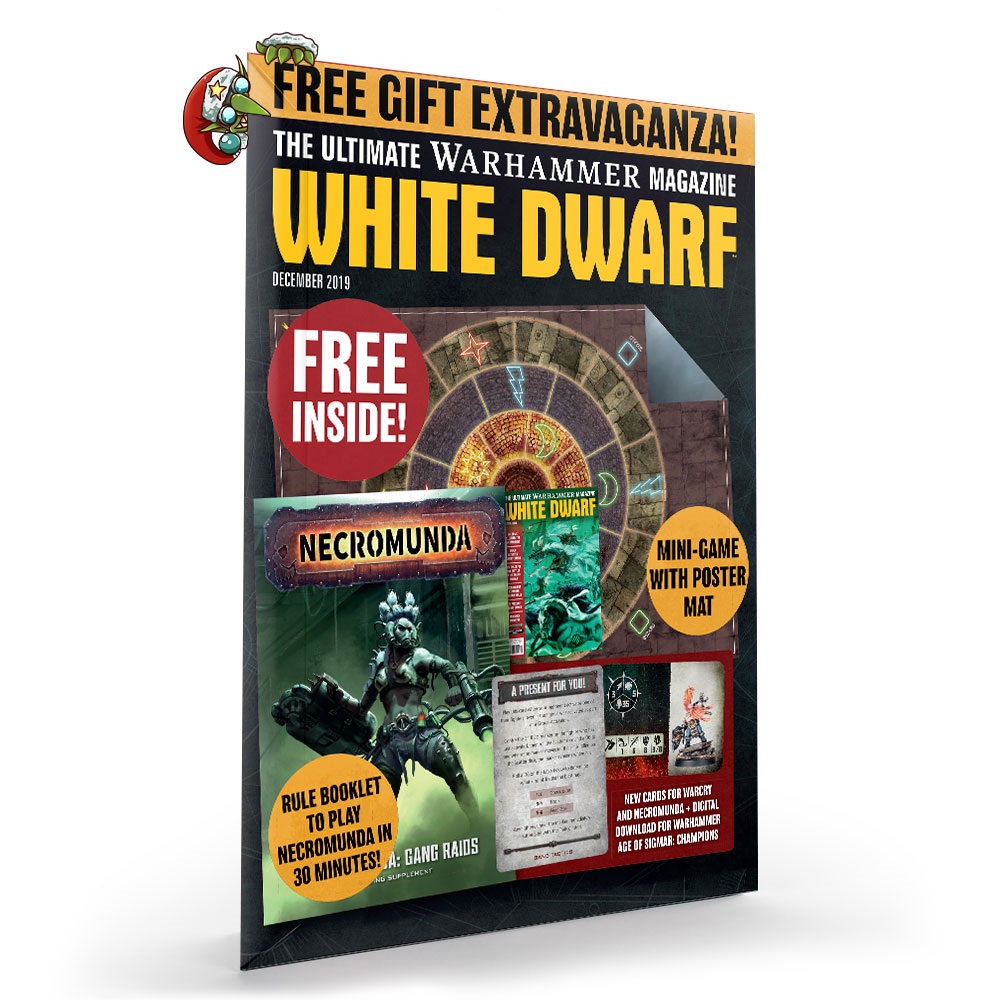 Inside the covers we're getting a closer look at two different armies you can play – one for 40k and one for AoS!
Flesh Tearers: Index Astartes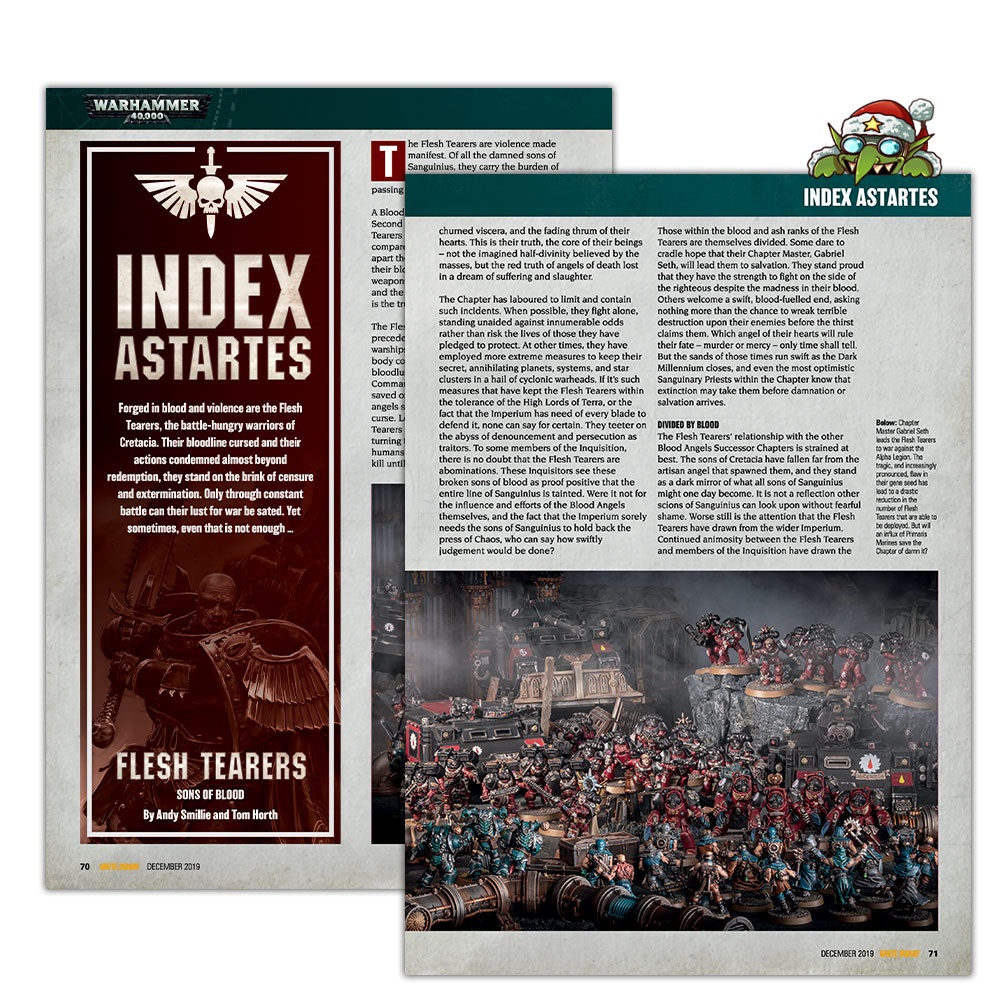 The Flesh Tearers just got a ton of new rules with Blood of Baal so this edition of the Index Astartes is leaning more on the lore side of the house. But the good news is that it still has an Echoes of War mission for you to play around with: Purge the Intruder. Furthermore, it has a Kill Team Showcase for the Flesh Tearers and a Paint Splatter section dedicated to painting up Flesh Tears in the Classic and Contrast Methods.
The Emerald Host of the Nighthaunt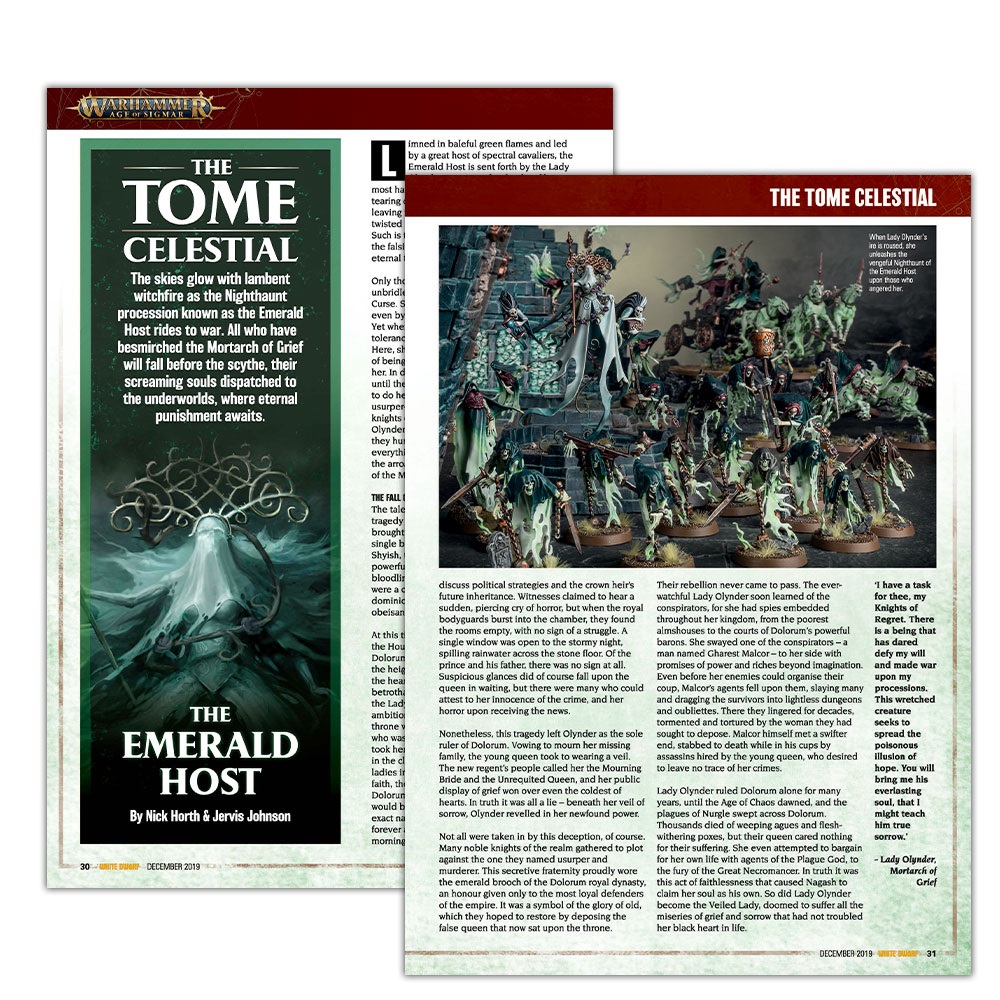 If you're a Nighthaunt player, like myself, you were hoping for something ghost related in this issue and GW has not disappointed! Check this tidbit out:
In this month's Tome Celestial, you can read all about the origins of the Mortarch of Grief and her own personal procession, the Emerald Host. You'll also be able to field them in battle with three new warscroll battalions – the Forgotten Scions, the Dolorous Guard and the Emerald Host itself.
YES! Three brand new Warscroll Battalions for the Nighthaunt army to use! I can't wait to take a look at these options to see how they stack up. I'm hoping that they are going to explore some new options for the Nighthaunt army. This section does seem to focus pretty heavily on Lady Olynder and her crew so I wouldn't be surprised if she was a key figure for these three Warscrolls.
So Much More…
This month's White Dwarf also has a bunch of new rules for Blackstone Fortress – including rules for an Arco-flagellant, Kill Team, of course Necromunda as mentioned. No matter what game system you're playing around in there is sure to be something for you to find useful in this issue of White Dwarf!
The Emerald Host? Yes Please!!