There are still a lot of rules, but none of them prohibit you from saying "I'm your huckleberry" over and over, so go nuts!
Gunslinger is, at its heart, a wargame. I'll grant you that. But it's much more macro-focused. What I mean by that is you're not looking at movement point to terrain ratios and fuel consumption and all of that. Gunslinger is much broader. It's you and your gun in a saloon.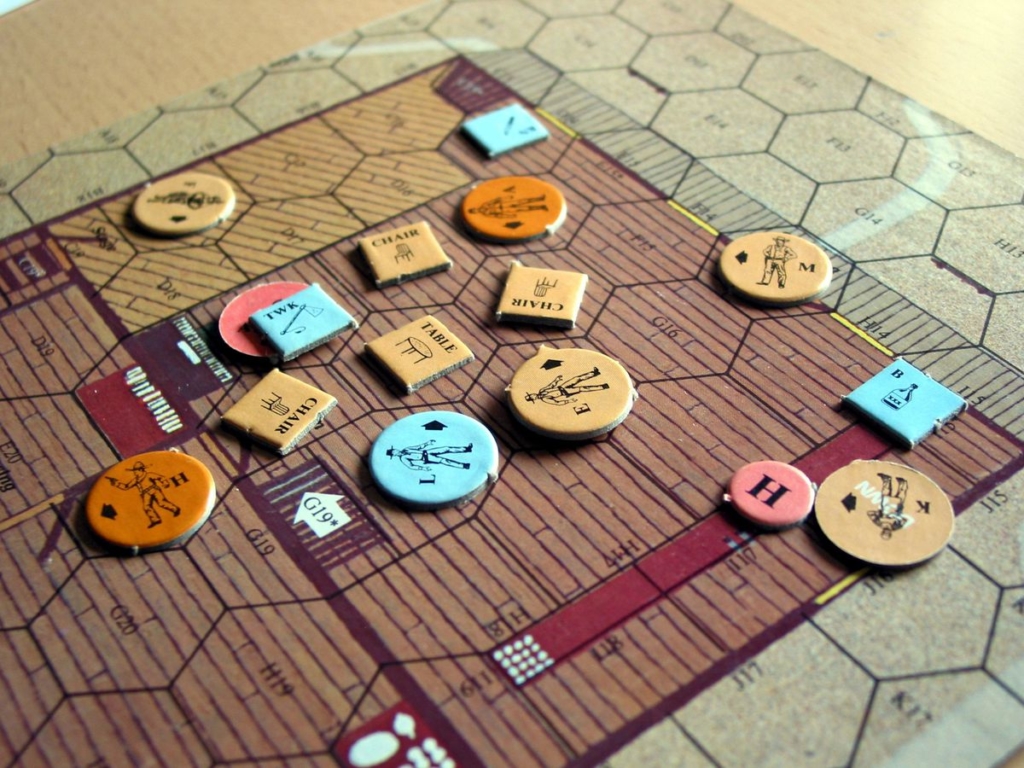 Still, it wouldn't be an Avalon Hill game without bucketloads of rules that we won't be going over. So here's a quick and dirty rundown of the rules of Gunslinger.
Gameplay
Each turn makes up 2 seconds of in-game time. Each turn is made up of 5 impulses. Each player will use their action cards to "spend" these impulses, in a programmed turned sort of way. Both players decide their action on that turn at the same time, then the turn plays out based on those decisions.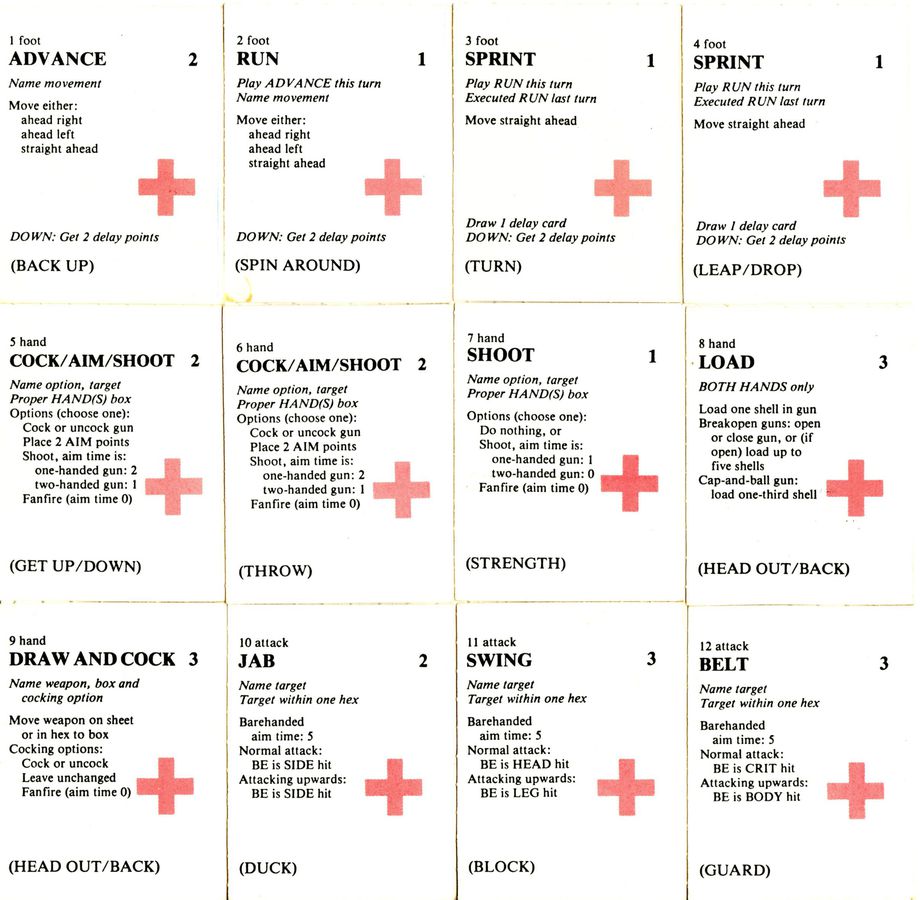 The number in the upper right is the impulse cost. The upper left is just the card reference number. The middle block of text states what the card does, occasionally with caveats of when it can be used and against what other actions.
Out of all of the actions, Head Out is my favorite. It allows you to place a head token next to your character token and can be used as a point of aiming. It represents you sticking your head out, around a corner or whatever. But, in doing so, you could take a bullet right between the eyes. That's the wild west, baby.
Once you've fired a shot, you draw a Result Card, which will either be a Fire or a Malfunction. And based on your range and your Aim points, which are determined by your action and a couple of other game effects (like wounds).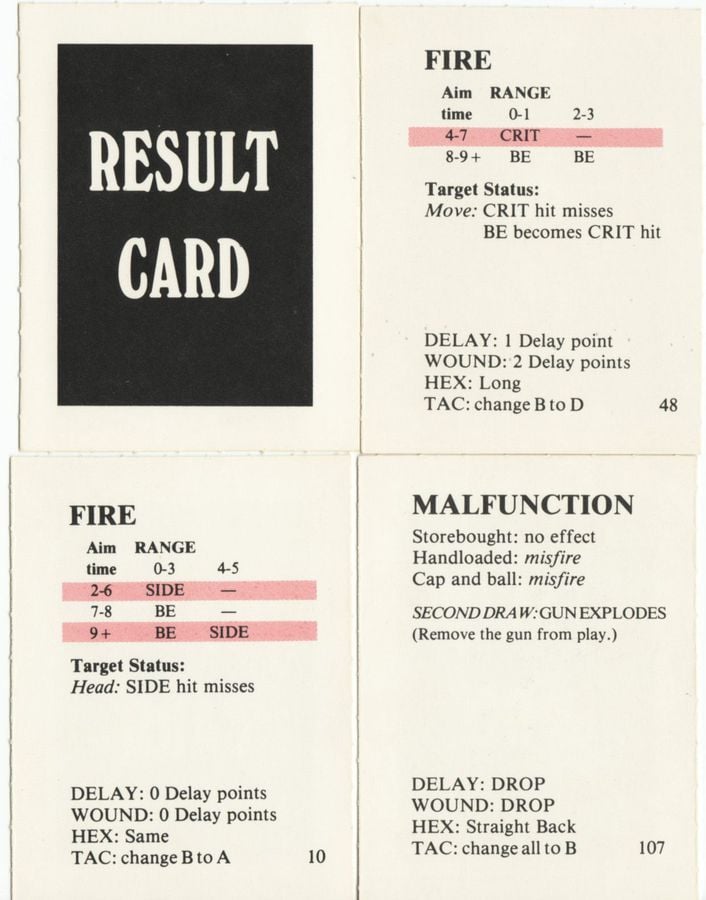 Once you've determined if you got your Bull's Eye (BE), then you check another chart to determine damage and effect. A Bull's Eye usually lets you pick where you hit.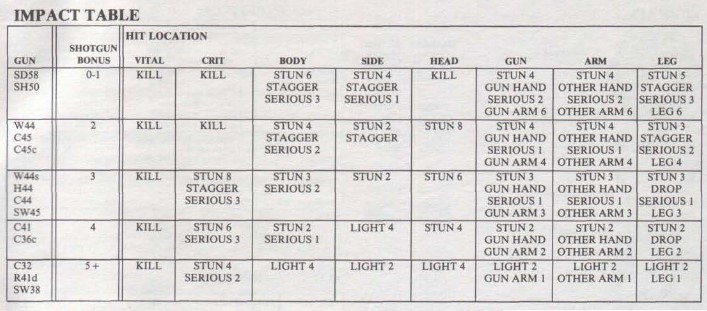 One day I'll make a chart of every Avalon Hill chart
Gunslinger also has facing rules, as noted by the arrow on the character tokens and use of the Turn action. There are firing arcs and such to keep track of, but nothing too crazy.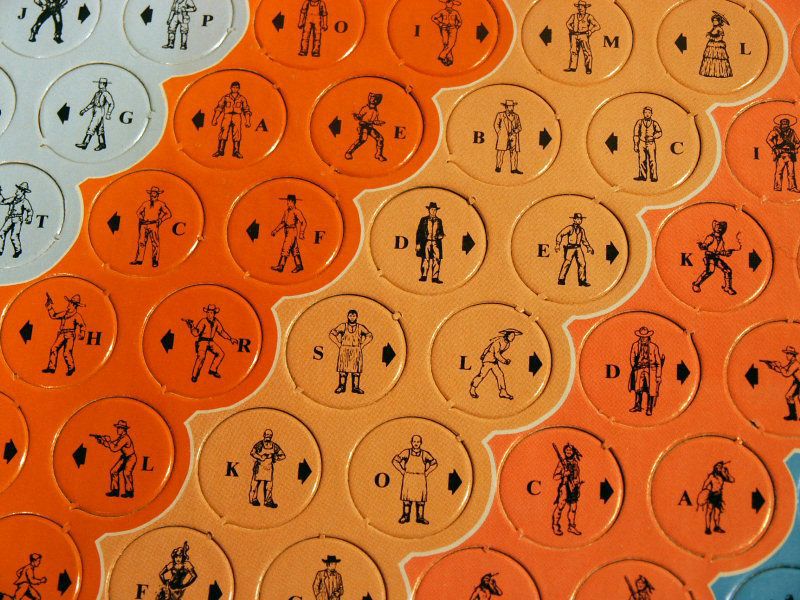 Finally, you'll be keeping track of everything on your character sheet.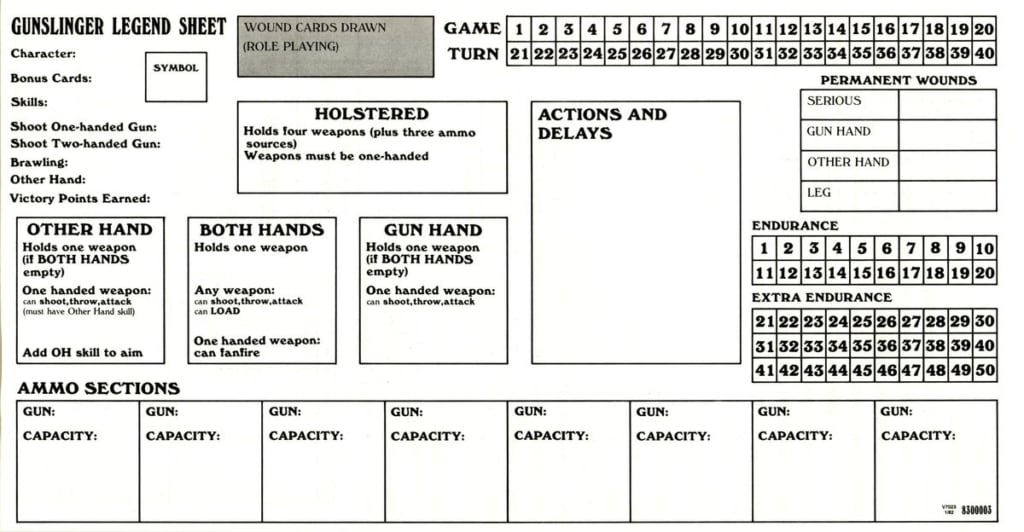 As you take wounds and spend ammo, you'll have to keep track of all of that on your character sheet. As you'd expect, Gunslinger comes with dozens upon dozens of tokens to help you keep a record of everything. If your Endurance reaches 0, you quietly fall asleep and everyone lets you get the rest you clearly need. #SelfCare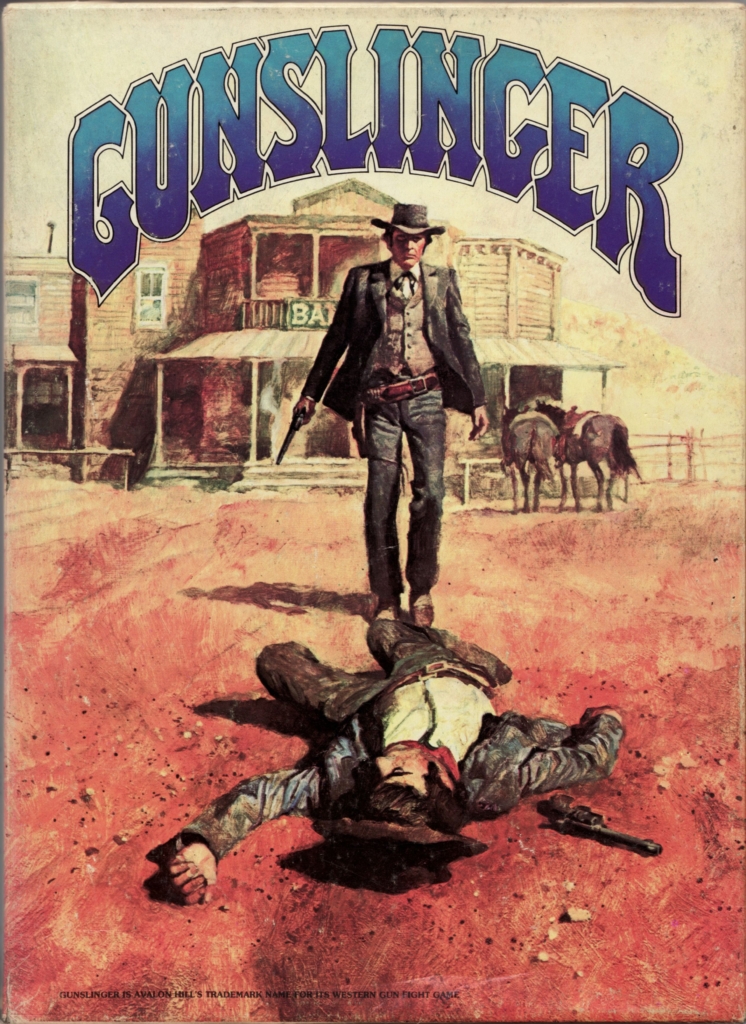 Aww… So sleepy. Rest up, big guy.
Final Thoughts
Gunslinger comes with MANY, MANY more rules for whatever amount of granularity you'd like. There are rules for different heights, horses, terrain features, dynamite, as well as a fully realized campaign and scenario guide.
Overall, Gunslinger is the sort of Avalon Hill game I could get into. Macro enough to avoid getting bogged down, but enough option to really fine-tune to my liking. I do love me some micro-management, but I got limits.
Thanks for reading!