Were you a D&D fan with no group and a computer in 1988? Chances are you played Pool of Radiance. Let's all jump in the nostalgia van together.
With the teaser trailer for Baldur's Gate III announcing a real trailer next month, it's safe to say that the concept of not-tabletop D&D games have an important place in he hearts and minds of the D&D culture; and the game to kick this trend off was none other than Pool of Radiance.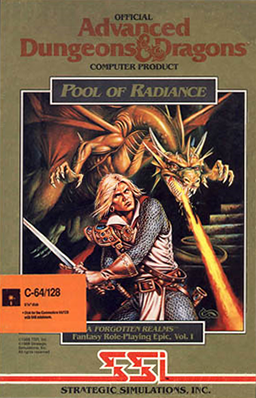 Pool of Radiance was the first official Dungeons and Dragons video game, releasing in 1988. While the game was coded by Strategic Simulations, Inc (SSI), the plot was written by D&D designers. This made it a fairly faithful adaptation of the first edition D&D rules for better and for worse.
The game itself feels sharp and intuitive in a way that's almost surprising; the battles remind me very much of playing Fire Emblem on my Nintendo DS with graphics that were really pretty decent for the time. A few key races and classes are missing from character creation, which is a little disappointing, but the major players are all there with dwarf, elf, half-elf, gnome, halfling, and human, and cleric, fighter, magic-user, and thief respectively.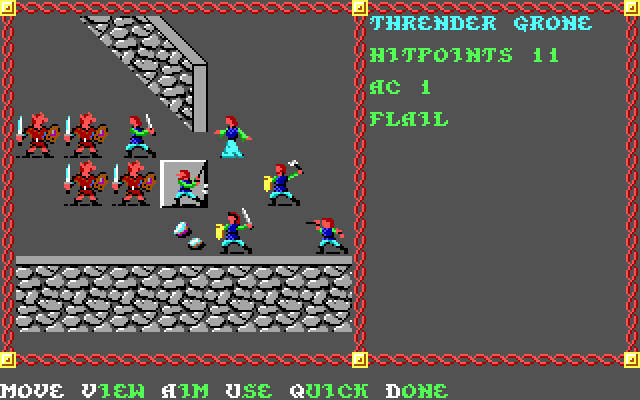 Playing Dungeons and Dragons on your home computer strikes me as very strange, though. Part of the role playing game experience is role playing, the social interactions with other people at the table and the ability to take the straight forward puzzle provided by your DM and do something completely unexpected and out of left field. Playing a game with a linear plot like this, just like reading a book, takes out all of the fun human error and making a decision that your DM didn't see coming and didn't account for. But this game would have been invaluable to a fan of Dungeons and Dragons who may not have had a group or whose parents had succumbed to the satanic panic. For finding a way to make D&D accessible to people for whom it may not have been, I really must commend Pool of Radiance.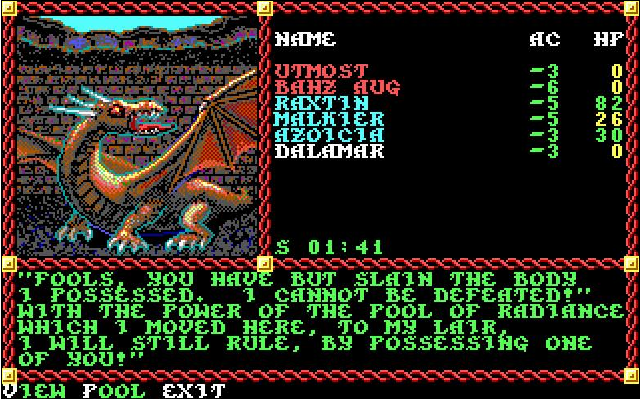 Pool of Radiance went on to have a 1989 novelization by James Ward and Jane Cooper Hong, a 1992 NES release, and 2015 re-release, as well as three sequels, Curse of the Azure Bonds (1989), Secret of the Silver Blades (1990), and Pools of Darkness (1991), proving that the game not only had legs, but true staying power.
Overall, Pool of Radiance holds a clear place of importance in D&D history. Its accessibility allowing more people to enjoy exploring dungeons and fighting dragons, and its use of technology spring-boarding the game into the future and possibly helping it stay relevant.
Did you play Pool of Radiance? What do you think of the game? Let us know in the comments! Happy Adventuring!