Come and join us as we take you inside the new Shadow and Iron book for Adeptus Titanicus and find out what the Ordo Sinister are up to.
Alrighty folks, it's Titanicus Time. We're here today with the Shadow & Iron book, the latest big release for Adeptus Titanicus. With new missions, new legions, and a whole passel of updates, the book brings Psi-Titans into the game, and explores the edges of the Horus Heresy. Let's take a look!
All in all, this book adds a lot to the game. If you are an Adeptus Titanicus player, it's definitely worth picking up, with six new titan houses, psi-titans, and new formations and weapons, the book expands the game in interesting directions without feeling too overwhelming. Aspiring princeps will want to pick this one up.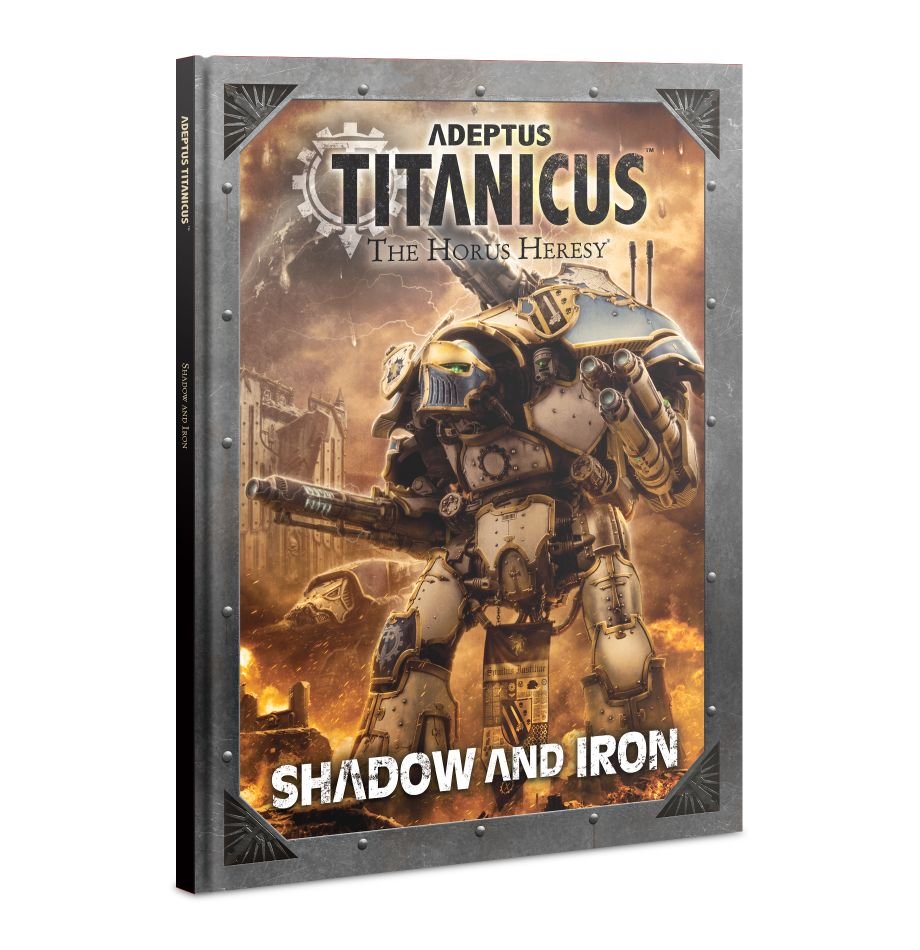 Far from Terra, the Horus Heresy raged in the darkest places of the Imperium – and some of the brightest. The 500 Worlds of Ultramar were a beacon of hope and civilisation, and one that the Traitors hoped to tear down as they waged a Shadow Crusade across the region. In response, the Imperial Loyalists forged their own Crusade of Iron and brought the battle to their enemies.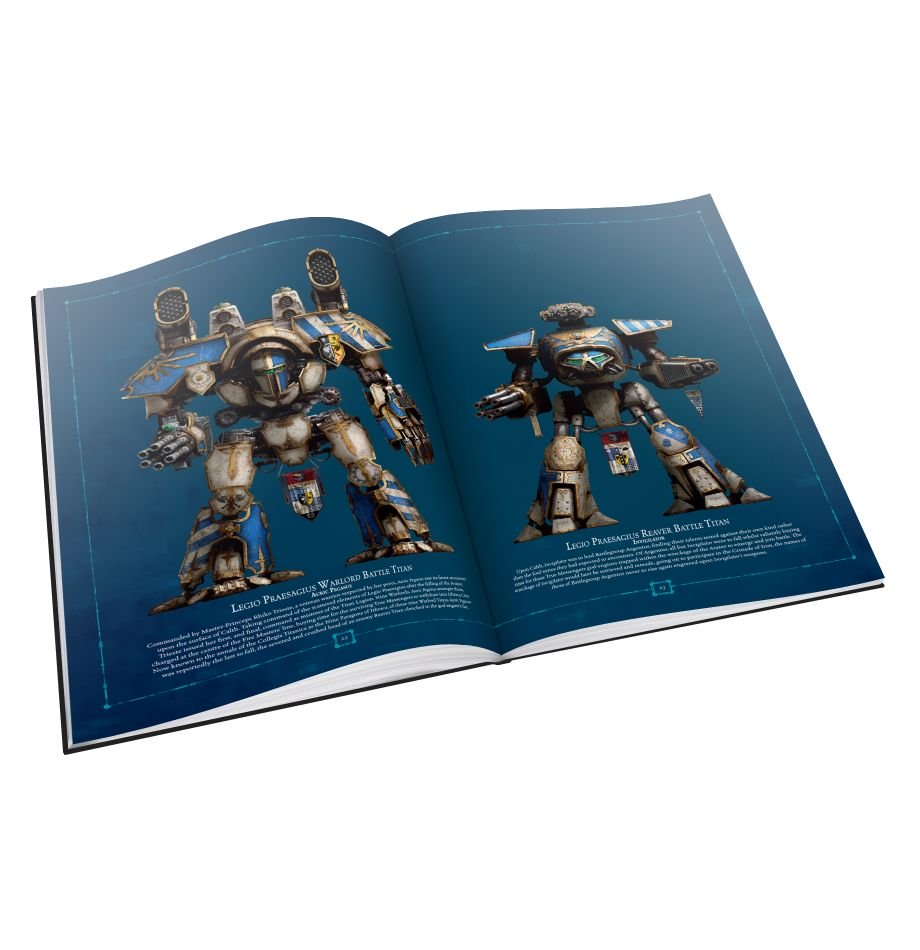 Discover the secrets of the Shadow Crusade and the Crusade of Iron in this 97-page hardback supplement for Adeptus Titanicus, alongside a host of new rules to use in your games. Harness the psychic might of the Ordo Sinister and devastate your foes with warp-spawned powers. Add new weapons to your god-machines and use them to lay low your enemies. Try out new Stratagems in a host of narrative missions based on the Crusade of Iron. Experience the might of six new Titan Legions and six Knightly Houses, each with their own additional rules. And wage war across a sub-sector with detailed campaign rules that allow you to forge a battlegroup and maintain it across your games. Each victory will add to your roll of honour and increase your power, while each loss will leave you with decisions to make as you use your resources on repairing damaged Titans and keeping your grip on worlds as your foes try to seize them from you.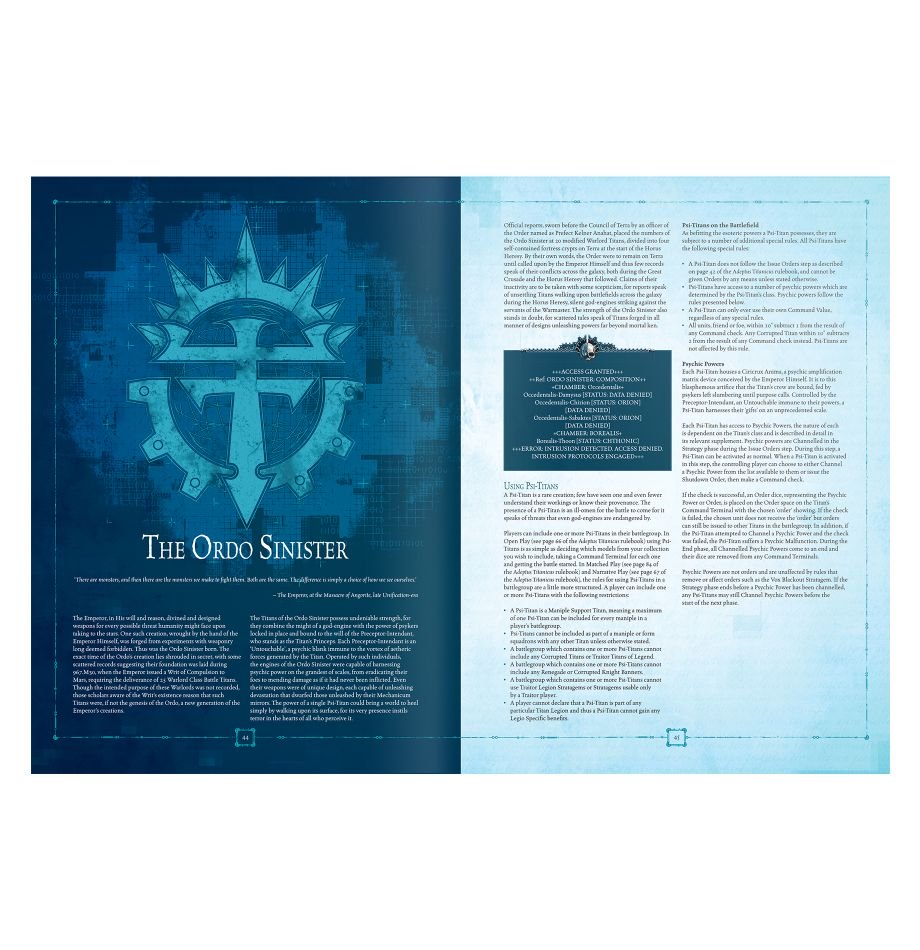 Inside this volume you will find:
– An overview of the Shadow Crusade and Crusade of Iron
– Rules for using psi-Titans of the Ordo Sinister, including four psychic powers
– Background and Legion-specific rules for six Titan Legions: Praesagius, Oberon, Lysanda, Infernus, Mordaxis and Audax
– Background and rules for six Knight Houses: Orhlacc, Vornherr, Vyronii, Mordred, Malinax and Ærthegn
– Full colour examples of paint schemes and heraldry
– Four new maniples to use in your games
– Rules for three new weapons – the Sinistramus Tenebrae, Natrix shock lance and ursus claw – plus new weapon traits
– 18 new Stratagems
– Five narrative missions based on the greatest battles of the Crusade of Iron
– Extensive rules for organising an Adeptus Titanicus campaign
– Guidelines for map campaigns and different worlds to battle across
– How to build and maintain a Titan battlegroup or Knight Household across multiple games
– Rules for hostile battlefields based on conditions across the 500 Worlds of Ultramar, including worlds where the warp has taken hold