The Road to Thramas is loaded with new models. Meet the new Dark Angels Unit – The Deathwing Companions!
Forge World has been busy with all things Horus Heresy and with the Siege of Terra drawing near, it's somewhat fitting that we get a slight detour with the Road to Thramas. Today, GW is showing off a new unit for the Deathwing: The Companions.
The finest warriors from the Deathwing compose the ranks of Companions, honour-bound to form the personal bodyguard of Dark Angels officers. Each has taken an oath to lay down their lives before letting harm come to the one they are tasked to protect.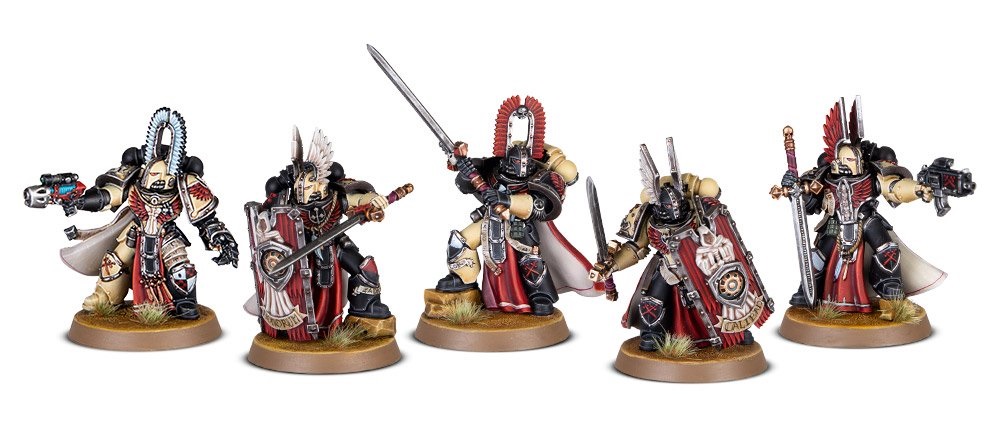 The Companions come stock with artificer armor and either a Terranic Greatsword or Calibanite Warblade. They also have the option for a unique wargear addition: The Cytheron pattern Aegis. This wargear provides them with a 4+ invulnerable save vs shooting and a 5+ invulnerable save vs melee attacks. It also has the option to be "deployed" for the squad granting all those bonuses to the entire squad and causing enemies who attack the squad to receive a -1 penalty to their initiative. The trade off is that the squad members who are deploying the Aegis can neither shoot nor fight while it's out.
Furthermore, in your games with the Companions, they can also fight in challenges as if they were characters. Plus, they have a special rule to help out in those challenges as well:

These models are coming out later this year so keep an eye out for them. The Companions are a great addition to any Horus Heresy Dark Angels army and also make some excellent looking HQ swaps…
What do you think of this new unit from Forge World?