Does your D&D group have the audacity to not skype every single day? Try getting your D&D fix with one of these binge-able anime series.
Anime was my intro into nerd culture. Everything from conventions and cosplay to comic books and tabletop gaming stemmed in the stylized subtitled cartoons. I probably wouldn't have started to find writing so enjoyable if it wasn't for fanfiction based on, you guessed it, anime. The industry is huge, though, and there are a ton of different shows that run the gamut of genres and sometimes it can be a little overwhelming to figure out what you'll enjoy or where to start. Well, if you enjoy a good session of Dungeons and Dragons and aren't sure what anime to marathon next, I have a few recommendations for you.
Magic Knight Rayearth
A little on the older side, but one of my favorites. Rayearth is a pretty standard magical girl show about three Jr. High students suddenly transported to a magical world in need of saving. As they gain experience their armor, spells, and weapons all level up with them in a way that feels like updating a character sheet and their story arcs are very reminiscent of a D&D campaign at its most classic. The art and animation on this one are a little 1994, but if that's a deal breaker the manga is only 6 books long, two story arcs, and has some of my favorite art in the genre. Plus, it's a series that CLAMP actually completed.
The Rising of the Shield Hero

After being transported from Japan to a parallel universe to become the Cardinal Heroes, Naofumi finds himself equipped with a shield and no companions while the others he was brought with are given impressive weapons and strong support systems. After training to become a hero of legend alone, he eventually finds his own adventuring party and they begin working to get to the bottom of the mystery of the monsters known as Waves. Shield Hero feels like every first game session where you have a low powered character with the backstory of a powerful character and a poorly calibrated character sheet that makes you feel useless. We fix things, we become close with our team, and we enjoy the adventure.
That Time I Got Reincarnated As A Slime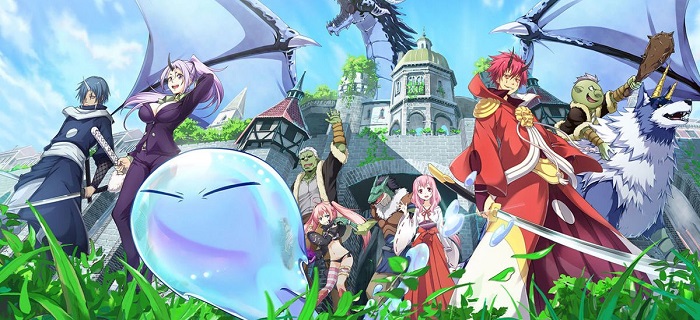 Satoru is an average 37 year old office workers who get's transported to a strange world (a common trope, I know) and changed into a slime with the ability to absorb almost anything and mimic their appearance and abilities. There's a dragon, a quest, goblins, dwarves, and the main character is the roundish anime equivalent of an intelligent gelatinous cube! The second season is schedule to premier in October of this year, so between campaign sessions check out season one.
Kemono Michi Rise up
You know that feeling when you write an entire game and there's that one character in the party who only wants to befriend all of the animals? That's Genzou in Kenomo Michi Rise Up. A pro wrestler who's transported to a magic world by a princess and asked to save the world, he decides to run away and instead make it his mission to collect and befriend beasts far and wide. Will he eventually get back on track with the princess's mission? Will he one day find his way home? Who knows!
JoJo's Bizarre Adventure
JoJo's feels like when the DM spends a lot of time and effort writing a dramatic period piece campaign where the heroes will fight a vampire and face betrayal from practically-a-family-member… And then the players make a collection of the most off the most bonkers heroes imaginable. The characters are all min-maxed, every name is a reference to something, and the main character's problem solving is so wild that sometimes it feel like when the DM sets up a fight and the players all do their own thing with it and blow the DM's plans out of the water. This show may not be your cup of tea, and I'm honestly not sure if it's mine, but definitely check out an episode or two. Any episode. It doesn't matter. They're all absurd.
---
Have you seen any of the series on my list? All of them? Which is your favorite and which do you think captures that D&D essence the best? Let us know in the comments!
Happy Adventuring!