Games Workshop is showing off more of the new Ad Mech Pteraxii unit details. Come take a look at these new flyboys!
The Pteraxii units are two of the new options coming to the Ad Mech army courtesy of Psychic Awakening: Engine War. Today, we're getting a closer look at the models and also some more info on their lore and rules. It's time to take to the skies with the Pteraxii!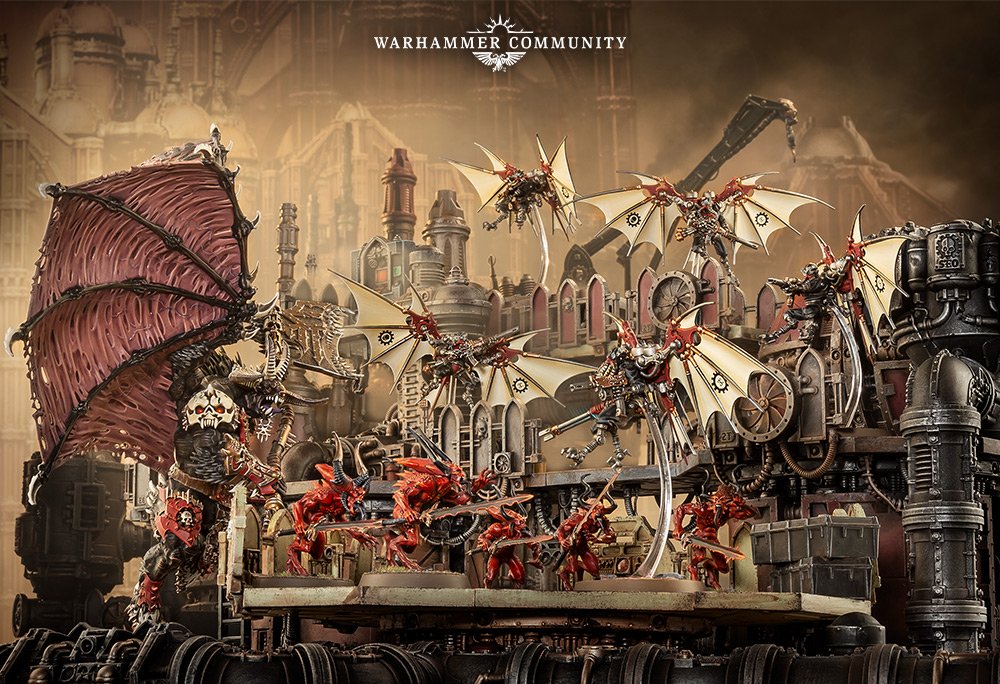 "Each new unit pushes the boundaries of how the Adeptus Mechanicus look on the table, and the Pteraxii are no exception. The divergent silhouette is like nothing else in the army. They share some design cues with both Sicarians and Archaeopters, but they're not exactly like either one."
They have had limbs replaced with "extreme new forms" to help them on the battlefield. They have also had cybernetic implants to allow them to interface with their flight packs which are marvels of engineering in their own right.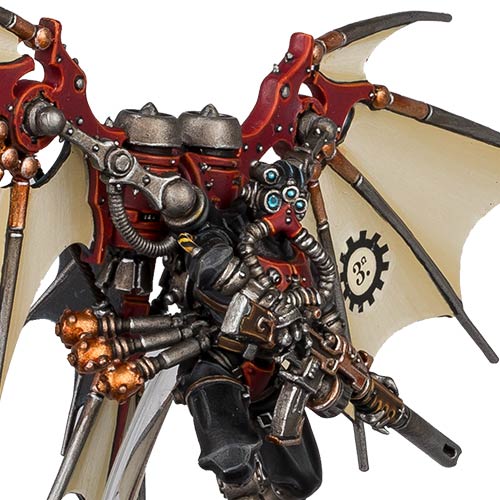 " The nano-carbon fibre-weave surface of the wing membranes can change properties at the will of the user, from rigid as plasteel and rough-textured, to smooth and pliant, and everything in between."
There are two new unit types of Pteraxii – but they have the same stat lines:

Pteraxii Sterylizors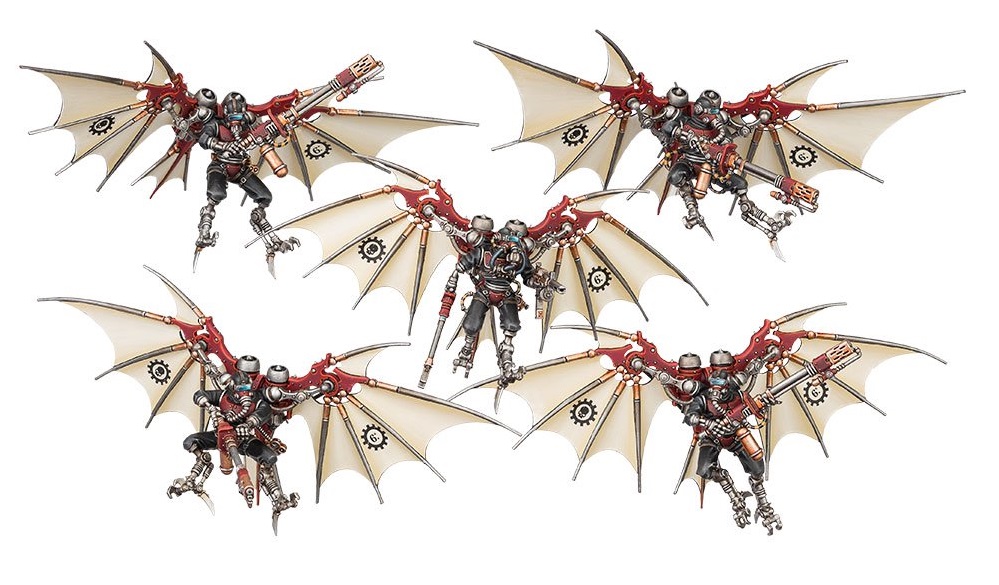 The Sterylizors are Pteraxii unit that will wield the deadly Phosphor Torch. With a 12″ reach and Assault D6 shots, these guys are a threat from a long way away!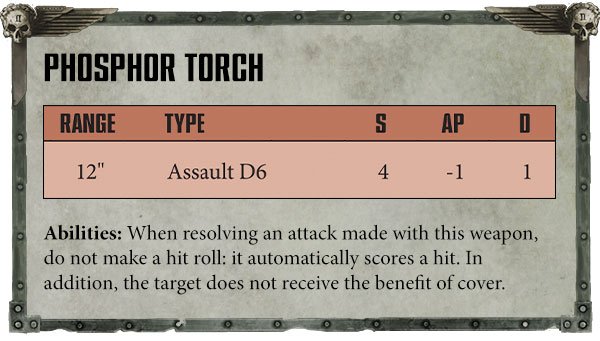 And in close combat, their Talon's aren't messing around either: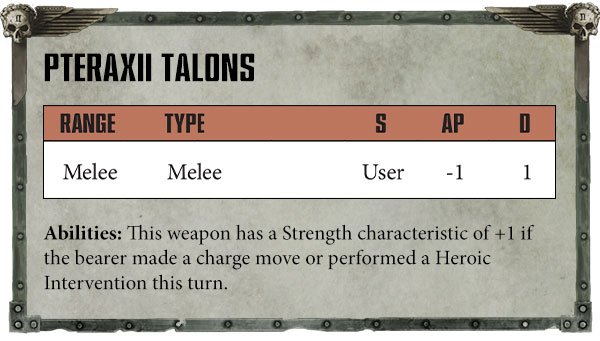 Based on the stat line provided, that's 2 attacks per Sterylizor ( +1 from the Alpha) at Strength 5, AP -1, and 1 damage each – that's honestly not too shabby, especially when you factor in the Phoshor attacks to start. Curiously, they may have a way to get an attack based on the Warhammer Community article:
"On a turn in which they charge, each Sterylizor will be rolling three attacks at Strength 5″
Emphasis added – we're not sure where that extra attack is coming from but that just makes them even more deadly.
Pteraxii Skystalkers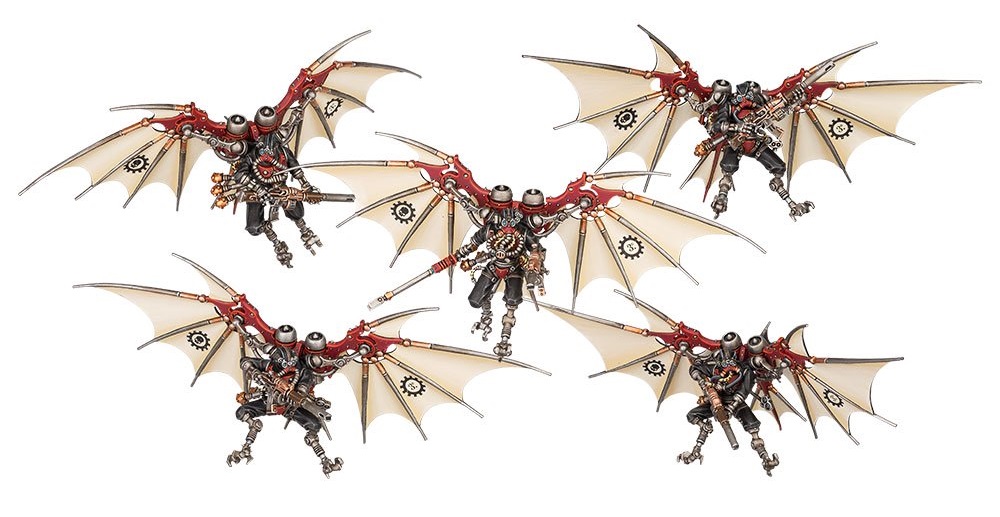 The Skystalkers function as a different threat. They opt for pure weight-of-fire to down their targets. It's a death by a thousand cuts with their Flechette Carbines:

That's not the only weapon in their arsenal either. They have deadly Arc Grenade Clusters to drop on enemy targets they move over on their turn, too: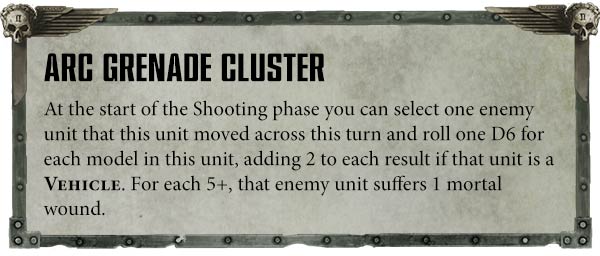 Well now…that's enough to make a Swooping Hawk jealous. Both of these units will add some speed to the Ad Mech in a different way than some of the other units can provide. The Pteraxii are an interesting addition to the Adeptus Mechanics forces and you can bet they are going to get some helpful stratagems to boost their even more when Engine War eventually comes out.