The War of the Spider has Fabius Bile facing off against the forces of both the Death Guard and the Custodes. Now we know why.
One of the biggest mysteries in the latest volume of Psychic Awakening s what is Fabius bile up to, and why is he messing around on Cadia. When you add in the appearance of Bile, the Death Guard, and Adeptus Custodes (and Assassins), it gets really intriguing.
Here's some top points from War of the Spider's plot to get you up to speed on the latest in Psychic Awakening's plot.

War of the Spider Narrative
Bile has robbed the Death Guard (Typhus in particular) of a plague artifact called the Ark Cornocontagious. The relic causes rapid physical regeneration, healing any followers of Nurgle in the vicinity, while fatally mutating others. Bile wants it for unknown reasons.
Bile has allied on Cadia with a Renegade Chapter Master Corian of the fallen Brazen Drakes. Bile updates all of their forces in exchange for mutual support, slaving Corian to his will in the process.
A Custodes task force returning from Vigilus, engages Bile and the Renegade Brazen Claws in the Cadian system, along with the Death Guard in two back to back battles.
Bile manages to narrowly escape both forces, betraying his recent allies to buy himself time.
During the battle's climax his uber creation the hoffically modified  Chapter Master Corian was cutting a swath of destruction through both forces before being barely put down by the combined efforts of an Assassinorum Kill Team.
Most importantly, Fabius captures several Adeptus Custodes alive, AND retains ownership of the Ark Cornocontagious, before returning to his homeworld in the Eye of Terror.

The Rules
Then we get the rules for Fabius' Creations of Bile CSM army list. We have already seen some of the stratagems and relics. But there's also this intriguing one…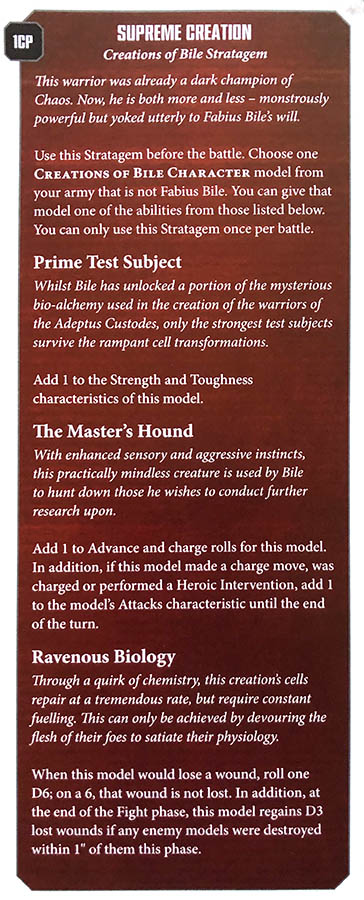 In a thinly veiled reference to the events of the narrative, this stratagem tells us that Bile is using genetic hallmarks of both the Adeptus Custodes, and the Nurgle relic to make uber subjects with horrific powers of regeneration. Note that this strat can only be used on Characters.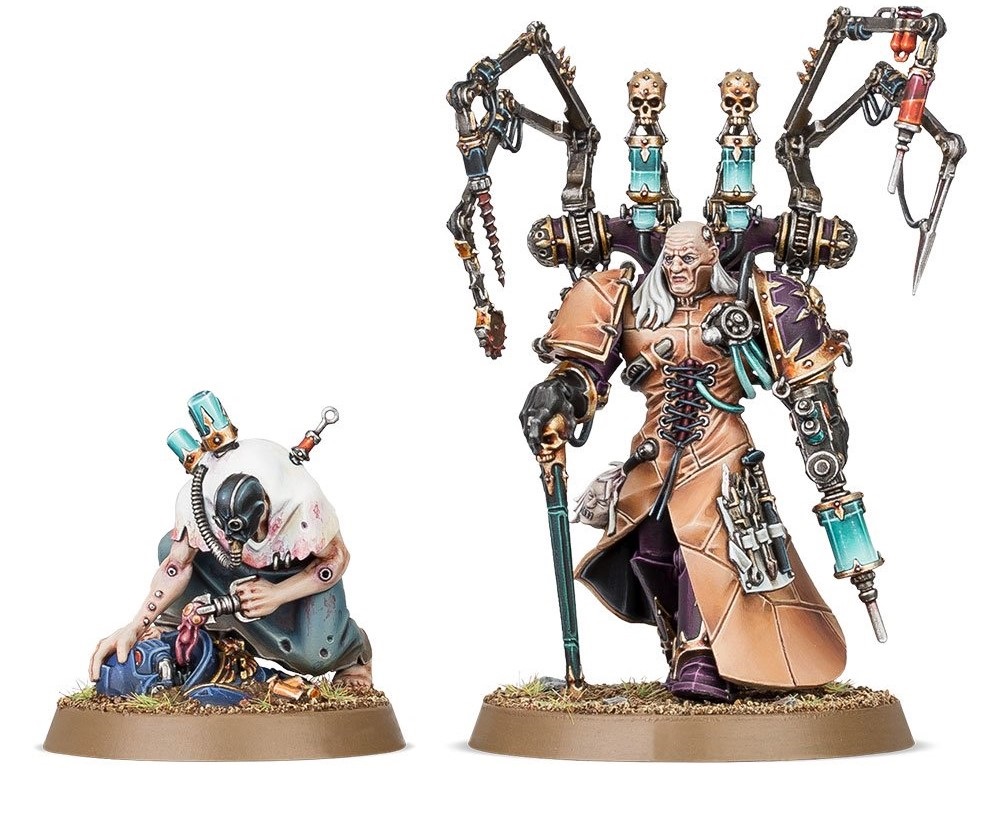 We knew previously that Bile was seeking the knowledge of how to make his own Primaris Marines. I thinks he has set his sights a bit higher these days!
~Who knows what The Spider will accomplish in the days ahead. Bring on 9th edition!