40K's new terrain rules brings it full circle, reviving elements from three decades ago.
GW just showed a bit of leg on 9th Edition's new terrain rules. You can see them below and read more about them here.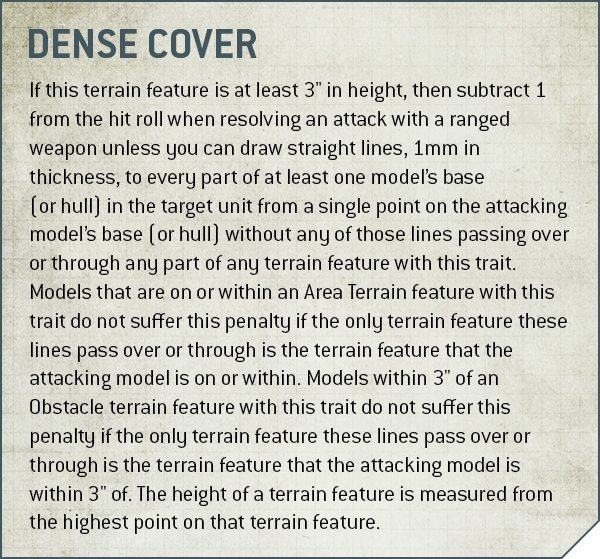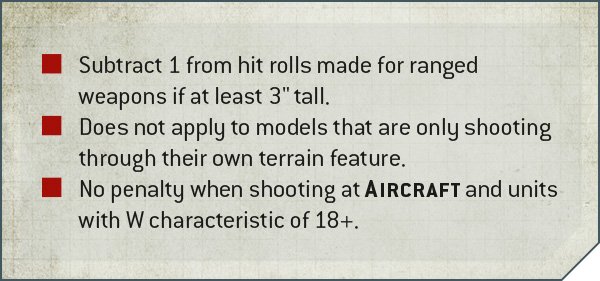 Welcome to the New
Right of the bat you can see that like Overwatch, these new 9th Edition rules are written in a newer style than what we normally expect from GW. The rules are very specific and precise in their wording, compared the last few editions. If anything, they are reminding me of the precision seen in rules from say X-Wing, or Warmachine. This tells me that GW is taking feedback from the playtesters who are primarily Matched Play players, and are adjusting the overall ruleset to a finer grain of detail. This has both advantages, in that you get a cleaner game with fewer disagreements, and disadvantages, in longer rules that may be trickier for new players to understand.

Welcome Back Abstract Terrain!
But overall what we see up there is a retreat from the golden era of True Line of Sight. True Line of Sight arrived with a gang in 5th Edition in 2008. Ever since 5th, the game has slowly but sure been increasing the effects of True LoS, alongside GW's ever growing line of terrain kits.
Back in the day of Rogue Trader thru 4th Edition, things were pretty different. First off everyone's terrain was basically scratch built as GW hadn't moved strongly into their own terrain. There were no fancy printed mats to play on, and you often got a green piece of board with foam hills and whatever people could come up with for  buildings. Forests were the trickiest and you would often see toy christmas tree, or model railroad trees on flocked "ovals or bean" shapes to define the terrain feature. With no good pre-done wargaming forests, the rules had to be loose to accommodate this wild west environment.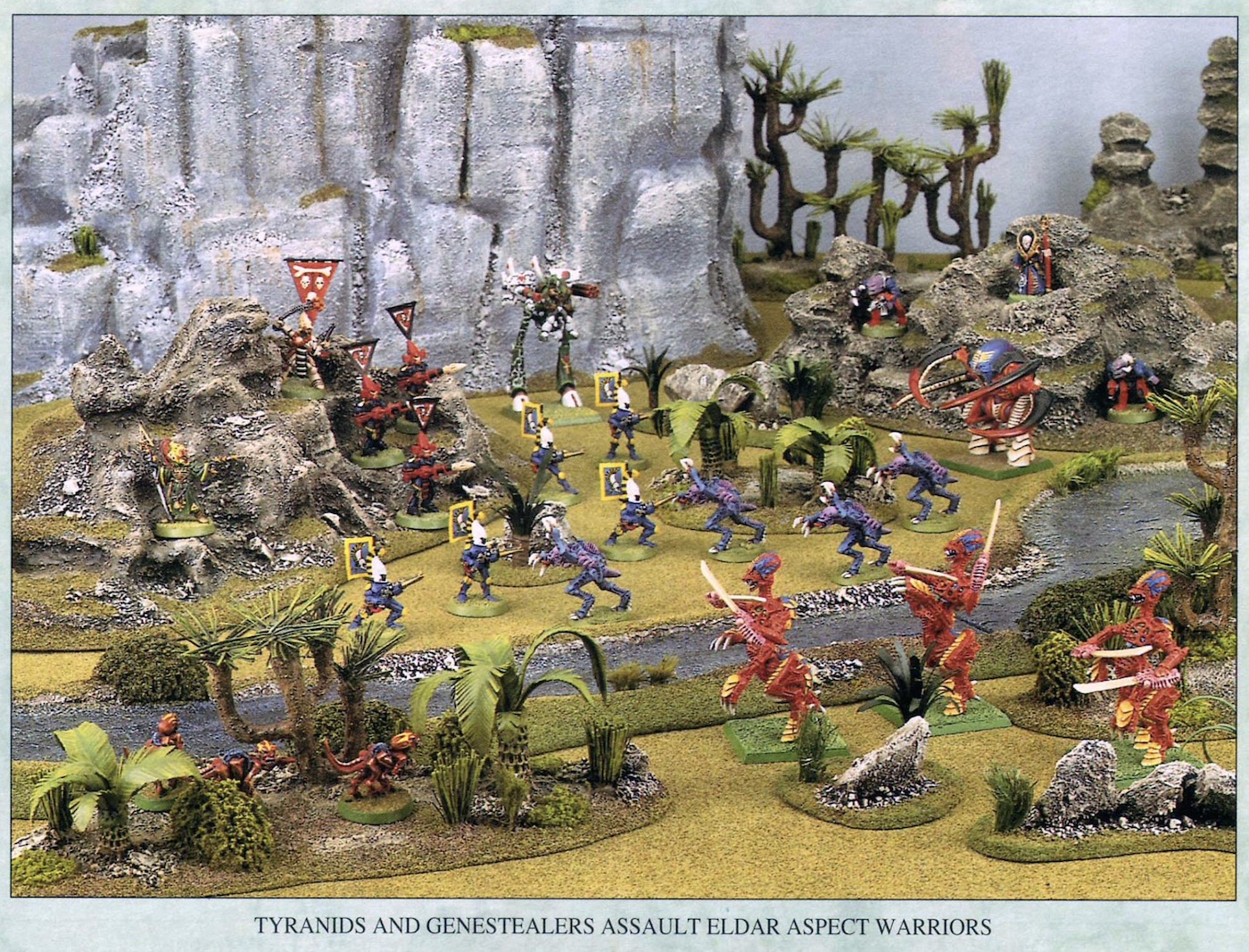 Here's an example of how detailed and flexible the terrain rules were in 1987's Rogue Trader:
Rogue Trader Rules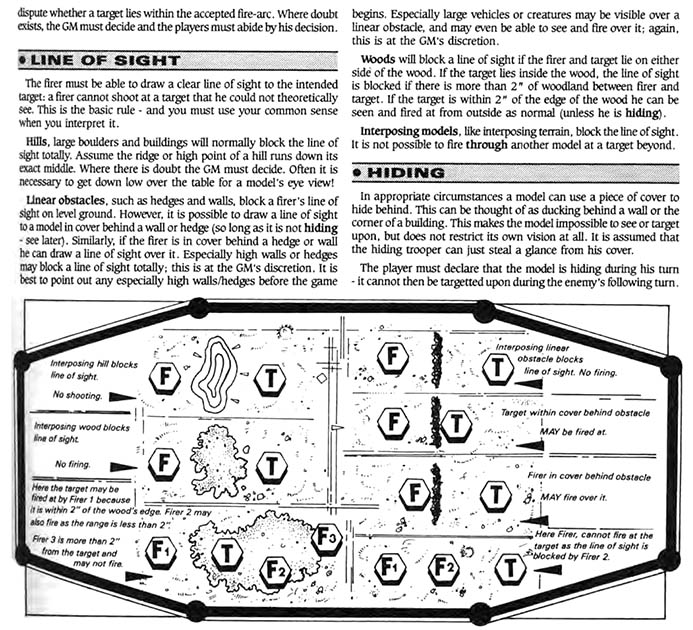 First of all you have four FULL pages devoted to terrain and modifers to hit! Page 1 gives you the basics of defining linear and area terrain. Yes, models could hide (on a per model basis!)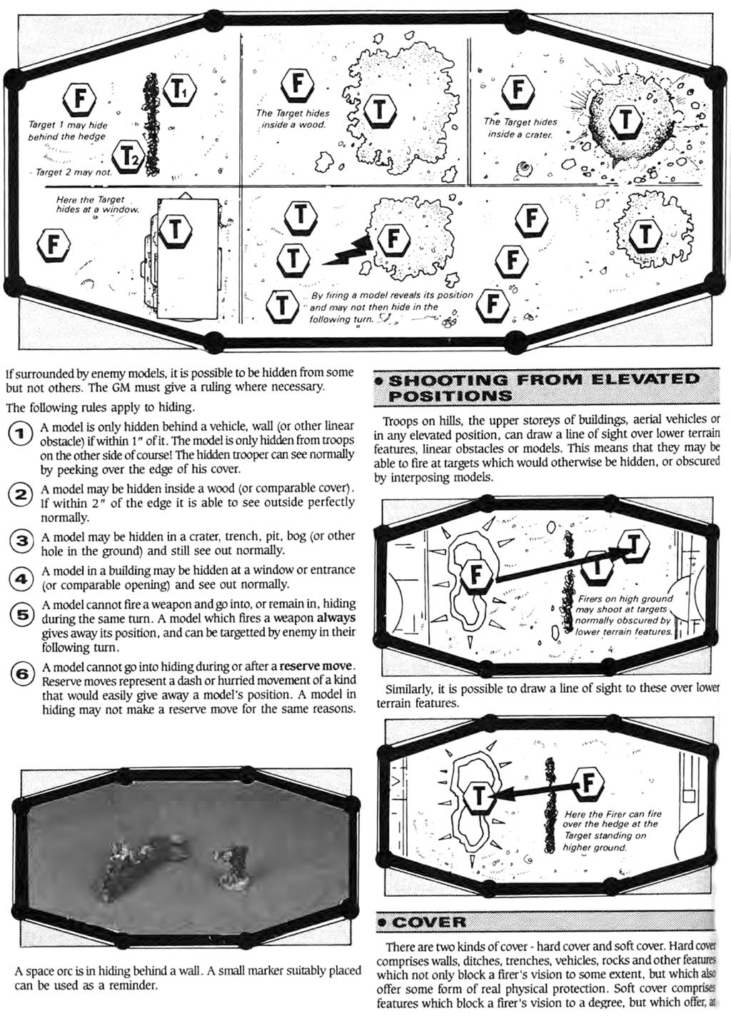 Page 2 gives the basics of area terrain that started the whole game off. You could see 2″ out of area terrain, and 2″ into it. If you were deeper, you could not be targetted. There was zero line of sight through the area terrain.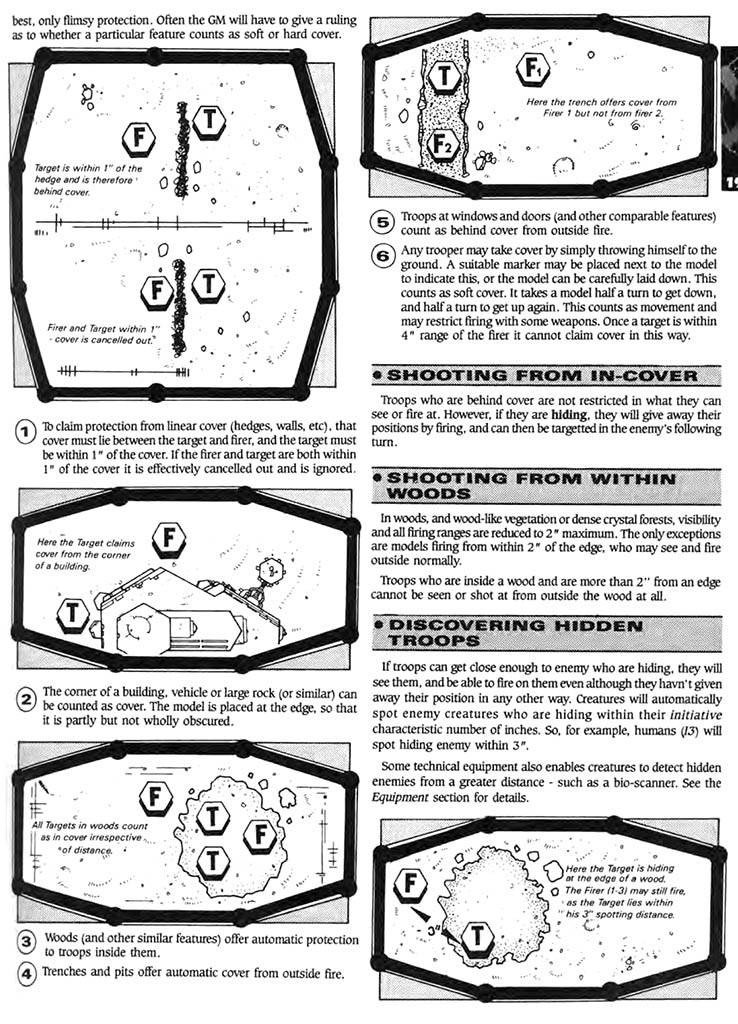 Lots more clarifications in here and note the reference to calling over the GameMaster to clarify who is in cover or not. Check out the ability to go prone for cover out in the open on the right column. Savor the detail!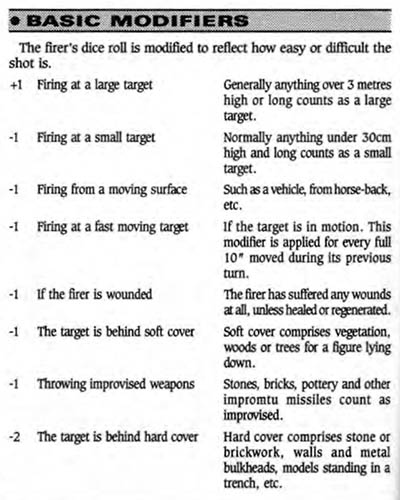 Finally here is the table of to-hit modifiers to give you an idea of the granular detail of Rogue Trader. You will want to pay attention to the soft and hard cover.
Over to 3rd Edition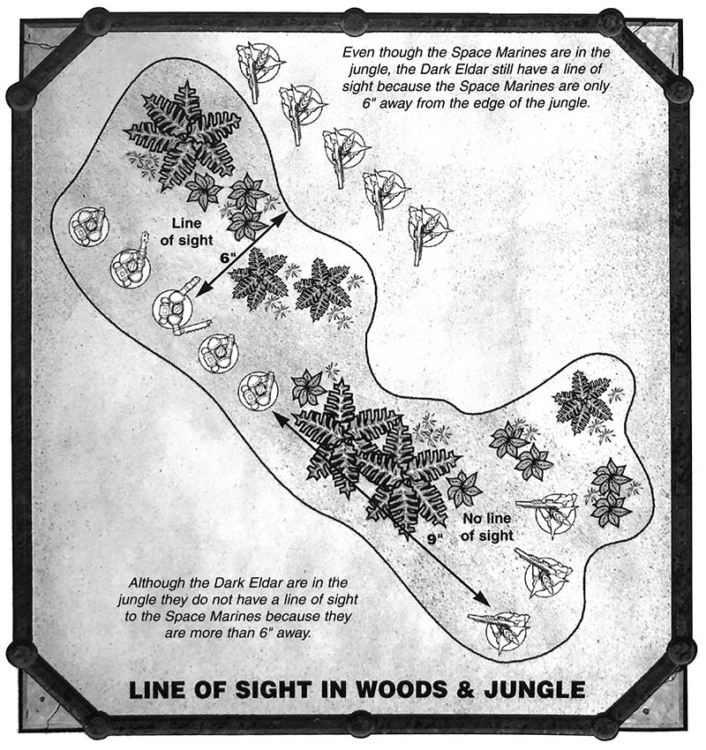 Fast forward eleven years to 1998's 3rd edition and we see the streamling of area terrain. Now Rogue Trader 2″ visibility has been increased to 6″. We also dispensed with all that craziness of hiding and throwing your models prone.
Fast Forward to 8th-9th
But 15 years of True Line of Sight and a lot of GW terrain led to some unforeseen consequences. While the players can argue with the 5th Edition designers as to whether stooping down to look from the models point of view "added fun to the game" it did make determining who can be seen and who can't much clearer. GW even sold a laser pointer at one time. But while every edition kept True LoS, GW kept on creating more and more awesome terrain kits.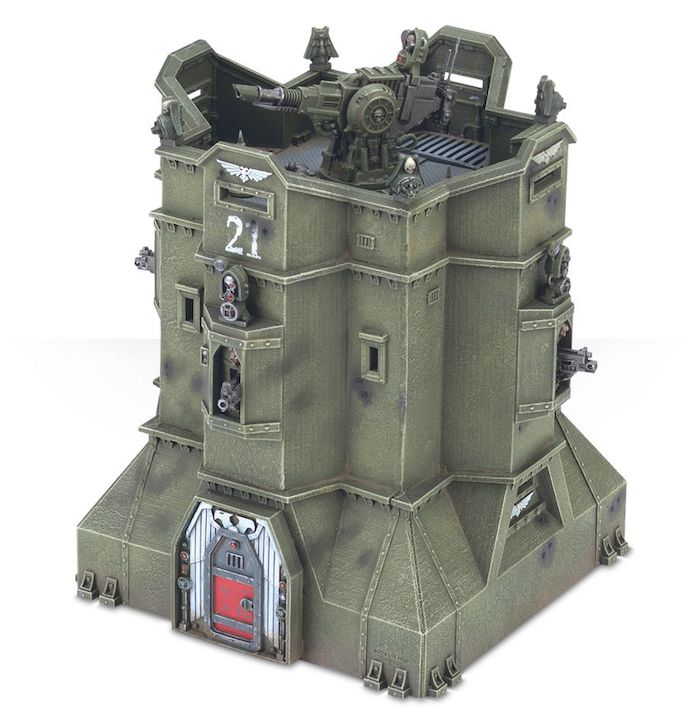 It is here that they crashed right into each other. While some like the old Bastions are great for easily blocking LoS, others detailed sets like the Mechanicus Factorums were super pretty but did almost nothing from the point of view of blocking Line of Sight. By the time we hit 8th, shooting was king, and a large amount of terrain did little to nothing to break up the board into areas of blocked LoS. Cover was readily available, but canny players found ways to nullify it via rules combos. The game had become a shooting gallery.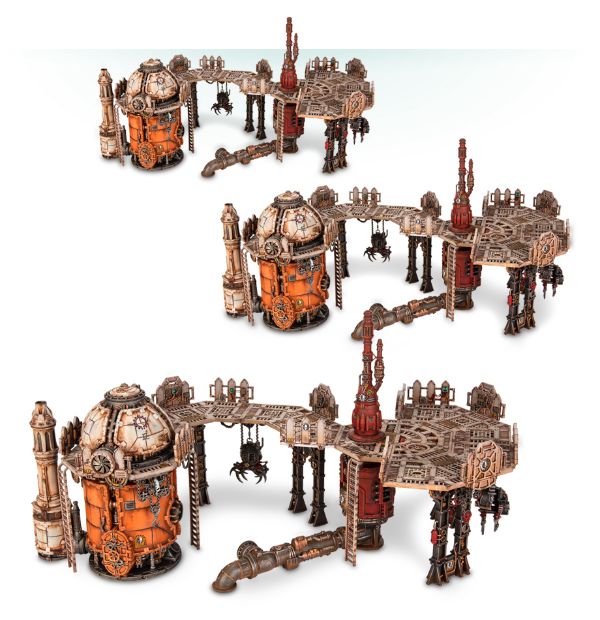 Something had to give, and it's clear that the return of abstracted Area Terrain is one of the answers. We still don't have all the pieces, but it looks we are already seeing the designers reaching back to the game's roots to find some solutions to make the game more flexible with all the terrain kits out there, and start to bring back elements of the classic abstract area terrain.
~Do you welcome the return of more abstract terrain rules for your tabletop?