A leaked image, grabbed from a now deleted video, seems to reveal D&D's next big adventure.
D&D's next big adventure seems to have been spoiled ahead of schedule, revealing that D&D is indeed blund for Icewind Dale. Apparently the D&D Beyond YouTube Channel accidentally released a new video revealing the adventure, according to reddit user Beryl_Yaakov. The video was pulled almost immediately, but a few watchful redditors grabbed a screenshot from the video revealing the new adventure set to debut NEXT Thursday at D&D Live.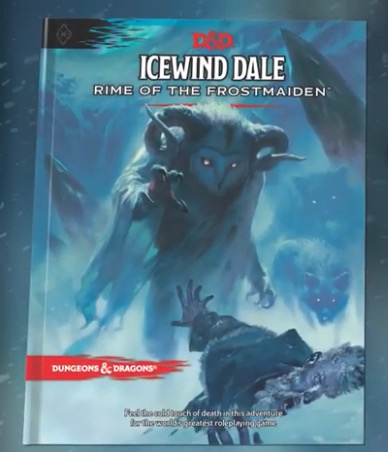 The above image has been making its way around the internet. Reddit user smightmight claims it is from the new video. This is all unconfirmed, but if this is a fake it is a well done fake. And one that tracks with recent rumors about the new setting.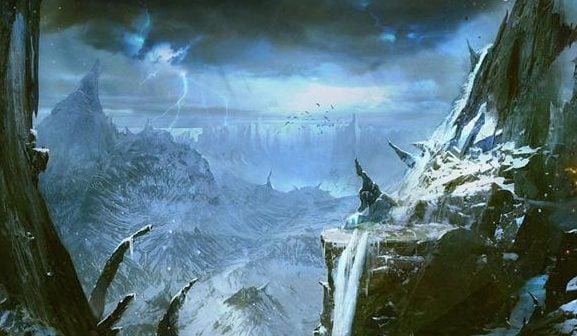 We've talked  before about how Icewind Dale is likely the setting for the new adventure, and recent details confirmed in the Reality RP announcement, which features ten characters from ten different settlements–aka the Ten Towns of Icewind Dale–seem to indicate that this image is legit.
The text at the bottom of the image reads "Feel the cold touch of death in this adventure for the world's greatest role playing game." This phrase, along with the titular Frostmaiden, is likely a reference to Auril, the neutral evil goddess of winter, sometimes called the Frostmaiden. She is also called the Queen of Air and Darkness, so, perhaps there's more of a Feywild connection to this adventure. That giant owl monster and accompanying winter wolf looking "companions" are sure to make an appearance, if not show up as main villains, if past adventure covrrs are anything to go by.
Regardless, we'll know soon enough if this is a legitimate image, as D&D Live is just around the corner. So stay tuned for more.
Happy Adventuring