The Gundam FIX Figuration models sell out fast, so if you want the Zaku II Type C from Mobile Suit Gundam THE ORIGIN you need to order asap.
We have a Metal Composite Char's Custom Zaku II here in the BoLS office. It's awesome. The metal joints make posing the suit easy and they stay where you put them, and because of the metal frame it has a satisfying weight to it. The plastic is matte and features dozens of tiny decals and damage that matches the suit seen in the anime. Any model in the FIX Figuration line is totally worth buying – and they sell out routinely only to come back at higher prices.
This model of the Type C, representing a mass production Zaku II, so it has a different set of weapon options compared to the Char's Zaku we have, but the quality is undoubtedly the same. Please note it is not a kit, this is a fully constructed model with die-cast joints and high quality plastic armor elements. All you have to do is take it out of the box, put it on its stand, arm it, and pose it.
The sculpting, coloring, and details were all overseen by designer Hajime Katoki.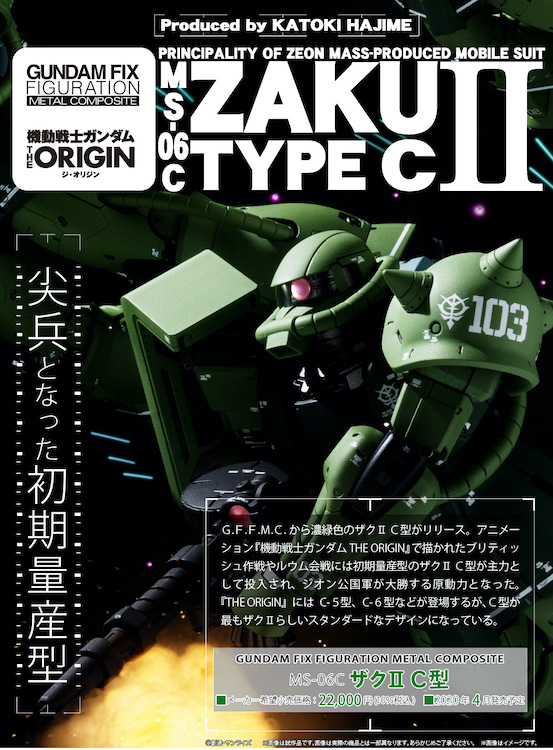 MS-06C Gundam Fix Figuration Metal Composite Zaku II Type C – ~ $210.00
7 inches (17.78cm) tall
Made of plastic and die-cast
Articulated
Includes:

4 Pairs of hands
Zaku machinegun
A-type Bazooka
B-type Bazooka
Left and right bazooka latch parts
Heat Hawk
Antenna
Stand
Decals