Necromunda Underhive Wars is going digital. That's right, the battle for Hive primus is coming to Cyberspace, and here's a look at what's coming.
Games Workshop has been taking their side games and translating them to digital counterparts a lot, lately. Whether it's Aeronautica Imperialis, Warhammer Underworlds, Adeptus Titanicus (eventually), it seems like the destiny for all the specialty games is to one day be playable on your PC. And we see that happening here with Necromunda as the Underhive Wars travel to the information superhighway. Let's take a look.
via Focus Home Interactive
Deep below the nightmarish, polluted hive cities of Necromunda, in the twisted, vertiginous, dark tunnels of the Underhive, rival gangs fight to the bitter end for personal power, wealth, survival and the honour of their Houses. Only the strongest survive.

Lead, customize, and grow your gangs of Escher, Goliath, and Orlock. Specialize each member and send them to battle in hazardous dystopian environments. Exploit the terrain in tactical gunfights: climb raised walkways to take advantage, set traps, and ambush foes to force them into bloody melee engagements.
Learn new skills, loot equipment and bring your evolved gang to 4-player online gang fights.
Lead and evolve your gangs in this compelling tactical-RPG
Follow a rich narrative campaign in the Underhive
Engage in immersive and persistent game modes
First video game adaptation from mythical tabletop game Necromunda, the most famous Hive World of Warhammer 40,000
Play solo or join thrilling 4-way online gang fights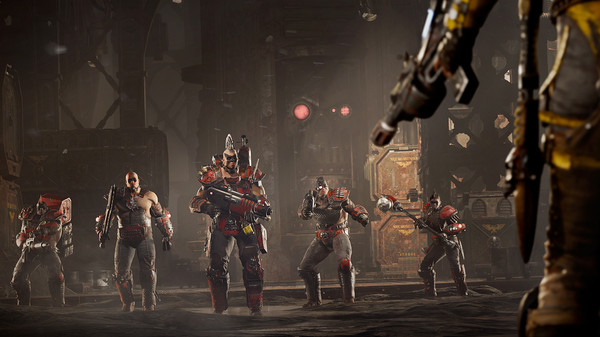 If you've played Necromunda at all, you know how the game is going to play. You'll pick a gang, take them through various underhive zones–honestly this sounds pretty great. Necromunda Underhive has always had that kind of X-Com, tactical combat kind of feel to it. And since they plan on playing up the immersion as well as the 4-way fights, you can expect a campaign mode with different upgrades to dig into.
It's an interesting trend, for sure, as in some cases, it's easier to get into the video game than it is the actual miniatures. You might spend a lot more time playing many factions in the game, while in the real world you'd be lucky to play one.
What do you think? Does the game look good? Let us know in the comments!