Care for dragons to save a world, spread some frightening rumors, and fight for honor and land in the 13th century. Come check out this week's batch of crowdfunding highlights!
Explore the map, encounter challenges, and save the day! An adventure board game for 1-4 players. Unlikely Heroes is a narrative adventure game with 3 different immersive stories and unique challenges, featuring… well… unlikely heroes, tasked to save the day. Vikings, Cowboys or Pharaohs?
Start the game by flipping the first map tile and explore each corner of the map. As more and more tiles are added to the table, your team will encounter enemies, treasures, tools, weapons and in the end, hopefully, save the day from evil. Divide the unlikely heroes amongst the players. Choose a quest and follow its setup instructions.
Each quest is a unique story and has a unique goal. Now, as you adventure through the lands, in search of answers to your quest, you'll meet monsters, tricksters, and people in need. You'll find weapons, potions, and trinkets for keep. You'll face heroic challenges as you test your luck in every encounter, but be careful; when your luck runs out, it's game over!
Pledges start at $20 for one quest box and you can get all three for $46.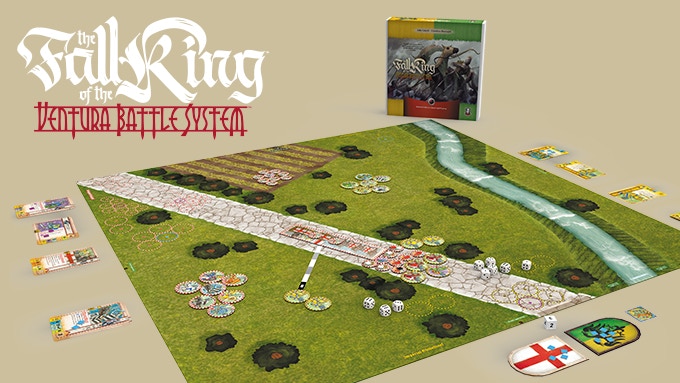 The Fall of the King™ is a two-player wargame featuring the innovative venture Battle System™, which allows even beginners to approach free-form wargames. The game includes four epic Scenarios which accurately reconstruct the terrible battle of Fossalta, where the imperial Ghibelline troops led by King Enzius faced the Guelph militias of Bologna.
Components:
Custom

Game Box

 
Full-color

Rulebook

 
 

Historical Scenarios manual

featuring insights
 

48 cards

containing game characteristics for Soldiers, Civilians, and one Vehicle
 

4 maps

representing different detailed battlefields
 

78 tiles

to represent the Soldiers' position on the map

7 rulers

 

2 Priority

dashboards

 

1 Initiative token

 

91 Status

indicators

 

44 markers
Pledges start at $12 for a print and play and $35 for a physical copy.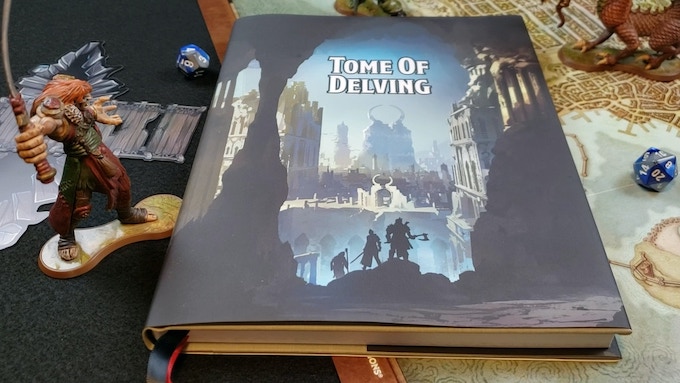 The Tome of Delving is more than a character sheet – it's a character book! The Tome of Delving (PathFinder 2e Edition) gives you all the space you need to fully record your PFRPG character and their abilities. And it's designed to help you find your stats lightning-fast and keep play moving. The Tome of Delving integrates your character sheet and your notebook, giving you one less item to carry. And its binding style stacks easily with your sourcebooks making it easier to carry than a binder or a disc-bound solution.
Pledges start at $18.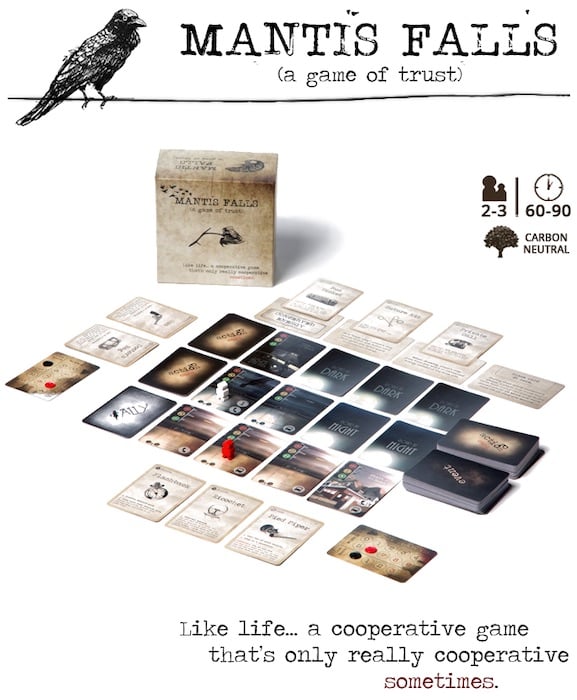 Mantis Falls is a highly interactive and strategic 2-3 player hidden traitor game. As wary companions, players must use hand management, cooperation and deception to protect themselves, and each other, on a dark and dangerous journey.
On the shadowed film-noir roads of a mob-ruled mountain town named Mantis Falls, you have witnessed something not meant to be seen and now must escape town. You are told another witness will join you, and you expect your greatest chance at survival will come if you can contend with the dangers of this night together. But with each harmful event and every fresh wound, your doubts grow. Looking into your companion's eyes you wonder, perhaps too late, if this person is here to kill you.
Pledges start at $5 for a print and play and $29 for a physical copy with all unlocked stretch goals.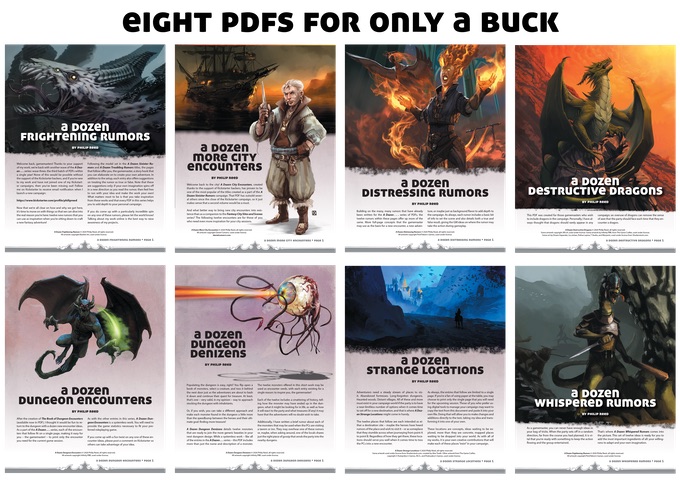 This project is all about the new PDFs. Each rumor is designed to fit on a single page (with artwork), so that you may print only the page that you need for your next game session. A Dozen Frightening Rumors comes in at 14 pages and includes — as you may have guessed from the title — twelve different rumors + a cover page and a page outlining the anatomy of a rumor (as well as tips on using the rumors in your game).
The content is systemless and designed for use with any fantasy roleplaying game. The gamemaster will need to create any statistics necessary to use the material during a game session. These PDFs exist as inspirational works that are intended to help fire the GM's imagination.
Pledges start at $1.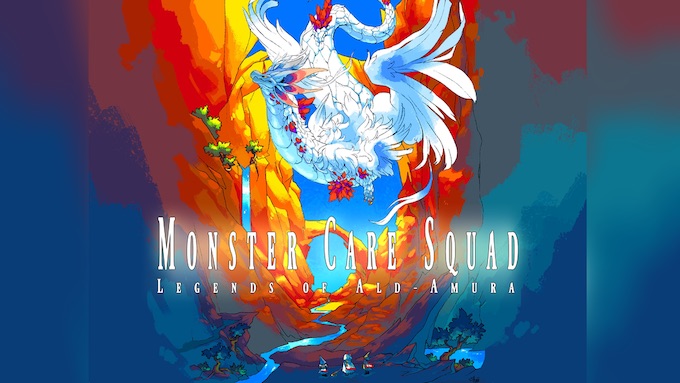 Monster Care Squad is a tabletop roleplaying game set in the tranquil world of Ald-Amura. The peaceful state of the world is threatened when a mysterious poison known as The False Gold finds its way into the veins of the world's Monsters, causing terrible, maddening Wounds, which drive these incredible beings into uncontrollable rages. The once unbreakable bond of harmony and respect between Humans and Monsters is on the brink of collapse, and it's up to you and your allies to set things right.
You play as Monster Care Specialists, elite vets equipped with the knowledge to heal any wound, given enough time and preparation. In the game, you travel this amazing Miyazaki-esque world, going from town to town in hopes of finding Monsters infected with The False Gold, diagnosing their illnesses, crafting cures, and healing their minds and bodies of the strange, magical Wounds which drive them to destruction. To do this, you'll solve local problems, investigate the land and its mysteries, and apply the skills, abilities, and knowledge you'll build up throughout play.
Pledges start at $25 for a physical copy and there's a hardship option.