It seems that there's room for another Wizard at the Coast, a recent job posting for a VP of D&D shows that changes are in the works for WotC.
Do you have what it takes to be Vice President of Dungeons & Dragons? It's possible, you might. After one of their more prominent DMs and producers, Kate Welch, has stepped down, WotC has recently posted that their hiring for the VP of D&D. This comes after some high-profile turmoil at the company–starting last month when writer Orion Black stepped back and released their statement about conditions at WotC. Kate Welch, who has headed up books like Ghosts of Saltmarsh, and who has been a prominent figure in the community, DMing several celebrity events at D&D Live and with her own streaming show, stepped down this past week.
today was my last day at Wizards of the Coast. I was lucky enough to work there for the better part of three years, working with some of the smartest and coolest folks in the biz.

not yet sure what comes next, but I'm excited for the future. all your good vibes are welcome. 🤞

— Kate Welch (@katewelchhhh) August 15, 2020
Now Wizards of the Coast has a new job posting, presenting Wizards of the Coast with an opportunity to fulfill one of the goals stated in their June Diversity Statement, hiring more developers of color and putting them in leadership positions:
Presumably this new hire will come on board alongside whoever WotC finds for their  Senior Manager for Diversity, Equity and Inclusion. Meaning that there's a significant chance to change the leadership playing field at Wizards of the Coast. People of Color are especially underrepresented in the RPG Industry right now, so this is when WotC can put their money where their mouth is, so to speak. After several PR missteps, this could be the actual change that many in the community have been waiting for.
It's interesting, though, because there's no word as to what's happened to the previous VP at D&D, Nathan Stewart. Currently his linked in profile shows Baldur's Gate III, so perhaps Stewart has been transferred to the Video Games branch.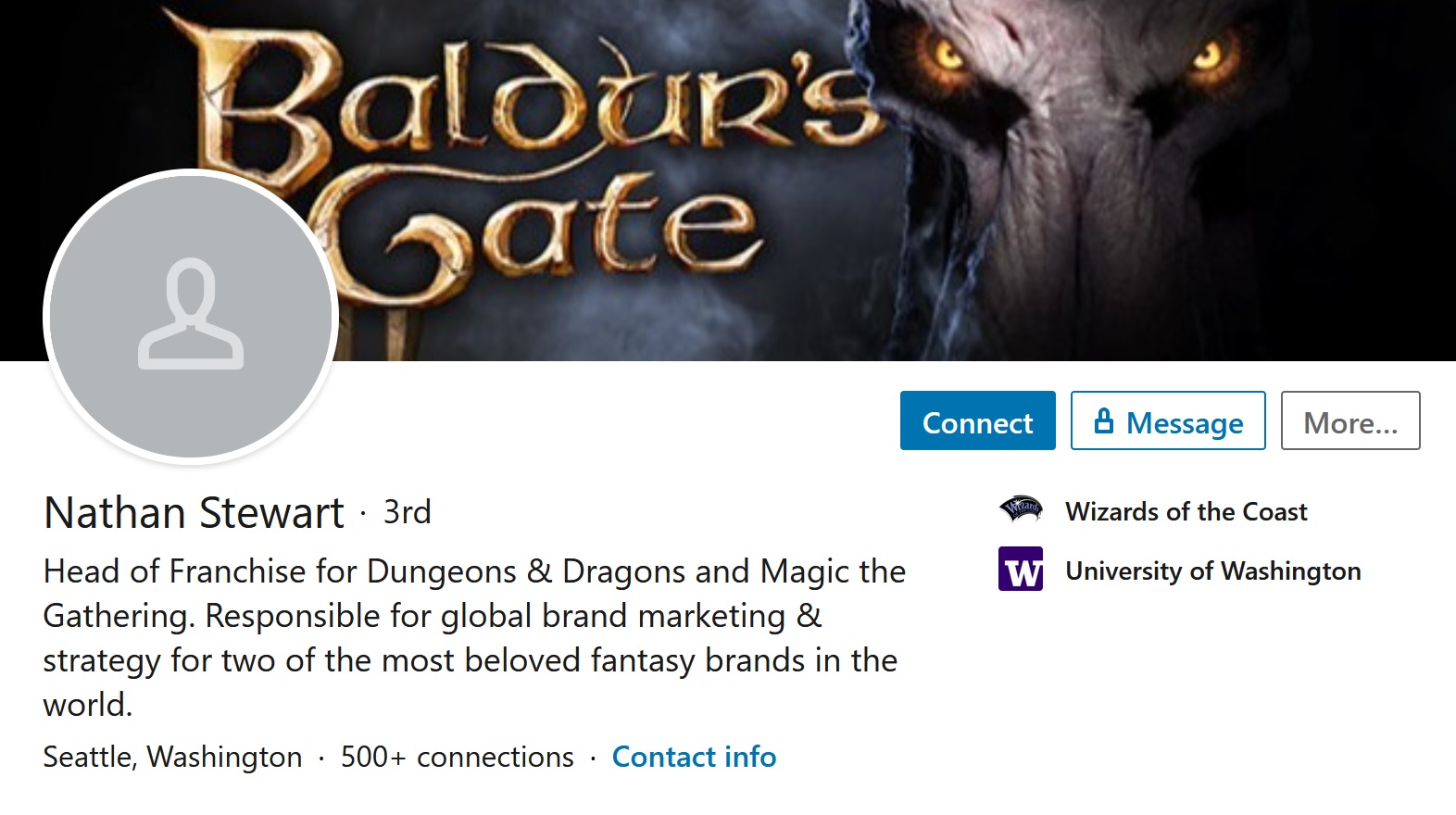 Regardless, the candidate will have to bring a lot to the table. Here's a look at the posting.
At Wizards of the Coast, we connect people around the world through play and imagination. From our genre defining games like Magic: The Gathering® and Dungeons & Dragons® to our growing multiverse, we continue to innovate and build new ways to foster friendship and connection. That's where you come in!

We believe diversity of experience is fundamental to formulating accessible and fun gaming experiences for all of our players. We encourage everyone to consider being a part of our team!

The VP, Dungeons & Dragons (D&D) leads the franchise with the goal to grow audience and revenue world-wide.

What you'll do:

Lead the expansion and evolution of the D&D tabletop experience and product roadmap to grow revenue and engagement. Establish a robust, WotC D2C business for Dungeons & Dragons tabletop products.
Develop strategies, goals and roadmap for providing tabletop players with tools to improve and evolve online group tabletop play digitally.
Drive strategy, budget, product definition, long-term P&L objectives and plan in support of overall WotC long-range plan and business objectives.
Be responsible for the success of all aspects of core IP including world building, storytelling and core RPG mechanics
Mature core IP, team and practices to allow D&D to be effectively represented by diverse game creators across all channels and platforms, both tabletop and digital
Grow market insight and awareness around current D&D audience to build from and expand the brand to reach a modern, diverse, and multi-generational audience
Collaborate across product studios and partners to assure a seamless ecosystem of expressions to deliver a compelling end to end fan experience for D&D players
Improve the alignment of product and go-to-market strategies with the entertainment themes and roadmap considerations of the Franchise across all partners
Serve as the primary senior spokesperson for the brand internally and externally
Partner with the rest of the senior team to evolve and mature WotC as a global game publisher, ensuring the D&D studio is well coordinated into those strategies and goals
Continually evolve the D&D organization into an outstanding creator of exciting and industry-leading gaming experiences for players of all kinds around the world across a wide array of platforms and channels
Forge and strengthen effective and powerful collaboration between the studio and critical WotC groups including Brand Marketing, Internal Digital Studio, Digital Publishing and Entertainment/Licensing

What you'll bring:

10+ years of proven experience in business management, marketing management or product management leading and growing the revenue and audience of consumer franchises, preferably game franchises across a broad spectrum of product expressions.
Bachelor's degree, or equivalent work experience
Inspirational leadership and people management with a consistent track record of encouraging and developing others.
Executive presence with outstanding communication skills with an ability to craft and communicate vision
Creative problem solver comfortable with ground-breaking fast-growth strategies and innovative business models
Pragmatic self-starter and inspiring leader with a passion for execution
A strong agent for change, accustomed to accountability and driving improvement within teams, with examples to share outlining improved team dynamics and performance within diverse environments

We are an Equal Opportunity / Affirmative Action Employer

The above is intended to describe the general content of and the requirements for satisfactory performance in this position. It is not to be construed as an exhaustive statement of the duties, responsibilities, or requirements of the position.

We will ensure that individuals with disabilities are provided reasonable accommodation to participate in the job application or interview process, to perform essential job functions, and to receive other benefits and privileges of employment. Please contact us to request accommodation.
The last part of the posting, where they want "a strong agent for change, accustomed to accountability and driving improvement within teams, with examples to share outlining improved team dynamics and performance within diverse environments" seems to indicate WotC is looking to keep D&D growing as it enters the next five years of its life.
Happy Adventuring!