Blood & Plunder: Blackbeard Goes A Murdering on the High Seas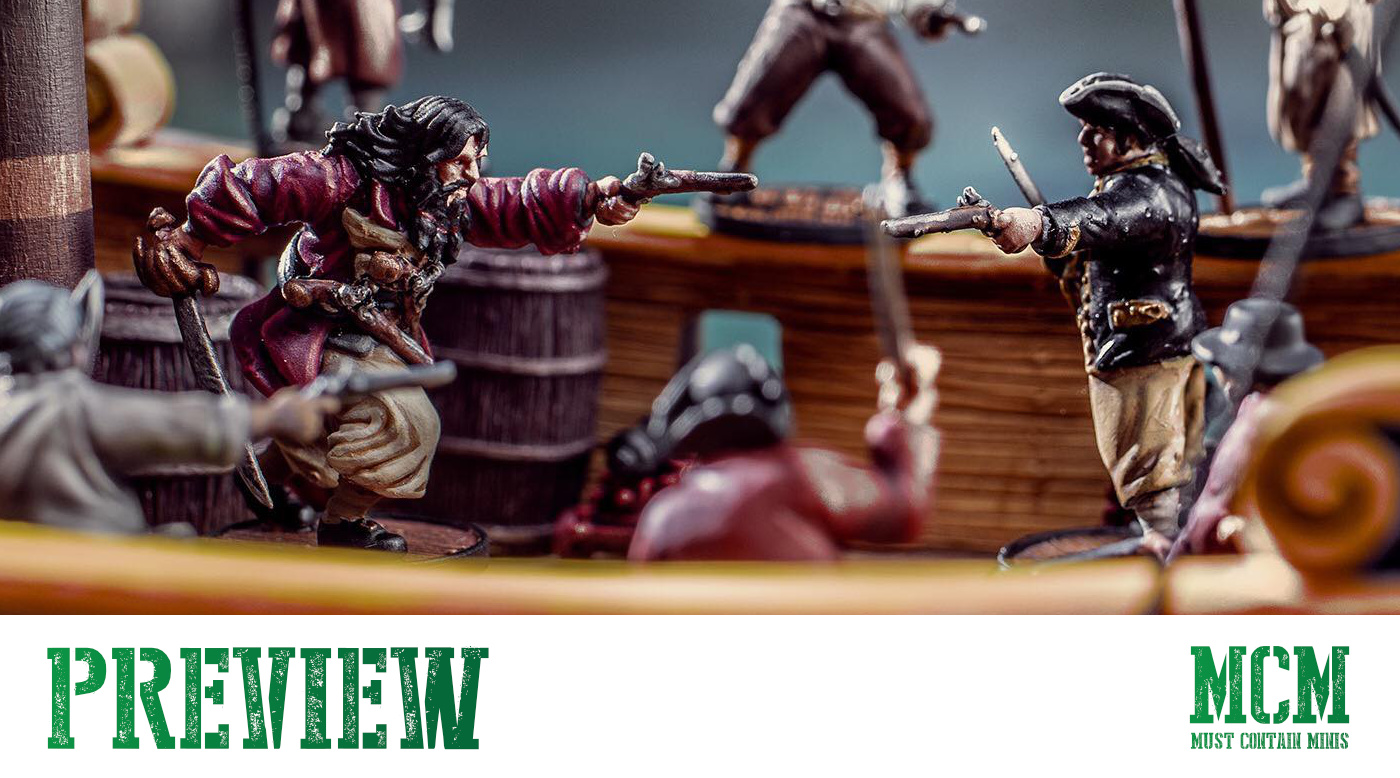 Last week I previewed Blood & Plunder's upcoming Kickstarter for you right here on BoLS. This week, we are going even deeper.
Some one from Firelock Games leaked a few more details out of their ship tight company. I am going to share those details. Hopefully they don't get in trouble.
This time, I am going to speak more about what is in their new starter set. I will also share a few more preview images. For those that don't know, Blood and Plunder is a 28mm pirate miniatures game.
Two Player Starter Set Leak
I already did an in-depth news article about what to expect for Blood & Plunder during 2020 into 2021. In that article, there are a lot of details on what to expect in the new starter set. That said, I now have it straight from the source a more descriptive paragraph. Here it is…
The two player starter set featuring Blackbeards last battle against Robert Maynard of the Royal Navy. It will feature 26 miniatures, 2 Sloop models, a softcover full rulebook and everything you need to play, including a paper mat, punchboard tokens and measuring tools. Think Oak & Iron starter, but for Blood & Plunder. Just add glue! The new rulebook will be a revised version of the original. It will swap out the 17th century units for 18th century ones and will have a re-organized ship rules section that is a easier to read. This new book is not a new edition, so it doesn't invalidate the old one.
The quote above is from a September 16th email from someone within the company. I can't reveal his name because I don't want to get him in trouble.
I don't know about you, but I am super excited about this new starter set. He didn't mention it in the email, but all of the miniatures and ships in the new starter set are supposed to be made of hard plastic. I love working with plastic miniatures! This starter set takes sail on October 6th and Firelock Games set up a handy page on their site for more information about the launch.
Now, let's move on to those preview images!
Raise the Black Kickstarter Preview Images
Getting in the Mood
In my last post on BoLS, I included a video clip of Captain Flint fighting a duel against Blackbeard from Black Sails. Today I am going to share another Black Sails video – this time focusing entirely on Blackbeard.
If you haven't watched Black Sails yet, it is a great TV series to get you in touch with your pirate side! Be sure to check it out – especially for "Talk Like a Pirate Day." I loved it!
Wrapping it up…
In today's post, we learned a little more about the upcoming Starter Set for Blood & Plunder. This new Plastic Starter set will be a big part of the Raise the Black Kickstarter slated to launch for October 6. For more on what to expect for the coming year from Blood & Plunder, don't forget to check out my news article. And if you haven't checked out last week's preview post, make sure you take a look for another Black Sails video clip and more leaked images.

Subscribe to our newsletter!
Get Tabletop, RPG & Pop Culture news delivered directly to your inbox.
Read more about great Indie and Historical games on my site!
For more Blood & Plunder content, be sure to check out Must Contain Minis. Over there, you can find plenty of articles about all sorts of miniatures games. You can also follow me on Social Media. I am very active on Facebook and share posts of a wide variety. I upload my best pictures to Instagram and am also on Twitter.
My aim is to promote gaming with companies outside of those that already dominate the gaming market.