Death's Companion stalks the Reik today as the newest book for Warhammer Fantasy Roleplay is up for pre-order with immediate pdf delivery.
They say that delayed gratification is the healthiest kind of gratification, why eat the marshmallow now when you can have two later–well the answer is because you want a marshmallow now. Fortunately, you can have both one marshmallow now and two marshmallows later, as long as you don't mind your marshmallows actually being the latest Warhammer Fantasy Roleplay book, the Death on the Reik Companion.
It's released for Pre-Order today, which means you get the satisfaction of knowing a savory physical book is headed your way soon, so you'll have something to antici–
…
…
–pate. But. You also get that immediate marshmallowy goodness in the form of the PDF version of Death on the Reik's companion which is available for you to download as soon as you pre-order your physical copy. Or if you truly just want one marshmallow, you can snag a copy of the PDF by itself. Check out what's in store below!
via Cubicle 7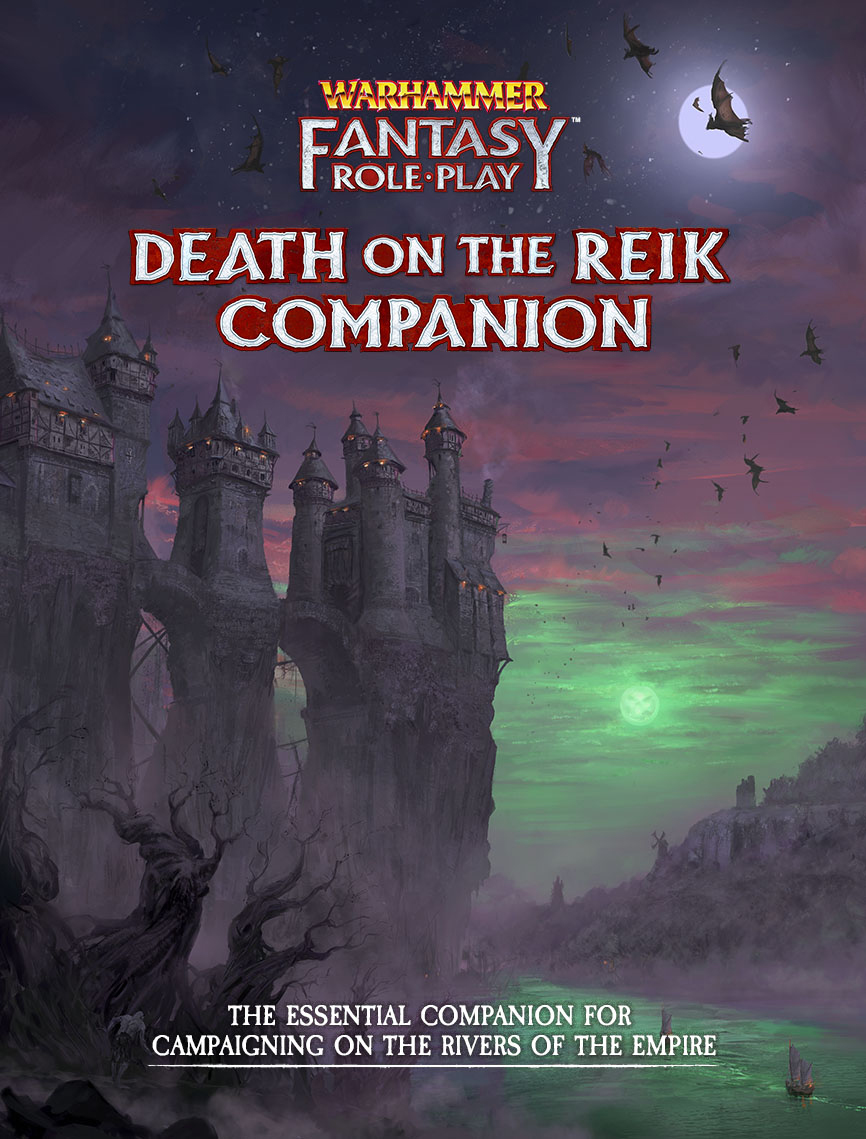 ADVANCE PRE ORDER – PDF sent Q3 2020. Physical copies sent Q4 2020.

Unlike our normal pre-orders, this product comes with a complimentary PDF when the PDF is completed. While the PDF for the companion is not quite ready, we wanted to launch this product to allow those who wish to bundle postage the opportunity to order multiple products at the same time. The PDF for this title will follow as soon as it is complete – we anticipate its release in Q3 2020. We will continue to update those who pre-order on its progress.

WFRP: Death on the Reik Companion

The Death on the Reik Companion is packed with supplementary material to expand Death on the Reik and support any WFRP games set on the Empire's rivers and canals.

Death on the Reik Companion includes:

Exclusive Guest Commentaries from James Wallis and Martin McKenna on their memories of the original Death on the Reik.
A GM's Guide including: a complete breakdown of the Red Crown, one of the Empire's most dangerous Tzeentch cults.
Additional adventure content, including: The Emperor Luitpold, a luxury barge with a bevy of secrets in its holds and staterooms, and 'The Vengeance of The Gravelord', part 1 of an adventure thread that can be woven throughout The Enemy Within.
A selection of new herbs from 'Hortensia Puddlefoot's General Concordance of Herbs'.
An examination of life on the Reik with details on settlements and trade.
A Bestiary of monsters that haunt the river, and a list of waterborne diseases.
A wide range of riverfolk NPCs with hints and tips for how to incorporate them.

The Death on the Reik Companion is an essential supplement to the second part of Enemy Within campaign, and an indispensable guide for any adventure taking place on the Empire's rivers.
Happy Adventuring!