Games Workshop is launching a new Mission Pack – but what's included and how will you use them? Check out the details to find out!
With the new edition Games Workshop created four recommended game sizes: Combat Patrol, Incursion, Strike Force, and Onslaught. Within each of those, they created more missions designed for those specific battle sizes. Now, with the new Mission Pack on the way, they are expanding those options and by extension, they are growing your options for all types of game styles – from Crusade to Matched Play and everything in between.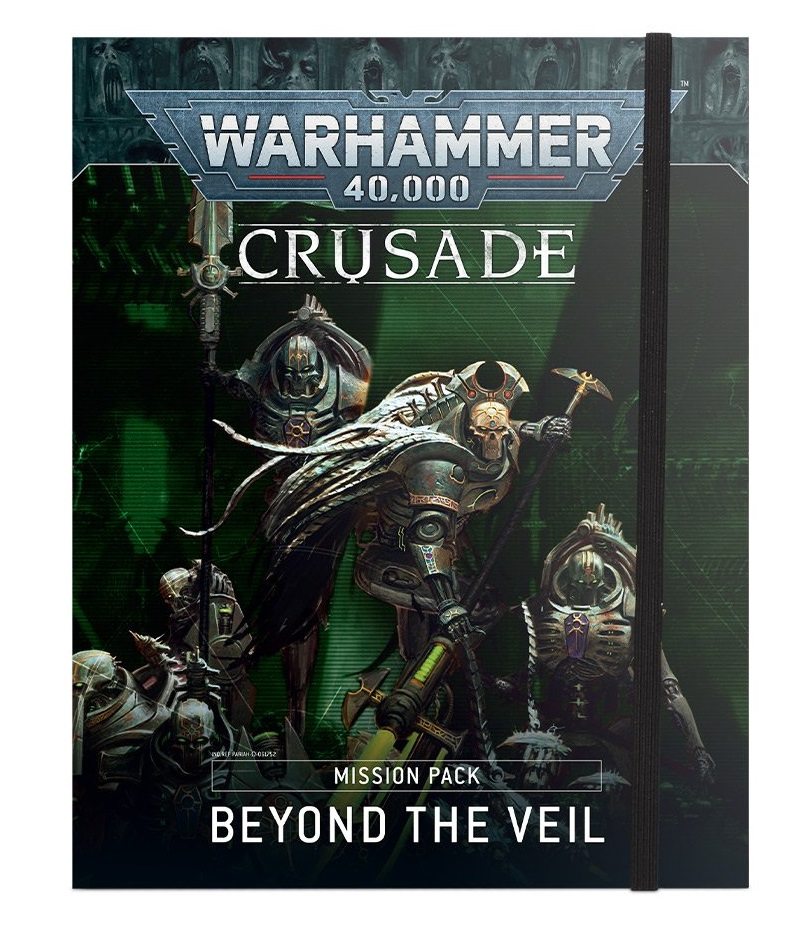 "The first Crusade mission pack, Beyond the Veil, enables you to set your Crusade games in the Pariah Nexus, the eerie Zone of Silence that took root in the Nephilim Sector. You can read more about this cursed region of space here, but whether you start a new Crusade campaign based solely within Battlezone Pariah, or take your existing Crusade force there 'on tour', it's up to you! It's also worth mentioning that this expansion is for everyone who plays Warhammer 40,000 – Orks, Aeldari, Chaos – all are welcome (or not!) in the Pariah Nexus."
This new Crusade Mission Pack doesn't just add missions, it also adds new Agendas, Battle Traits, Relics and Theaters of War rules. These are thematically designed to represent fighting in the Pariah Nexus, but again, you can take your Crusade there from anywhere – or you can just use the specific rules for how you see fit your games.
The Pariah Nexus is additionally punishing to those who are Psychically inclined. That's probably due to all the blackstone pylons that were erected that created this zone in the first place. The anti-warp abilities can cause some new Battle Scars on those particular units: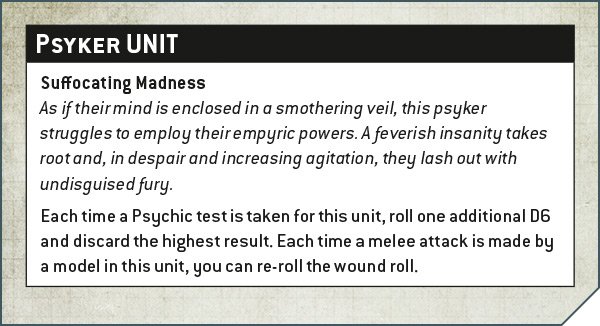 And remember how there was new mention of Relics? Well check this example one out: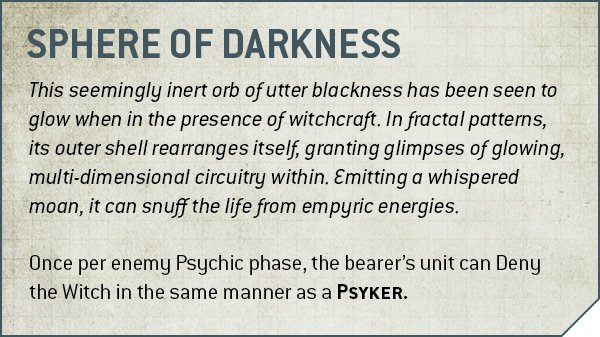 If you're part of a psychically free race (like the T'au for example) this relic could come in handy. And this is just one such relic. There are lots more to battle over when you go on Crusade!
More Missions To Play
There are 24 new missions in the Mission Pack. Again, these cover all four game sizes so whatever size Crusade you can muster this book has you covered. Here is an example Incursion Mission: The Shroud.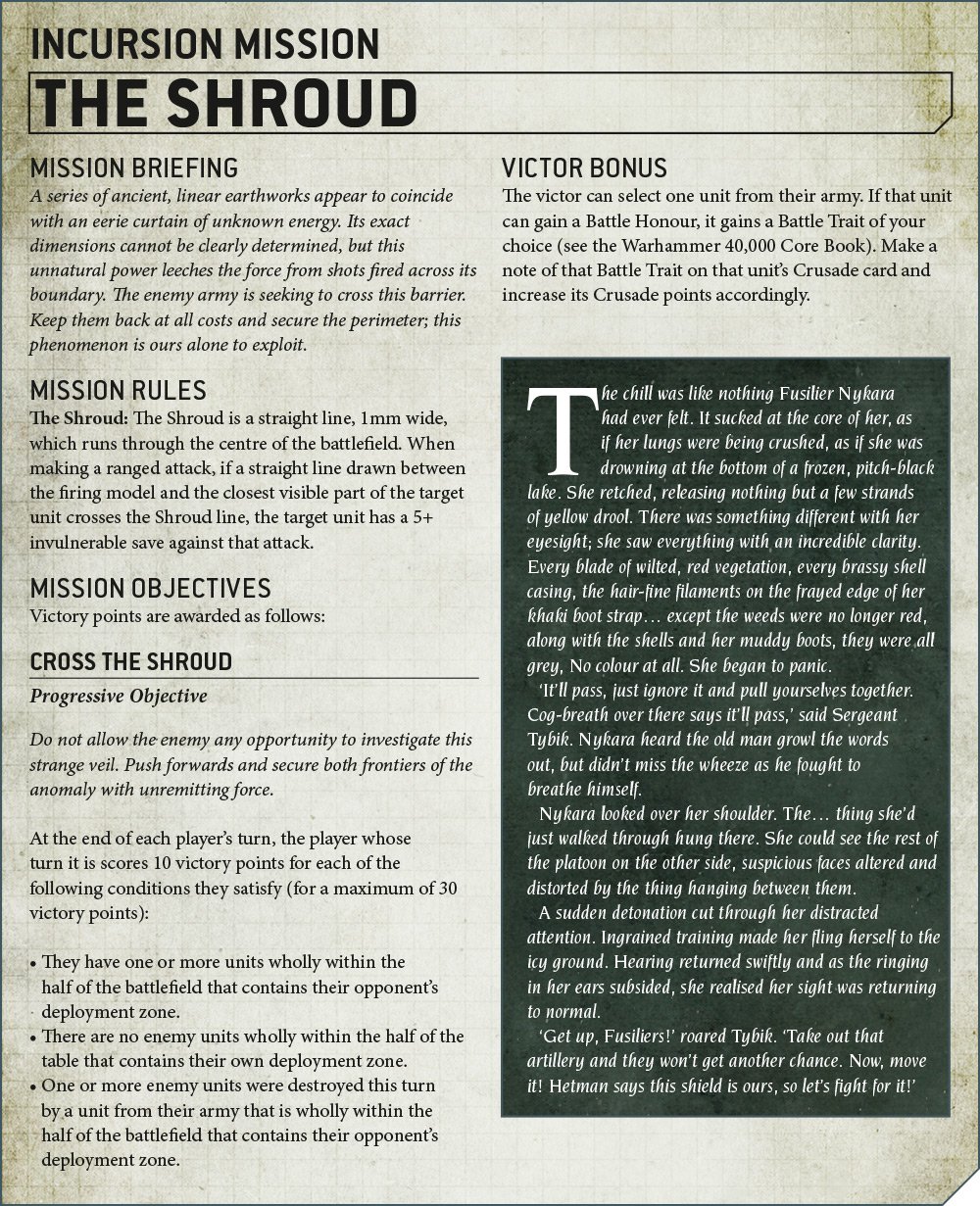 This mission is going to be favored by armies who want to aggressively push across the battlefield and get in their enemies face. The additional invulnerable save plus the Progressive objective are both good ways to encourage armies to move up and get across the mid-line. This is certainly a new take and an interesting mission to try and play and could be adapted to pretty much any other game type, too.
That's just the tip of the iceberg that is the new Crusade Mission Pack! It's going up for pre-order this weekend from GW!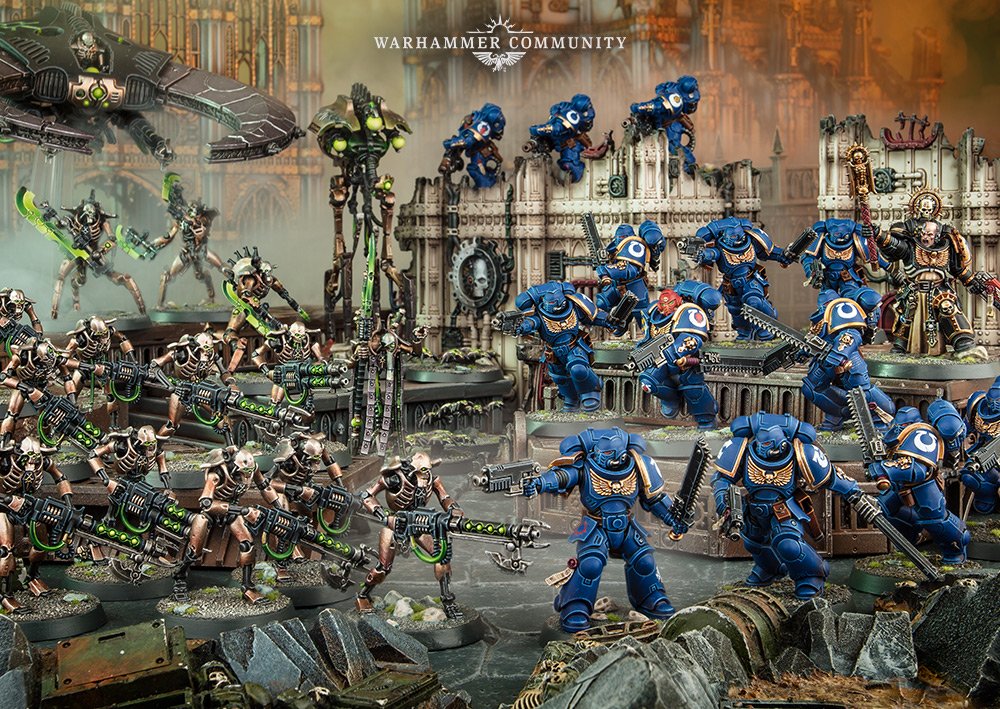 What are you more excited for – new missions or all the OTHER new stuff coming in the Crusade Mission Pack?