Want to make an all Primaris Marine Army? Why not play one that also has some unique rules? Meet the Silver Templars!
This month's White Dwarf has a boat-load of goodies inside. Today, we're going to focus on the Adeptus Astartes article focusing on the Silver Templar's rules. They have a full work-up in White Dwarf including lore, army paint schemes, and of course special rules if you want to play as the Silver Templars.
Their Chapter Tactic allows them a single re-roll when a unit is shooting at a target – but that's not all! When a Silver Templar's unit makes a melee attack vs an Infantry or Biker unit any 6's to hit automatically wound their target. Not too shabby!
Relic-wise, they have two Relics they can use. The first is the Armour of Zanaris which has two abilities. Firstly, it reduces the AP of -1 or -2 down to 0, effectively making small arms fire much worse against the wearer. Secondly, it also provides a 6+ save vs Mortal Wounds! If you can toss this on a Captain with a Storm Shield, this would be super effective…Or maybe the Primaris Captain with a Relic Shield from the Indomitus Box.
The other option is the Banner of Echoes. It's only available for a Primaris Ancient but once per battle you can add 1 to the attacks of Silver Templar Primaris Core units within 6″ of the bearer. This would combo nicely with an aggressively pushing Assault Intercessor force – or as a counter-attack option if you wanted to receive a charge and punch back.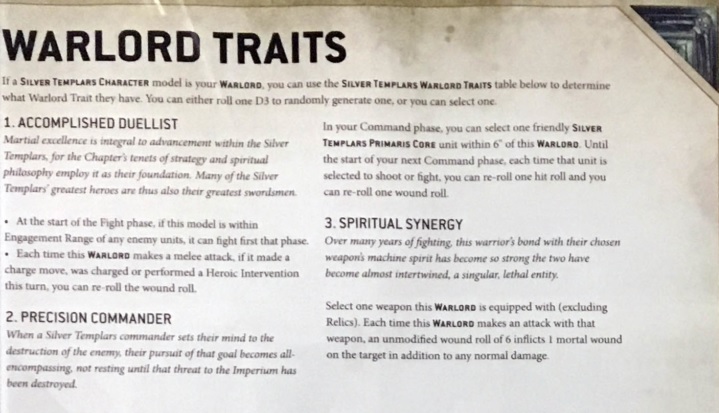 For your Warlord options, we get another three abilities to choose from. Accomplished Duelist allows for your Warlord to get in the fight and for the first round of combat they also get to re-roll to wound. Precision Commander allows you to provide one Silver Templar Primaris Core unit within 6″ an additional re-roll for one hit roll and one to wound roll. And finally, Spiritual Synergy allows for one weapon the Warlord is using (excluding relics) to cause a Mortal Wound on an unmodified wound roll of a 6 in addition to any other damage.
Of the three options, it really depends on what you need your Warlord to do on the battlefield to determine the best option. If he is a more aggressive, frontline fighter than maybe you go with Accomplished Duelist or Spiritual Synergy. If you're looking for more of a support option, maybe you go with Precision Commander. Heck you could load him up with a Heavy Bolt Rifle and have him use Spiritual Synergy to pump-out shots fishing for 6s, too.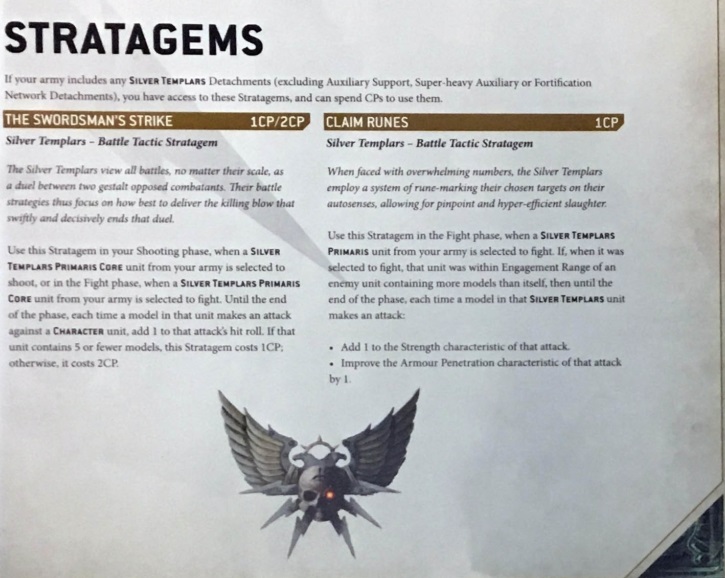 The Silver Skulls also have a pair of custom stratagems to use in battle. The first is The Swordsman's Strike. Strangely enough, it works in either the Shooting or Fight phases even though it's called The Swordsman's Strike. Regardless of the name, it allows a Silver Templars Primaris Core unit to get a +1 to hit rolls when targeting a character unit. If the attacking unit has 5 or fewer models, it only costs 1 CP. If it's more than that, it costs 2 CP. I can think of some great units to toss this on if you're going character sniping.
Claim Runes is another Stratagem is used in the Fight Phase and it allows for one Silver Templars Primaris unit that was engaged with an enemy unit with more models than itself to get two benefits. One – they get to add +1 Strength to their melee attacks. And Two – they get to improve the AP of those attacks by 1. They might be outnumbered but they are going to be hitting back REAL hard! AP -2 Str 5 Astartes Chainswords seem pretty stinkin' mean…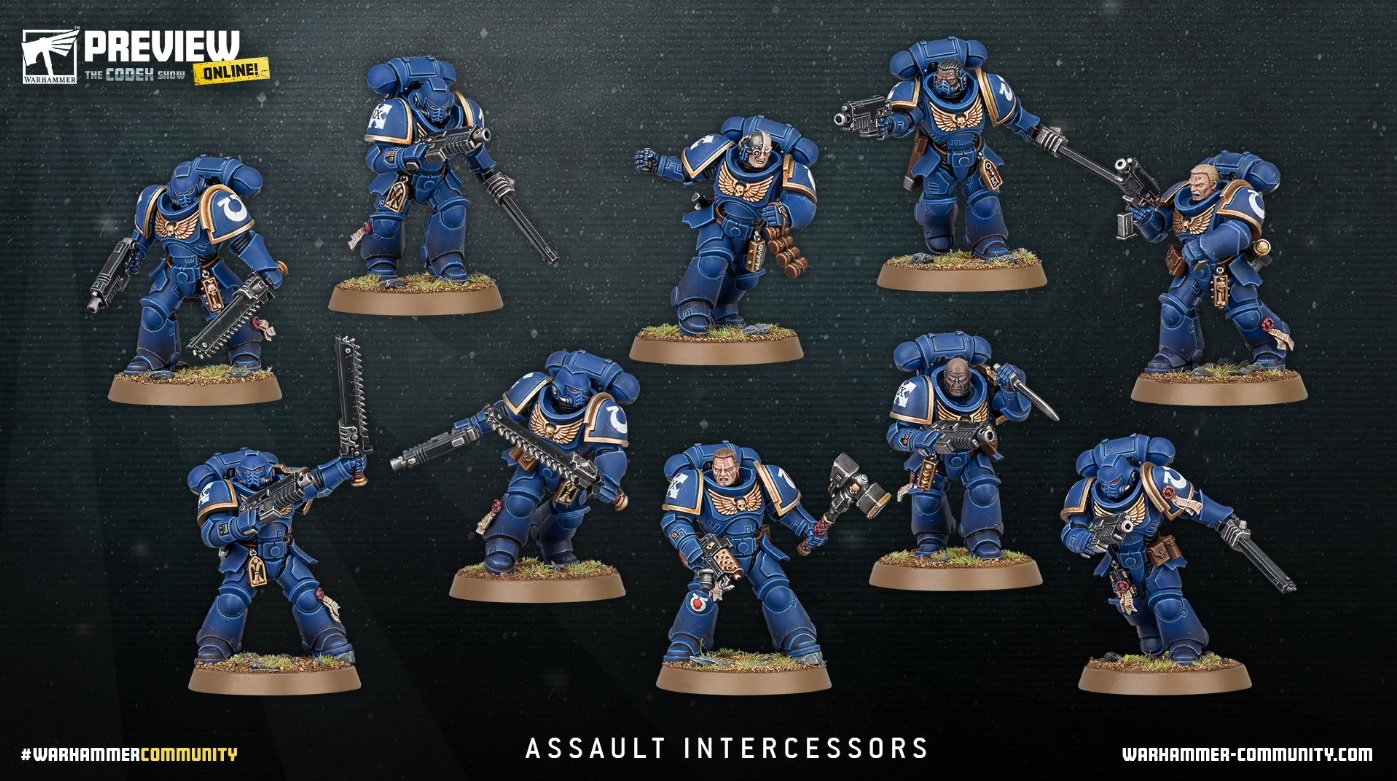 Like this…But Silver!
Well those are the rules from White Dwarf 456. It's available in stores and online from GW today.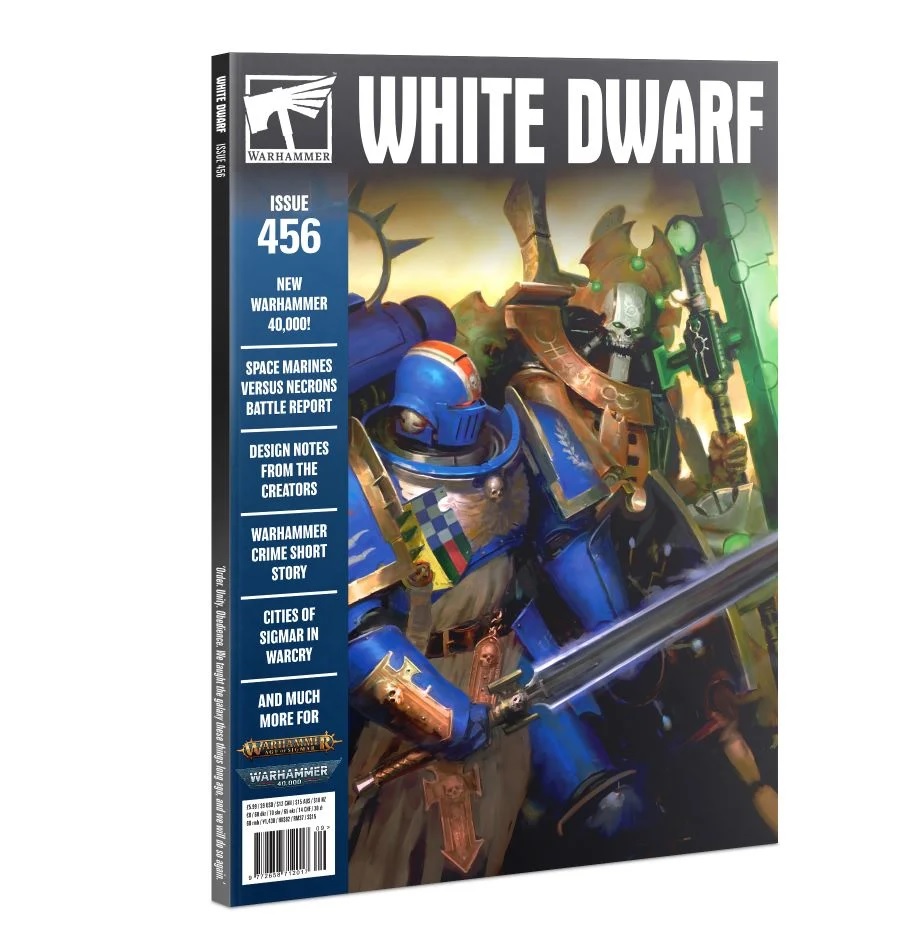 All Primaris, All The Time!