There's no denying it. I've reached the upper limits of "Just a Sonic fan" and spin-dashed into "Full-blown crazy". Send help… and power rings.
I don't talk about it much, but I'm an insane person. Like… it's bad.
Sure, I'm sure a lot of you spend a lot on plastic in specific shapes and cardboard with certain ink patterns, but you probably also like using those things to play games or to paint. Thing is, the thing I spent my money on, isn't that great and I will probably never play it with other people without having to use the phrase "No, it's actually not that bad. C'mon, please?"
And the worst part is, I don't regret the purchase. So, just leave me here. Go on without me. It's too late for me.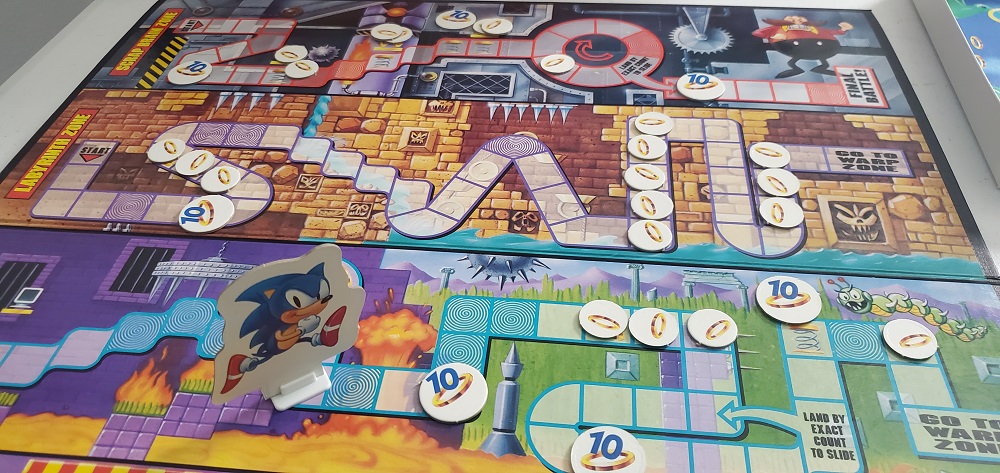 For a long time, I've been trying to get my hands on this game. I would check eBay regularly, I harassed a Board Game Geek user multiple times about buying their copy, I even tried a global Craigslist finder. Nothing worked. Then I remembered Google Alerts exist. So I had Google let me know soon as "Sonic the Hedgehog Milton Bradley" had any new hits. After a few weeks, I got the email I'd been anticipating! Fast forward 3 minutes and…

Which brings us to today. So after months of hunting and weeks of waiting, what is this game even all about? Let's find out!
Gameplay
Sonic the Hedgehog Game is a competitive roll-to-move ring-collecting game. The objective of all players is to have the most rings by the time Sonic defeats Dr. Robotnik. There is only 1 Sonic token so each player moves the same Sonic on their turn, collecting any rings he passes over in that move.
Players can use their SuperSonic Spin Attack tokens to double the result of their die roll before or after the roll. At any point before an opponent rolls, a player can use a Badnik token and place it anywhere ahead of Sonic, as a trap.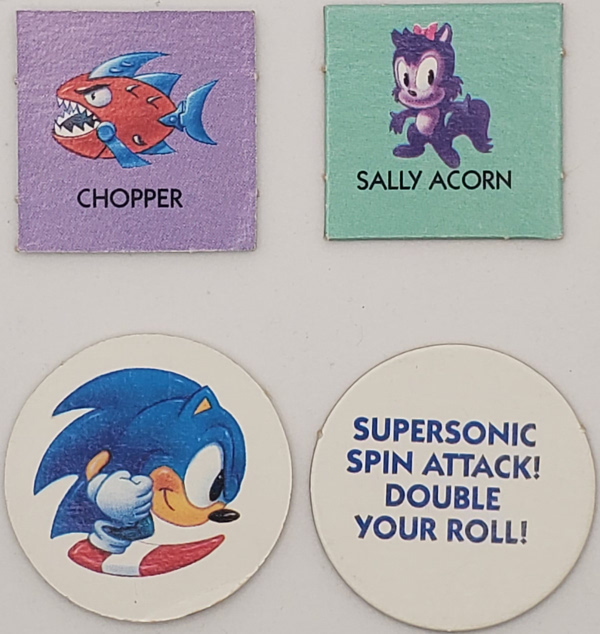 Oh, Sally. How far you've come and then fallen.
If Sonic lands on a Badnik, the active player rolls off against any other player. If Sonic wins, he earns 2 rings. If he loses, he loses 2 rings. Ultimately, not a bad punishment considering the source material.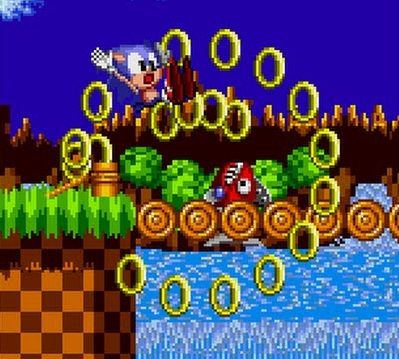 At the end of each Zone, the active player gets to enter the Warp Zone.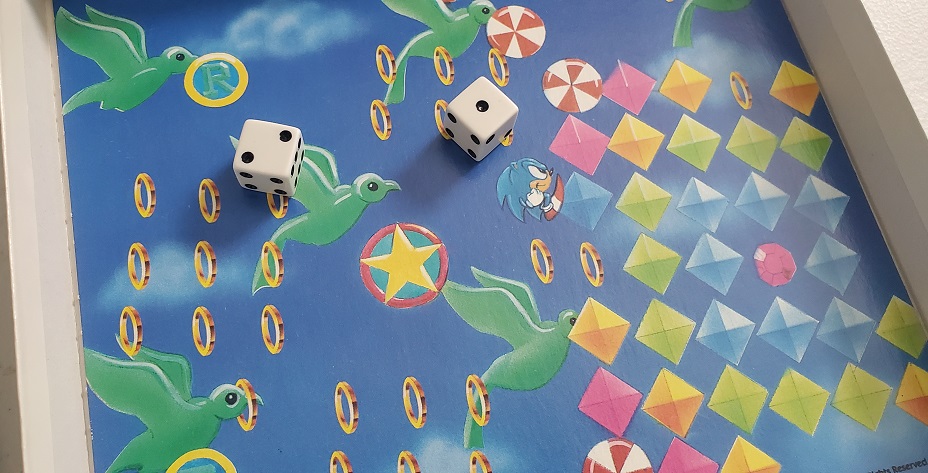 The player rolls both dice into the tray 3 times, earning a ring for each ring the dice are touching and 15 rings if a die is touching… … … the pink jewel.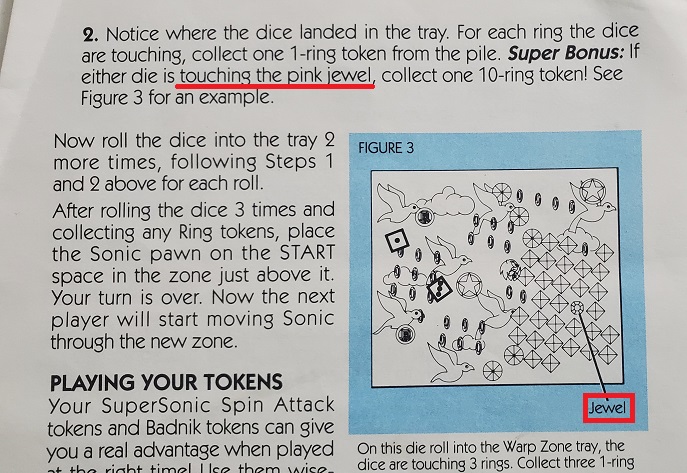 Forgive me master, but I must break my vow just this once.
Come ON! I know I'm biased but doesn't everyone know the Chaos Emeralds?! Did the designers at Milton Bradley just not think to ask? Obviously they know it's important since it's the main target, but not important enough to find out the right name for it??? It can't be a copyright thing since everything else is the right name. I will never know the answer to this question and that fact will haunt my psyche until I die.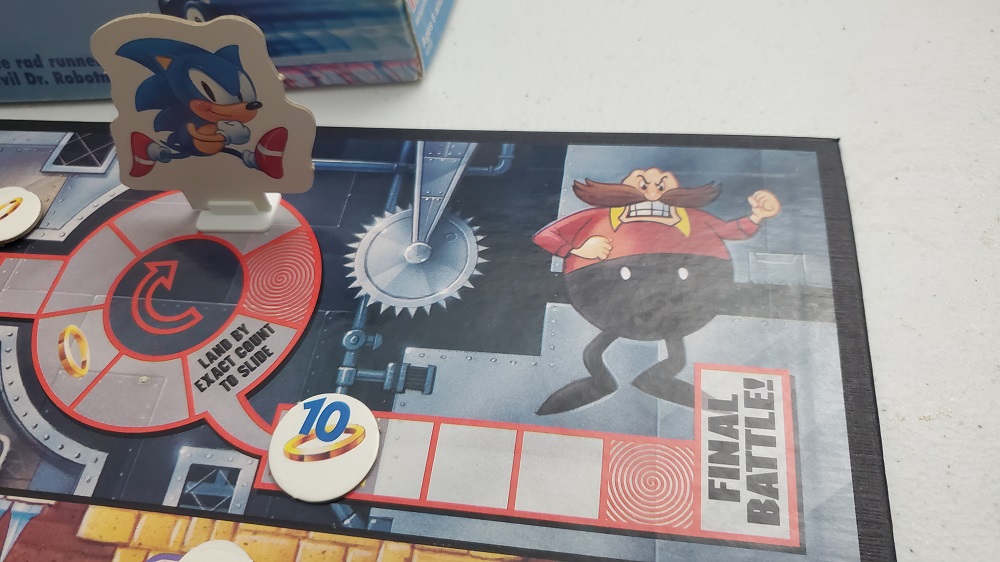 Anyway, once Sonic reaches Dr. Robuttnik, the active player has another roll-off and if they win, they earn a cool 15 rings and the game ends. If not, it passes to the next player for them to try. Just a single die roll to beat Robotnik. Once defeated, all players count up their rings and whichever player has the most rings wins!
Final Thoughts
All things considered, this game could be worse. It's not great, but it does have at least some player interaction, with the Badnik tokens. The idea of all players moving a single Sonic isn't new, but I think it does fit well in this theme. At $130, I definitely got this as a collector's item, not as a game to play. Which, all joking aside, I am happy with. It's a fun addition to my collection.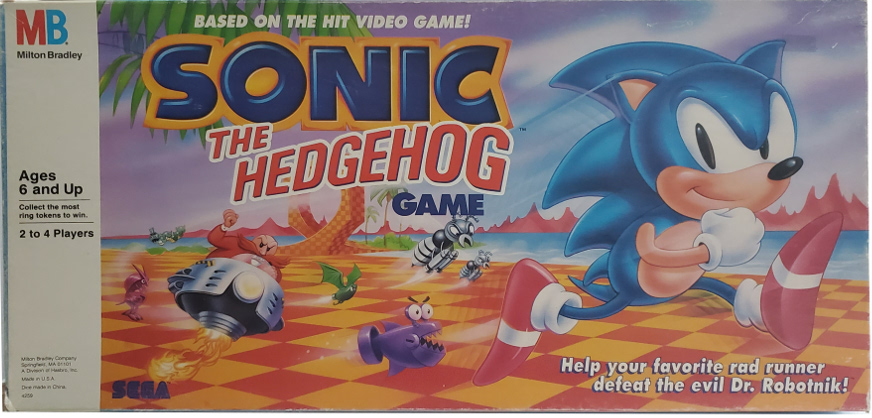 Also, in a completely unrelated notice, for some unexplained reason I'm going to be a little behind on my electricity bill this month, so please click on some ads or join BoLS Prime. It'll help fuel my addictio…. I mean, my ability to bring you first-hand retro board game reviews!
Thanks for reading!