We've been pouring over the new Codex for a while now and we've noticed a few things that are… weird. Take a look.
The Marine book is a solid entry in the Codex line up and possibly the best laid out book (along with the new Necron book) GW has every made. It's made significant changes to the Marine list with both winners and losers. Among all the changes however are some things that are just plan weird, either through confusing info or odd design decisions. Some of them also make little sense lore wise. Today lets look at some of these strange things.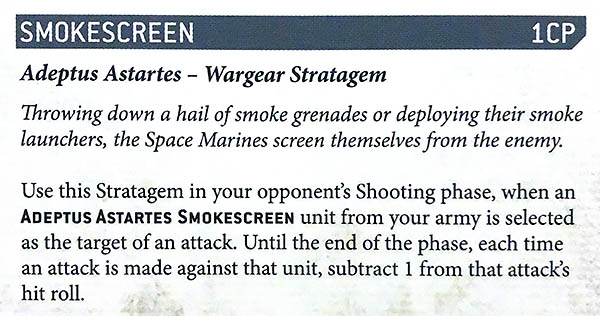 5. More Wargear Becomes Stratagems
We'd already seen some special rules and wargear turn into stratagems in the last couple of Marine books but this one really doubles down on it; as there is even a whole category called "wargear stratagems." Most of the older ones were some kind of either special rule that became a stratagem or a new rule that unit could take. This time we've seen a lot of kind of basic options transform into stratagems, such as melta bombs, assault launchers, shock grenades, grav pulses and smoke launchers. I'm not a huge fan of this as there isn't really a clear line as to when something should be a rule or a stratagem and a lot of these seem odd to limit to once a turn anyway. Smoke launchers in particular seem the strangest choice since some units have to pay to take them. That is pay to take an option that doesn't inherently do anything. It's also just odd that you can only use them once a turn, logically if I have ten units with the equipment there isn't a reason that makes sense for only allowing one to use it. It's not even that this is a nerf, in some ways its better since you can still fire when using it and its not once a game per unit now, but its just a weird choice to me, when things like Hunter-killer missiles aren't a stratagem.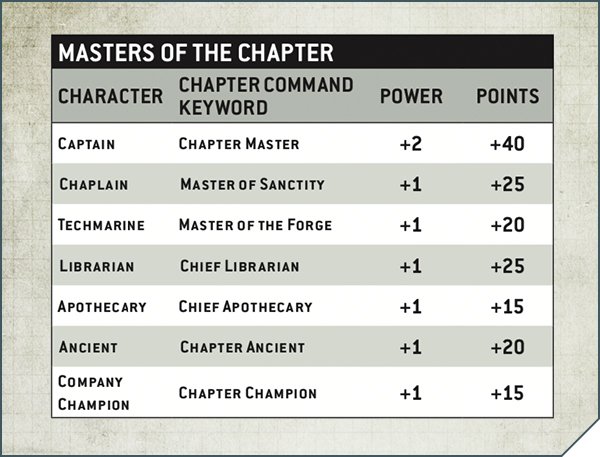 4. Which Chapter Command Points Are Correct?
The new book allows you to upgrade various characters, for a cost. The cost is listed in the Chapter Command section of the rules, along with what the rules do. It's also listed again at the back of the book with the rest of the points.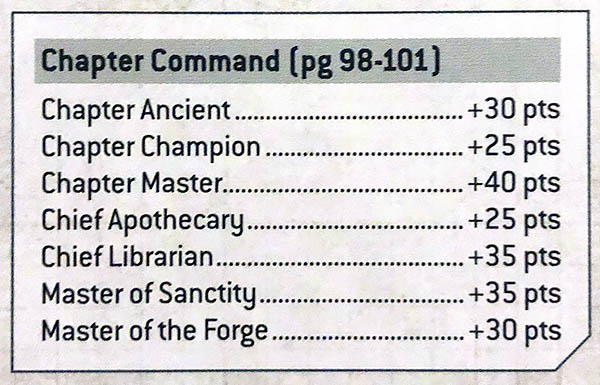 However looking at it, you can see that the two lists are not only in a different order, but list different points. Which one is correct? We won't know till we get an FAQ. It's a weird mistake, but easily fixed.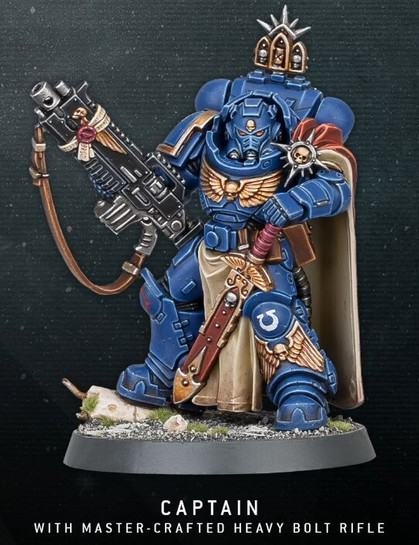 3. Why Is the Captain With Master Crafted Heavy Bolt Rifle A thing?
Call this a minor gripe maybe, but why is this dude a thing? I mean, why isn't he just a wargear option for the Gravis Armor Captain? They share the same keywords and rules. Indeed the only difference is one has an auto-boltstorm gauntlet and the other a mastercrafted haevy bolt rifle. None of the other Captains are divided like this. Even the new Primaris Captain, whit a very different loadout, got rolled into a wargaer option. I can't for the life of me figure out why this needed to be a separate datasheet.

2. Random BS
Generally speaking for the last several decades Marines have a BS that lets them hit on a 3+. Thats the accepted standard of Marine BS, with some characters and maybe "relic" things getting to hit on a 2+. The new book however gives a few random units a 2+ BS where it doesn't make a lot of logical sense. In particular Storm Speeder Thunderstrikes and Eliminators get this treatment. (Strangely Contemptor Dreadnoughts which used to be BS 2+ got nerfed to BS 3+). Now I understand that this is likely because they want to unit to be super accurate, even when taking penalties, and with the new cap at a +1/-1 to hit rolls they can't just give them a +1 to hit. The Thunderstike for instance is supposed to be shooting aircraft, so its likely going to take a -1 to hit, and needs better BS. Eliminators on the other hand apparently should never miss, so they get Bs 2+ and a 1+ to hit, because they can't get a +2 to hit anymore.

I still just find it a weird change because it's not one that really makes sense. Eliminators are just Marines wearing different gear, when that same Marine puts on Hellblaster equipment he suddenly gets worse BS? Likewise The Thunderstrike gets 2+ BS, but not the other Storm Speeders? These are in theory the same people piloting all of them, but that same crew doesn't get 2+ BS on other vehicles, or if they deploy as an Intercessor Squad. Sure it could be some kind of wargear giving them better BS, but then like make a rule for that. Make it make sense. In addition the change to the  Contemptor remains weird to me.

1. No Primaris Vehicles
This was kind of an easy one to miss, but all vehicles in the book have had the Primaris keyword removed from them. Now this doesn't have much if any game effect, and seems to have been to make sure that some crazy combos can't happen, but its still weird. I mean what is a Primaris vehicles now? If I'm trying to make an all Primaris army, can I take vehicles? Or if I'm trying to make an all firstborn army can I take a Repulsor now? Sure you can try to look at the model to tell, but its not always clear. The Stormhawk for instance doesn't have a visible pilot, is it now Primaris? Did Primaris Marines finally get that flyer like I suggested they should? I know this is a bit of a nitpick/lore issue, but its just weird that after 3 years of making this very clear distinction in the keywords, they've gotten ride of it.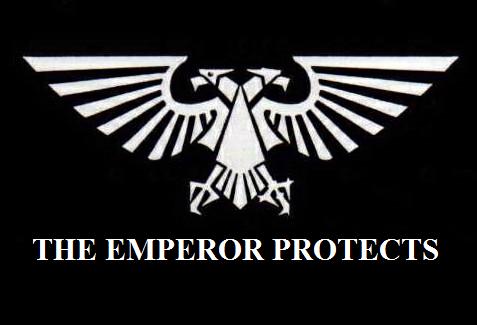 Let us know what weird things you've found, down in the comments!