Cubicle 7 has announced their massive black Friday sale starts early–meaning you can save a ton on RPGs like Warhammer Fantasy Roleplay.
'Tis the season–to get into Warhammer Fantasy Roleplay. Cubicle 7 has kicked off their new Black Friday deal much early, proving that even Black Friday is getting too commercial for us all this year. But, it's a great time to save on the latest Warhammer Fantasy Roleplay books–with savings of up to 40% off on select titles. Check it out below!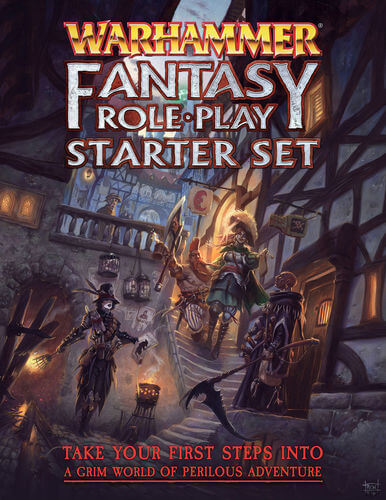 All orders of this product include a PDF redeemable via Drive Thru RPG.

The WFRP Starter Set contains everything needed to bring the grim and perilous world of Warhammer Fantasy Roleplay to life. Whether roleplaying for the first time or preparing for your next epic campaign, this box is for you.
With over a hundred pages of adventures, rules, and setting, as well as maps, handouts, custom dice from Q WORKSHOP, Advantage tokens, rules references, ready-made Characters, a simple GM Screen, and more, this boxed set is the perfect starting point for anyone interested in WFRP.
The Adventure Book invites players of all experience levels into the rich, roleplaying playground of Ubersreik. For beginners, the starter adventure, Making the Rounds, introduces the harsh realities of life in the troubled fortress-town and takes you step-by-step through the rules. For more experienced hands, there are 10 scenarios aimed to expand your WFRP games, offering new locations, new characters, and new horrors to uncover. Coming in at 40 pages, The Adventure Book is the ideal launching point for any new campaign, and can keep your WFRP group busy for several months.
The 64-page A Guide to Ubersreik highlights the bloody history and recent invasion of Ubersreik, examines more than 70 locations in the troubled town, details the surrounding fiefdoms, and introduces a wide array of antagonist cults at large in the area. In addition, each entry comes with two adventure hooks, meaning every location, character, and political pitfall the book presents has examples of how to use them on your games of WFRP.
All orders of this product include a PDF redeemable via Drive Thru RPG. You will receive a link included inside your order confirmation email.