Most adventures just need a character sheet, dice, and minis. But here, don't forget your crayons! Also, you can download it now to try it yourself!
Like with any good business venture, the key is to get your product into the hands of kids, and get them hooked at a young age. Oh. Uh… I mean, help the children reach their full potential of creativity or something. Yeah… that's what I meant. So, it tracks that in 1979, TSR would want to reach a wider audience with their popular Advanced Dungeons & Dragons game, but how could they compete with the peak of digital technology that is Space Invaders?
Coloring books, obviously!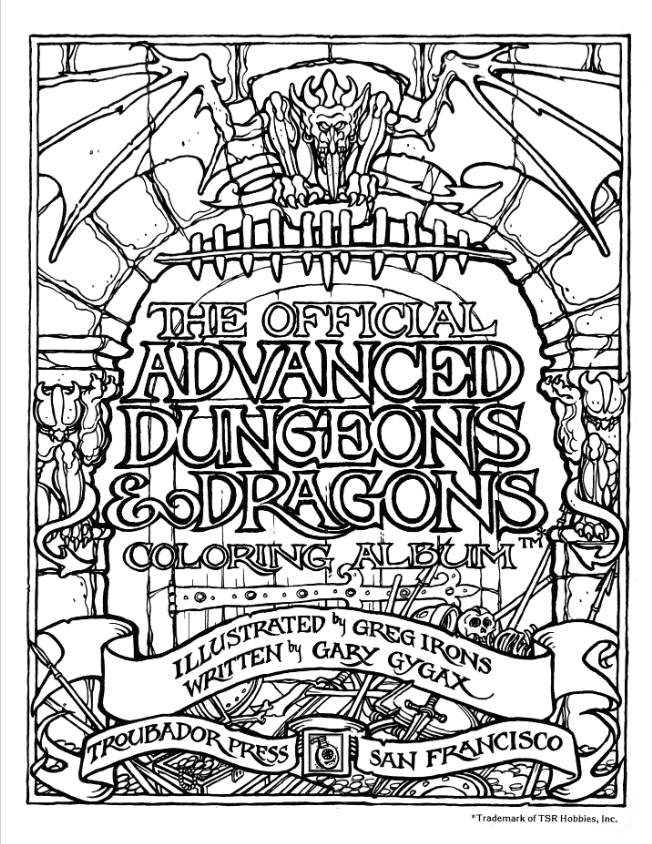 It's an interesting idea and certainly not one I think most people would consider, but the whole concept works really well surprisingly. The book itself isn't just coloring pages. It is a fully cohesive dungeon crawling adventure with, admittedly, very simple rules. But it is a coloring book, so consider the source.
The book somewhat alternates between a few paragraphs of text telling a story of your adventure, and the rules and stats for the game, and pages to color which follow the story being told. This is a great introduction since, for example, one of the first story sections talks about a bulette. Most people are not going to have any idea what that is, so the following page allows the players to color one in for themselves! Genius!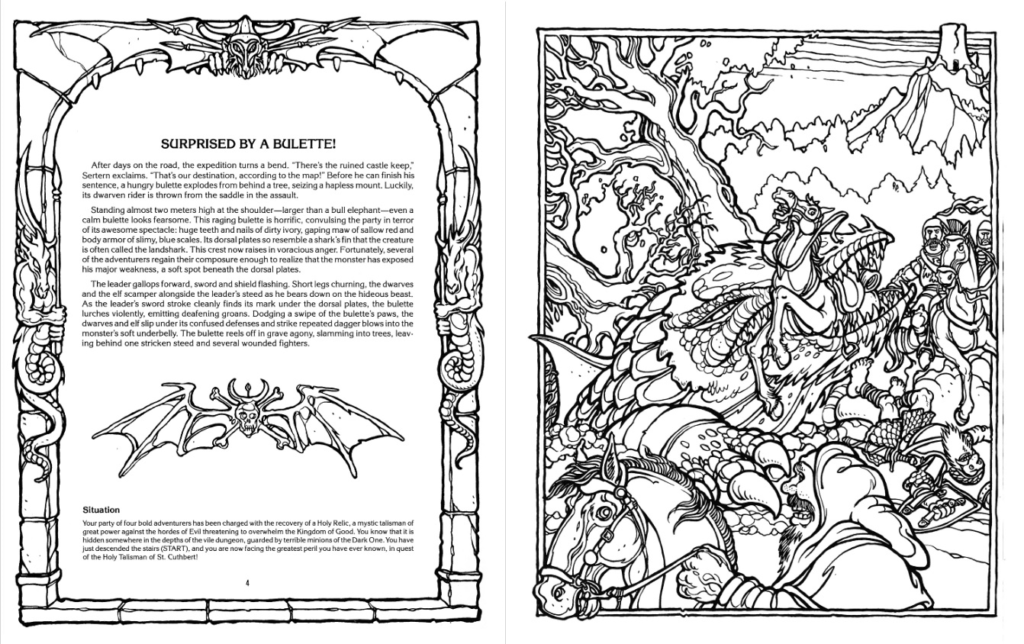 The gameplay itself is very, VERY streamlined from a typical D&D adventure. The game offers 4 characters to choose from.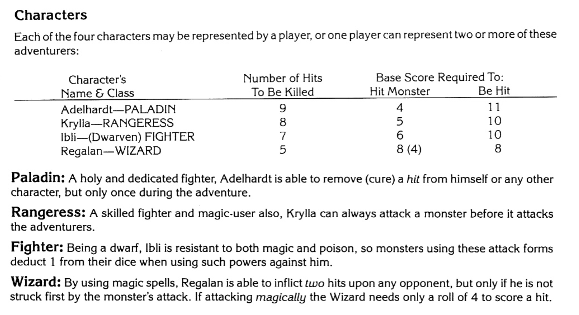 You can only cure one single hit the whole adventure, so use it carefully.
Every character and monster uses 2d6 for every roll they will make. Attacking requires rolling both dice and rolling over their Hit Score in order to score a hit on their target. Everything in the game is killed by a certain number of hits. There is no damage roll. Monsters also roll 2d6 for their attacks and some have an attack bonus. Their result is matched to the Be Hit score of the character to determine if they land a Hit on their target.
Play follows a typical routine of players and monsters alternating turns (Rangeress as the exception). Every character can move 9 spaces on their turn. Once a room with a monster is entered, combat begins. When a monster is defeated, the players roll the dice. On a roll of 12, they have found the Holy Talisman of St. Cuthbert, and win the game!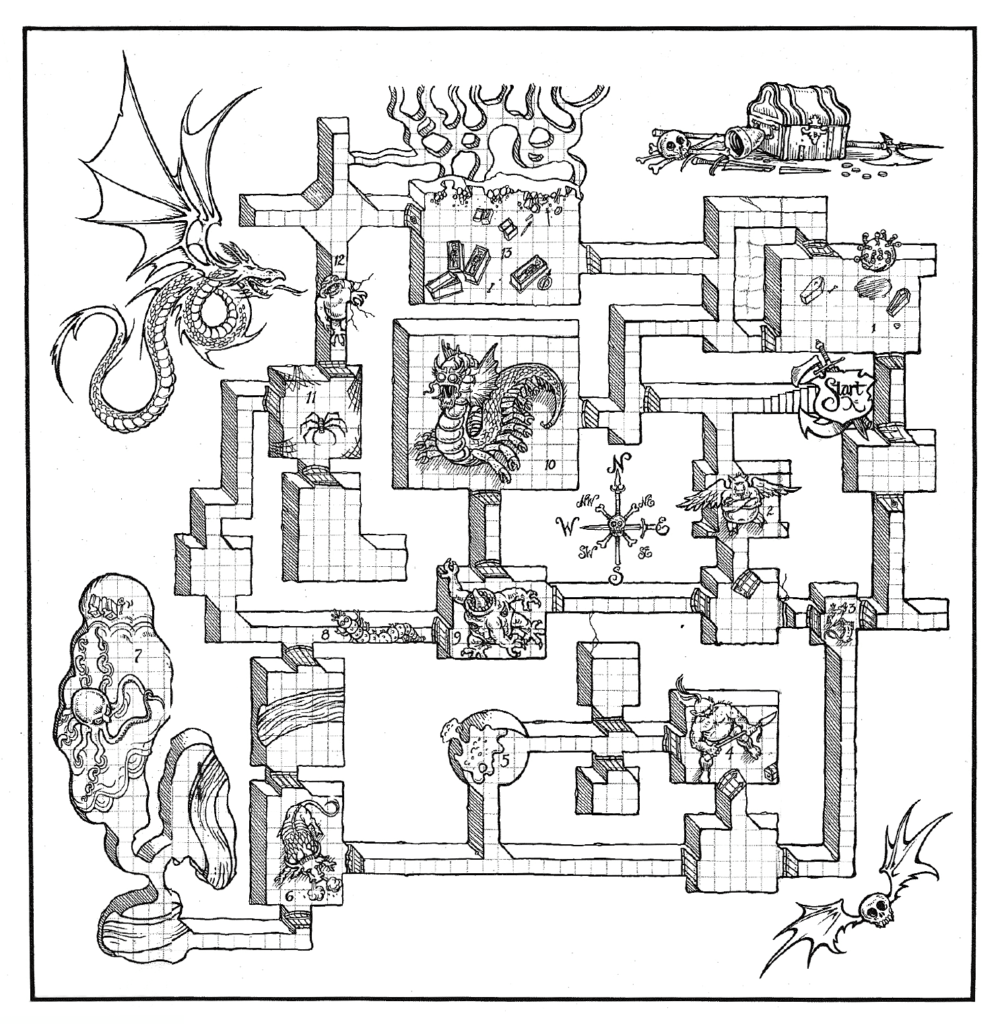 Yup. You understood that correctly. There's a chance you'll win after the first combat. So, that's…. fine, I guess. Admittedly, the game does say you must escape to win, but monsters don't leave their rooms, so there's no risk of running into anything while escaping.
Granted, the game does offer plenty of monster variety. More than you might expect. Each room has a small blurb explaining the monster inside and its abilities.

If you're interested in checking it out for yourself, you can buy a copy of the original book for a mere $500 on Amazon. If that's outside your proletarian price range, you can also download a copy of the book and print it out for yourself.
Like we said before, overall this is a very simple game. But that's by design. This is meant to be an introduction to the idea of tabletop gaming with the coloring book portions being enticing to a wider audience. Overall, it absolutely succeeds in this capacity.
Also, you meet Tiamat, so that's neat.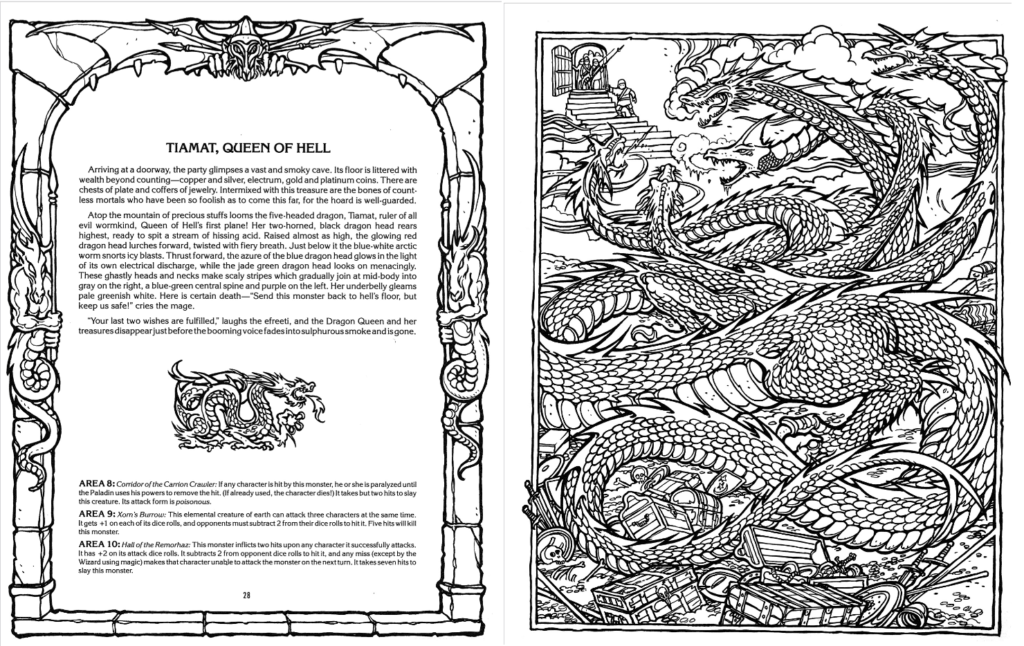 Hey, kids! Meet Tiamat, Dragon Queen of Hell!
Thanks for reading!