The Cursed City is coming with a ton of new Vile Villains. Come take a quick look at a pair you won't soon forget!
There are lots of cool, new members to the Death faction thanks to the Cursed City. We're going to shine the spotlight on a pair that we found most interesting. You'll have to take them all if you want to use them – but more on that below. First up the dread Vargskyr!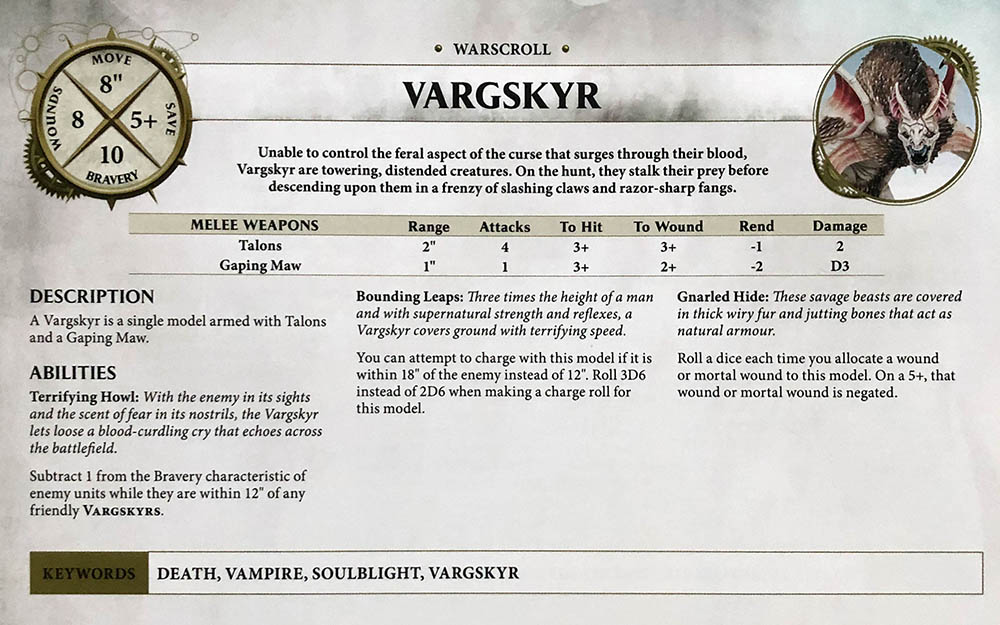 Stat-wise not too shabby. An 8″ move is nothing to sneeze at. Combined with a 8 wounds and a 5+ save, it's not the toughest Death has to offer – but it's no slouch. And it's abilities really play into those stats. The Gnarled Hide means it has a 5+ die roll to negate wounds and mortal wounds which means it's even tougher than that armor save lets on. Plus, Bounding Leap means nothing is safe from this model's fearsome charge range. A super predator that can get to it's prey. Terrifying Howl is going to play nice with some of the other Death faction abilities that lower leadership. Keep an eye out for this one.
Attack-wise, again, nothing to discount. While it's got the possiblity to kill a character it might be better suited as a harassing unit or counter-attacker. With a little support it could go toe-to-toe with other support characters and eat their lunch.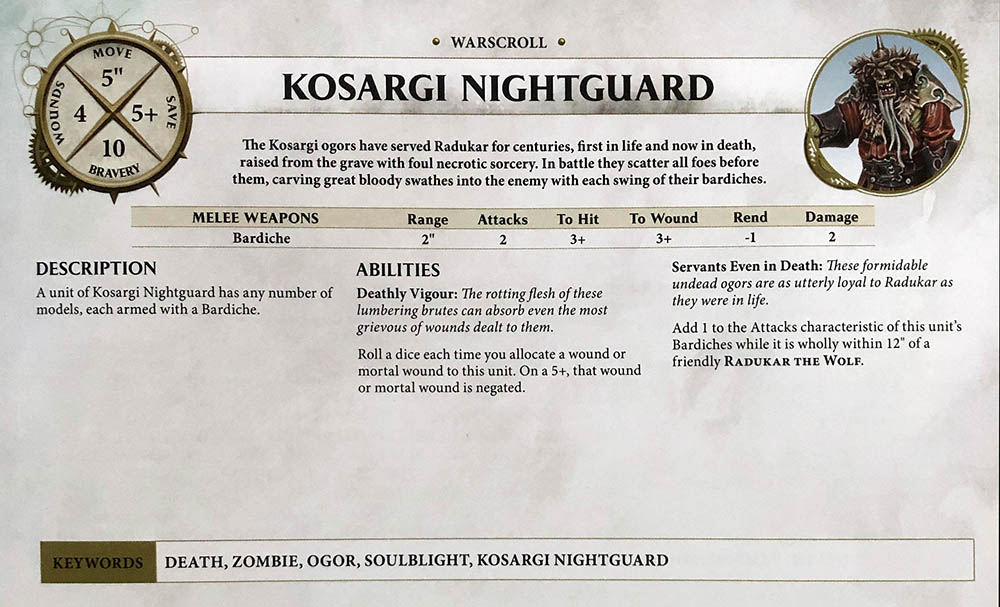 The Kosargi Nightguard are another unit folks are excited about. Why? Because we have Undead Ogors, baby! We're REALLY hoping to see them get a larger unit eventually. But for now, we're pretty much limited to their numbers in the box (see below). Anyhow, on to the breakdown.
Stat-wise, surprisingly tough. Although at this point it shouldn't be a shock that they have a 5+ way to ignore wounds thanks to Deathly Vigour. Combine that with their 4 wounds and 5+ save, and they just might hang out longer than your opponent expects them to. They also get more attacks if Radukar the Wolf is around so that's a simple bonus to keep around. Speaking of attacks, they each get 2 attacks with 2″ weapon that has a solid statline. I'd keep them near units that can soak hits while they swing over the top of them.
Pitch Battle Profiles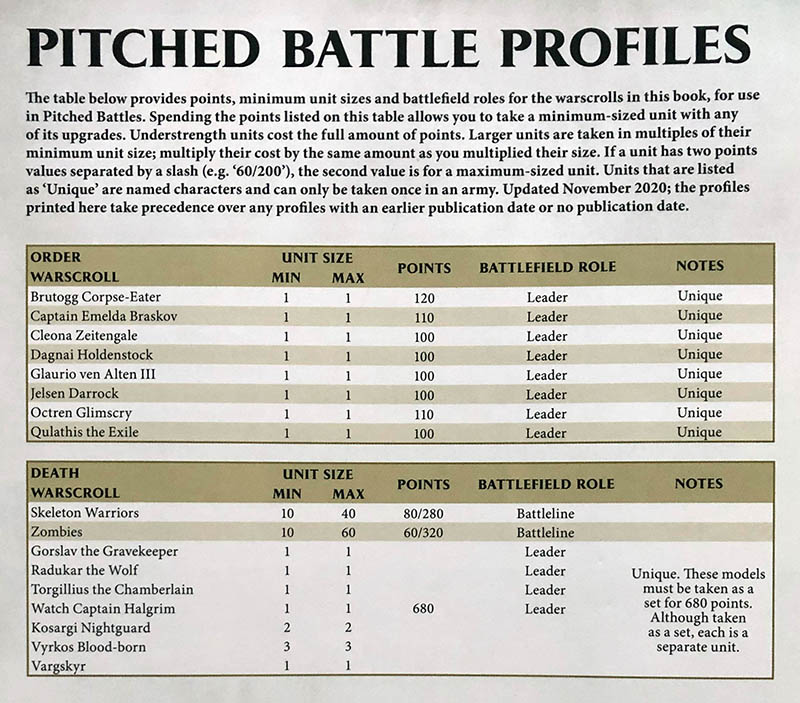 Okay, so this is where things get a little weird. If you want to run the villains from Cursed City as an option in a list, you kind of have to go all in. You can't add more to their units or numbers either. And it's 680 points worth of stuff. Personally, I hope this is only temporary and we get to shave them off later as solos or smaller units. While they will function independently you still have to "buy" them together and that's pretty limiting. Oh well…maybe once we get that Soulblight Gravelords book we'll be able to run them separately (although, I'm not going to hold my breath on that one).
At least the Skeleton Warriors and Zombies can be taken as individual units and you can add to their numbers.