There's a new Starter Box for Necromunda coming. Hive War is the perfect place to get your gang(s) going – come take a look at what you can expect.
Necromunda is one of those games that most tabletop wargamers have encountered at some point. It's roots go all the way back to White Dwarf issues in 1990 – so it's been around the block. The First Edition had a couple other expansions and then GW just kind of stopped supporting it for a while. But the fans kept it alive and eventually, GW brought it back and has been releasing new stuff for the game on a fairly regular schedule. And now we're at the point in that 'schedule' where GW has deemed it time for a new Starter Box. Welcome to Hive War.
The Hive War Has Begun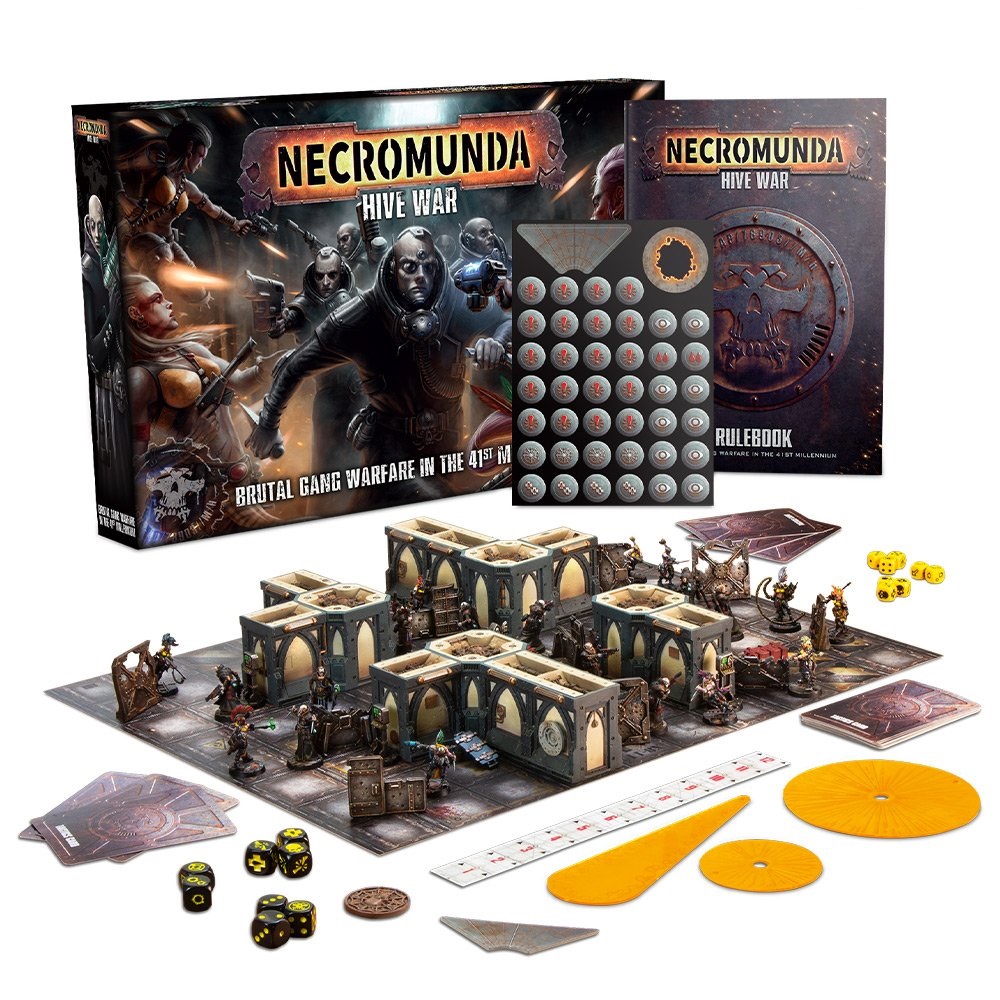 Hive War will pit the gangs of House Escher vs House Delaque. Each gang will have 10 members and from the looks of things, these are their current plastic kits as well. So both of these gangs will have tons of options for you to mess around with when you're building your models and assembling your gangers.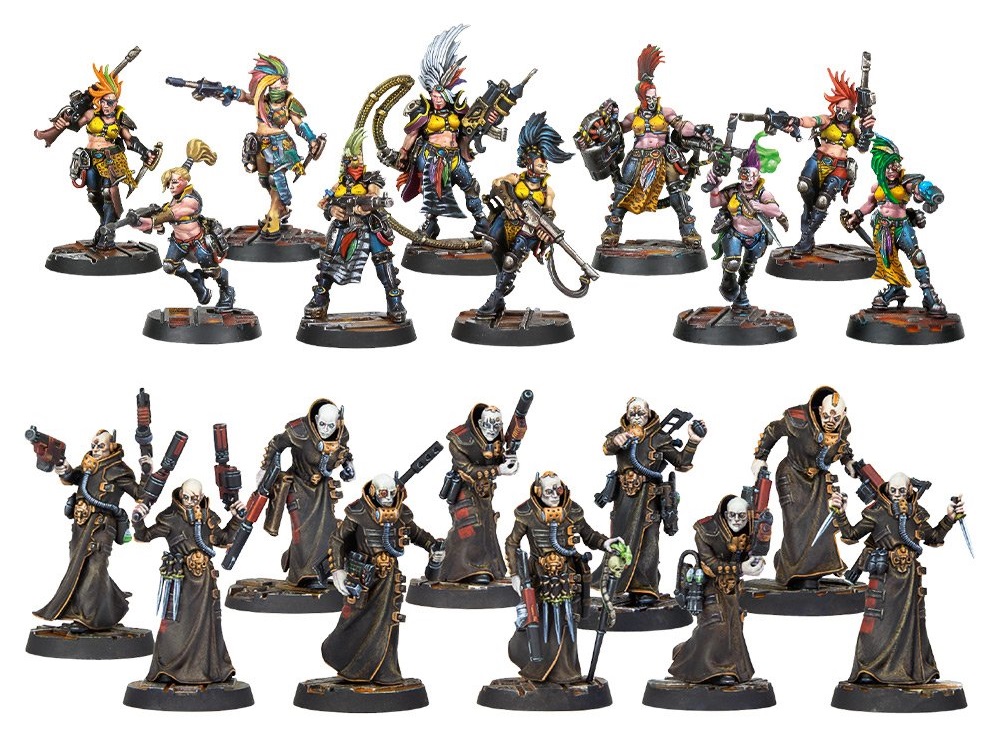 Aside from the models for the gangs, you'll also get a new rulebook. From what we can tell, this will be the most current and up-to-date version of the rules and will become the new standard of play.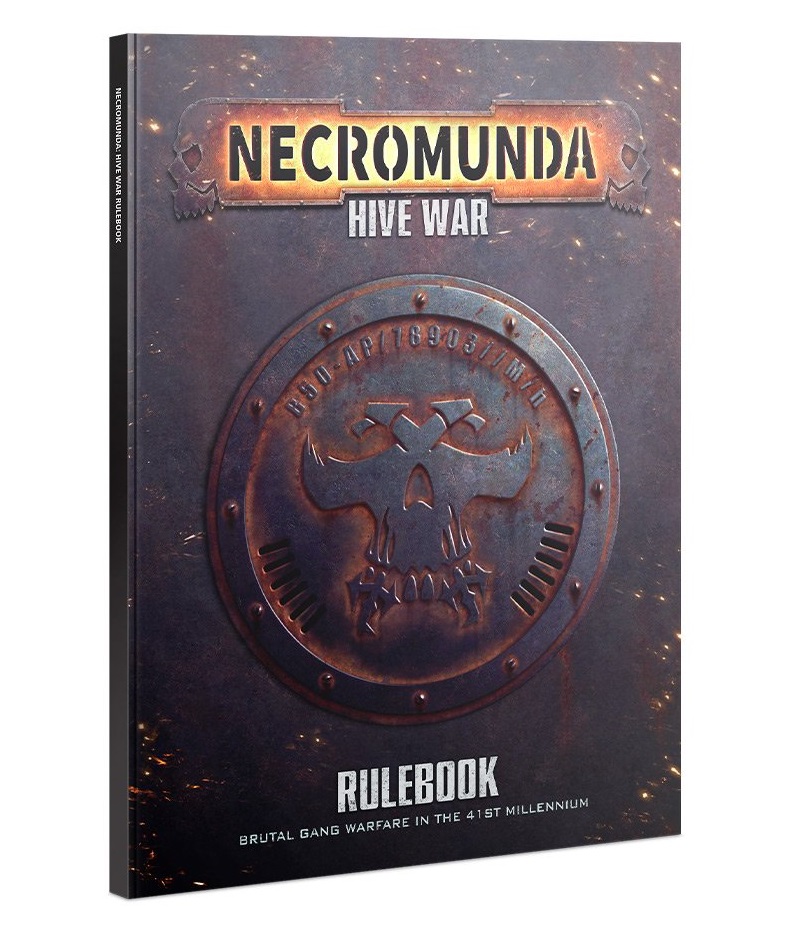 "One of the key features of Necromunda is the ability to grow and enhance your gang as you play, earning new skills and equipment for your star gangers. The included rulebook contains all of the rules you need to play your own series of games with as many participants as you like, fully updated to include all errata and FAQs added since the game's release."
And let's not forget about the terrain that will also be included in the box as well.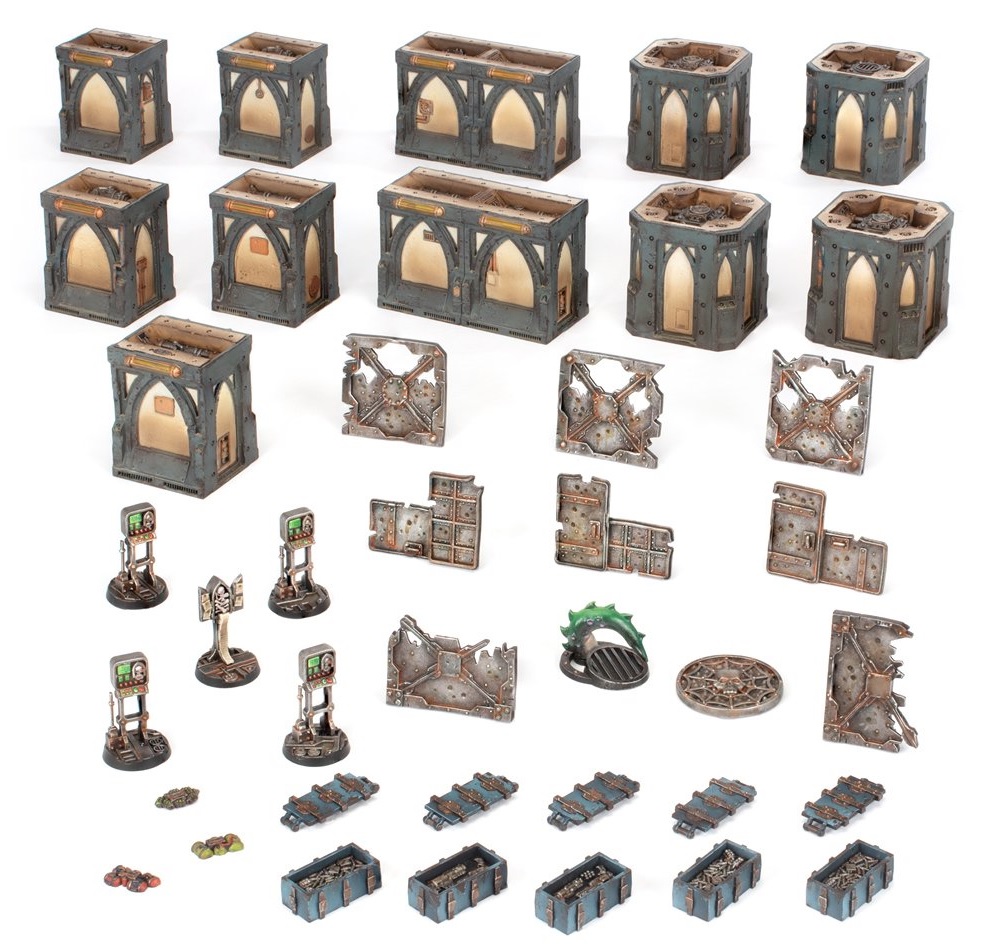 These features should give players enough of a mix to really allow for some tight corridor fire-fights as well as some verticality to their games. And because it's Zone Mortalis Terrain, it's compatible with all the other Zone set from GW so you can really go nuts with customizing your part of the Hive if you want to.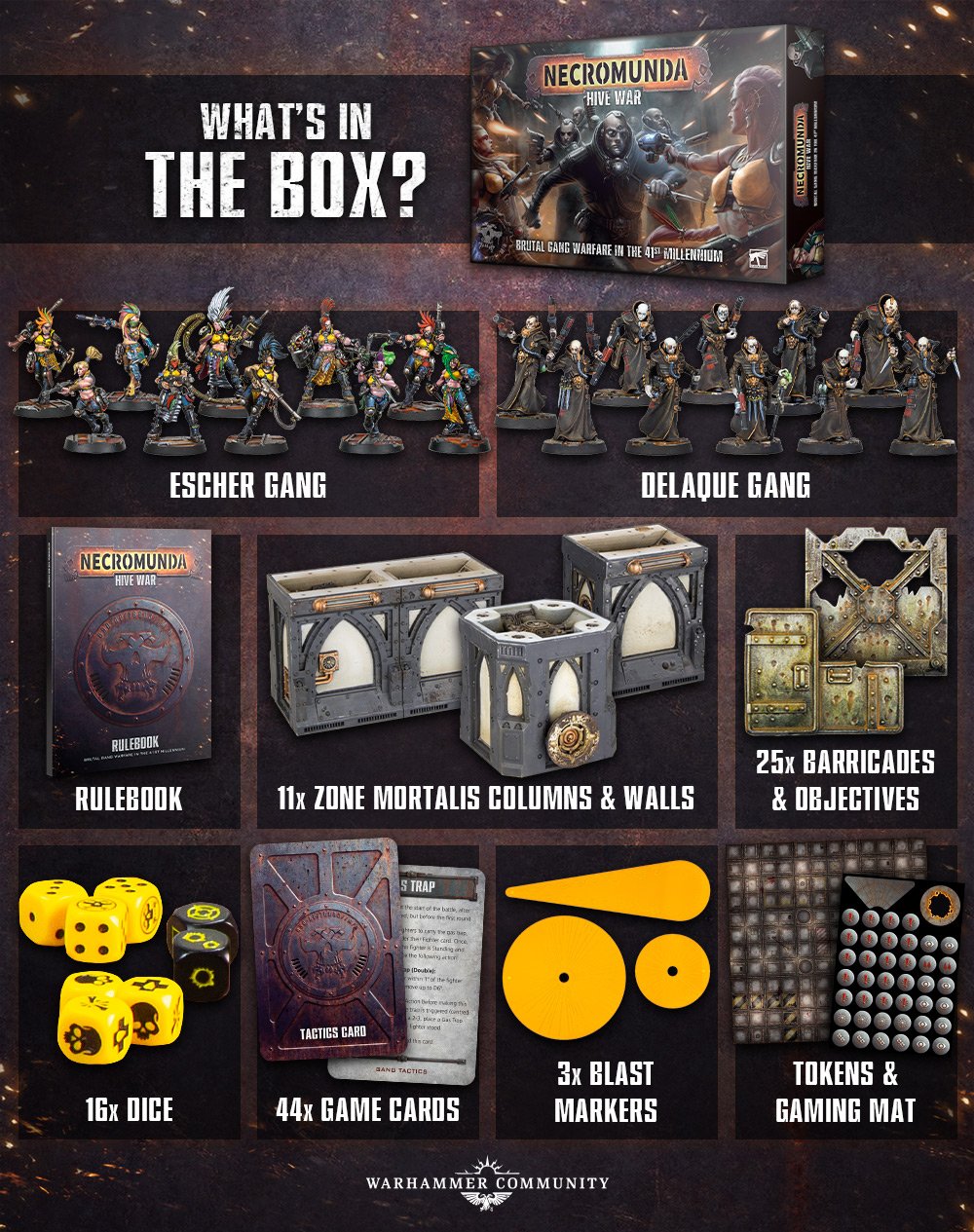 And naturally, in the box, you'll also get everythign else you'll need to play – dice, templates, tokens, cards, and a gaming mat. Compared to the current starter option, this looks like a better deal for brand new players.
What's Next?
What should you get after you snag the new starter? Well, GW has some cool other options coming out along side the Pre-orders on May 8th. The Transfer Sheet looks pretty darn cool.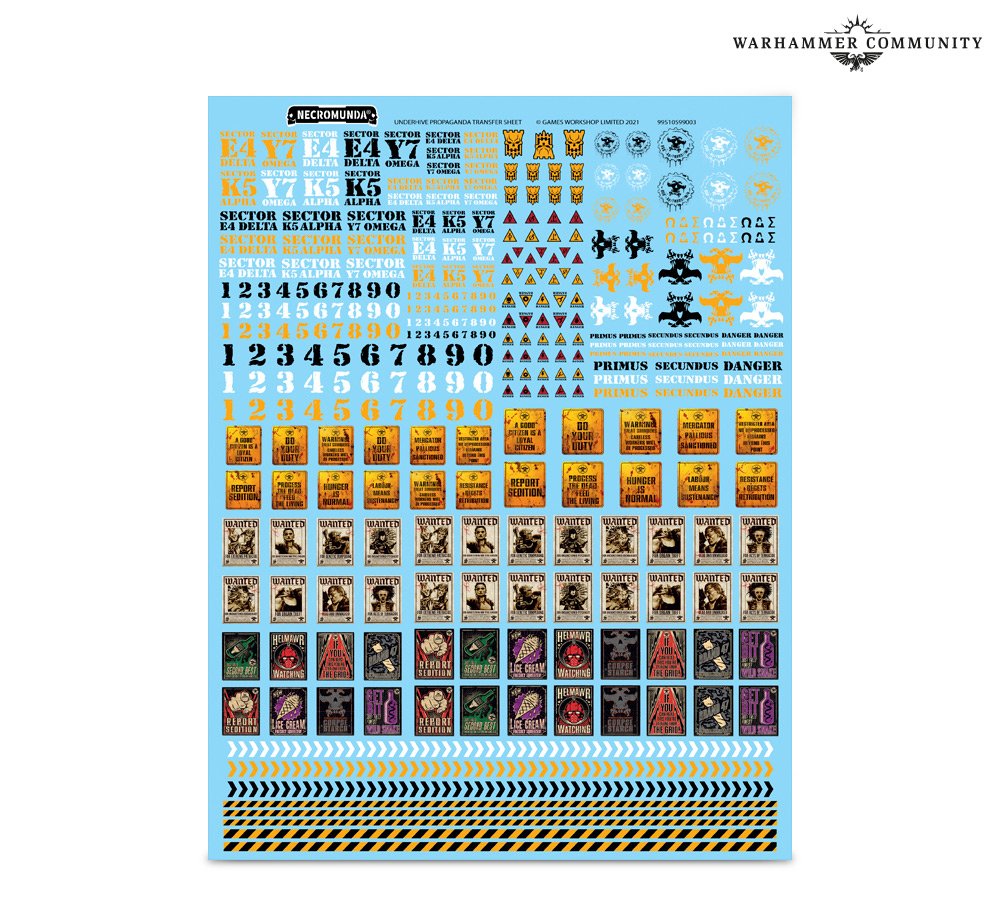 And for your Escher gang, you can even purchase the weapon upgrade packs for even MORE unique weapons for them: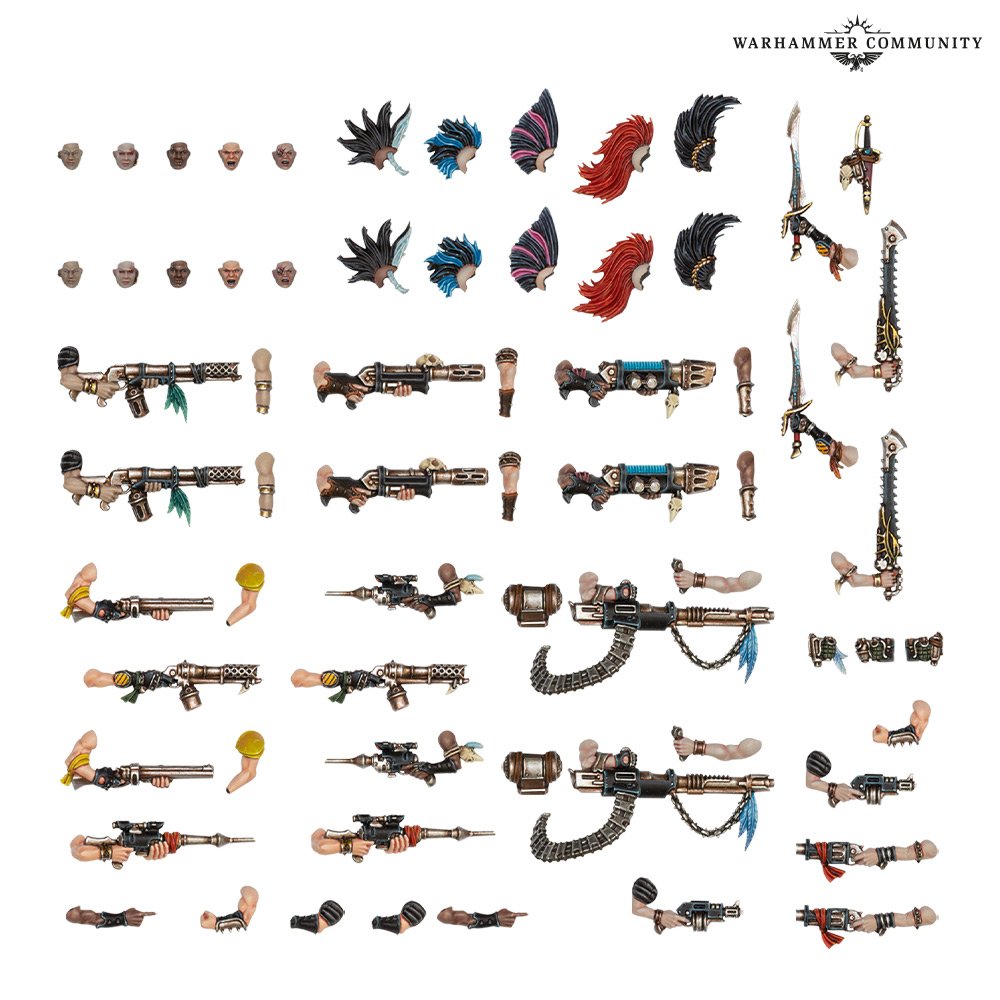 And if you're a fan of Escher, you might also want to snag a copy of the House of Blades book. It's got a TON of cool lore for Escher and lots of additional rules.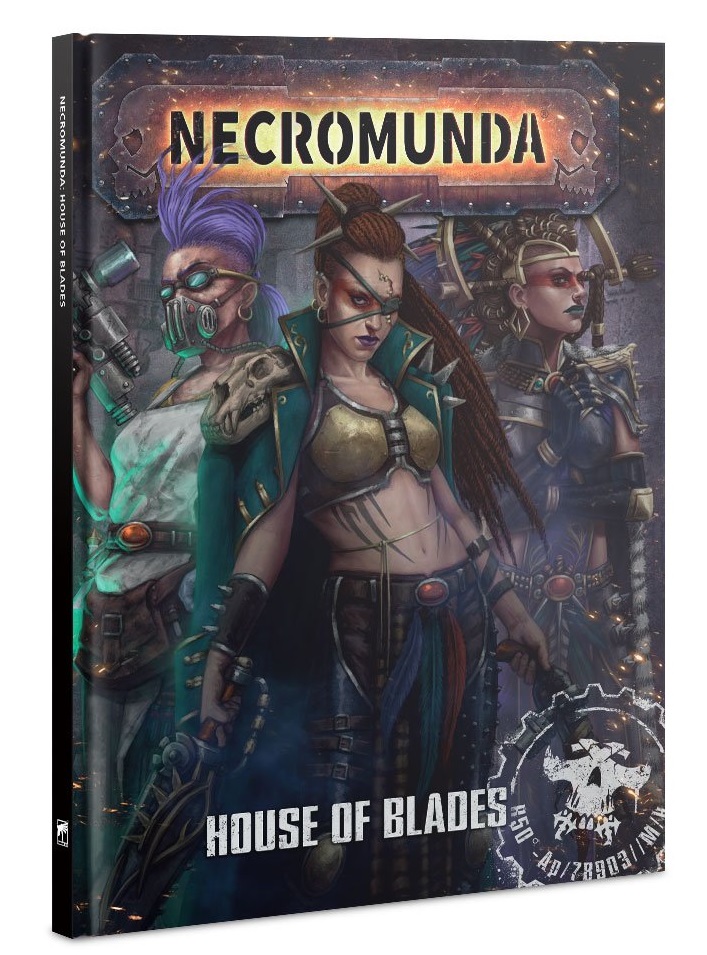 Where's all the House Delaque goods? They are coming…They were one of the last original gangs to get updated to the current edition and we have a pretty good idea they are on the way…eventually. Forge World did make a couple of Weapon sets and alternate heads for them.
In any case, the new Starter Set Necromunda: Hive War will be out for pre-order this Saturday! Get ready for a brawl in the belly of the Underhive!

Choose your side…